Suppose you have $2000 and want to buy a 65-inch TV but are finding it hard to decide. We've got your back with our buying guide on the best 65-inch TVs under $2000.
You have already sorted out two significant factors: the size and the price. Therefore, our guide will focus on other TV features that matter the most.
Though, the choice of features will depend on your priorities. It would be best if you were clear about your primary usage for the TV, like home theatre, gaming, sports, and smart home.
Our Top 7 Picks For Best 65 Inch TVs Under $2000
Here's a detailed review of the top 7 products for the best 65-inch TVs under $2000. If you want to know how we picked these products and the key factors. You can go down to 
Detailed Buying Guide 

FAQ Section
1. LG OLED C1 Series 65-inch (Overall Best OLED)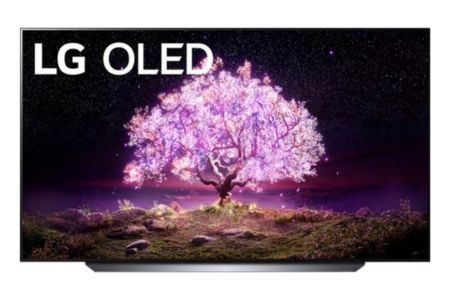 Screen Size: 65-Inch| Display Type: OLED| Resolution: 4k| Refresh Rate: 120Hz
HDR: HDR10| Smart Apps: Spotify, Netflix, Hulu, Skype, YouTube, Amazon Instant Video| Voice Assistant: Alexa, Google| Connectivity: 3 HDMI, Wi-Fi, USB
First on our list is 65-inch 4K TV with an OLED display from LG. It is one of the best TV in the market today, giving excellent performance in all departments.
OLED displays deliver vibrant colors and better brightness and contrast than LED TVs. Viewing OLED is a pure delight, especially for watching movies in a dark room.
It is a fully capable gaming TV with a 120 Hz refresh rate and VRR. Moreover, when LG's Game Optimizer mode is on, you will experience the lowest input lag and the fastest response times.
LG C1 OLED isn't just dealing with content upscaling to 4k.
But it has pretty cool AI sound that converts mono audio into VR 5:1.2 Dolby Atmos sound. As a result, it gives a lot clearer sound than your traditional TV speakers. It enhances every moment with Dolby Vision IQ and Dolby Atmos for the ultimate home theater experience. 
LG C1 OLED TV comes with a great LG Magic Remote, which has an inbuilt microphone and is Bluetooth-enabled. The remote control function is convenient, and only two AA batteries are required.
One of the most appealing features of the interface is you can operate it using the motion controls provided by the wifi. In addition, the quick access buttons that you can find near the bottom of the screen are also helpful.
LG C1 manages to combine functionality and price perfectly. The performance of this TV is better than 99% of the high-priced TVs. LG C1 is undoubtedly the best 65-inch TV under $2000 in the market today.The TV is quite reflective because its glass screen covers the entire front. Think about buying a QLED TV instead if you have ever faced glare problems on a TV or if it will face a bright light.There are 4 HDMI 2.1 ports and support for 4K at 120Hz, making this TV perfect for next-generation gaming. With that said, the TV will impress you if you combine it with Game Optimiser, allowing you to switch between VRR and Nvidia G-Sync quickly.
"The LG OLED C1 series impresses with its stunning picture quality, deep blacks, and vibrant colors. Its AI-driven processor enhances image clarity, while HDMI 2.1 ports support high frame rates for gaming enthusiasts. With a sleek design and Dolby Atmos sound, it's a top-notch choice for home entertainment."
"The LG OLED C1 series wows with its exceptional visuals, thanks to OLED technology and advanced processing. Gamers will appreciate its low input lag and HDMI 2.1 capabilities, while its elegant design and immersive sound make it a premium addition to any living room setup."
Also, check our guide on the best 65-inch TVs under $1000.
Stunning HD/4K picture




Ideal WebOS




High contrast ratio




Quick response time




Wide viewing angles
Glaring surface




No HDR10+




Burn-in risk
2. Sony A80J BRAVIA XR 65-inch (Best Budget)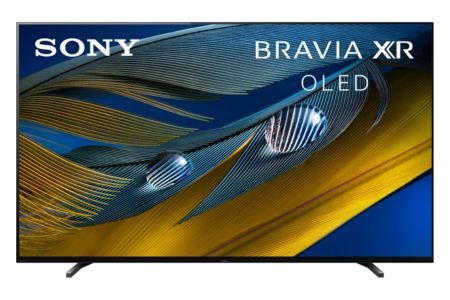 Screen Size: 65-Inch| Display Type: OLED| Resolution: 4k UHD| Refresh Rate: 120Hz| HDR: HDR10+Dolby Vision| Smart Apps: Spotify, Netflix, Hulu, Skype, YouTube, Amazon Instant Video| Voice Assistant: Alexa| Connectivity: 3 HDMI, Wi-Fi, USB
It has a lot to offer to gamers. You can easily pair your Playstation with this TV through HDMI ports. The exclusive PS5 adoptability console provides 4K/120fps specified in HDMI 2.1 with an input lag of 8.5ms.
Similarly, the auto low latency mode (ALLM) for HDMI ¾ is top-notch among the best 65-inch QLED TV under $2000. Furthermore, the variable refresh rate (VRR) helps to reduce screen tearing.
Moreover, you can effortlessly turn your TV into a home theatre. Through one year of free Bravia Core, you can stream hundreds of movies online or switch to Google TV to watch more than 70,000 movies and TV shows.
After carefully testing the OLED technology, we can safely conclude that the contrast with pure black and the brightness is matchless on this TV.
Furthermore, the remote control is designed to fit the human hand. Connecting your phone to the TV is easy as it is compatible with Google Assistant and Alexa voice. Thus, if your remote control plays hide and seek, you can control your TV with your voice.
However, one of my primary concerns is that OLEDs risk permanent burn-in if exposed to static elements for a more extended period. So, keep it afresh by breaking the power out when not used.
The sound and picture quality is unmistakable from the moment you turn it on. Plus, the end-to-end crystal clear viewing with perfectly synced sound is an experience not to be missed.
One more thing, you might not be able to locate a speaker anywhere because the speakers are hidden behind the screen itself. However, the advanced technology produces sounds from the entire screen, thus creating an acoustic that perfectly resonates with the picture in motion.
Despite the tough competition for OLEDs, this model offers excellent value for money thanks to its advanced features and smart options. In terms of functionality, it is among the best 65-inch TVs under 2000 dollars for ease of installation and mobility.In HDR content, details are precise and lifelike, producing high-quality images with a near-infinite contrast ratio. Deep blacks and a wide color gamut display impressed me a great deal. However, the HDR Brightness could have been better near the edges.Sports fans will appreciate the instantaneous response time, while gamers will like the HDMI 2.1 input ports. My time with this TV is easily one of the best I have ever experienced.
"The Sony A80J 55-inch impresses with its stunning OLED display, delivering vibrant colors and deep blacks. Its powerful processing ensures smooth performance, while the smart features offer a seamless user experience."
"With the Sony A80J 55-inch, you get a top-notch OLED TV that excels in picture quality, providing rich colors and excellent contrast. Its efficient processing system guarantees seamless operation, and the integrated smart features make it a user-friendly choice."
Infinite contrast ratio




Accurate wider viewable angles




Fast response time for smooth picture motion




Voice control




Lifelike picture and sound quality



Lack of brightness causes glare




Prone to permanent burn-in
3. SAMSUNG 65-Inch Neo QLED QN90A Series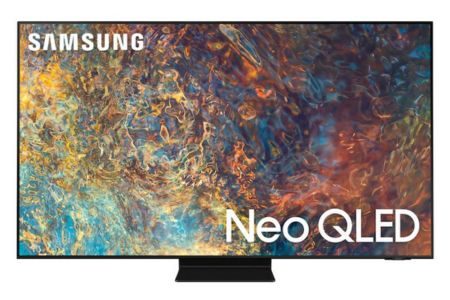 Screen Size: 65-Inch| Display Type: Neo QLED| Resolution: 4k UHD| Refresh Rate: 120Hz| HDR: Quantum HDR 32X| Smart Apps: Spotify, Netflix, Hulu, Skype, YouTube, Amazon Instant Video| Voice Assistant: Multiple| Connectivity: 4 HDMI, Wi-Fi, USB
The Samsung QLED Q90A series will be the brightest and most color-rich 4K HDR TV in the market in 2022. You will fall in love with its result in a brighter room. This is one of the best 4k TVs on the market in this range. 
Though the built quality feels very premium, we found that minor wobble in the stand and back is made of plastic. The design is very modern, with thin bezels. Overall, the build of the TV gives a very premium feel.
Since Q90A is a QLED TV, so it is excellent for watching movies in a bright room. This model combines two powerful technologies of quantum dot and mini-LED backlighting to produce a much brighter picture with deep blacks and exceptionally vibrant colors.
Its HDR performance is excellent in both movies and games. It provides a wide color gamut and high peak brightness in HDR. So whether you want to see movies in a dark or bright room, it will do a great job.
You are also getting wider viewing angles, as we did not notice a change in picture quality when viewed from the side. However, if you view it from extreme angles, you can see some inconsistency, so it's not an excellent option for viewing TV with wide seating arrangements.
The QN90A has good sound quality. A built-in subwoofer and object tracking make this a premium-sounding device. Furthermore, you can choose between standard, optimized, and amplified sound modes, allowing you to customize the audio to your liking.
There's no difference in sound quality between the in-built and the external version, so the built-in speaker should be fine if you don't care much about audio. Soundbars would help make the TV's sound match its picture.
Samsung's QN90A provides a fantastic result for any entertainment. The VA panel offers deep blacks and an excellent contrast ratio for movies in dark rooms, and it has a great local dimming feature to display deep contrasts.With a well-lit room, you can watch shows or play sports in a way that does not cause glare and minimizes reflections. However, we found its viewing angles narrow, so picture quality deteriorates when viewed from the sides.Also, HDR is delivered in a wide range of colors. It also has a variable refresh rate (VRR) feature, with very low input lag and quick response times for smooth motion.
"The Samsung 65-Inch QN90A Series is a stunning TV with impressive picture quality and vibrant colors thanks to its Quantum Dot technology. Its 4K resolution and AI upscaling deliver sharp and clear visuals, while the Direct Full Array 32x backlighting ensures deep blacks and precise contrast. The TV's ultra-slim design and wide viewing angles make it a perfect centerpiece for any room, and its intuitive smart features provide seamless access to a variety of streaming services and apps."
"Samsung's QN90A Series in 65-Inch size sets a new standard for premium TVs with its cutting-edge features. The Quantum HDR 32x technology offers breathtaking brightness and highlights, elevating your viewing experience. Its Adaptive Picture and Object Tracking Sound+ optimize both visuals and audio, making you feel fully immersed in every tv scene. The TV's slim bezels and sleek stand design enhance the aesthetics of any living space, making it a top choice for discerning viewers who crave superior performance and style."
High native contrast ratio.




Effective upscaling




Excellent Mini




LED dimming feature.




Good viewing angle.




Stunning HDR peak brightness.
Wobbly pedal stand




Lacks OneConnect Box




Lacks Dolby Vision support
4. TCL 65-inch 6-Series ( Roku Smart TV)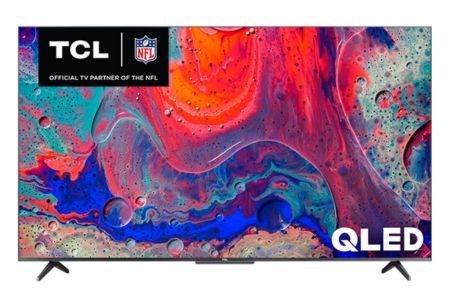 Screen Size: 65-Inch| Display Type: QLED| Resolution: 4k UHD| Refresh Rate: 120Hz| HDR: Dolby Vision| Smart Apps: Spotify, Netflix, Hulu, Skype, YouTube, Amazon Instant Video| Voice Assistant: Alexa, Google| Connectivity: 3 HDMI, Wi-Fi, USB
TCL 6 series is one of the finest TV in a price range under 2000$. It is packed with features like a sleek design and 4K HDR technology for a superior viewing experience.
The TV used Quantum Dot technology for a lifelike picture experience. It also supports Dolby Vision HDR to provide a realistic result as the creators intend for every scene.
To manage the contrast, it has a Contrast Control zone technology that balances the dark and light areas on the screen. As a result, the screen detects on-screen objects and adjusts itself to produce super-clear images.
Additionally, you can easily control the functionality through your voice. The easy voice control feature is an advantage for avoiding unnecessary movement around the TV.
You can use Auto Game Mode (ALLM) and VRR (Variable Refresh Rate) to maximize your gaming performance. As a result, you can play any game on the great TV without experiencing any lagging.
The sound system on the TV is up to the mark, making it one of the best listening experiences. The picture and sound are perfectly synced.
Additionally, you can connect and play gaming consoles, Blu-ray players, streaming channels, cable boxes, and other devices without fumbling with different cables. The TV is supported both with Alexa and Google Assistant.
Lastly, you can download the Roku app on your mobile phone to easily control and switch between channels through your phone.
Overall, TCL 6 Series is a decent TV at this price range. The color scheme is excellent, and the contrast ratio is perfectly designed for a dark room viewing experience.Backlit LEDs help the screen to adjust brightness automatically. The TV is equally up to the task, even in a bright setup, as it has enough illumination to combat glare and manages reflections well.However, one point of concern is its narrow viewing angles. In short, you can count on the TCL 6 series and bring home one of the best 65-inch QLED TV under $ 2000.
"The TCL 55R635 Roku Smart TV impresses with its stunning 4K picture quality and vibrant colors. Its integrated Roku platform ensures a seamless streaming experience, while the Dolby Vision HDR support enhances the overall viewing pleasure, making it an excellent choice for both movie enthusiasts and casual viewers."
"With the TCL 55R635 Roku Smart TV, TCL continues to deliver best value and performance. The TV's Mini-LED technology brings outstanding contrast and brightness, making it a top contender in its price range. Combined with the user-friendly Roku interface, this TV offers a fantastic entertainment package for all kinds of users."
Excellent contrast ratio

Fantastic SDR peak brightness




Easy Roku interface




HDR content is a pleasure to watch




The picture and sound are in perfect sync




Mini-LED for auto-brightness adjustment
Uniformity issues




Narrow viewing angles
5. SAMSUNG 65-Inch QLED LS03A (Frame TV)
Screen Size: 65-Inch| Display Type: QLED| Resolution: 4K| Refresh Rate: 60Hz| HDR: Quantum HDR| Smart Apps: Spotify, Netflix, Hulu, Skype, YouTube, Amazon Instant Video| Voice Assistant: Alexa| Connectivity: 3 HDMI, Wi-Fi, USB, Wi-Fi Connectivity Yes (WiFi5) Wi-Fi Yes (WiFi5) Wi-Fi
The best Samsung LS03A is a genuinely unique 65-inch model under 2000 dollars. Samsung LS03A TV provides a variety of clip-on bezel settings. So you can customize colors and frames to make your set special. You can display it as outstanding work of art on your wall gallery. It can also be used as hidden TV.
Since The Frame TV is a QLED TV, it produces rich colors and high peak brightness. Moreover, the Quantum Processor 4K delivers exceptional performance, smooth motion handling, and accurate delivery of content in 4K.
We found its ability to handle content with lower resolution excellent. You can find your favourite content on this mid-range tv. But its viewing angles are not great because it has a VA panel. 
Moreover, we appreciate that Filmmaker Mode has been added to the settings menu, along with Dynamic, Standard, Natural, and Movie presets. It only takes a few tweaks to create a cinematic option that is ideal for watching movies.
The Samsung LS30A (The Frame TV) provides decent image quality. You can upscale lower-resolution content without trouble, and tons of smart apps are available. Unfortunately, the viewing angles are narrow, so you can't walk around while watching.The LS30A Frame TV offers superior panel performance and HDMI specifications compared to Samsung's predecessor model. Despite its price, its elegant design and customizability make it an attractive option for stylish TV buffs.
"The Samsung LS30A is a feature-packed QLED TV that offers an impressive viewing experience. Its HDMI 2.1 ports ensure smooth gaming and streaming, while the Roku TV integration makes finding your favorite content a breeze. From its various sizes ranging from inches to 75 inches, this TV stands out as one of the best options in the market, catering to every TV enthusiast."
"With its HDMI 2.1 ports, the Samsung LS30A delivers seamless connectivity for gaming and streaming, enhancing the gaming experience with features like VRR and ALLM. The integration of Roku TV provides easy access to a wide range of streaming content, making it a great choice for those who love their favorite streaming services. Additionally, its QLED technology and packed features like VRR and ALLM establish the Samsung LS30A as one of the best Samsung TVs available, with sizes ranging from inches to 75 inches to suit different preferences."
Artistic and unique design




Good image quality




Ambient Art Mode




Bright and glare-free




Apps galore on an excellent interface
Restrictive viewing angles.




Pricey




Lacks Dolby Vision
6. SAMSUNG 65-Inch Neo QLED QN85A (Top Rated)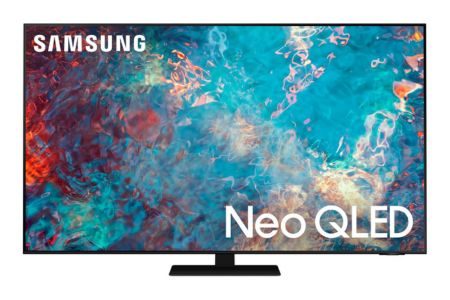 Screen Size: 65-Inch| Display Type: Neo QLED| Resolution: 4k UHd| Refresh Rate: 120Hz| HDR: Quantum HDR 24X| Smart Apps: Spotify, Netflix, Hulu, Skype, YouTube, Amazon Instant Video| Voice Assistant: Multiple| Connectivity: 4 HDMI, Wi-Fi, USB
With Neo QLED, Samsung sets a new gaming console performance and picture quality standard. Gamers can experience incredible clarity and contrast with this QLED TV while experiencing silky smooth 120 frames per second.
In addition to delivering low response time and auto-low latency modes, Samsung Neo QLED TVs also have VRRs and other features optimized for next-gen gaming consoles.
Additionally, QN85 offers AMD FreeSyncTM Premium Pro support as well. With HDR visuals and real-time response, the technology delivers an immersive 4K gaming experience to consoles and PCs alike.
The QN85A is equipped with an IPS panel, which is a double-edged sword. On the one hand, it offers wide viewing angles, while on the other, IPS panels also tend to be very reflective, which results in glare.
In the Samsung QN85A QLED TV, the quantum dot display is paired with mini-LED backlighting, which serves as a quantum dot display.
Mini-LEDs have a smaller size than previous LED backlights, which means they can fit more LEDs into a display. Compared to the QN90A, the QN85A has fewer mini-LEDs, but their presence still helps it focus its power on the areas that need it.

Samsung's QN85A features SpaceFit Sound technology which automatically adjusts the TV's speaker volume based on the size and shape of the room. Further, it has an active voice amplifier that automatically increases dialogue volume when ambient noise is present.
The QN85A supports Samsung's Q-Symphony technology, which combines the TV's speakers into the soundscape of a soundbar when paired with one of Samsung's Neo QLED TVs.
With eARC compatibility and HDMI 2.1 support, a next-gen games console can benefit from an HDMI 2.1 port that accommodates all HDMI 2.1 features. In addition, there's a TV aerial binding post, an Ethernet port, and a couple of USB ports.
Multitasking is a breeze with the Samsung QN85A. High brightness and superb reflection handling make it very effective in bright settings.While only one HDMI 2.1 socket can limit your future-proofing, at least there is support for 4K 120 Hz and Variable Refresh Rate, so we are happy enough.In sports or video games, the fast response time creates precise motion, and the low input lag gives the TV a sense of responsiveness. In addition to having an excellent color gamut and HDR brightness, HDR content also has great highlights.
"The Samsung QN85A is a remarkable display, boasting stunning visuals and a sleek design that fits seamlessly into any space. Its advanced features and excellent picture quality deliver an immersive viewing experience, making it a top-notch choice for home entertainment."
"With the QN85A, Samsung continues to set the bar high for impressive TV technology. This model impresses with its impressive color accuracy, deep blacks, and smooth motion handling. Moreover, its smart capabilities and user-friendly interface make it a standout option among competitors."
High-quality, realistic 4K images




Stylish and slim




Great viewing angle




Superb reflection handling




Clear and bright display




Built-in speakers
Displeasing film effect




No Dolby Vision




Rare motion-handling glitches




Sounds aren't great
7. Sony 65 Inch 4K Ultra HD TV X80K Series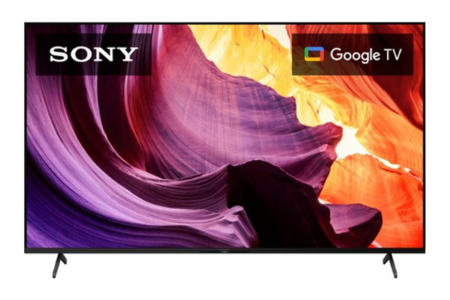 Screen Size: 65-Inch| Display Type: LCD| Resolution: 4k UHD| Refresh Rate: 60Hz| HDR: 4K HDR | Smart Apps: Spotify, Netflix, Hulu, Skype, YouTube, Amazon Instant Video| Voice Assistant: Alexa| Connectivity: 3 HDMI, Wi-Fi,Bluetooth USB
If you want 4K HDR pictures with fine details, vivid colors, and high contrast, you should consider the Sony X80K.
The technology allows your eyes to focus on the most immersive part of the picture through a narrow bezel design.
With over a billion accurate colors and Trilumnos Pro, this TV offers a broad spectrum of colors for a truly immersive viewing experience.
Like other TVs under 2000 dollars, the Sony X80K allows you to stream content from many popular streaming platforms and supports Google TV.
It has Alexa-enabled voice control, and you can easily change channels, adjust the volume, and turn your TV on and off.
Gaming enthusiasts can easily pair their PS5 for an immersive gaming experience since the PS5's fast refresh rate lets them view clear and detailed graphics. In addition, almost any game is playable on the PS5.
The refresh rate measures 60Hz, which is fine for most console games. However, unlike higher-end models, the X80K does not offer variable refresh rates.
Also, AirPlay 2 allows you to mirror your Apple phone onto the TV. It also has Chromecast for android devices.
You can connect your devices to the TV via four HDMI ports (4 sides). However, there is no component video input on the TV.
In addition, the sound quality is exceptional. The wide audio range coupled with 3D immersion works perfectly to produce lifelike sounds. You will be impressed by the clarity of the sound.
The remote control is the same as the one found in high-end models. However, Sony's redesigned remote has an integrated microphone for voice control, so you can make commands by speaking.
The Sony X80K is a perfect bang for the buck. Since it offers a wide-angle viewing, thus making it is an ideal TV if you have wide seating areas.It has an average brightness and reflection handling, so it is suitable for a low-light room. Moreover, the HDR performance isn't as good as other models as it has a low HDR peak brightness.In our view, the TV performs well in various departments. So, if you want a TV that offers good value for money and has tons of smart features, you can go for this TV.
"The Sony Ultra HD TV X80K Series impresses with its stunning picture quality and vibrant colors, delivering a truly immersive viewing experience. Its sleek design and user-friendly interface make navigation a breeze. With advanced features like High Dynamic Range (HDR) and Motionflow XR, this TV is a top-notch choice for any home entertainment setup."
"In the competitive world of Ultra HD TVs, the Sony X80K Series stands out for all the right reasons. Its crisp 4K resolution, combined with Triluminos Display technology, produces lifelike visuals that captivate the audience. The X80K's integrated smart features and seamless connectivity options further enhance its appeal, making it a compelling choice for both movie enthusiasts and casual viewers alike."
Wide-angle view




Ideal for low light rooms




Voice control system




Up-scales low-resolution content




Sleek and slim design




Available in multiple screen sizes



Low refresh rate




Low native contrast ratio
Buying Guide for Best 65-inch TVs Under $2000
Every extra feature and improvement in technology increases the cost of TVs. You may regret it later if you don't research appropriately before purchasing. Making an informed decision will help you in getting the best deal. 
So, let's discuss the key factors that matter. First, the Smart features are a must!
TV sets with a higher refresh rate produce a smoother picture with no blur. We recommend a smart TV with a 120Hz refresh rate if you spend 2000 dollars. Further, ensure that your TV supports variable refresh rates (VRR) for gaming.  
Ensure the LED television you purchase has 4k or more resolution. 4K resolution results in more detailed, sharp, and crisp pictures. A 4K Ultra HD TV allows you to sit closer to the TV. Also, it displays excellent picture quality from any distance
Wider viewing angles are better for large seating arrangements. If your TV has a narrow viewing angle, the picture quality deteriorates when viewed from sides or angles. But a wide viewing angle provides consistent picture quality both from the front and sides.
App stores and a web browser are also essential considerations when purchasing a 65-inch 4K TV. TVs now feature full-fledged OS, internet browsers, and app stores, allowing users to download and stream online content.
Smart TVs are often seen as gateways to a world of online content. People can enjoy streaming content on TVs without the internet with streaming media players.
If you need to connect other devices to your TV, you need a TV model with the correct number of inputs. Through HDMI, you can connect many devices, including game consoles, Blu-ray players, and digital setup boxes.
Having 3 or 4 HDMI inputs will allow you to cover all the bases and leave a port available. Further, if your TV has an HDMI 2.1 port, it means you would be able to game at 4K with 120 Hz. Similarly, Bluetooth lets you wirelessly connect your phones and tablets to TV.
Display Type: QLED vs. OLED vs. LED
Today three displays are trendy – LED, OLED, and QLED. But, these different technologies can be confusing when purchasing a TV. LED, QLED, and OLED may sound alike, but these display panels are different types.
 LED and QLED TVs have similar LCD panels backlit by LEDs. But QLED has a quantum dot layer that produces a broad spectrum of colors. So, the Q is added to LED for quantum dots and becomes QLED.
Mostly TCL and Samsung offer QLED TVs. LG has introduced quantum dot TVs that use QNED quantum dots. Quantum dots do not exist in LED TVs. QLED TVs are the best type for bright rooms because they can attain high peak brightness.
While the pixels in an OLED panel are self-illuminating and can automatically turn off, creating perfect blacks in the TV, OLED provides better blacks, contrast, and colors. As a result, OLEDs are expected to compete with LED's typical efficiency and cost benefits. 
If you're looking for a 65-inch TV for under $2000, a model with the latest features will be the best purchase. The must-have features are voice command, Dobly vision, 4K, QLED, or OLED display.
 Additionally, smart TVs are controllable from anywhere in the house, with voice commands and wireless commands. So play smart and buy the best smart TV for your needs.
Finally, LG OLED C1 Series 4K is the best 65-inch TV below $2000 for watching movies, playing games, or doing other visual tasks. 
You might also want to check the dimensions of 65-inch TVs.
What is the best 65-inch TV under $2000?

The best 65-inch TV under $2,000 is the Samsung QLED QN90A. This television is a top-notch choice regarding picture quality and features for a budget price.

This TV's new Mini LED backlight offers an impressively higher peak light output than traditional LED TVs.It also gives you better control over local dimming.

Its brightness helps it overcome glare in virtually any environment. In addition, HDR content looks impressive with its wide color gamut and local dimming. However, this TV has no Dolby Vision support, but it supports HDR10 and HDR10+.

What is the best 65-inch TV for gaming under $2000?

The best 65-inch TV for gaming under $2,000 is the LG OLED C1 series. With its stunning visuals, LG's AI-enabled 65" OLED C1 Series 4k Smart TV features Alexa. LG C1 also introduces a Game Optimizer menu that offers quick access to game-specific features.
That allows users to adjust different aspects of the screen, including brightness and VRR. With that said, by varying the processing according to the game type, the genre selection feature boosts picture quality in slower-paced games while optimizing response time in faster-paced ones.