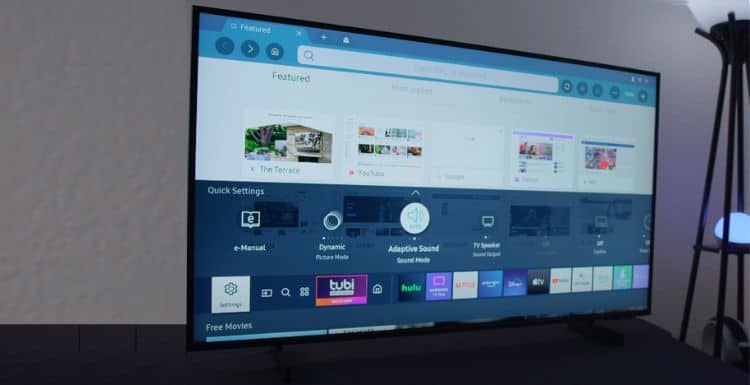 If you're in the market for a new television, you're in luck. Samsung has been a leading brand in the TV industry for years, and the AU8000 Series is no exception.
With its sleek design, impressive features, and stunning picture quality, this TV is sure to elevate your home entertainment experience to the next level.
In this review, we'll get into the key aspects of the AU8000 Series, including its display performance, smart features, sound quality, and more.
So, let's dive in and explore what makes the Samsung AU8000 Series TV a standout option for your viewing pleasure!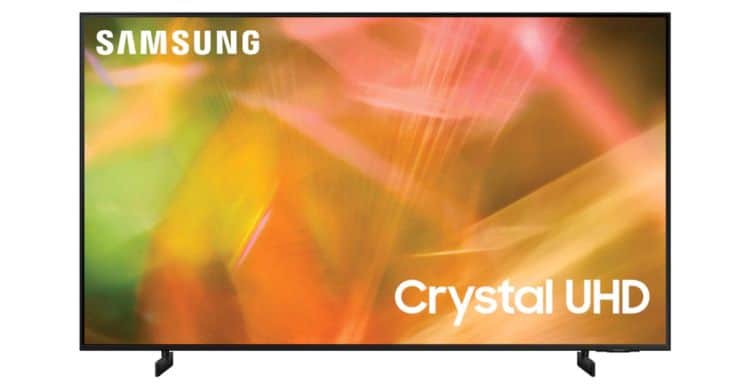 **If you buy via our affiliate links, we earn a commission**
Key Specs
Panel Type: VA | Size: 43″,50″,55″,65″,70″,75″,85″ | Resolution: 4K Ultra HD | Smart Platform: Tizen OS 0.6 | HDR: HDR10 ,HDR10+ | Audio: 20W, 2ch | Refresh Rate: 60Hz | HDMI: HDMI 2.0
Eagle Verdict
The Samsung AU8000 Series TV performs decently with deep blacks and good reflection handling for movie watching, low input lag for gaming, but has slow response time, narrow viewing angle, and limited HDR performance. Suitable for budget-conscious movie watchers and casual gamers, but may not meet expectations for a premium TV experience due to motion handling, viewing angle, and color performance limitations.
Other Experts Say?
"We have found the Samsung AU8000 Series TV to be a solid choice for those looking for a budget-friendly option with good picture quality and smart features. The TV offers a sleek design with a thin bezel and comes with a decent selection of ports for connectivity. While it may not have the highest brightness levels, viewing angle or local dimming capabilities, it provides a decent overall viewing experience for the price point."
" I found the Samsung AU8000 Series TV to be a solid choice for gamer on a budget. With its low input lag it delivers a smooth gaming experience. However, for an avid gamer it may lacs gaming features like VRR and ALLM. moreover, The contrast ratio is decent, providing deep blacks and good shadow details, although it may not be the best for HDR content. Overall, the Samsung AU8000 Series TV is a reliable option for casual gamers with its affordable price and decent performance."
"the Samsung AU8000 Series TV highlights its impressive performance with vivid colors and sharp images, thanks to 4K resolution and HDR support. Smart features, including voice control and multiple streaming options, provide convenience. However, limitations include lack of local dimming and limited viewing angles. This Tv is a reliable choice for budget-conscious consumers prioritizing picture quality and smart features."
" Samsung AU8000 Series TV is highly rated by Trending reviews, offering a sleek design, impressive picture quality with 4K resolution and HDR support, wide color gamut, and smart features including voice assistants and a user-friendly interface. It's a top choice for those seeking a high-quality, feature-rich television for their home entertainment setup."
Pros
High Contrast Ratio
Exceptional Input lag
Solid range of streaming services
Slim design with minimal bezels
Energy-efficient
Cons
No local dimming
Average viewing angles
No Dolby Vision support
Gaming features have limitations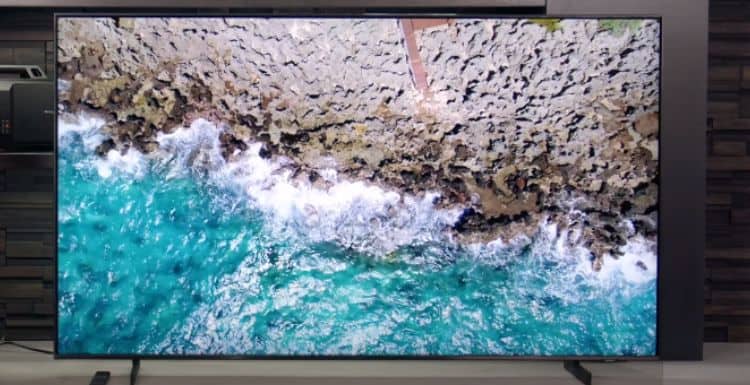 The Samsung AU8000 Series TV features a premium design with thin bezels and new flat feet for a stylish look. The borders measure 0.35″ (0.9 cm) and the maximum thickness is 1.22″ (3.1 cm).
The stand is customizable for a higher vertical position to accommodate a soundbar. The back panel has etched horizontal lines but lacks extensive cable management. The TV is made of plastic with decent build quality.
However, the back panel does flex a lot near the centre and inputs, which may be noticeable when plugging in HDMI cables. Nevertheless, this is common and unlikely to cause any functional issues.
Overall, the Samsung AU8000 Series TV offers a sleek design and decent build quality, making it a visually appealing choice for those looking for an entry-level TV.
Design Facts
Style: Sleek, modern
Bezels: Slim (0.9cm)
Max Thickness:1.22″ (3.1 cm)
Metal: plastic Build
Back Style: Etched horizontal lines
Build Quality: Decent and well-made
Stand: Customizable flat feet
Expert Review: Premium
What Other Experts Say?
"The Samsung AU8000 Series TV has a sleek, modern design with slim bezels and adjustable flat feet. The high-quality construction features sturdy plastic that can hold its own in any space. Plus, it's easy to manage cables thanks to the thoughtful placement of inputs on the back panel."

Rtings
The Samsung AU8000 Series TV boasts impressive 4K resolution and HDR support, delivering vibrant colours and sharp details for an immersive viewing experience. Continue reading to check out the picture quality results in different modes!
Picture Quality Factors
Movies
Sports & Shows
HDR Picture
What Other Experts Say!
"The smart tv this Samsung is, is faster better picture brighter clearer in every way. I am very pleased with the cost and quality of the tv. Samsung is always better in my opinion"

Abt Electronics
Movies
The Samsung AU8000 Series TV boasts a high native contrast ratio(4,050 : 1), resulting in deep blacks and uniform picture quality for movies. This enhances the overall viewing experience, creating a visually engaging and immersive movie-watching experience. 

The deep blacks contribute to a higher dynamic range and excellent black uniformity upto (0.728%), ensuring consistent black levels across the screen. However, it lacks a local dimming feature, which could result in some uniformity issues in scenes with varying levels of brightness.

When watching movies we tested the picture with a variety of popular titles, such as "Lion King" and "Blade Runner 2049", and it delivered a great picture. Despite its lack of local dimming, it was able to deliver great contrast and details; in short, the experience was quite satisfying. 

As for the upscaling capabilities, Samsung AU8000 delivers an excellent result. By upscaling images from 720p to 8K resolution, it ensures that all its viewers get a great picture. 

Panel Type: VA (Vertical Alignment)
Resolution: 4K Ultra HD (3840 x 2160)
Contrast: Outstanding native contrast ratio (4,050 : 1)
Local Dimming: No local dimming feature
Upscaling: Great at upscaling lower-resolution content (720p to 8K)
HDR Picture
The Samsung AU8000 series TV has decent HDR performance with good color reproduction and contrast. HDR content appears vibrant and dynamic, with deep blacks and bright highlights. The TV also has good reflection handling, making it suitable for moderately-lit rooms & also perfect gradient handling (10-Bit). However, it may not get very bright in HDR upto 324.6 nits, which could impact the overall HDR experience.

In my personal test results, I watched HDR content including movies and TV shows with high dynamic range. The colors were vivid and well-saturated, and the contrast was noticeable with deep blacks and bright whites. The TV was able to handle reflections from windows and lights effectively, allowing for an immersive viewing experience.

HDR Support: HDR10, HDR10+
HDR Peak Brightness:  324.6 nits
Native HDR Gradient: Excelent – 10 Bit
Colour Gamut: Wide – 83%
Colour Volume:  Normal  35.8%
Sports & Shows
When it comes to watching TV shows and sports on the Samsung AU8000, you have to do a bit of trade-off. The Samsung AU8000 has good reflection handling upto (2.3%) and upscaling for TV shows, but lacks brightness that is measured (300 to 350 nits) and has a narrow viewing angle. It may not be suitable for wide seating arrangements or for those who move around while watching TV. Its slow response time also affects fast-moving sports.  

I conducted a personal test series on several different genres. For TV shows, I tested an episode of popular Tv Shows like "Brooklyn Nine-Nine" & "Grey's Anatomy". The picture was overall good, with the colors displayed properly and very little blurring around the edges. The colors were vivid and the reflection handling was excellent. 

As for sports, I tested a soccer game, a basketball game, and a baseball game. The colors were again very good, but there was a slight amount of blurriness around certain scenes. This was most prominent in the live crowd and in any background images, but it wasn't overly distracting. 

Brightness: Maximum brightness ~ 300 to 350 nits
Response Time: Normal (6.9 ms)
Reflections: Decent (5.3%)
Viewing Angles: Narrow
Grey Uniformity: Decent (2.672%)
When it comes to audio from TVs, soundbars are usually necessary for a premium listening experience. However, the Samsung AU8000 Series TV 3 is here to change that. With its impressive 20W (RMS) and Adaptive Sound technology, it is designed to offer an all-encompassing audio experience, allowing users to enjoy TVs without a soundbar. Additionally, the support for Samsung's Q-Symphony Lite means the soundbar and TV output can be synchronised for even more audio fidelity.
In our testing of the Samsung AU8000 Series TV 3, we found that its frequency response was mediocre, with little output in the way of bass. At its max volume, compression artifacts were noticeable, so we suggest moderating the volume to ensure a more balanced sound profile. Interestingly, its distortion performance was also mediocre, but only when at max volume; therefore, moderation is essential here too.
Sound Facts
Power: 139 W
Frequency response: 119.87 Hz
Sound modes (ALLM): Yes
Dolby Vision: No
Dolby Atmos: Yes(via eARC)
Distortion: 0.480
Expert Review: Good
What Other Experts Say?
"Samsung's AU8000 Series TV elevates home theatre audio with impressive built-in speakers delivering clear sound, vivid vocals, and deep bass. The immersive audio experience makes you feel like you're part of the action. While adding an external soundbar enhances performance, the TV's sound quality is above satisfactory for regular viewing"

The TV Dan
The Samsung AU8000 series TV has a responsive gaming experience with its 4K panel and low input lag of 10.9 milliseconds, but lacks advanced gaming features like variable refresh rates and has a slow response time that may cause motion blur. It's not fully compatible with Xbox Series X|S and PS5. Suitable for casual gamers on a budget.
In personal testing, games like Forza Horizon 4 and Player Unknown's Battlegrounds ran smoothly on the AU8000 series TV with minimal latency and accurate colors. However, the TV is limited to a 60Hz refresh rate and lacks VRR support, which may be a downside for serious gamers.
Overall, the gaming performance was generally satisfactory with minimal lag, good frame rates, and smooth graphics in demanding games. Testing with Xbox Series X|S and PS5 showed a 4K gaming experience up to 60Hz on Xbox Series X|S, and slightly lower performance on PS5 in terms of frame rates and detail, but still acceptable.
Gaming Facts
Input Lag: 10.9 ms
Native Refresh Rate: 60 Hz
HDMI Ports: 3 x HDMI 2.0 (1 x eARC) , lacks HDMI 2.1
Variable Refresh Rate: No
Response time: 6.9 ms
Compatibility with Consoles: Yes (4k @ 60Hz)
Expert Review: Good
What Other Experts Say?
" The Samsung AU8000 series TV provides a smooth gaming experience with minimal lag and accurate colors. However, the lack of VRR support and limited 60Hz refresh rate may be drawbacks for serious gamers. Overall, the gaming performance is satisfactory for casual gaming sessions."

Tech Steve
The Samsung AU8000 series TV offers a range of useful features and inputs, including Tizen OS 6.0 for easy access to streaming services like Netflix and Disney+, compatibility with voice assistants like Alexa and Google Assistant, and Wi-Fi 5 (802.11ac) and Bluetooth 5.2 for seamless connectivity.
The TV is power efficient and comes with 3 HDMI ports, 2 USB ports, and 1 digital optical audio out for versatile connectivity options. One notable feature is the eARC support, which allows for uncompressed audio in Dolby Atmos via TrueHD format over a single HDMI connection, enhancing the home theater system experience.
Key Smart Facts
Operating system: Tizen OS 6.0
App selection: Wide range of popular streaming services
User interface: User-friendly interface with easy navigation
Voice Control: Alexa, Google Assistant, and Bixby
HDMI ports: 3 HDMI ports
Wi-Fi: Wi-Fi 5 (802.11ac)
Ethernet: 1
Bluetooth: Bluetooth 5.2
USB Ports: 2 USB ports
What Other Experts Say?
"The Samsung AU8000 Series TV is a feature-rich smart TV with excellent picture and audio quality, convenient inputs, and user-friendly smart features. It is suitable for various uses, including streaming, gaming, and home theater setups, making it a top choice for entertainment enthusiasts."

Tech Watcher
The Samsung AU8000 Series TV is a popular choice in the market for those seeking a value-for-money television option. When making a decision, you may want to consider factors such as design preferences, availability, and pricing to choose the one that best fits your needs and budget.
Unboxing & First Impression
Unboxing the Samsung AU8000 Series TV was an exciting moment for me as a tech enthusiast. The TV arrived in a well-packaged box, and upon opening it, I found the following items included:
What's in the box:
Samsung AU8000
Remote control
Power cord
User manual
Quick setup guide
Batteries (for the remote control)
Clips for cable management
The TV itself had a sleek and modern design, with slim bezels that gave it a premium look. The remote control was user-friendly, and the buttons were well-placed for easy navigation. The TV came with a power cord for easy setup, and the user manual and quick setup guide provided clear instructions for getting started.
Also Check our Guide about: Best TVs Under $1500 in 2023
I was pleased to find that batteries were included for the remote control, saving me the hassle of having to purchase them separately. Overall, my first impression of the Samsung AU8000 Series TV was positive, and I was excited to see how it would perform in terms of picture quality, smart features, sound quality and other features.