Are you having issues with the PS5's sound quality? Most people notice low audio quality even when they use their high-quality headphones with the controller. 
If you have got a new PS5 recently and it is up-to-date, but older games still sound bad, you have come to the right place because in this article, we will guide you about your confusion regarding "how do I get the best sound out of my PS5?"
How Do I Get the Best Sound Out of My PS5?
There needs to be more clarity about getting the best audio from your gaming console. Here we want to clarify the considerations necessary when shopping for a bar. 
Although Xbox, PCs, and Playstation all have lesser-quality surround options that will work with many lower-end bars, this article is about getting the most incredible audio out of gaming, which will require a higher-end bar.
Additionally, every system provides stereo as a non-surround alternative compatible with every bar.
Also, check our guide on the Best Soundbar For PS5.
First Consideration: Audio Types: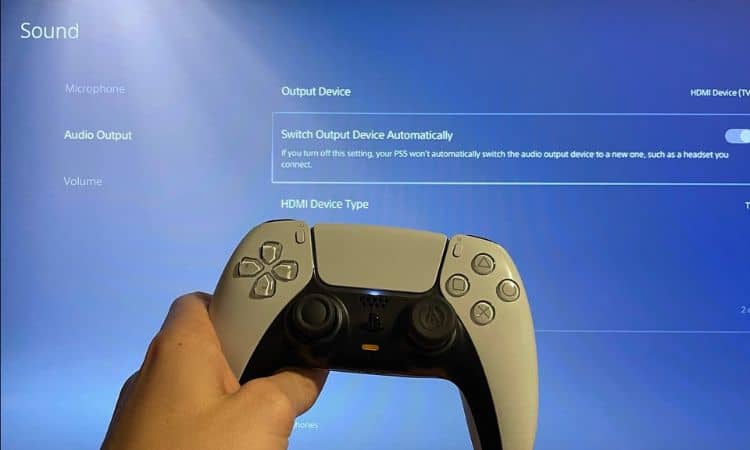 You must first understand the many kinds of audio systems that can generate and their respective quality levels.
Playstation 5:
Best: LPCM (Uncompressed surround sound)

Second: DTS (Compressed surround sound).

Dolby Digital comes last (Compressed surround sound that often has a slight delay).
Although 5.1 LPCM support is uncommon in soundbars, the majority of the higher-end bars support it. Soundbars are notorious for skipping out on audio codec support.
Another format that is losing support with TV and bar manufacturers is DTS. Dolby is generally supported across the board. 
Also, the Dolby encoding process on the system is slow and can cause a delay of about 100 milliseconds in the audio, causing the audio to lag.
When playing video games on an older television at 30 frames per second, this isn't a big concern. But it becomes apparent at 60 frames per second and much more so at 120 frames per second, especially on newer low latency TVs. 
Therefore, it's crucial to make sure you compare formats. Many people have complained here about getting a bar that only supports Dolby and having to switch to stereo to avoid delays.
Second Consideration: Connection Types:
What kind of audio you can get depends on the connection between your TV and the bar; typically, there are four options (your TV must support them all):
HDMI 2.1

Video Features (4k/120) ARE WHAT YOU NEED: LCD eARC: Currently, using eARC is THE ONLY method to obtain the highest quality sound (LPCM or ATMOS MAT) and video (HDMI 2.1's: 4k/120). Uncompressed surround sound is not supported by regular ARC and optical.

The best option (non-HDMI 2.1):

HDMI eARC; connect the system's HDMI to the TV and use eARC to pass all audio types unchanged to the soundbar. 
Your TV must support eARC (typically, TVs made in 2019 or later), as well as passing audio formats over eARC (for example, LG CX does not pass DTS, and it was almost a year before the C9 could pass LPCM, but does now, so having eARC alone doesn't mean it's supported).
The best option (non-HDMI 2.1):

Direct input, which supports all audio formats and connects the system to the soundbar to provide video to the TV. 
The amount of video flowing through bars can also be limited; some bars cannot pass 4K, while others cannot pass HDR. Usually, bars that can transmit the whole HDMI 2.0 are advertised as supporting HDR10+ or Dolby Vision.
Third: HDMI ARC:

connect the system to the TV and pass compressed audio to the bar; only supports LPCM in stereo; passes DTS and Dolby surround; also passes compressed atmos from streaming apps; but does not pass lossless TrueHD/DTS-MA audio from UHD discs. Again, TVs need to support this.

The final option is an optical cable connecting to a television and passing compressed audio to a bar. This option only supports LPCM stereo, although it also transmits DTS and Dolby surround (no compressed atmos from streaming apps).
Related: Does PS5 Support ARC?
What Is The Best Audio Output Setting for PS5?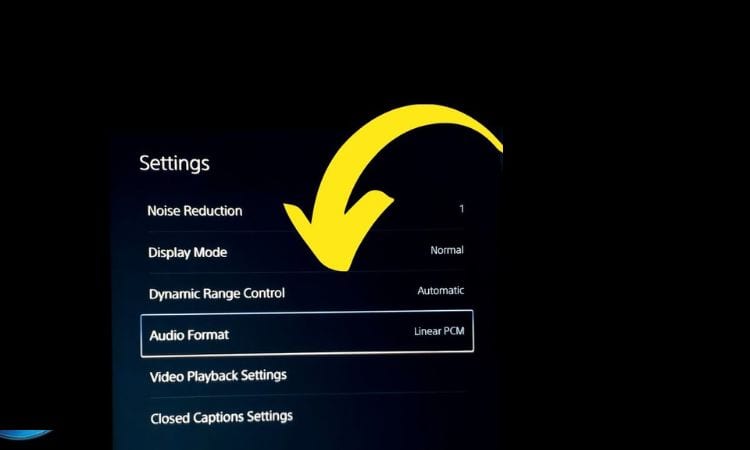 People often ask "How do I boost the bass on PS5?" Here's how you can make the most of PS5 3D audio.
Even though 3D audio is technically available to everyone, there are a few tips you can do to get the most out of it. Try out 3D audio first with a set of headphones. Using speakers or soundbars will not provide you with the same 3D audio experience.
Any stereo headphones will work when connected to your DualSense controller. Even while pricey gaming headsets can support 3D audio, sure, headphones will provide a more excellent listening experience. 
Sony's Pulse 3D Wireless Headset is found to have one of the better implementations of 3D audio technology.
How to Enable 3D Audio on PS5
Here is how to enable 3D audio on your PS5 when using speakers.
Start your PS5, then use the up and right arrows on the D-pad to navigate to Settings (the gear icon).

Select Sound > Audio output > TV under PS5 settings.

Choose Enable 3D Audio for TV Speakers.

Pick 3D Audio Measure Room Acoustics.
Using the microphone on your DualSense controller, the Tempest engine will start to work. The PS5 may ask you to increase the TV speakers' volume to measure the room's acoustics. Following the instructions on the screen should only take a few minutes.
After that, you may choose Apply Measurement Results to 3D Audio to complete the audio settings changes.
Choose Games That Support 3D Audio.
After that, you may choose Apply Measurement Results to 3D Audio to complete the audio settings tweaks.
It's time to talk about PS5 games now that we've seen which sound systems are compatible with 3D audio. Supporting 3D audio is one thing, but effectively implementing it is another. 
It has been noted that some games, like Returnal, feature a far more prominent implementation of 3D audio than others.
The best video games to play are those designed for next-generation platforms, such as the PS5.
What games support 3D audio?
The good news is that many of the most popular games have already been fully optimised for 3D audio. Better still, any new game on the PS5 will almost certainly feature 3D audio (PlayStation exclusives all support 3D audio right out of the box). 
There are some games which make use of 3D audio more effectively than others.
The games that presently support Tempest 3D audio are:
Assassin's Creed: Valhalla

Astro's Playroom

Call of Duty: Black Ops Cold War

Crash Bandicoot 4: It's About Time

DIRT 5

Death loop

Demon's Souls

Destruction: AllStars

Devil May Cry 5 Special Edition

Final Fantasy XIV (PS5 patch required)

Gran Turismo 7

Horizon: Forbidden West

Immortals Fenix Rising

Marvel's Avengers

Marvel's Spider-Man Remastered

Marvel's Spider-Man: Miles Morales

Nioh Remastered

No Man's Sky

Oddworld: Soulstorm

Ratchet & Clank: Rift Apart

Resident Evil: Village

Returnal

Sackboy: A Big Adventure

Spider-Man: Miles Morales
Nioh 2 Remastered

Spider-Man: Remastered

The Pathless

Tony Hawk's Pro Skater 1+2
That's an extensive list for a new spatial audio engine built from scratch! And bear in mind that when more games are introduced to the PS5's library, this will only increase.
How Do I Get the Dolby Sound on My PS5?
Assuming the movie you are playing supports atmos:
Connection:
PS5 > (HDMI 2.1) > TV -> (HDMI 2.1 eARC) > soundbar
TV :
Enable eARC Support

Sound settings > Digital Sound Output > change to Pass Through
PLAYSTATION 5:
Settings > Sound > Audio Output > HDMI Device Type> change to Sound Bar

Settings > sound > Audio Output > Audio Format (Priority)> change to Linear 
PCM (or Dolby, if your speaker is connected directly to PS5)
BLU-RAY DISC (while playing):
In the disc audio menu or options, activate Dolby Atmos.

Press "Options" button on PS5 controller –> 3-dots menu –> Settings –>Audio Format>>> change to Bitstream
The critical aspect is to enable "Bitstream" in that secondary options menu, which can be accessible by pressing the "Options" button on the PS5 controller while playing the Blu-ray disc.
You can choose the audio format suitable for your audio device from the Linear PCM and DTS options available on your PlayStation 5 console.
If you select Linear PCM as your PS5 console's audio output, you also have the choice of using 5.1 or 7.1 signals. As long as you have a high-quality audio system, you may change the audio format to DTS if you want to use your PS5 to watch movies or TV episodes.
Since PCM and DTS provide high-quality audio, it isn't easy to pick which is better. When you use low-quality receivers or incorrectly set up audio settings, the difference in audio quality is noticeable. 
However, you should pick PCM if you want an audio system to play high-resolution secondary sound. Use DTS to create a top-notch audio system for your recreation area.
We hope this article answers your query: "How do I get the best sound out of my PS5?"