Most LG TVs have a pretty good sound quality, but if you want to add a little punch to your sound system, you might be looking for a soundbar. But will any soundbar work with LG TV?
Some of the best soundbars you get are from the companies like Sony, Samsung, and Bose- you might be wondering if they all are compatible with LG TVs.
Most soundbars that are compatible with LG TVs are from their own company. However, Samsung, Polk and Bose soundbars are also compatible with these smart TVs– Sony soundbars, on the other hand, are not. 
This article will cover a few options that work well with LG TVs and explain how to connect these soundbars to your LG TV. 
Will any soundbar work with LG TV?
Most tech brands make gadgets that are compatible with their technologies. So if you have bought an LG TV, it's natural to question whether it will work well with any soundbar.
Let's talk about some of the brand LG TVs are compatible with how to connect them.
What soundbars are compatible with LG?
All the LG soundbars work well on the LG TV, and some of the top-rated LG models are:
LG SN8YG

LG SN9YG

LG SL5Y

LG SN6Y
Coming to other brands, the Signa S2 from Polk audio works well with all LG 4K and HD TVs. The Sonos Arc Soundbar is also compatible with LG TVs and can be controlled by Amazon Alexa as well. In addition, we have Samsung and Bose soundbars that are functional with LG TVs.
We'll explain ways to connect the different soundbars below and address the problems you might face while connecting. Let's connect your soundbar while ensuring it's optimal for sound.
Samsung soundbars work well with your LG TVs, and you usually get many options to connect the two. The options can be wires–HDMI; or wireless– Bluetooth. Specific features and connections of your TV determine the option that works best for you.
How Do I Connect My Samsung Sound Bar to My LG TV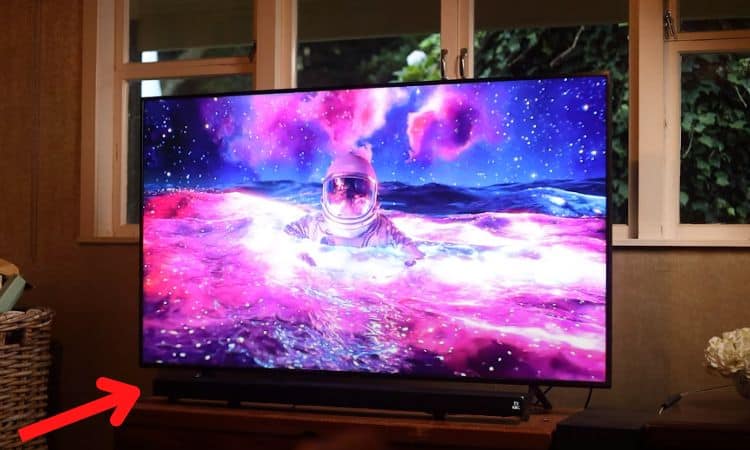 Using different types of cords to connect your Samsung soundbar to LG TV is the most common way. These cables include a digital optical cable, an HDMI cable, or even an auxiliary cable.
To make the connection:
The TV has to be on the correct setting

The cable must be plugged into the sound bar and TV.
We have described below the most common cable you can use to connect your Samsung sound bar to an LG TV in a stepwise manner.
Connecting Your Samsung Soundbar With HDMI
The most extensively used cables to connect soundbars from brands like Samsung are possible HDMI cables. Following these steps will let you connect your soundbar with an HDMI cable conveniently.
Set up your HDMI connection: Insert one end of the HDMI cable into the sound bar's OUT HDMI port and the other end into any HDMI input on your TV.

Connect a different device to the HDMI INPUT port on your sound bar: Your cable box, video gaming console, Blu-ray player—anything you want to watch on TV. Take the HDMI cord attached to that device and insert one end into the sound bar's INPUT.

Turn everything on and plug it in: Turn on the TV and the sound bar after making sure the sound bar is plugged in.

Choose the HDMI port to which your sound bar is connected: Find the soundbar by going to "source" on your TV. Everything should be working now that it is turned on.

Soundbar should be capable of identifying which inputs and outputs are on the HDMI ports. If you have completed all the other steps correctly and it still does not appear on the TV, check to ensure the cable is plugged into the correct port on both the TV and the soundbar.
You can connect your LG Smart TV with Bose Soundbar in many different ways. You can connect them using Bluetooth, Sound Sync, a digital optical connection, or, as a last option, an HDMI ARC Connection. 
If you want to learn how to connect a Bose Soundbar to your LG TV:
Go to TV Settings, Sound, and then Sound Out

Click LG Sound Sync on the wireless network after that.

Find the Bose Soundbar under Device Selection Button and select it.
You might also try investing in a Bluetooth transmitter, which you can connect to the soundbar to the Sony TV Audio Out port.
Press the Bluetooth button on your Bose Soundbar or remote and keep pressing it until you see that it has entered Pairing Mode to pair using Bluetooth.

Go to the Bluetooth Menu on your LG Smart TV now, and select the Bose Soundbar from the list of devices that can be paired with it.

Then, connect your LG Smart TV and Bose Soundbar. Next, try playing some content on your LG Smart TV to see if the audio output can be heard through the built-in speakers within the Bose soundbar.
You might also try LG Sound Sync, which connects all Bluetooth devices, including soundbars linked to your LG Smart TV.
Click on Settings after pressing the Home button on the remote. Click sound, then Sound Out, to continue.

Then, change LG Sound Sync Wireless from TV Speaker in Settings.
Furthermore, you can use a DAC to connect the LG TV's optical audio output to the analogue to the AUX input.
Issues arising in Bose soundbar and LG TV connectivity
Many customers have reported problems with the included Bose HDMI cable, and they got much better results after switching to an Xbox Series X or PS5 HDMI 2.1 cable, which fixed the issue.
We have also seen quite a few responses from people who have replaced their Bose HDMI cable with a new HDMI 2.1 cable but claim their setup is still incompatible because they are not certified HDMI 2.1.
You can test the soundbar with your PS5 HDMI cable and buy a replacement Spigen HDMI cable certified for 2.1 specs.
Remember that you may need to adjust a few settings on the TV side (allow eARC and pass-through) before restarting the Bose app. The Bose Music app will now show Atmos being decoded.
To connect Sonos Arc Soundbar to your LG TV, follow these steps:
Disconnect everything from the LG TV, including the Arc, and turn off the power to the TV and Arc for a few minutes.

After that, plug everything in, keeping it all disconnected.

Enable Simplink on your TV, then launch TV Setup in the Sonos app from Arc's settings. 

When the app instructs you to, use the Sonos-supplied HDMI cable to connect the Arc to the TV's HDMI ARC port.

Connect any other device to the TV after the Arc successfully connects.
Why won't my soundbar work with my LG TV?
The wrong setup of your soundbar's connection prevents it from working with your LG TV. Ensure the ARC option on your audio equipment is set to AUTO or ON. In addition, your soundbar's settings should be changed to PCM sound output and TV input.
Another easy way to reset your device is to cycle the power. After unplugging the device, give it a 60-second pause before plugging it back in. You might also turn off and on again any other connected devices to the soundbar. This will usually resolve the issue.
How do I know if a soundbar is compatible with my TV?
Soundbars have the technology to work with any TV, whether it is a new model or one from a previous generation. However, there are some exceptions when the two devices are not compatible.
Many modern TVs have An HDMI connector labelled as an ARC, or eARC HDMI port is s. These ports enable HDMI to output audio because HDMI was initially developed to receive data from external devices. This reduces audio lag, which is an improvement over optical and coaxial choices.
The most recent version of this is called eARC, where 'e' stands for enhanced. This enables the use of premium sound features on devices like Dolby Atmos and DTS: X. Since this technology is still relatively new, it could be challenging and more expensive to obtain compatible hardware.
You must ensure that all your hardware is compatible with ARC and eARC HDMI. If the television is compatible, it will have a labelled HDMI port, and of course, you can always check the device's specifications. Make sure your soundbar has this feature and the HDMI cable you are using to connect the two.
You will need to select an LG soundbar or a few other options since many soundbars are incompatible with LG TVs. Then, you can use a digital optical cable, a wireless connection, or an HDMI cable to connect the soundbar to the TV.
We hope this article helped you answer the question, "Will any soundbar work with LG TV?