Flat-screen TVs have become extremely popular because along with high-image quality, they also save a ton of space. This is why they are placed in almost every other room in the house.
The purpose of placing a flat-screen TV in a room is to reduce neck and eye strain. So the question is, where should you mount the TV in your bedroom?
In this post, we will answer all the questions that you may have pondered upon when trying to decide where your flat-screen TV fits into your room.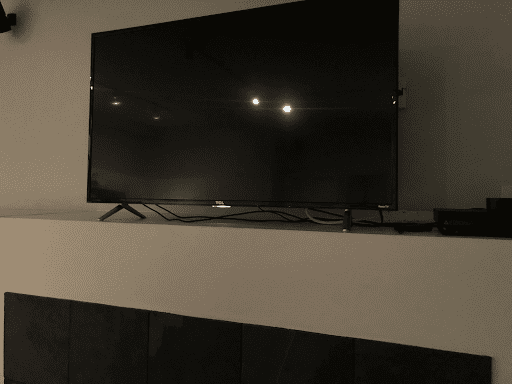 Image Courtesy: Reddit
Before you take on any task, you always need to answer all the possible questions that come to mind. This reduces the chances of inefficiency and gives you the results you need. 
Therefore, we need to consider the following four questions:
Should there be a TV in the bedroom?

What TV size would be best for your bedroom?

Where should you put the TV in your bedroom?

How high should you mount the TV?
Now that we have set a basis for planning, we can move on to factors that need to be considered from each question to start making decisions. 
Should there be a TV in the bedroom?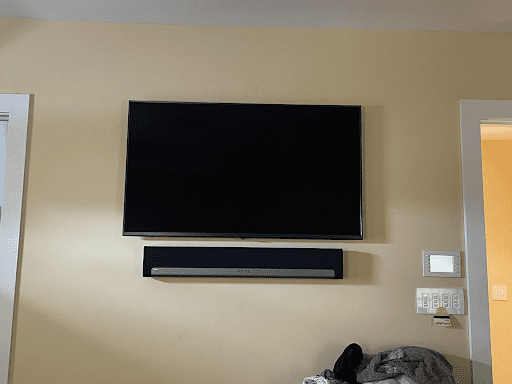 Image Courtesy: Reddit
We understand that everyone is very busy with work, chores, and families. This leaves very little time for leisure time such as taking a break to simply catch up with the news or a TV show.
If you place a TV in your bedroom, you could watch your favorite shows before sleeping in the comfort of your bed. You could also catch important news headlines while getting ready for work. 
You could place a TV in your children's bedroom as well. They could watch Saturday morning cartoons while you start a slow morning without any noise. 
It is mostly a matter of preference, but our team highly recommends you to have a TV in your bedroom.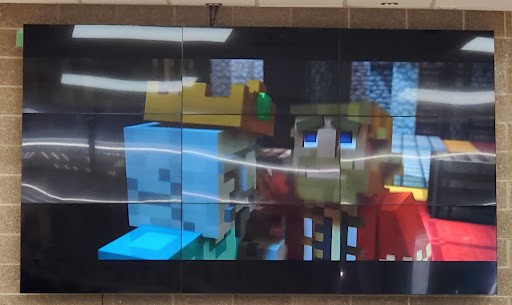 Image Courtesy: Reddit
The size of the TV depends on the size of the room. For a smaller room, a smaller flat screen would be suitable. If you have a bigger room, then a medium-sized TV or a large TV should be considered. 
You should also determine the size of the TV according to your needs. If you only plan to watch the news on the TV, then a smaller TV would be appropriate for the job even in a larger room.
However, if you plan to have a proper cinematic experience and watch movies on your TV, then a larger TV would be suitable even for a larger room.
Tip:
Remember, when we talk about the size of the TV, we refer to the diagonal distance between the corners of the TV in inches.
A smaller TV can serve as a larger TV as well. You can watch the news while keeping it against the wall. When you want to watch a movie, you can extend the TV and bring it closer to the bed through a full-motion mount.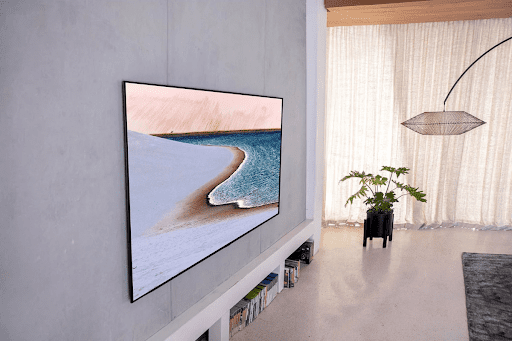 Image Courtesy: Reddit
In this section, we will talk about some of the numerous factors that contribute to the location of the TV in the bedroom.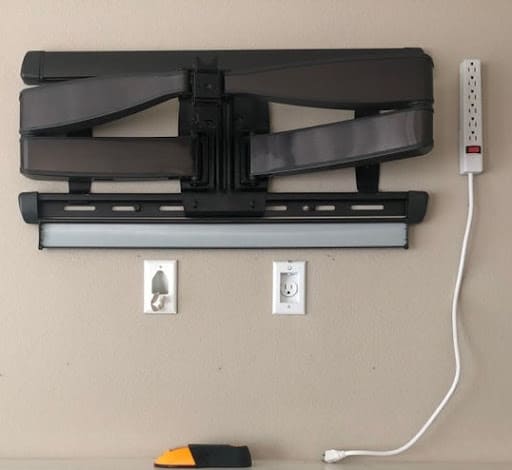 Image Courtesy: Reddit
The primary location of the TV is near an electrical outlet. It is ideal to keep the TV close enough to the outlet otherwise you will need to add extension cords which can create a mess.
A bedroom TV is supposed to provide comfort and relaxation. If you need to strain your neck or your eyes then that purpose is lost. 
Any direction that gives you discomfort should not be considered.
Consider the TV as a large painting and determine where the TV will be installed accordingly. Do not worry about the height because a TV installed on s full-motion mount can be readjusted. 
Eye Level for Watching TV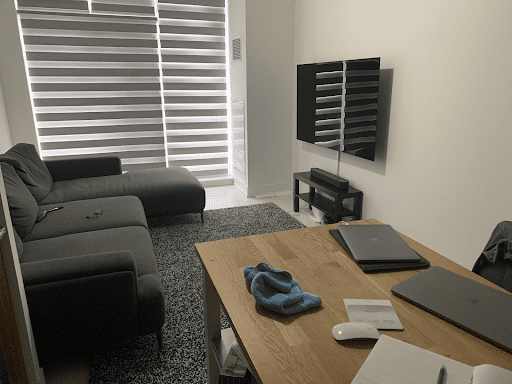 Image Courtesy: Reddit
Usually, TVs are installed at eye level, this means that you place the television perpendicular to the furniture. However, in the case of a bed, the height will be too low on the wall. 
This can disturb the room's layout and furniture arrangement. 
To get the best effect from a TV's large screen size, you need to ensure there is enough space between you and the TV. 
If a room is small, then we recommend smaller sized TV and vice versa. It is better to set a reference distance according to the TV screen's size and install the TV accordingly.
Image Courtesy: Reddit
People generally think that TVs are supposed to be placed at the foot of the bed. That is not always the case. Not all bedrooms have the space to accommodate the perfect TV setting. 
Different bedrooms will have multiple configurations for furniture and TV set up. So, in the case of compact rooms, you can mount the TV in the corner on a rotating bracket. 
You can also set it up on a retractable media stand and tuck the TV inside a chest after you are done watching it.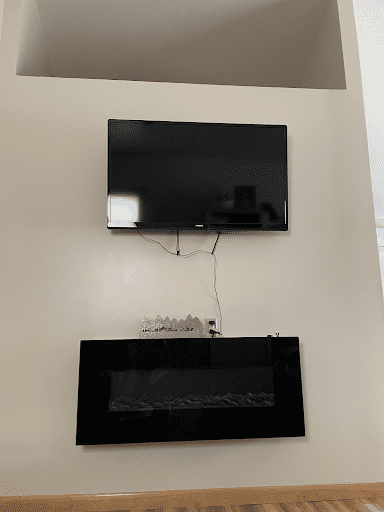 Image Courtesy: Reddit
The TV height is one of the most important factors in determining the best location for your TV. Remember that the best height of the TV in the living room will not be appropriate for your bedroom.
Since you will be lying down or sitting low in bed when watching TV, it is best to install the TV higher than your eye level.
In such scenarios, we recommend tilt or full-motion TV mounts to provide more versatility in post-installment adjustments. 
Proper Height
To determine the proper height of the TV, you need to measure the distance between the floor and your eye level. 
As for the best viewing angle, Television Engineers and the Society of Motion Picture recommend a viewing angle of no more than 30 degrees.  
However, a vast majority are also comfortable at a reclined 10 or 15 degrees. 
Recommended Height
We recommend you keep things simple and not get involved in complicated directions and viewing angles. 
Most interior designers and architects recommend you mount your TV 43 inches above the floor. While this suggestion is restricted to the bedroom, you need to consider the eye level of your seating as well. 
Our team advises you to choose the height that best suits you to avoid eye strain within an optimal viewing distance. 
TV Heights
Here's a list of heights you can choose for different TV sizes:
56 inches

from the floor to the center of the screen for a

42" TV
61 inches

from the floor to the center of the screen for a

55" TV
65 inches

from the floor to the center of the screen for a

65" TV
67 inches

from the floor to the center of the screen for a

70" TV
Now that the major questions have been addressed, we can move on to the other factors that play a big part in determining the best bedroom TV location.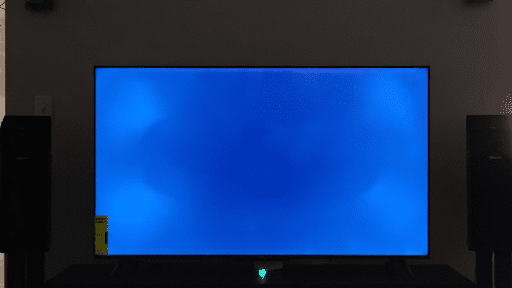 Image Courtesy: Reddit
Too much screen time before bed in the dark can ruin your sleeping patterns. When you watch TV in a dark room, your body thinks it is time to sleep which causes confusion and visual exhaustion.
We recommend you to keep dim lighting when watching TV. You can place a lamp or two in the room to allow a comfortable atmosphere for your relaxation time. 
To prevent your wall-mounted TV from the glare of the lamps, you should keep one next to the TV. You can keep another one in the corner of the room from where the TV cannot reflect light.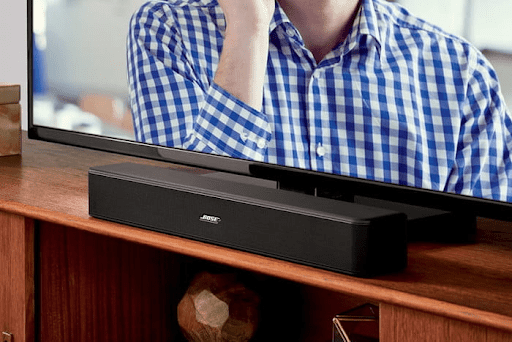 Image Courtesy: Reddit
If you have a roommate or you do not want to disturb people in the neighboring room, then there are two ways through which you can reduce volume issues.
The two options include:
Wireless headphones:

You can attach cordless headphones to your TV and listen to loud audio while your roommate can get complete silence.

External Speakers:

A surround sound system helps you place a speaker near you to get clear audio while the volume remains low. If you place the surround sound system beside the TV then you can also get the full cinematic experience.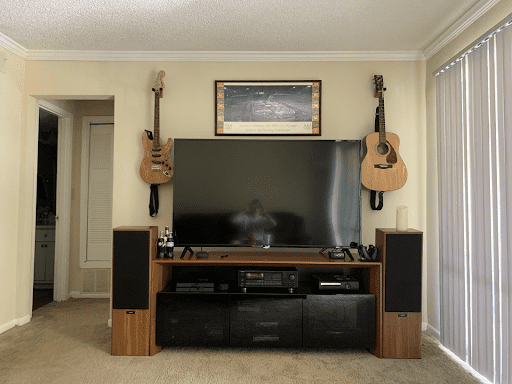 Image Courtesy: Reddit
In this section, we will give you some ideas on where you can place your bedroom TV according to the layout.
Layout
The TV screen should be right across the bed to achieve the best viewing distance where you can easily watch TV. 
Your wall-mounted TV can go above any piece of furniture. This layout is especially useful for a compact room.
Perpendicular Angle
In case you do not want the TV to be the center point in the room, you can install it on the wall beside your bed. This allows you to have it on in the background while you get other things done.
Cabinet TV Screen
If you have to fit a lot of furniture in one compact space, then we recommend placing your TV in a media cabinet. 
A TV cabinet can provide you with a clean aesthetic and entertainment whenever you need it.
Mixed-Media Gallery Wall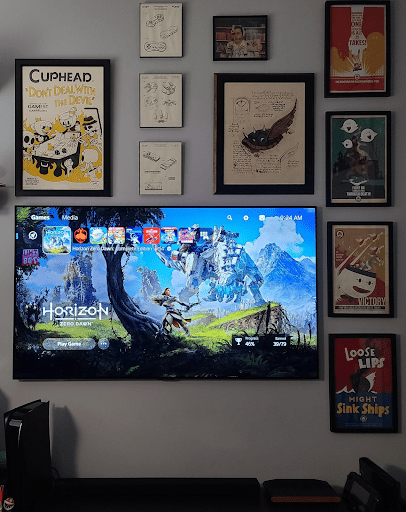 Image Courtesy: Reddit
Adding a TV, a mirror, and wall hangings on a wall can create a unique setting in small rooms. This mixed-media wall looks quirky and pleasant. 
Mixing the entertainment value of a TV and the beauty of artwork can give the room a creative arrangement.
Wall Cabinet
We highly recommend you use a TV stand instead of a TV mount if the room is too small. This TV center can hide all your gadgets such as DVDs, sounds system, video boxes, and their wires.
How to Mount a TV in the Bedroom?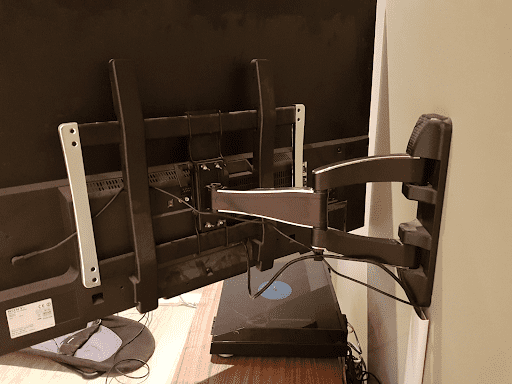 Image Courtesy: Reddit
Through this 3-step process, you can mount your new TV in the bedroom. You will be able to find all the necessary tools inside the mounting hardware package. 
Step 1
Locate studs in the wall through a stud finder. Hold up the wall bracket against the wall and mark points where screws need to be inserted with a pencil.
Step 2
Drill point holes on the pencil markings and then hold the bracket to the wall to insert screws. 
You can drill holes through a:
Screwdriver

Drill

Socket Wrench
Step 3
Insert mounting screws on the back of the TV and attach them to the mounting plate by lifting the TV. 
Tip:
Use a level throughout the process to help keep your TV straight and not tilted towards one side.
Frequently Asked Questions (FAQs)
Where should you place a TV in the bedroom?
It is mainly a matter of preference. A TV is suitable in places where it is at eye level. If it is installed higher on the wall then you can use tilting TV mounts to tilt the screen downward.
However, some people prefer the following places:
Wall Mounted TV

Hidden inside a cabinet

Placed on the top of a dresser

Fixed on a post at the foot of the bed
Where should you put the TV in the bedroom if the space is too small?
We recommend that you should either mount it on a wall or place it on top of a furniture piece of appropriate size. You can also place it inside a cabinet and hide it when not in use.
Do not put the TV in a corner or on top of smaller furniture if the TV size is bigger.
Should your TV face the window?
You should avoid installing your TV on the wall opposite the window because the glare can hinder an optimum viewing experience. Hang curtains or shades to reduce glare on your flat screen.
Is it bad to have a TV in your room?
Placing a TV in your room might cause some problems such as reducing conversations between you and your partner. Moreover, watching TV just before bed could ruin your sleeping patterns. 
Furthermore, it can distract you from work. Therefore, you need to be careful to balance out the time you spend relaxing in front of a TV and your personal and professional life. 
This concludes our post on "Where to Mount TV in the Bedroom". 
There is no doubt that you need some time to unwind and watch TV after a hectic day at work. So placing a TV in your bedroom might be a good idea. 
If you are struggling to find the right place for your TV, then this guide can help you consider all the important factors before you install your TV. 
Let us know if you have any more questions.