A wall-mounted TV is a great option if you want to save space or improve the aesthetics of your room. However, it may be difficult to purchase the correct TV wall mount especially with so many options in the market. 
We are here to help you choose the best TV wall mounts according to your preference and living space for the best viewing experience. 
Quick summary
In this post we will go over:
What to consider before you buy a TV wall mount?

Types of TV wall mounts 

Wire management 
Without further ado, let's get started.
What to Consider Before You Purchase a TV Mount?
As we said before, it's hard to choose the correct mount for yourself. But, luckily most TV wall mounts follow the same VESA pattern. This should make your life way easier. 
The video electronics standards association invented this standard mounting pattern to make sure that any wall mount that is VESA compatible will fit your TV. 
The VESA pattern is a set of four screw-holes arranged in a rectangle on the back of your TV. The spacing on the wall mount connects with the corresponding holes. 
This standard ensures that all VESA-compatible TVs and mounts are totally interchangeable therefore every TV mount sold today is VESA compatible. 
How to measure your TV VESA size?
You can find out the VESA size of your television in the manufacturer's instructions. You can also look it up online. But, if you can't find the VESA patterns of your mount, you don't need to worry since it's really easy to measure. 
All you need to do is measure the horizontal distance and the vertical distance of your TV. Then note your VESA size by writing the horizontal distance first. For example, 200 x 100. 
The mounting holes or the hole pattern behind the TV are squares. Therefore, the vertical distance equals the horizontal. But you may also find some rectangular hole patterns.
Your goal is to buy a TV bracket that has the same pattern as your TV so it can be properly fitted and secured onto the wall.
Consider your Wall Material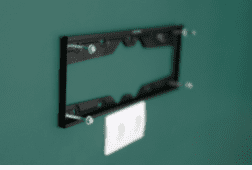 Most TV mounts are usually fit for drywall. They also come with all the tools and material to properly mount your flat-screen TVs. However, this will require you to use a stud finder for the proper anchorage of your TV. 
Obviously, this doesn't apply to every wall since all walls are not built identically. So, if the walls in your homes are built from plaster, masonry surface, brick, or cement you'll need additional hardware to properly secure the TV mount. 
It's important to keep in mind that although there is a standard VESA size, this does not include the size and weight of your TV.
Every wall mount has specifications based on the weight and size of your flatscreen. 
For example, if you have a 32-inch rated TV mount and you mount a 50-inch TV to it, you will end up with a broken mount, cracks in your wall, and your television on the floor. 
Therefore, you must double-check the specifications of your wall mount to confirm how much weight your mount holds.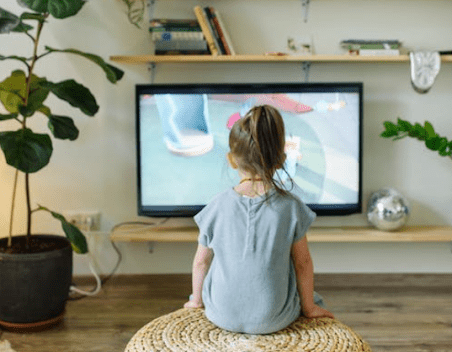 According to the Society of Motion Picture & Television Engineers, the optimal viewing angle is where the screen fills around 30 inches to 40 inches of your vision. Make sure to measure this while sitting down as you will do most of your viewing while sitting. 
Furthermore, sitting at such a distance will create a perfect cinematic experience while protecting your eyes. 
Before you mount the TV, take a moment to look at the layout of the room and the sitting position. 
If you want to watch the TV from the couch, you don't want the TV to be mounted too high. This might cause neck strain or uncomfortable viewing.
Another important thing to consider is the windows in the room. Avoid wall mounting your TV opposite to windows or glass doors. The reflection of the sun's glare will interfere with your viewing.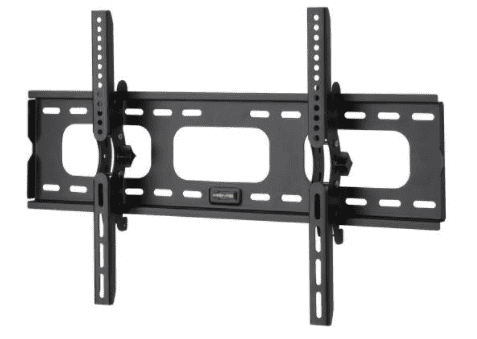 If you want a low-profile wall mount, we would suggest a fixed TV wall mount. 
It works exactly how you would expect. It holds the TV in a fixed and secure positing snug against the wall. Best of all it works best for all TV sizes.
The biggest advantage to this wall mount is that it will give your living a clean picture frame look. It also comes with a padlock option for small, medium, and large TVs.
When does a fixed position mount work best? 
It will work best when:
You need your TV to be mounted at the single and optimal height 

Your couch/viewing angle is directly in front of the TV 

There is no TV glare from the windows 

You don't need access to the back of the TV

You need your TV snug against the wall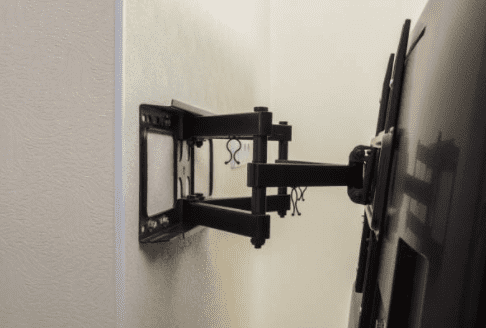 Obvious of its name, a tilting mount will allow you to angle your TV vertically while it's mounted on the wall. 
This will allow you to have the best viewing experience from different heights. Especially if you've mounted your TV on a high place such as over a fireplace mantel. You can also tilt your wall mount to reduce glare on the TV screen. However, it will exhibit no horizontal movements.
If you're wall mounting a larger TV, we recommend you go for tilting mounts that have an extension. This will give you the maximum tilt. Otherwise, your TV might hit the wall when you try to tilt it. 
When does a tilting mount work best?
It works best when:
Your TV needs to be mounted above eye levels such as over a dresser or a fireplace. This will help keep your TV safe from children, pets, and the elderly.

You want to watch your TV from different heights. For example, tilting it down while playing video games. 

You are dealing with TV glare so you need to tilt the TV to avoid the reflection. 
Full Motion TV Wall Mount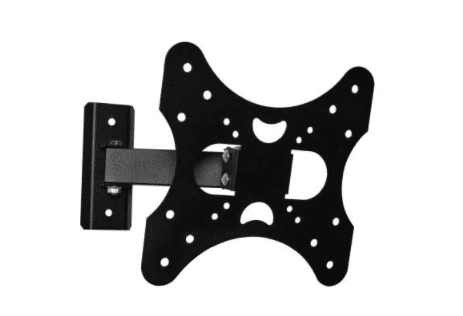 Motion TV mounts are also called articulating or swivel TV mounts. A full-motion TV wall mount bracket allows the TV to be tilted, swiveled, extended, and fixed in one place. This creates a variety of different viewing experiences.
When does a full-motion mount work best?
You want to hide your TV in an armoire and pull it to when you need it.

You need flexibility in your TV wall mount due to the layout of the room. This will allow you to angle the TV at any corner. It will also help you turn away the TV from any windows to reduce screen glare and reflections. 

If you have limited space in your room and need to install your TV in a corner

You have to access the back of the TV to switch out HDMI cables, access TV ports, or plugin gaming systems.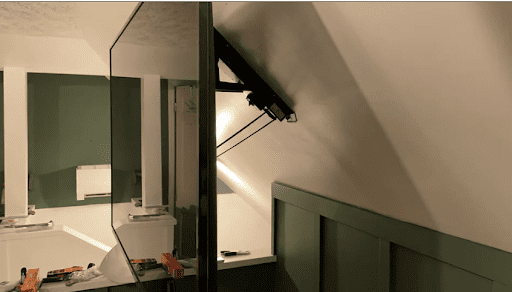 Image Courtesy: Reddit 
If you don't have a free wall or if the material of the wall doesn't allow you to mount a TV, a ceiling mount is your best option. However, with this TV bracket, the installation process is quite complicated. 
The adjustable brackets are mounted on the ceiling from where the TV hangs. This will also allow you to adjust the screen and move it 360 degrees horizontally. 
Other specialty mounts include under-cabinet mounts, fireplace mounts, corner mounts with two wall plates, truss mounts for on-stage use, as well as TV mobile carts and stands.
Note: Avoid mounting a heavy TV with this bracket as there might be a risk of your wall collapsing. Double-check the specification of the bracket to make sure it can hold the weight of your television.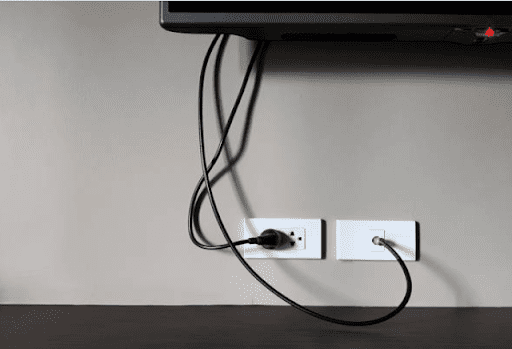 After you have successfully mounted your television, you will quickly find the need for proper wire management. 
Mounted TVs are supposed to give a minimal and clean look. However, cable boxes, game consoles, or a Blu-Ray player may leave a trail of wires and ruin that clean look you want. 
Trust us when we tell you, nothing will ruin the appearance of your wall mount than loose wires hanging down. 
But lucky for you, we have a few solutions to help you combat this problem. 
The first thing you can do is install the wires inside the wall. This will require professional help. If you want an easier fix, you can always get a power outlet installed behind the TV. However, this might be annoying when it comes to connecting accessory devices to your flat screen. 
There are also quite a few types of covers to camouflage or organize your wires such as cord caddies. 
In addition, you also need to be aware of any ports that you may require on your TV. Most TVs include these ports on the sides of the screen. But mounting your TV closer to the wall could result in difficulty accessing these ports especially if your TV is not curved. 
Do I contact a Professional?
Another important aspect of your flat panel purchase is the installation of these mounts. 
Most TV wall mounts are easily installed. We would recommend two handy adults for this process to avoid any mistakes. Go over the TV manufacturer instructions so you know exactly which bolts to use. 
We would also recommend you anchor the TV studs into the wall. This will; help prevent weakening the drywall over time. However, if you still have doubts you can always contact a professional to install the wall mount for you. 
With that, we conclude our post. 
To summarize, you should look at the perks of a wall-mount and not just the price. Pay attention to the layout of the room and decide the perfect place and height for your TV. Then you can go about choosing wall mounts. 
Don't forget to check the VESA compatibility, size, safety warnings, and weight of the mount before your purchase your TV bracket. 
Which wall mount is perfect for your TV? Let us know in the comments below.