You might have come across different types of TV wall mounts. Some are fixed while some are enabled for full motion. 
One of these motion-enabled mounts is called an articulating mount. Today we will discuss how articulating mounts work and how they are different from a conventional tilting wall mount.
Besides that, we will also discuss the following things in this article:
Different types of articulating mounts

Why you should use an articulating TV wall mount

Frequently asked questions
Without further delay, let's get started.
Articulating TV Wall Mounts
TV wall mounts come in two major categories, fixed and full motion. An articulating TV wall mount falls under the full-motion TV mount category because you can move it around.
At first glance, you can clearly notice that this type of wall mount has a lot of moving parts. This is because an articulating mount is a mix between fixed TV mounts and motion TV mounts.
Why is it called a combination of the two categories?
Professionals label it as a combination of a full-motion mount and a fixed mount because it has all the features of both wall mounts.
You can tilt, swivel, or pan the mount at any angle with the help of its mounting bracket. Once mounted, the articulating wall brackets can be moved in any direction. 
How is it better than a conventional mount?
Fixed TV wall mounts are one-dimensional in their operations. You can only tilt them forward or backward. The tilting bracket enables you to avoid glare from other light sources.
However, an articulating wall mount allows you to adjust multiple viewing positions until you can find the right one. 
Design of an Articulating Full-Motion TV Mount
Here's an example of an articulating TV wall mount.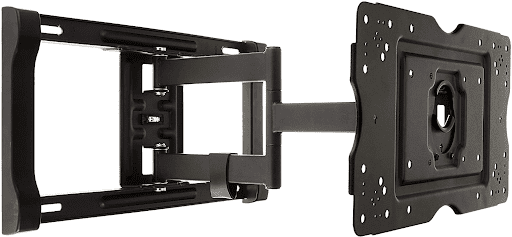 As you can see from the image, the TV wall mount is divided into 3 different parts. A mounting bracket that can be attached to a concrete wall. 
An extendable arm that allows forward and backward motion with just a simple pull. Last but not the least, the box-shaped TV plate where you can hang your TV. 
Why is it divided into 3 different parts?
Most TVs are designed for tilting mounts due to their heavyweight. An articulating full-motion TV mount is divided into 3 parts to counter and distribute the weight of large TVs.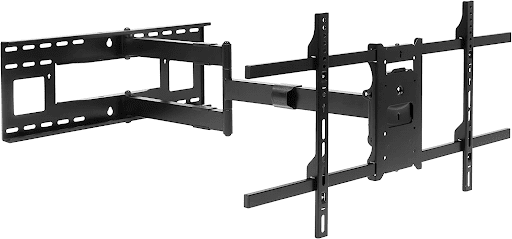 The multiple studs keep the entire setup stable and easy to move. The arm can comfortably sit at its full length without any bends or cracks.
Parts of an Articulating TV Mount
All three parts of an articulating full-motion TV mount serve a different purpose. The mounting plate serves as a strong base.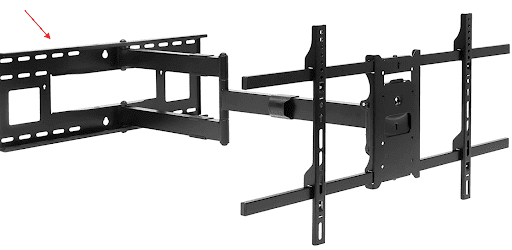 It can attach multiple VESA-approved screen sizes. Every screen size exerts its own weight, the rectangular design makes sure that it can hold it.
The extend/retract arm enables the to and fro motion of the full-motion mount. This arm itself is divided into parts so you can pull your TV screen at a considerable distance from the wall.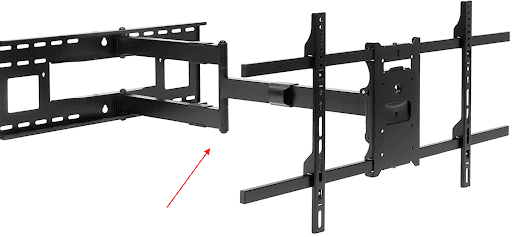 The third part is the TV plate. As you can already tell, this plate serves the remaining three features of a full-motion mount.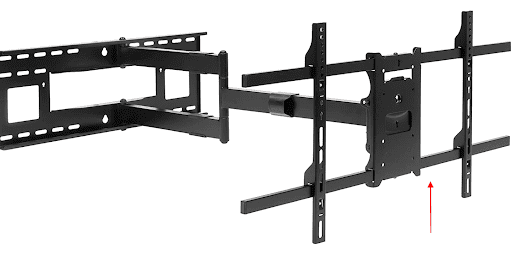 You can tilt, swivel, or even pan this screen to find the best viewing angle. The swivels are attached using the arm and the plate.
Is this mount even practical?
This mount is made to provide maximum utility. Every person's living room is not designed in the same way. Likewise, other rooms in your house have different orientations.
To reduce the installation space and maximize the room for your TV, the mounting arm works wonders. You can place the mount anywhere in your room and still get the optimal viewing angle.
Installation of Articulating Full-Motion Mount
When it comes to the installation of an articulating TV wall mount, it is quite straightforward compared to a tilting mount. You can install it by using 4 studs on each corner.
Moreover, the mounting bracket contains 6 clear mounting holes that have enough room for more than a single stud. 
Why do I need to place more than a single stud in each hole?
In some cases, when you are installing a mount, it might need extra studs for firmness. This is only applicable if your TV is quite heavy.
The extra space for screws is usually on each corner or in the top/bottom middle section. It is your personal preference to decide which type of option you want in the mount.
What tools do I need for installing an articulating full-motion mount?
Apart from a stud finder and a power drill, you'll need a bubble level to keep the mount straight at eye level. You can also use masking tape to mark the space for your mount before installation.
The space to manage your wires in an articulating mount is more than enough. You have small windows in the arm that can be used to pass the wires. 
The wires are nicely hidden even when the mount is in a flush position. This allows you to place this mount over a fireplace without any worries. 
How should I attach my wires to brackets?
For TVs mounted on a full-motion mount, you should always use zip ties. This is due to the fact that zip ties provide a lot of room for wires to move when orienting the TV in different positions.
Types of Articulating Mounts
There are 2 different kinds of articulating mounts available in the market that you can use for your TV. One is a single-arm TV mount and the other is a double arm TV mount.
Following are the examples for them respectively: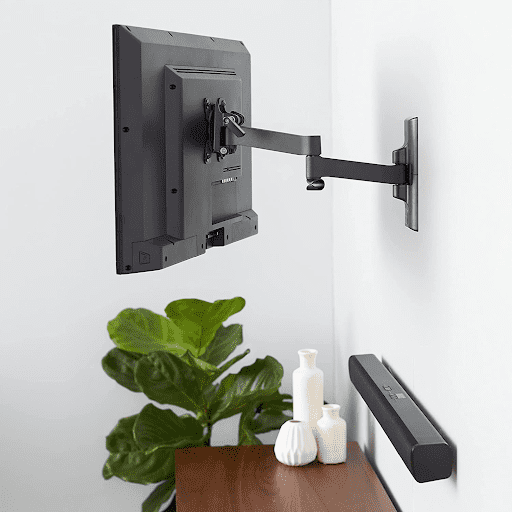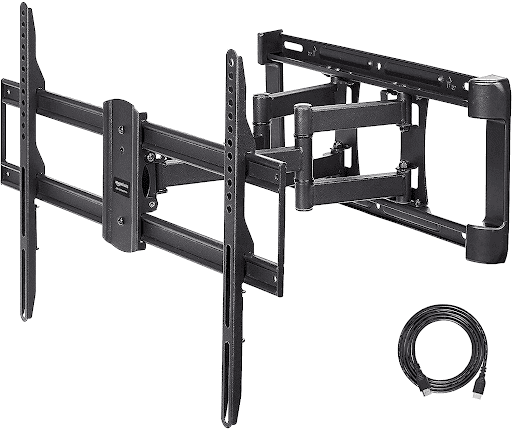 As you can see the windows and brackets on both of these mounts are quite similar. The cables can easily be redirected from the TV to the wall. 
The only main difference is the design of the mounting arm. The double-arm version is mounted using two separate arms that provide sufficient room for movement.
How is it different from a single-arm mount? 
A double-arm mount is quite efficient in distributing the weight on each corner. Once you install it, the bracket remains firm without any unwanted movement. 
Reasons to use an Articulating Mount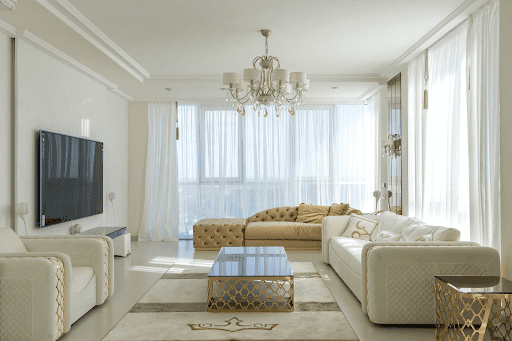 As you already know by now, the versatility and utility of an articulating mount are only limited to your imagination. 
Let's take a look at some of the reasons why you should use an articulating mount for your room.
Viewing Angle
TVs are designed to be a vital part of your leisure time entertainment. Thus, it is essential that you are comfortable watching it.
Whenever you are installing a TV in your room, there is only one thing you should be mindful of.
The TV is always mounted at your eye level. It doesn't matter if it is over a fireplace or your sitting area, you should never have to tilt your head to watch it.
Why does it matter so much?
When you are watching television, you are mostly sitting on a couch or a chair. That means if your TV isn't directly in the line of sight, you will have to tilt your head.
This can cause painful problems in your neck in the long run. Other than that, if your TV isn't placed at the optimal angle, you will always get a glare spot issue whenever you decide to sit and watch TV.
How can I avoid glare problems?
There are two ways to avoid glare spots on your television. One, tilt your television forward a bit so the lights aren't directly shining on your screen. 
Two, always use the lights installed directly above the TV. Lights that are installed at an angle in our rooms will always cause these spots.
Frequently Asked Questions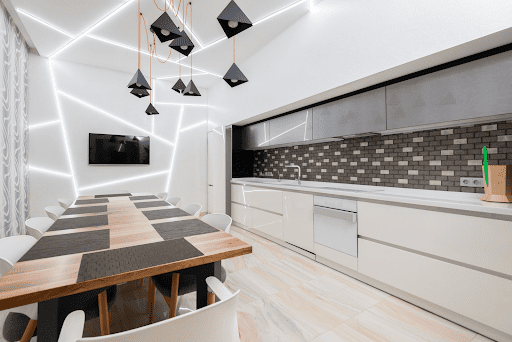 We have gathered some commonly asked questions from the web. Let's take a look at them.
How can I tell if my mount is compatible?
You can check the dimensions approved by Video Electronics Standards Association (VESA) stated on your TV and the mount. If they match, your mount is compatible with the TV.
Why are there so many types of wall TV mounts?
There are so many types of wall TV mounts because everyone has their own mind about mounting a TV on the wall. These categories provide options and versatility for customers.
What type of cables should I attach to my wall TV?
In most cases, all you need to attach is the power and input cable. The input cable can be Optical or HDMI.
This brings us to the finish line of our post on Articulating Mounts. We hope this article proves to be informational for you.
Articulating mounts are highly versatile in their operations and enable you to orient your room per your desire. They are quite easy to install and handle. Moreover, they come with multiple tilts and swivel options for your convenience. 
Do let us know what type of mount you use for your TV.