As TVs are becoming lighter and slimmer by the day, it's becoming more and more popular to mount them onto your wall. 
Mounting your TV onto the wall can save you a ton of space and also makes your room look aesthetically pleasing. 
Low-profile TV mounts are a great introduction to TV mounts and are definitely a type of mount that most people are familiar with. 
Quick summary
In this post, we will discuss how low-profile TV mounts work and what level of functionality they provide. 
We will also expand upon how you can analyze what your needs are to determine whether or not a low-profile mount would be the right choice for you. 
So without further ado, let's get into it.
What is a Low-Profile or Fixed TV Wall Mount?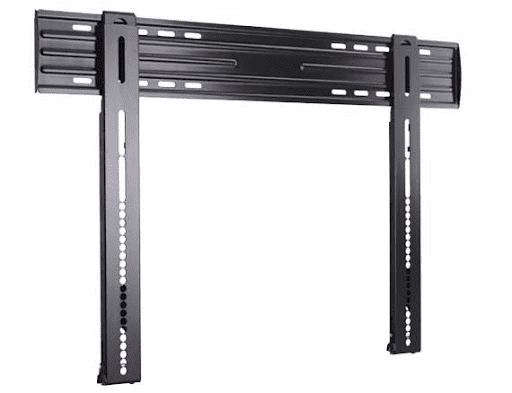 A low-profile or fixed TV wall mount is the most basic type of wall mount you can find on the market for your television. 
The "low-profile" in the name refers to the fact that the TV mount sits a lot closer to the wall than most other types of wall mounts. This prevents the mount from sticking out too much and gives it a neat, minimalist look. 
You may have already gathered, low-profile mounts are also known as fixed mounts. 
As the name suggests, fixed TV mounts do not provide any type of motion as part of their functionality. They are completely static and cannot be tilted, rotated, swiveled, or moved in any way, unlike other mount types. 
They are only constructed to securely mount your TV to the wall. That's it. 
This can either be a good thing or a bad thing, depending on what your needs are.
If you are someone that has a large space with many different viewing angles, then a fixed TV mount is definitely not going to be the right choice for you. This is because a fixed mount can only provide you with one fixed viewing position. 
On the other hand, if you are someone that does not have a lot of space to work with, then a fixed TV mount can be a perfect choice. This is because it mounts extremely close to the wall and saves more space than all other mount types available in the market. 
A low-profile television mount can also be a bad choice if you intend to mount your TV near a window or any other similar light source. This is because light will shine onto your TV and cause glare. 
You will not be able to do anything about this glare since your wall mount's position will be completely fixed. On the other hand, if you had a tilting wall mount here, you would be able to tilt it in order to reduce the glare. 
Hence, you must definitely assess what your needs are before you buy a fixed TV wall mount since it's definitely not suitable for everyone. 
Advantages of Fixed Wall Mounts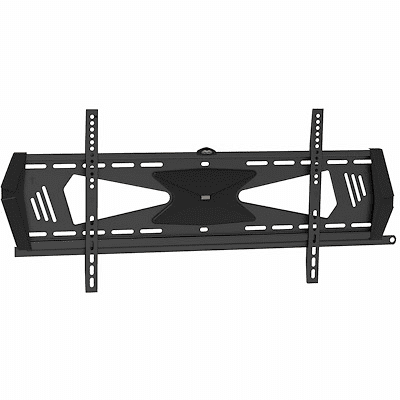 If you've never mounted your TV on a wall before, a fixed wall mount can definitely be a good place to start. 
Some other benefits of fixed wall mounts are: 
Firstly, If you don't have a ton of money to spend on a wall mount, then a fixed wall mount can definitely be an appropriate choice. 
Since a fixed mount doesn't provide any movement options, it has no complex mechanisms or components for motion. This ultimately brings down its price a lot compared to other mount types. 
Fixed wall mounts are, by far, the most affordable option you have when it comes to TV mounts.
Secondly, as mentioned earlier, low-profile fixed mounts sit extremely close to your wall. This allows them to have a minimalist appearance that can work very well with most interiors. 
The mount does not have any extra peripherals that cause it to stick out from the wall. Most of them sit less than an inch away from your wall. 
This ultimately makes for a much cleaner look and really accentuates the slimness of your flat-screen TV. 
Thirdly, as you may have already guessed, fixed wall mounts are by far the easiest types of mounts to install. 
You don't need to worry about complex mechanisms or moving parts. You just need to find a wall stud and attach the mount using the instructions provided. 
This isn't always the case with other types of mounts. Some of them may require professional installation. Others require special tools or materials to mount onto walls depending on the type of wall, type of mount, television size, etc. 
Lastly, while saving space is something that all wall mounts achieve, fixed wall mounts achieve this to a much higher degree than other mount types. 
This is because they sit much closer to the wall compared to other mount types. 
Most other mount types sit at about 2 – 3 inches from the wall when they are fully retracted. Those motion mounts also require a lot more space if you're going to use them to their fullest potential. 
On the other hand, fixed mounts typically sit at less than an inch from the wall. This makes for more economical use of your space. It can be extremely useful if you live in a smaller apartment where you have to use your space wisely. 
Disadvantages of Fixed Wall Mounts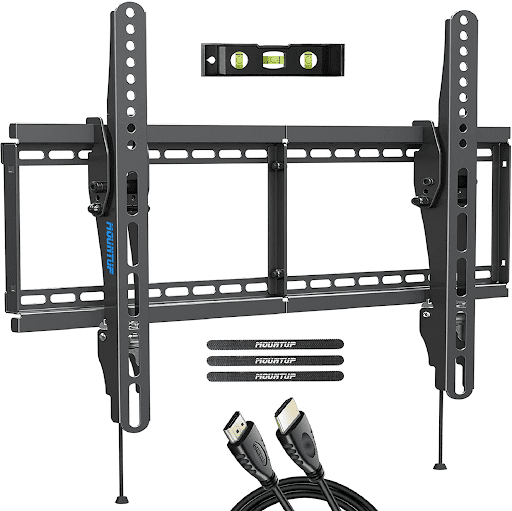 First of all, let's get the most obvious one out of the way: They provide the least amount of movement out of all other mount types, i.e., no movement at all. 
If you want to watch TV from multiple different viewing angles each day, this is not the mount for you. It's meant for individuals that only have one, primary viewing position such as a couch or a chair. 
Secondly, while this is also a major advantage for fixed mounts, it can also be a disadvantage in some cases: The fact that they sit so close to the wall. 
While it's true that sitting so close to the wall means that it looks great and saves space, it can cause issues with cable management. 
If you have any outlets located on the back of your wall-mounted TV, they will immediately become unusable. This is because your TV will stick so close to the wall that it won't be feasible to plug anything in the outlet(s) at its back. 
Furthermore, if you have any wires attached to the back of your TV, they can rub up against the wall and become damaged as well. 
In most cases, you will have to invest in right-angled adaptors for the wires you need to use with your TV so you can easily connect them without them becoming damaged.
Right-angled adaptors can be annoying to get since not only will you have to spend extra money but you must also ensure they let you operate at the appropriate bandwidth. 
Identifying the correct bandwidth for right-angled adaptors is beyond the scope of this post but you can imagine why this could get extremely annoying.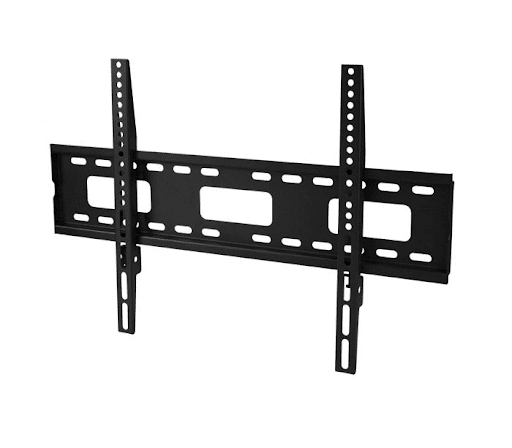 That's how a low-profile, fixed, or flat wall mount works. 
It's not the best option for everyone but it's definitely something that the average consumer should consider. 
If you feel that you'll watch TV from just a single, primary position, then a fixed wall mount is definitely your best option. It will look lovely on your wall and it's also the most affordable. 
In case you have any further questions regarding fixed wall mounts, please let us know in the comments below.