When we compare Samsung, the Electronic giant of the globe in 2022, with Toshiba, which was once a leading brand in consumer electronics. We have a hint that Samsung is a better TV brand. 
Samsung has become a market leader in the past decade with intensive testing, research, and brand development. So they ensure that their TVs last longer.
But Toshiba hasn't left the place vacant. They are constantly trying to develop better TV technologies, superior panels, and viewing angles. Here's a detailed breakdown of the comparison between Toshiba and Samsung. 
Toshiba VS Samsung TV: Quick Answers & Comparison Summary
Looking at the latest TV series of Samsung and Toshiba, we dont find many differences. Both brands are introducing sleek and modern designs. 
Research and design development has enabled them to make thin, sleek designs that look artsy and add a dash of luxury wherever you mount them.
But there are dozens of differences when we dig deeper into their design specifications and features.
Here's a quick review table that will answer the good and worst sides of your prospective TV.
Feature

Toshiba

Samsung

Winner

Screen Size

43-65 inches

Wide size ranges

Samsung

Picture Quality

Best

Average

Samsung

Refresh Rate

60-120 Hz

60-120 Hz

Both

Sound

Immersive Sound

Average Audio

Toshiba

Operating System

Fire TV

Tizen OS

Samsung

Display Technology

LED

LED, LCD, OLED,

NEO OLED, QLED

Samsung

Lifespan

5-7 Years

More Than 7 years

Samsung

Power Consumption

54 wats

120 wats

Toshiba

Connectivity Ports

4 HDMI 2.0, 2USB, eARC

4 HDMI 2.1, 2 USB, eARC Support

Samsung

Viewing Angle

Wide

Wide

Both

Wireless Technologies

Wifi, Chromecast, Bluetooth

Wifi, Screen Mirroring, Bluetooth

Both

Voice Assistant

Alexa, Google Assistant

Bixby, Alexa, Google Assistant

Samsung

Image Processors

Quad Core

AI Powered 4k Neural Quantum Processor, Free-sync, G-sync enabled

Samsung

Price

Affordable

Expensive

Toshiba
Pros and Cons of Toshiba VS Samsung TV Brands
| Toshiba TV Pros | Samsung TV Pros |
| --- | --- |
| Very affordable TV | Lowest input lag |
| Uses very low watts, so saves alot of energy | High Brightness more than 1000nits |
| Decent gaming experience with 120 Hz refresh rate | Wide color gamut |
| Very good viewing angle | High contrast ratio |
| Audio quality is superior even without Soundbars | Deep blacks appear very dark with its ability to pop the bright and dim the dark |
| | Anti glare feature, which can bright the image and cancel any reflection on the screen |
| | Great for gaming with HDMI 2.1 ports and fast Variable refresh rate (VRR) at 120 Hz |
| | Tizen OS is very fast and has more apps than any other OS |
| | Very fast image processor allows you to fastly switch between shows and group call on skype with many people at the same time |
| Toshiba TV Cons | Samsung TV Cons |
| --- | --- |
| Lack sufficient brightness for very bright room | Less affordable |
| Not available in very big screen size | Not energy efficient |
Toshiba VS Samsung TV: A Detailed Comparison
Despite the similar slim built and looks, the TV from different brands differ in so many ways. They have patented design features and technologies, that are different from others.
No other brand can use the same design specifications, because that will be considered a violation of copyrights.
Here's a detailed breakdown of each feature in Samsung and Toshiba TVs. That will help you understand the differences and allow you to decide which TV best suits your needs.
Also Check: Samsung VS TCL TV
Toshiba TVs come in different sizes starting from 32 inches. But most of their latest TV series come in 43,49,50,55,58,65 sizes. 
With that said, the bigger sizes like 70 inches and onwards are not available in Toshiba TVs. All TVs in UL20, UL2B and UL3B series with ultra HD 4k screen resolution have these sizes.
While Samsung TVs are available in a wide variety of sizes. The common TV series with the latest technology such as QN95A, QN90A, and QN85A QLED series are available in 55, 65,75,85 inch sizes. 
Apart from that, bigger Samsung screen panels are available in much bigger sizes.
If you want a bigger screen size, then Samsung is a clear winner. While if you want a variety of sizes under 65 inches then Toshiba is a winner. 
If we talk about screen dimensions, there is a minute difference in height, width, and thickness between Toshiba and Samsung TVs.
In 55 inches screen size, Toshiba TV is 48.7 inches wide 28.1 inches in height, and 2.6 inches in thickness without a stand. The Samsung TV has 48 inches in width, 28 to 29 inches in height, and approximately 2 inches in thickness. 
Samsung TV is a bit slimmer than Toshiba TV. 
2. Picture Quality / Display Panels
The Toshiba TVs have LCD and LED displays. Samsung TV has LED, LCD, Neo QLED, QLED, and OLED display panels.
Here we know that OLED and QLED panels are far superior to LEDs. For example, QLED uses backlighting which can increase the color gamut and screen brightness. 
Neo QLED uses hundreds of individual LEDs to increase the brightness of the scenes. That's how the picture looks clearer and brighter in the bright scenes. While it can show deep blacks deeper.
While considering picture quality in a TV, we talk about its peak brightness, local dimming zones, and black and grey uniformity levels.
In Toshiba TVs,  TV panels are UHD LED. which is decent for bright images. But the image does not get too bright to have a clear picture in a well-lit room.
While Samsung UHD panels can achieve a peak brightness of more than 1000nits. So watching content in a bright room will be fun. You can watch TV without the distractions of screen glare.
With that said, In Toshiba LED TV vs Samsung, the picture quality and display panel of Samsung are better than Toshiba's.
As a general rule of thumb,  VA panels have a less accurate viewing angle, while IPS panels have better viewing angles.
Samsung uses VA panels in a variety of the latest TVs. Such as QN95A uses a VA panel. But in QN85A, an IPS panel is used.
Toshiba TV has IPS panels that have very accurate viewing angles. You can watch clearer images from a much wider angle. These TVs are best for wide seating arrangements.
Samsung TV has a wide viewing angle in almost all TVs. These are the most suitable TVs that anyone can buy blindfolded if they want a TV for a bigger room. 
Several audiences can enjoy a good picture with accurate viewing angles from any corner of the room.
Samsung and Toshiba are both doing great in this category.
Toshiba TV features a Quad-core processor with 2GB RAM and 16GB storage. This allows multitasking on your smart Toshiba TV smoothly. 
You can easily switch between the content and surf web pages smoothly.
Samsung TV has an AI-powered 4k Neural quantum processor that serves various functions. With this high-paced processor, you can make skype calls while watching TV and smoothly transfer content between TV and your devices.
Additionally, Samsung has AMD free-sync and G-sync features that are perfect for gaming. That allows a fast refresh rate (VRR) at 120 Hz. which is necessary for a gaming TV to watch images without tearing. These features support the HDR content at perfect brightness and pop.
While Toshiba TVs don't have free sync and G-sync in their TVs. So the Samsung TV processor performs better here.
5. Refresh Rate / Toshiba VS SamsunG
Refresh rate is a must-have feature if you are more invested in watching action movies with fast-moving images. Or if anyone wants to buy a TV compatible with their high-speed games. 
Where the images change a lot of times per minute, then you must take into consif]deration the Refresh rate of the TV should not be any lesser than 120Hz. 
Samsung TVs have 4K UHD displays with 120Hz refresh rates. With variable refresh rate features, you can enjoy high-speed gaming without tearing.
Toshiba M550 TV has a 120Hz refresh rate. While the variable refresh rate (VRR) of 4k is not supported in Toshiba TV. 
So if you are on a budget and want a decent TV for gaming, then there's no better option than Toshiba M550. 
If you have no affordability issues, then Samsung TV is the best option for high-speed gaming with a variable refresh rate.
In Samsung TVs, we have a Local dimming feature. That improves the contrast of dark scenes by dimming the brightness around the dark object. The Samsung QN95A has excellent local dimming. You can see deep blacks in HDR more clearly.
The blooming around the brighter object is minimal. In cinematic mode, you can enjoy HD content with its real colors. 
While In Toshiba Fire TV and Toshiba C 350, there is no local dimming feature. However, it can fairly dim the zones around the darker objects. 
But in the latest M550 Fire TV from Toshiba, we have a full array of local dimming features, which has 48 local dimming zones. That allows grey to appear more uniform without much blooming.
Additionally, Samsung and Toshiba'S DOLBY Vision HDR displays content with high accuracy, 
So in Toshiba 4k tv vs Samsung , contrast ratio is good in both TVs.
Toshiba TV performs exceptionally well with its heart-shaking sound. Toshiba TV uses speakers designed by ONKYO. With Dolby audio processing, it produces immersive sound without distortion. The sound surrounds you to give you a more pronounced cinematic experience.
Samsung TV has introduced a smart feature that can adjust the sound regarding the room environment. 
The sound quality is average in Samsung. However, with the HDMI ARC port, you can attach soundbars for a better audio experience.
So Toshiba has outperformed in this category.
It is a necessary feature in a smart TV to stream endless content in the comfortable space of your home.
Samsung TVs have TIZEN OS., which has numerous built-in apps and quality content. It is lightweight and fart. You can easily and smoothly switch between different programs.
It has many built-in apps like Netflix, Amazon Prime, Disney Plus, Youtube TV, etc.
Toshiba TV, with its Amazon Fite TV, also has a lot of apps. That also supports Netflix and Amazone prime.
Additionally, you can use the Chromecast feature in Samsung TV to control and connect different Samsung devices. 
This means you can directly connect the mobile or laptop to the TV  to watch the TV show on a bigger screen.
At the same time, Toshiba has a screen mirroring option that allows you to connect the smartphone or tablet to the TV. 
So both TVs are doing great in this category.
Related: Tizen VS Android TV
Samsung TV has a 4k Variable refresh rate. You can connect your latest gaming consoles with its HDMI 2.1 Ports and enjoy stutter-free gaming.
Samsung has 4 HDMI 2.1 ports. Additionally, there are 2 USB ports in the TV to connect more devices. The HDMI 2.1 has eARC audio compatibility.
While Toshiba has 4 HDMI 2.1 ports. Which will give you a decent gaming experience. It has 2 USB connectivity ports. One HDMI port supports ARC audio passthrough.
Both have an equal number of connectivity ports. But Toshiba does not support HDMI 2.1 for a new gaming system. It still allows a decent gaming experience in an affordable range.
So Samsung is a winner here.
10. Voice Assistants Toshiba VS Samsung TV
Toshiba TV is compatible with Amazon Alexa and Google Voice Assistant. You can simply turn on the voice assistant to play a TV or game show. 
Its high-speed processor will work immediately to turn on the new show or switch between the programs.
Samsung TV is compatible with Alexa, Google Assistant, and Bixby. You can choose an assistant to switch between the programs through the remote. It's not a hand-free system. So you have to use the remote to give commands and use this feature.
So Samsung is a winner in this category.
11. Wireless Technologies
Samsung and Toshiba TVs have various connectivity ports and many wireless connectivity options.
You can connect your home Wifi device to the TV to watch Netflix and Youtube on the TV screen on both TVs.
Both of these are Bluetooth TVs. 
In Samsung TV, the Chromecast feature makes it possible to transfer data between your phone or tablet and the TV. 
Connecting the Chromecast app to various Samsung devices allows you to control it from a smartphone anywhere.
Similar features are present in Toshiba as Screen Mirroring. When you connect the mobile to the TV through Wifi, this feature displays the content of your mobile right on your TV screen.
Both have similar connectivity options, so both provide a good range of options in this category.
12. Build Quality/ Lifespan
Samsung TV has one of the best research and development processes behind its design and build quality.
Having said that, it has outperformed many test parameters. It is expected to last up to 7 years with hefty usage. However, it can and will definitely last longer. 
Toshiba TV lasts from 5 to 7 years. It means that after this period, it starts showing signs like altered picture quality, etc.
The life span in Toshiba vs. Samsung TV,  the Samsung TV has better build quality. It has numerous customer reviews that weigh our verdict that Samsung TVs last longer.
In the times when we are trying to include energy-efficient appliances in the home automation system, it is important to have a TV that consumes less energy.
It will cut the electricity cost and save many $ annually. Toshiba TV uses an average of 54 watts per hour and consumes very low watts on standby.
Samsung TV uses 120 watts of power and thus it consumes more electricity. So we have a clear winner here which is Toshiba. Which consumes only 0.54 WATTS when you turn it on and on standby it consumes 0.5 watts.
When you buy a TV that you expect to last more than a decade, you are more invested in its latest features and build quality than the prices.
But it's an important aspect. Samsung TVs with all the latest design and features comes with an exorbitant price tag.
Which is quite justified for its enormous features. The design and innovation have impressed the customer and experts.
But if you want a decent quality TV with a not-so-high price then Toshiba is the best option.
It comes in such an affordable range. With its ability to upscale SD content and support 4K HDR with a 120Hz refresh rate, it's a very affordable and suitable choice.
If you are on a budget then look no further than Toshiba TV.
Toshiba VS Samsung: Which Brand is The Best?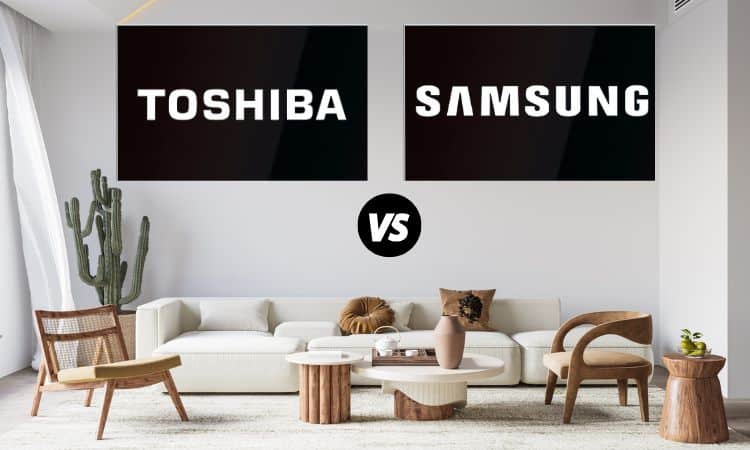 Which Tv is the best TV Toshiba or Samsung? Both brands are very competitive. Toshiba is in the game for a long time. While Samsung has overshadowed many TV brands with its stellar features.
While there are many great features in Toshiba, like wide viewing angles, many connectivity options, and smart TV options, on the top top of all, it is very affordable.
Let's be real, Samsung TV has a lot to offer. Brighter picture, wide color gamut, high contrast and local dimming features, smart TV options, numerous connectivity options, high HDR content with Variable refresh rate, and much more. There is no doubt that Samsung deserves to have the title of the best brand here.
Also check: Hisense VS Samsung TV
Both TVs have their merits and demerits. But in the Toshiba VS Samsung TV, Samsung TV is the best. 
If you are not a gaming freak and want to use the TV for nice entertainment and want to buy a budget-friendly TV. Then you should opt for Toshiba TV. 
But for someone who likes life-like images and a fast response rate with the lowest input lag, then you have to go with Samsung. 
Are Samsung TVs better than Toshiba?

In a comparison between Samsung TV VS Toshiba led, the Samsung TV had better design and features.

Are Toshiba and Samsung the same?

These are separate companies but Toshiba and Samsung had started a joint venture with the label of Toshiba Samsung Storage Technology. Who make Optical discs for laptops since 2004. Its talk of the town that they are ending this business deal 3 years from now. Optis has purchased the shares of company and will take full business control in coming years. 

Is Toshiba a good brand of TV?

Yes Toshiba is a good company. It's a very old company which started back in 1875. Its a reliable name in the world of electronics and home appliances.

Who makes TV for Toshiba?

Hisense makes the Toshiba and control its manufacturing since 2017. However they handle this unit as separate entity.