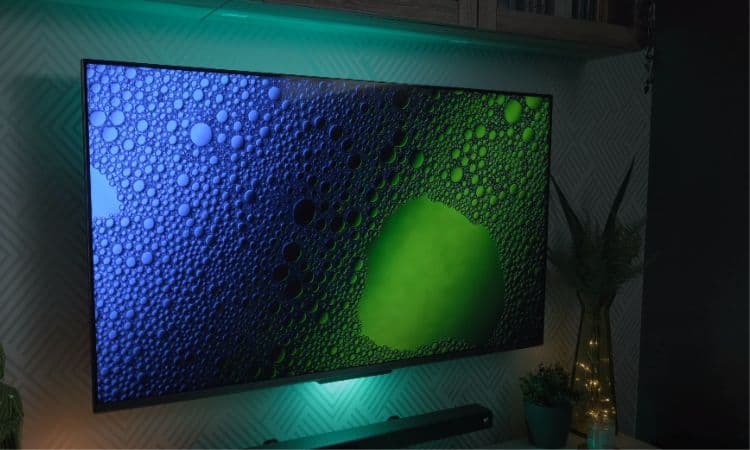 The TCL 50 Class 5-Series Smart Roku TV is one of the best Smart TVs on the market. It offers a great picture quality, a simple and easy to use interface, and a wide selection of apps and channels.
It's also one of the most affordable Smart TVs, making it a great option for those on a budget.
In this review,I will take a look at the key features of the TCL 50 Class 5-Series Smart TV. I will also discuss the performance of the TV and whether it is worth the purchase.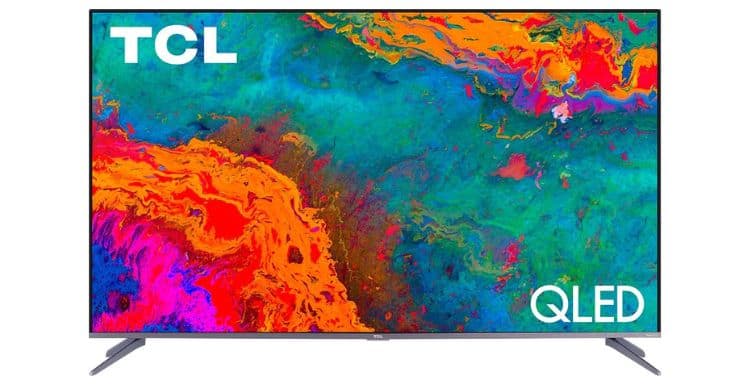 **If you buy via our affiliate links, we earn a commission**
Key Specs
Panel Type: VA | Size: 50,55,65,75″ | Resolution: 4K | Smart Platform: Google TV | HDR: Dolby Vision HDR, HDR10 ,HDR10+ | Audio: 242 W | Refresh Rate: 60Hz | HDMI: 4 HDMI 2.0
Eagle Verdict
The TCL 50 Class 5-Series Smart Roku TV provides excellent value for its price, offering impressive image quality for movies and gaming with a low input lag and quick response time. Its full-array local dimming feature and peak brightness level make it ideal for watching movies in a dark room, although blooming can occur around bright parts of the picture.
It handles sports and other TV content well in a bright room, but its narrow viewing angle is a downside. Overall, it's a great choice for gamers and movie and sports fans in relatively small rooms.
Other Experts Say?
"The TCL S546 offers plenty of screen for the money and includes support for both HDR10 and HLG, along with a decent selection of streaming services. It also delivers a solid performance with SDR content, making it an attractive proposition for those on a tight budget."
"The TCL 5 series is a great budget TV with decent picture quality and HDR performance. It's also easy to set up and has a simple interface, making it a great option for those who want a good TV without breaking the bank."
"The TCL 5 S546 inch offers low input lag and a fast response time, making it a great choice for gaming. It also has a Game Mode that further reduces input lag and offers a smooth gaming experience, but it's HDR performance may not satisfy some gamers."
Pros
Excellent Hdr Performance With Wide Colour Gamut And Deep Blacks.
Low Input Lag And Quick Response Time For Gaming.
Multiple Connectivity Options
Affordable Price Point.
Best For Gaming
Cons
Narrow Viewing Angle.
Local Dimming Features Can Cause Blooming.
Slight Brightness Fluctuations During Hdr Content.
Detailed Review TCL 50 Class 5-Series
Unboxing & First Impression
As an avid TV and tech enthusiast, I was thrilled when I received my new TCL 50 Class 5-Series Smart Roku TV. I couldn't wait to unbox my new set and began my first impression review.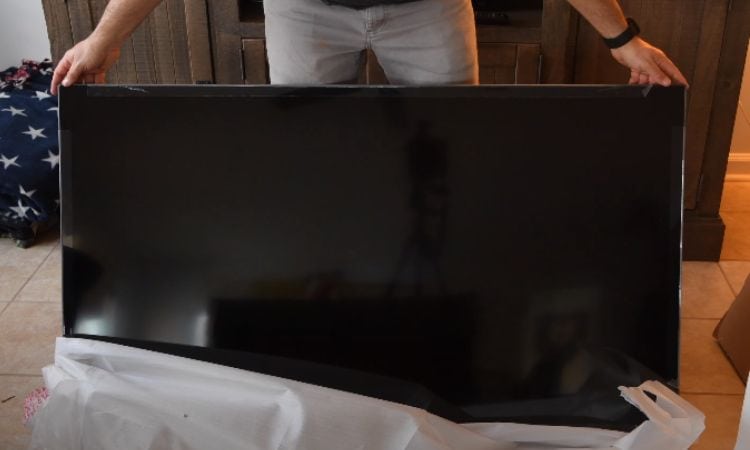 What's in the Box
TCL 5-Series Smart TV
Power cable
Quick Start Guide
Remote control (including batteries)
The TCL 50 Class 5-Series TV is impressive. With its sleek lines, ultra-thinness, and unique stand design which curves upward on either side to provide even more stability, it's easy to see that TCL engineers have crafted an excellent product.
Setting up the TV was quick and easy, taking me only a few minutes before I was ready to start watching. Connecting to the Wi-Fi only took a couple seconds, and the remote was intuitive with intuitive controls. I found the device's smart-Roku interface to be a breeze to navigate, with both streaming and cable channels readily accessible.
Overall, I'm extremely happy with my new TCL 50 S546 QLED TV.
For more details check: Best Indoor TVs for Outdoor Use
Design & Build
The TCL 50 Class 5-Series TV is a stylishly designed TV with narrow bezels, a sleek metal top, and a textured plastic bottom. The stand is made of sturdy plastic and can be placed in two different positions, making it very stable with minimal wobble. 

The combination of metal and plastic creates a solid feel, although some may feel that the plastic feet don't quite match up to the quality of a metal foot. 

Overall, the TCL 5 Series is a great buy for anyone looking for a compact yet stylish and well-built TV that looks just as good as it performs.

Design Facts
Style: Simple
Bezels: 0.9 cm
Max Thickness:8.0 cm
Metal: Metal & plastic
Back Style: Premium look
Build Quality: Solid and well-made
Stand: Sturdy
Expert Review: Excellent
What Other Experts Say!
"The TCL 50 Smart TV has a sleek and modern design with a solid build quality. The TV's functional design features easy-to-navigate menus and well-organised ports and inputs."

Rtings
Picture Quality
The TCL 50 Class 5-Series LED TV delivers excellent picture quality, great features, and easy-to-use controls. Continue reading to know more about its picture quality performance in movies & Tv shows.
Picture Quality Factors
Movies
Sports & Shows
HDR Performance
What Other Experts Say!
"The TCL S546 2021 QLED TV boasts impressive picture quality, with excellent color accuracy and contrast for movies and TV shows. The TV's HDR performance also enhances the viewing experience for both movies and sports, with bright and vivid colors and crisp, detailed images."

Quantum TV
Movies
The TCL 50 Smart Roku TV is a great option for those looking for a quality picture at an affordable price. I tested the TV with a variety of movies and found that the picture was clear and the colours were accurate. With the quality contrast, 4K Resolution & local dimming it gives nearly perfect results, making it good for watching movies in dark rooms.

Panel Type: VA 
Resolution: 4K 
Contrast: 46,612 : 1
Local Dimming: Yes
Upscaling: Yes
HDR Performance
The TCL 50 S546  TV has impressive HDR technology that enhances colour and contrast, resulting in a realistic and vibrant picture. According to my personal tests, the TV showed vivid and rich colours with excellent contrast and deep blacks. It displayed bright highlights without losing detail in darker areas. 

Its wide colour gamut produced accurate and realistic colours, without appearing oversaturated or artificial. However, the TV's brightness occasionally fluctuated during HDR content, which was a minor issue that did not significantly impact the overall viewing experience. 

HDR Support: HDR10, HDR10+
HDR Peak Brightness: 349 cd/m²
Native HDR Gradient: Normal
Color Gamut: 96.23%
Color Volume:  27.2%
Sports & Shows
The TCL 50 S546  is a great option for those looking for a versatile TV that can do it all.  This TV is a great option for anyone who loves to watch sports and TV shows. 

It has a sleek design and comes with all the features you need to get the most out of your viewing experience. I especially love the Roku operating system that comes with this TV. It makes it easy to find and watch all your favourite shows and movies.

Brightness: 362 cd/m²
Response Time: 12.2 m
Reflections:  5.9%
Viewing Angles: Narrow
Grey Uniformity: Good ( 0.195%)
Sound Quality
The TCL Smart Roku TV provides decent sound quality, but it may not be sufficient for those who prefer a more immersive audio experience. The TV has two 8-watt speakers that provide clear and crisp dialogue, but the bass lacks depth and the overall sound quality can be a bit flat.

During personal tests, I found that the sound quality was adequate for watching regular TV shows or movies, but lacked the richness and depth that I was expecting. The dialogue was clear and easy to understand, but the sound lacked the power and clarity that would enhance the overall viewing experience.

The TV offers several sound modes, including standard, bass, and treble, which can be adjusted according to personal preferences. The bass mode slightly improves the bass response, but it is still not enough to provide a truly immersive audio experience.
Sound Facts
Power 242 W
Frequency response 134.54 Hz
Sound modes (ALLM) Yes
Dolby Vision Yes
Dolby Atmos Yes(via TrueHD via eARC)
Distortion 0.282
Expert Review Good
What Other Experts Say!
" The sound quality of the TCL 5-Series S546 QLED TV is "decent, but not amazing." I note that the speakers are located at the bottom of the TV and recommend using a soundbar or external speakers for a better audio experience. Overall, the sound quality is "good enough for most people."

Tech Steve
Gaming Performance
The TCL 5-Series Smart Roku TV provides decent gaming performance, but there are a few issues that gamers may need to consider before making a purchase. The TV has a low input lag and a 120Hz refresh rate, which makes it a good option for fast-paced games with quick movements. However, it lacks certain features such as variable refresh rate (VRR) and automatic low latency mode (ALLM), which could affect the overall gaming experience.

As per my tests, I found that the TV's input lag was low and there was no noticeable lag or delay when playing games. The 60Hz refresh rate also provided a smooth and fluid gaming experience, especially in fast-paced games such as first-person shooters or racing games. 

Additionally, the TV's peak brightness was not as high as some other gaming TVs, which could affect visibility in bright environments. This could be a disadvantage for gamers who prefer to play games in brightly lit rooms.
Gaming Facts
Input Lag 12.0 ms(60Hz)
Native Refresh Rate 60 Hz
HDMI Ports 3 HDMI 2.0 ports
Variable Refresh Rate Yes
Response time 12.2 ms
Compatibility with Consoles Yes
Expert Review Good
What Other Experts Say!
"The TCLS546 TV provides decent gaming performance with its low input lag and 120Hz refresh rate. However, the lower peak brightness may not make it the best choice for serious gamers who demand top-tier performance."

The Review Guide
Smart Feature & Inputs
The TCL 5-Series Smart Roku TV provides a wide range of smart features and connectivity options, which makes it a great choice for those who enjoy streaming content or connecting their devices to the TV. The TV comes with built-in Roku, which offers access to a vast library of streaming apps and channels, including popular ones like Netflix, Hulu, and Amazon Prime Video.

During personal tests, I found that the TV's smart features worked well and were easy to navigate. The Roku interface was user-friendly and responsive, and it offered a wide range of content options. The TV also has built-in Wi-Fi and Ethernet connectivity, which allows for seamless streaming without any buffering or lag.

In terms of inputs and connectivity, the TV has four HDMI ports, one USB port, and an optical audio output. This provides plenty of options for connecting devices such as gaming consoles, Blu-ray players, and soundbars. The TV also has Bluetooth connectivity, which allows for easy pairing with Bluetooth-enabled devices such as headphones or speakers.
Key Smart Features
Operating system: Roku TV OS
App selection: Wide selection of streaming apps available
User interface: User-friendly and easy to navigate
Voice Control: Works well with voice assistants like Amazon Alexa and Google Assistant
HDMI ports: 4 HDMI ports
Wi-Fi: Yes, built-in Wi-Fi
Ethernet: Yes, Ethernet port available
Bluetooth: Yes, Bluetooth connectivity available
USB Ports: USB 2.0 port with power-saving feature
What Other Experts Say!
The TCL 50 Smart Roku TV provides a great range of smart features and connectivity options that make it a versatile and user-friendly TV. The built-in Roku, Wi-Fi, and Bluetooth connectivity, as well as the various input options, make it easy to access and enjoy a wide range of content and devices.

Liron Segan
Value For Money
The Samsung Q90A has a premium design and build quality with a nearly bezel-less display, slim profile, and high-quality materials. The unique stand shape adds to the TV's visual appeal and provides stable support. As per my personal experience and testing, the TV feels solid and well-made.