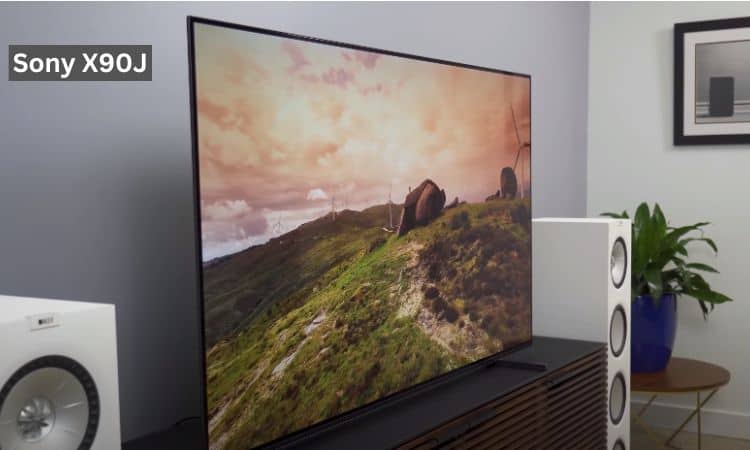 The Sony X90J is a high-quality mid-range 4K LED tv. It is a good TV that combines premium features with midrange pricing.
The Sony X90J provides a high-quality viewing experience with its brilliant color, acceptable black levels, great upscaling, and variety of processing power.
This TV has a VA panel that helps it perform well in dark places and even becomes bright enough to fight glare in well-lit environments. But, it has narrow viewing angles and does not include Sony's 'X-Wide Angle' technology.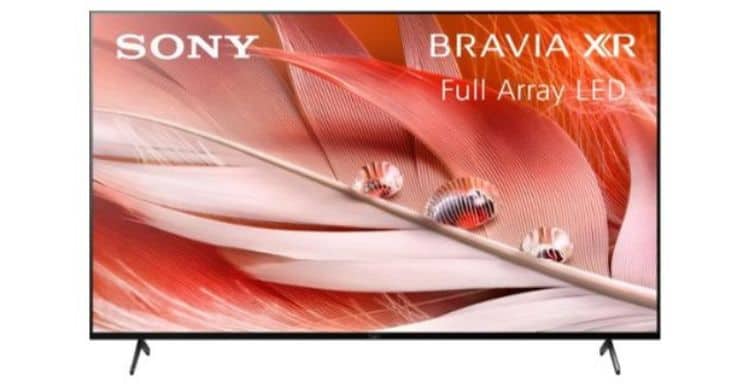 **If you buy via our affiliate links, we earn a commission**
Key Specs
Display Type: LED-LCD | Size: 50, 55, 65, 75-inches | Resolution: 4K | Smart Platform: Google TV | HDR: HDR10, HLG and Dolby Vision | Audio: ARC(HDMI 3) & eARC | Refresh Rate: 120Hz | HDMI: HDMI 3, USB 1HDMI x4 (HDMI 2.1 x2) 4K 120Hz
Eagle Verdict
The Sony X90J is a big step up from last year's models because it has a better processor, a newer smart TV interface, and works with HDMI 2.1. The X90J also uses the Google TV Platform. Its color accuracy is superb due to the innovative processing of the best LED TV visuals. Additionally, it has top-notch upscaling and motion processing to back everything up. The Sony X90J is a great value for a mid-range TV. It has great picture quality, good black levels, smooth motion, and a simple user interface.
Other Experts Say?
"This 4k, full array TV offers the new Sony Cognitive XR processor, upgraded sound, and a phenomenal overall picture. With excellent color quality and deep black levels, this offers a picture close to OLED quality without the OLED pricetag. The Sony X90J series is a TV that deserves a place in any home theater system."
"Overall it's still a pretty solid tv the simple stand is just fine and the build quality of the tv It has the xr processor which offers the really sharp picture as well as silent ambient light detection and great highlights and to be fair most people who are in a moderately lit or darker room."
"The sony x90j also had superior tone mapping that worked well to retain more specular highlight detail in 4000 nit content as well as paint the colors. Overall The Sony x90J is the best tv."
Pros
Great upscaling
Fresh Google TV interface
Excellent Picture quality
Great response time.
User-friendly smart interface.
Cognitive Processor XR
Cons
Acceptable audio quality
Poor Viewing angle
Detailed Sony X90J Review
Unboxing & First Impression
My new Sony X90J finally arrived after months of anticipation. I was curious about what was inside the box.
The box was simple to open, and there were no ambiguities in the directions for removing the television from its packaging in a secure manner. I was impressed by the TV's sophisticated appearance when I first took it out of the box.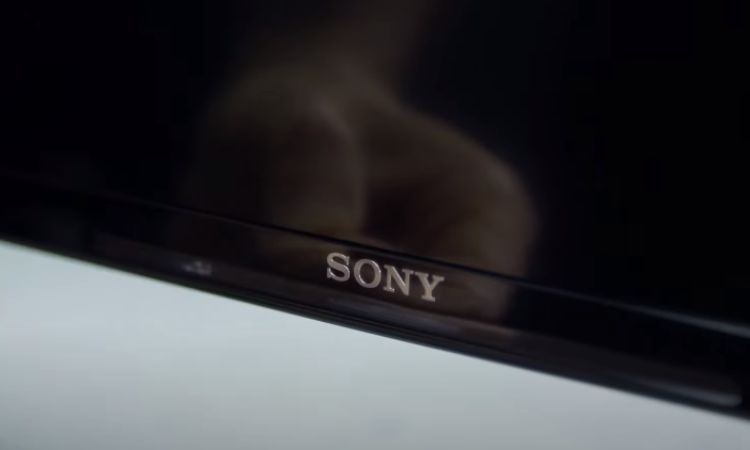 In the box of the Sony X90J, there are the usual things:
Remote control
2x AAA batteries
Power cord
VESA mount adapters
User guides
When we first saw the Sony X90J TV in person, we were blown away by its elegant appearance and excellent picture quality. The LED panel's ability to produce deep blacks and vivid colors allows for a clear image.
Check our Guide about: Best Indoor TVs for Outdoor Use
Design & Build
The Sony X90J black bezels are thin, and the company's name is displayed just below the display. It has a plastic backing, which places it in the middle of the price range for similar products. The entire thing is made of plastic, even the feet. While it feels strong overall, the back panel flexes a lot.

According to my experience and testing, it is straightforward and modest, with thin borders on all sides. The bezels and feet, however, are made of glossy plastic and have a poor appearance. It has a curved back and may protrude slightly from the wall when placed. Two clips are supplied in the package to manage the cables and hold them behind the feet.
Design Facts
Style (Front & Back): No Curved
Bezels: Plastic bezels
Max Thickness: 2.83″
Wall Mount: VESA 300×300
Build Quality: Good Build Quality
Stand: Yes
Expert Review: Outstanding
What Other Experts Say!
"The Sony X90CJ's build quality is good. It's entirely plastic, including the feet. While it feels sturdy overall, there's a lot of flex on the back panel. "

Rtings
Picture Quality
The Sony X90J model with local dimming has a great picture, deep blacks, bright whites, and perfect accuracy.
Let's find out more in different scenes.

Picture Quality Factors
Movies
Sports & Shows
HDR Picture
What Other Experts Say!
"The most important thing about this tv which is the display panel and the picture quality this is a va panel and it does not have sony's x wide angle technology the tv produce some really good blacks but it also has some punchy colors all around and the viewing angles are actually pretty good so if you have a wide seating area you can enjoy this tv from some angles."

Digit
Movies
If you want to buy a TV for a home theater, you should look for one with a high contrast ratio. The Sony X90J is perfect for watching movies in dark rooms. 

It has a high contrast ratio and excellent full-array local dimming, enabling it to display deep blacks, so it works very well for viewing in dark rooms. 

It can remove judder from any source at 24 frames per second and performs well when upscaling video with a lower resolution, such as that found on DVDs and Blu-rays. On the other hand, because of the quick response time, movies sometimes have a stuttering effect.

Unfortunately, Sony X90J viewing angles are poor. This means the image seems incorrect and washed out when viewed from the side, making it unsuitable for large seating areas.

Display Type: LED  
Resolution: 4K 
Contrast & local dimming: Outstanding contrast ratio  ( 34,435: 1) & full-array local dimming
Upscaling: 4k Upscaling  

HDR Picture
The Sony X90J is an excellent option for watching movies, TV shows, and sports that are in HDR. It has an excellent contrast ratio and a full-array local dimming feature, so it's great for dark rooms. 

Because of its fast response time and low frame rate, content such as movies have some juddering; however, the technology can eliminate 24 p judder from all sources.

In my experience, the Sony X90J has a good color gamut and better color volume due to its higher contrast ratio and peak brightness. But it doesn't cover quite enough of the Rec. 2020 color space (67%) to be considered a wide color gamut.

HDR Type: Ultra HD- 4K 
HDR Peak Brightness: 4K (356 cd/m²) 
Native HDR Gradient: Great gradient handling (10 Bit) 
Color Gamut: good color gamut (63.12%)
Color Volume: Better color volume ( 27.7%)
Sports & Shows
The Sony X90J is excellent for enjoying sports and TV shows. Because its reflection handling is only good, it gets relatively bright. Therefore visibility in well-lit rooms is only a concern if the tv faces a window. 

The user interface of Google TV is easy, and there are various apps to choose from. Because of the narrow viewing angle, this type of TV could be better for sharing with a large group of people. 

In my experience, it is not the best option for watching TV with the entire family simultaneously.

Brightness:  840+ nit brightness level 
Response Time: 3.9 ms 
Reflections: decent (5.7%) 
Viewing Angles: Poor viewing Angle 
Gray uniformity: Good (4.527%) 
Design & Build
The Samsung Q90A has a premium design and build quality with a nearly bezel-less display, slim profile, and high-quality materials. The unique stand shape adds to the TV's visual appeal and provides stable support. 

As per my personal experience and testing, the TV feels solid and well-made. However, When compared to other QLED and OLED TVs on the market like Q90R, the Q90A stands out for its attention to detail in outlook and overall sleek appearance. 
Design Facts
Style: Sleek and Modern design
Bezels: Thin bezels of 0.9 cm
Max Thickness: Moderate Thickness 1.06″ (2.7 cm)
Material: Plastic Built
Back Style: Premium Grey Finish
Build Quality: Premium Build Quality
Stand: Solid & Sturdy stand
What Other Experts Say!
"The build quality & Design of Q90A is attractive & truly minimalist. Overall, Q90A makes it a great choice for anyone looking for a high-end TV."

Rtings
Gaming Performance
Playing video games on the Sony X90J is an inspiring experience. It has a low input lag, a fast response time, and a high refresh rate (120 Hz).

Because of its wide color gamut, good peak brightness, and full-array local dimming, it offers an exceptional HDR viewing experience.


This TV can play high-dynamic range (HDR) video games on modern gaming consoles or personal computers. Compatible with: Xbox One X|S, Xbox Series X|S, PS4 Pro, PS5, GTX 10 series, and later, and AMD RX series graphics cards.

In my experience, the Sony X90J is the best tv for gaming. Unfortunately, it is unable to display 4k 120Hz Dolby Vision content. However,  it has excellent full-array local dimming and displays deep blacks, making it ideal for dark areas.
Gaming Facts
Refresh Rate: 120HZ
Input Lag: Low (18.7 ms)
HDMI Ports: 4 ( 2.1, ARC)
VRR: Yes
Response time: Fast (3.0 ms)
Compatibility with Consoles: Yes ( Xbox One X|S, Xbox Series X|S, PS4 Pro, PS5, GTX 10 )
Expert Review: Excellent
What Other Experts Say!
"The Sony X90J is excellent for gaming in HDR. It has very low input lag, a 120Hz refresh rate, and a quick response time, so gaming feels smooth and responsive, and it also has VRR support. Sadly, it can't display 4k @ 120Hz in Dolby Vision. "

Rtings
Smart Features & Inputs

The Sony X90J has an excellent selection of physical connections, including four HDMIs (HDMI 2.1), three USB ports, and ethernet, optical, and Wifi ports. One of the ports additionally provides eARC for lossless transmission of premium audio codecs.

Two HDMIs are 48Gbps HDMI 2.1 ports, while the others are standard HDMI 2.0 ports. VRR is not natively supported by any of Sony's 2021 HDMI 2.1 TVs, which is unfortunate (Variable Refresh Rate).

In my experience, The X90J supports HDMI 2.1, allowing gamers to use cutting-edge features like 4K at 120 frames per second. Sony has also added VRR support in an update (so you might need to update your model after buying to activate it).

Thanks to the Google TV operating system, it has plenty of content options for those who don't have a separate source of any kind. Netflix, Amazon Prime Video, Disney+ and Apple TV are all in their 4K, Dolby Vision.

Key Smart Features
Operating system: Google Tv
User interface: Average
Streaming Apps: Great
Voice Control: Yes
HDMI: 4 ports
USB ports: 2
Bluetooth: yes
WIFI: yes
Ethernet: 1
What Other Experts Say!
"If you want a narrower TV stand for inputs you get two USB an optical output headphone output

a mini plug analog av input four HDMIs with numbers three and four giving you features like auto low latency mode 4k at 120HZ and with a future update variable refresh rates which is great for gaming the x90j does a good job relative to other tvs on the market."

Abt Electronics
Value For Money
The Sony X90J is an excellent TV screen. The main differences between this model and its predecessor, the Sony X900H, are that it has a higher contrast ratio, uses HDR to get a much brighter image, and has a slightly better local dimming feature. Although it has a different color gamut quality, the difference is insignificant.
As a replacement for the Sony X900H, the X90J improves on its predecessor in various ways, with the new processor taking center stage. 
It also retains the previous model's two HDMI 2.1 ports, making it an excellent option for PS5 and Xbox Series X gamers and one of the most incredible gaming TVs, with 4K 120Hz and VRR support.