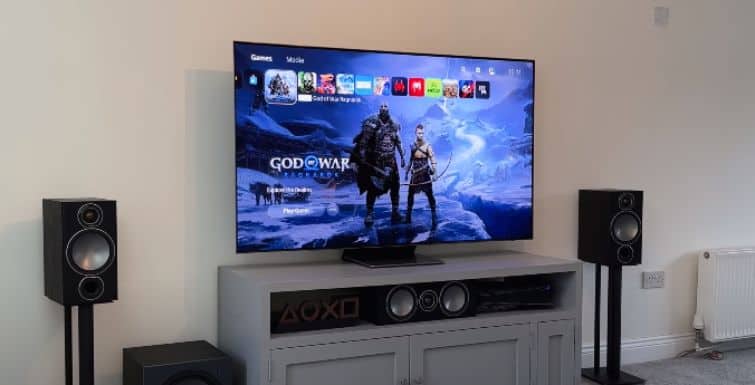 The Samsung S95B is an excellent 4K flatscreen, and its use of QD-OLED technology is essential. It effectively combines the brightness of high-end QLED with the black-level performance expected from OLED.
The Samsung S95B has the latest version of Samsung's Tizen OS smart interface, which offers a vast selection of apps and games. It has many gaming features, supports HDMI 2.1 bandwidth on all four ports, and is FreeSync Premium certified.
If you are in a hurry, here's a summary of our comprehensive review!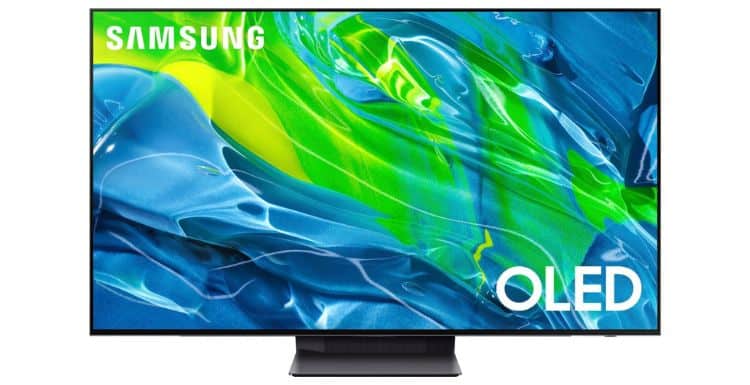 **If you buy via our affiliate links, we earn a commission**
Key Specs
Display Type: QD-OLED | Size: 55, 65 | Resolution: 4K | Smart Platform: Tizen | HDR: HDR10, HDR10+, HLG | Audio: Dolby Atmos, 60W | Refresh Rate: 120Hz | HDMI: 4 HDMI 2.1; 31USB
Eagle Verdict
The Samsung S95B is a great 4K flatscreen, and its use of QD-OLED technology is remarkable. It has excellent SDR and HDR performance, which fully justifies the manufacturer's faith in its new quantum dot OLED TV technology. It efficiently blends the brightness of high-end QLED with the black-level performance expected of OLED. Despite its small size, it produces adequate sound.
The result is a 4K TV that can show detailed and natural-looking images while making the most of OLED's deep blacks, class-leading contrast, and wider viewing angles. This TV suits gamers because it has many gaming features and low input lag. The only thing this significant TV needs is HDR10+, but other than that, It should be at the top of your wish list.
Other Experts Say?
"It's quite an amazing tv it looks like another level personally, I'd buy that, probably not yet
because I can't afford it at the moment, but this TV is good overall."
"This tv has a lot of great features and benefits. The colors are so rich and vibrant, something you truly expect from an oled tv, but they're also bright, and you don't lose those colors when you actually brighten."
"The 2022 samsung frame TV performs very well at what it was designed for but not without some flaws its main appeal is as an art piece so unless you plan on using it as a decorative piece as well as a Tv. I definitely don't see any reason to spend the money on this TV."
Pros
Incredible ultra-slim design
Neural Quantum Processor 4K
4K 120Hz HDMI support
Excellent choice for gaming
Surprisingly affordable
Detailed Review Samsung S95B OLED TV
Unboxing & First Impression
After months of waiting, my new Samsung S95B finally arrived. I was curious to see what was inside the box.
The box was easy to open, and there were no difficulties with the instructions for safely removing the television from its packaging. I was impressed by the TV's sophisticated appearance when I first took it out of the box.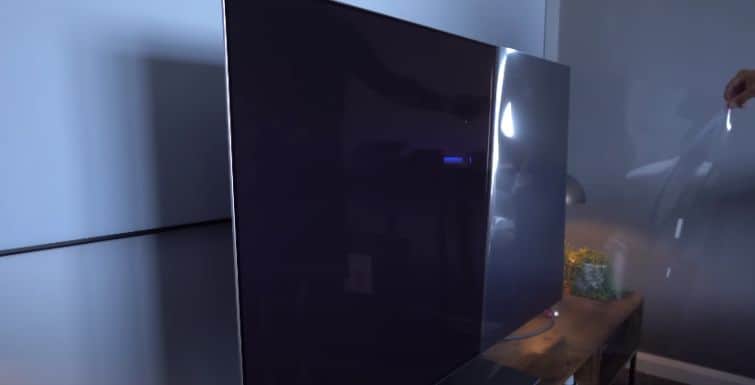 In the box of the Samsung S95B are the standard items:
Power cable
Remote control
3.5mm to RCA adapter
VESA mount spaces
User guide
When we first saw the Samsung S95B television in person, we were blown away by its sophisticated style and superb picture quality. Because the OLED screen can make dark blacks and bright colors, showing a clear image.
For more details check: Best TVs For Sports
Design & Build
The design of the Samsung S95B is eye-catching, with thin bezels, a panel that is only millimetres thick, and a minimalist style that is relatively modern. The ultra-slim chassis attached to the stand is slightly unstable. The heavy centre stand looks great and takes up very little space.

You can mount the TV on the wall using a standard 300 x 200 mm VESA bracket or Samsung's Slim Fit support. The 65-inch S95B measures 1444 x 40 x 832mm (WDH) and weighs 21.2kg without the stand, increasing to 1444 x 288 x 898mm and 25.5kg when the stand is added.

In my experience, the Samsung S95B offers an outstanding overall build quality. The materials used feel high-quality, and none of the panels' flex.
Design Facts
Style (Front & Back): No Curved
Bezels: Thin bezels
Max Thickness: 1.61″ (4.1 cm)
Wall Mount: VESA 300×200
Build Quality: Outstanding Build Quality
Stand: Yes
Expert Review: Outstanding
What Other Experts Say!
"The Samsung QD OLED has excellent build quality. The materials used feel premium, and there's very little flex to any of the panels. The stand supports the TV well, but there's a bit of wobble due to its large size."

Rtings
Picture Quality
The picture quality of the Samsung S95B is impressive, with an infinite contrast ratio and wide viewing angle, with the 4K Neural Quantum chipset bringing out all the details in high-quality images and giving them added depth.
Picture Quality Factors
Movies
Sports & Shows
HDR Picture
What Other Experts Say!
"The Samsung S95b is outstanding for an OLED TV, with no issues seen at all there is no dirty

screen effect or vignetting of any brightness level with the gray slides looking superb. The viewing angles are also solid, and there's no color shift seen at all even at very wide angles to the screen video processing via the neural quantum processor 4Kchip is very good."

AV Forums
Movies
If you want to buy a TV for a home theater, you should look for one with a high contrast ratio (Inf: 1). The Samsung S95B is perfect for watching movies in a dark room with its wide viewing angle. 

Thanks to its OLED panel, it has a nearly perfect contrast ratio, giving it deep blacks without distracting blooming or haloing around bright objects. Movies from any source are fully judder-free, effectively enhancing older DVD movies.

In my experience, this TV has 4K resolution, an infinite contrast ratio, and impressive 4K upscaling. Unfortunately, due to the nearly instantaneous response time, there's a noticeable stutter in moving shots.



Display Type: OLED 
Panel Type: QD-OLED 
Resolution: 4K
Contrast & local dimming: Infinite contrast ratio (Inf: 1), no local Dimming 
Upscaling: 4k Upscaling 
HDR Picture
In our HDR performance tests of this TV, the Samsung S95B achieved exceptional peak brightness HDR (HLG, HDR10, HDR10+) and is far brighter than the previous generation of OLED TVs.

In HDR, the S95B's full-field brightness is higher than most OLED competitors, and its specular highlights (small, bright picture parts) are substantially more brilliant than any I've observed on an OLED TV.

In my experience, in "Filmmaker" mode, the S95B produced a sustained brightness reading of 1050 nits on a 2% white window. This TV has a wide color gamut and excellent color volume. 


In HDR, the Samsung QD OLED offers high peak brightness. Unfortunately, the TV aggressive Automatic Brightness Limiter (ABL) still makes large bright areas noticeably darker than little highlights.

On the flip side, Samsung doesn't support Dolby Vision. However, it helps HDR10+, which is similar overall but not as widely supported.

HDR Type: HLG, HDR10, HDR10+
HDR Peak Brightness: 1050 nits of peak brightness 
Native HDR Gradient: 100% Black to 50% Gray 
Color Gamut: Wide color gamut (86.93%) 
Color Volume: good 
Sports & Shows
The Samsung S95B TV is best for watching sports and tv shows in a bright room. It has excellent peak brightness (1050 nits) and exceptional reflection handling, allowing it to combat glare in bright rooms efficiently.

In our testing, It has a wide viewing angle, which is ideal if you have a large seating arrangement because the image remains clear even when viewed from the sides. 

It has a quick response time (0.3 ms), so motion appears clear, and it has good gray uniformity, with minimal irritating dirty screen effect.

Brightness: 1050 nits of peak brightness 
Response Time: 0.3 ms 
Reflections: Infinite contrast ratio (Inf: 1), No local Dimming 
Viewing Angles: Wide viewing Angle 
Gray uniformity: excellent gray uniformity ( 0.964%) 
Sound Quality
The sound quality of the samsung S95B is well-balanced, and the on-screen audio is clear and focused. The audio also has a degree of dimension. However, expectations should be moderated. Even though this TV supports Dolby Atmos, it doesn't make you feel very immersed, and when the volume is turned up, the sound changes quickly.

In my experience, this LG G2 has a good frequency response and good distortion performance overall. There's minimal harmonic distortion even at maximum volume. The S95B supports Q-symphony, allowing it to combine easily with any compatible Samsung soundbar. On the flip side, Samsung doesn't support Dolby Vision
Sound Facts
Power: Good (60-watt)
Frequency response: 80.00 Hz
Sound modes (ALLM): Yes
Dolby Vision: No
Distortion: Good distortion performance
Expert Review: Good
What Other Experts Say!
"Samsung sound quality TVs like the q990b have Symphony support, which allows both the TV and the Soundbar speakers to work as one. I experienced zero problems with this tv sound quality."

Andrew Robinson
Gaming Performance
The Samsung S95B is an exceptional television for gaming due to its four HDMI 2.1 connections, which enable 4K gaming at 120 Hz, and its support for AMD FreeSync Premium Pro and NVIDIA G-Sync. 
In our testing, input lag is minimal at less than 10 milliseconds and even drops to 6 milliseconds at 4K at 120 hertz. Thus, there is almost no lag.
In addition, the response time is only 0.1 milliseconds. Thus it performs effectively with minimal ghosting and blurring in a shooter and racing games.
This TV can play high-dynamic range (HDR) video games on modern gaming consoles or personal computers. Compatible with: Xbox One X|S, Xbox Series X|S, PS4 Pro, PS5, GTX 10 series, and later, and AMD RX series graphics cards.
Gaming Facts
Input Lag: Low
HDMI Ports: HDMI 2.1 (4 ports)
Variable Refresh Rate: 120HZ
Response time: 0.3 ms
Compatibility with Consoles: yes (Xbox One X|S, Xbox Series X|S, PS4 Pro)
Expert Review: Best
What Other Experts Say!
"The Samsung S95B delivers a fantastic HDR gaming experience. It delivers a superb gaming experience, with low input lag, a nearly-instantaneous response time, and a few additional gaming features, including HDMI 2.1 bandwidth and variable refresh rate support."

Rtings
Smart Feature & Inputs
The Samsung S95B runs the most recent version of Samsung's Tizen operating system. The S95B supports the standard Wi-Fi DLNA and Bluetooth wireless file streaming protocols, in addition to Airplay 2, and is extremely aggressive on this front, prompting you to connect to nearby smart devices.

In my experience, The S95B support for voice control via the Bixby, Google Assistant, and Alexa voice control systems is more valuable than usual. The Samsung S95B TV has four HDMI ports that use the latest 2.1 standards, and it allows you to connect multiple high-bandwidth devices, like if you have both the PS5 and Xbox Series X.  It's compatible with eARC and two USB 2.0 inputs.
Key Smart Features:
Operating system: Tizen
App selection: Great
User interface: Easy to use Interface
Voice Control: Yes
HDMI: 4x HDMI 2.1 (eARC)
USB: 2.0
Bluetooth: yes
WIFI: yes
Ethernet: yes
What Other Experts Say!
"The connections around the back are sideways and downwards facing and sideways we have two USB slots and two HDMI 2.1 inputs and downwards we have a further two 2.1 slots digital audio out a double port satellite and of antennas the HDMI 2.1 slots are total

bandwidth 48 gigabits per second."

AV Forums
Value For Money
The Samsung S95B TV is widely considered one of the best TVs on the market. It offers outstanding picture quality thanks to its use of 4K resolution and HDR technology. Its slim design also makes it look great in any home theatre setup.