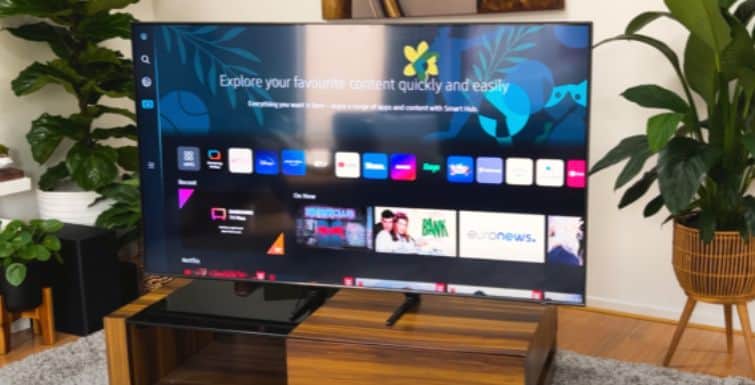 The Samsung QLED Q60B series is a line of televisions that offers a stunning viewing experience with vibrant colours, sharp contrast, and impressive brightness levels.
With a sleek design and a range of sizes to choose from, these TVs are a great option for those who want to upgrade their home entertainment system.
In this review, we'll take a closer look at the features and performance of the Samsung QLED Q60B series, and help you decide whether it's the right choice for your needs.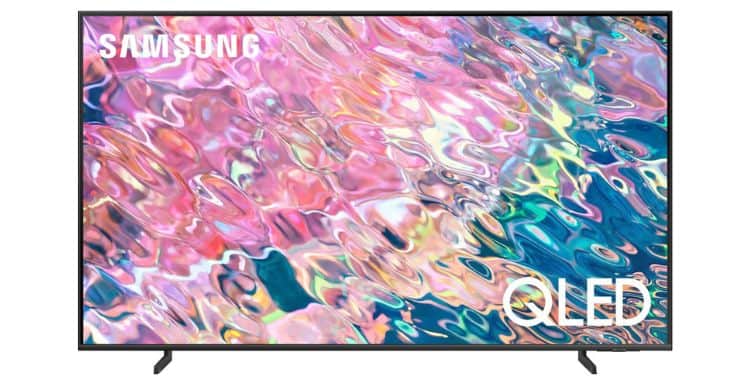 **If you buy via our affiliate links, we earn a commission**
Key Specs
Panel Type: VA| Size: 43″,50″,55″,60″,65″,70″,75″,85″| Resolution: 4K Ultra HD |Smart Platform: Tizen |HDR: HDR, HDR10, HLG| Audio: 20-Watt| Refresh Rate: 60HzHDMI:3 HDMI 2.0 ports (lacks HDMI 2.1)
Eagle Verdict
The Samsung QLED Q60B Series is a decent TV overall, with some strengths and weaknesses.It is a decent TV that performs well in certain areas, such as dark room performance and brightness in bright rooms, but may have limitations in terms of local dimming, viewing angles, gaming features, and HDR performance. It could be a good option for those who prioritise specific features or use cases, but other models may offer better performance in certain areas at a similar price point.
Other Experts Say?
"The Samsung QLED Q60B Series offers impressive picture quality with vibrant colours and deep blacks, powered by its QLED display technology. It lacks Dolby vision & offers limited viewing angles which may be a concern for people. Its user-friendly interface, wide selection of apps, and multiple connectivity options make it a solid choice for a smart TV."
"The Samsung Q60B TV offers impressive gaming performance with low input lag.However, the refresh rate is a bit lower which may cause disturbance. However, its picture quality may not be as refined in HDR scenes, with slightly limited contrast and black levels compared to more premium options."
"The Q60B Series offers impressive colour accuracy and brightness levels, making for a visually stunning viewing experience. However, the reviewer notes that its gaming performance may be slightly lacking compared to higher-end models, with noticeable input lag and motion blur during fast-paced gameplay."
"The Samsung QLED Q60B boasts a robust smart TV platform with a wide range of streaming apps, intuitive navigation, and voice control functionality. The Tizen OS provides a smooth and user-friendly experience, though it may lack some of the advanced features found in higher-end Samsung QLED models."
Pros
Excellent dark room performance
High peak brightness
Good gaming performance
QLED technology
Sleek design
Cons
Lack of local dimming
Narrow viewing angle
Limited gaming features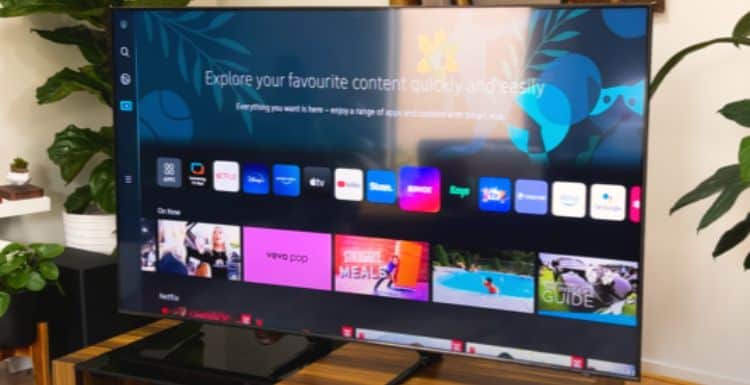 The Samsung QLED Q60B is an entry-level TV with a sleek design featuring thin borders and a grey plastic finish. The plastic material may not provide the same longevity as more expensive materials, and the wide-set plastic feet can cause some wobble when placed on a table.
The back panel includes cable management tracks and clips on the feet, but the inputs are set into the TV, which can be difficult to access if the TV is mounted with a fixed bracket. The TV measures a border of 0.35 inches (0.9 cm) and has a maximum thickness of 1.12 inches (2.9 cm).
The plastic material is decent but unspectacular, and there is a bit of flexing in the back panel. Overall, the Samsung QLED Q60B is a simple, decently-built TV with a nice design.
Design Facts
Style: Sleek And Modern Design
Bezels: Thin Bezel That Gives It A Premium Look (0.9 cm)
Max Thickness: Slim Design (2.9 cm)
Metal: Uses Metal For A Premium Feel
Back Style: Clean And Simple Design
Build Quality: Solid And Sturdy Build Quality
Stand: Stand Design Could Be Better
Expert Review: Positive Reviews From Experts
What Other Experts Say?
" The Samsung QLED Q60B has a sleek and modern design with a thin bezel that looks premium. The build quality is good, and the TV feels sturdy. Overall, it's a great option for those looking for a stylish QLED TV that looks great in any room."

UnboxingHD
The Samsung QLED Q60B series is a great choice for anyone looking for an excellent picture quality. It has a wide range of features that make it a top contender in the market. Let's have a look at Samsung Q60B picture quality in different scenes.
Picture Quality Factors
Movies
Sports & Shows
HDR Picture
What Other Experts Say!
"This TV delivers great picture quality for movies and TV shows, with excellent contrast and upscaling capabilities.However, viewing angles may be a limitation, as picture quality and colour accuracy degrade slightly when viewing from off-centre angles. Additionally, the absence of Dolby Vision support could be a drawback for users who prefer this HDR format."

Box.co.uk
Movies
The Samsung Q60B is an excellent choice for movie enthusiasts, delivering excellent picture quality for movies.  According to my test results, the Samsung Q60B performed very well when it comes to picture quality for movies. 
The TV delivered deep blacks and excellent contrast, providing great detail even in the darkest scenes. The upscaling capabilities were also impressive, with older movies looking much better than expected.  

The TV also handled motion very well, delivering a smooth and judder-free experience when watching movies with native 24 fps sources.  However, the Tv doesn't support local dimming features & also has limited viewing angle which can be a disturbing part for some users. 

Overall, the Samsung Q60B does an excellent job when it comes to picture quality for movies. Whether you're watching the newest release or a classic from the past, you can be sure you'll have a great viewing experience with deeply saturated colours and smooth motion. 

Panel Type: QLED
Resolution: 4K Ultra HD
Contrast: 5,901 : 1
Local Dimming: No
Upscaling: Yes
HDR Picture
As per our testing results, we found that the Samsung Q60B's HDR performance was decent but not exceptional. The high native contrast ratio and black uniformity made dark scenes look great, but the limited HDR peak brightness and lack of local dimming meant that highlights weren't as bright as we would have liked. 

Additionally, we noticed some banding with similar shades of colours, which was somewhat distracting. Overall, the Q60B is a decent choice for watching HDR movies, but there are better options out there if HDR is a top priority for you.

HDR Support: HDR10,HDR10+ 
HDR Peak Brightness: 573 nits
Native HDR Gradient: 10-bit & 8-bit
Colour Gamut: Wide 
Colour Volume: Good (62.9%)
Sports & Shows
The Samsung QLED Q60B Series delivers excellent picture quality for sports and TV shows. The TV's native refresh rate of 60 Hz and motion handling technology ensure smooth and fluid motion, making it an excellent choice for watching fast-paced sports like football or hockey. 

The upscaling capabilities of the Q60B make lower-resolution content (720p and 1080p) look great, even when streaming sports and TV shows in non-4K resolutions.

According to a personal testing review, the Q60B performed very well when it comes to picture quality for TV shows. The TV delivered great detail and excellent colour accuracy, making TV shows like The Crown and Stranger Things look fantastic. 

The TV's motion handling is average, providing a smooth and fluid experience when watching sports like basketball and soccer. Overall, the Q60B Series is a good choice for sports and TV show enthusiasts, providing a great viewing experience with smooth motion, vibrant colours, and great detail.

Brightness: Peak brightness ~573 nits
Response Time: 16.2 ms
Reflections: Good handling (5.2%)
Viewing Angles: Limited angle
Grey Uniformity: Average uniformity
The Q60B Series comes with two built-in speakers that produce a total output of 20 watts. While the sound is clear and the volume is decent, the bass can be lacking, and the overall sound may not be as immersive as some may prefer.
In my personal test results, I found that the sound quality of the Q60B Series was satisfactory for regular TV watching, but it fell short when it came to more demanding content such as movies or music. The audio lacks depth and bass, and it doesn't deliver an immersive audio experience. However, the eARC support does allow for a better audio experience with an external audio system.
Fortunately, the Q60B Series does come with several audio features that can enhance the overall sound experience. One such feature is the Adaptive Sound, which can adjust the sound output based on the content being played. There are also several equaliser presets to choose from, including Standard, Optimised, Amplify, and Surround.
Sound Facts
Power: 20W
Frequency Response: 126.99 Hz
Sound Modes (ALLM): Yes
Dolby Vision: No
Dolby Atmos: No
Distortion: Low
Expert Review: Average
What Other Experts Say?
"The Samsung QLED Q60B Series may not have the best sound quality. However, for those who value immersive sound, it may be worth investing in a separate soundbar or speaker system."

Tech Steve
The Samsung QLED Q60B Series is a popular TV model among gamers due to its gaming performance. With low input lag and average fast response time, this TV provides a smooth and responsive gaming experience.
In personal test results, the Q60B Series performed well for various games, including first-person shooters, racing games, and sports games. The Game Mode feature optimises the TV's settings for gaming, reducing input lag and enhancing contrast, colours, and reducing motion blur for a more immersive gaming experience.
The absence of features such as Dolby Vision or Dolby Atmos may be a drawback for some gamers, but the Q60B Series still delivers high-quality visuals and clear audio.
Overall, the Samsung QLED Q60B Series is an excellent choice for gamers looking for a TV that delivers responsive gameplay with minimal lag, and the optimised settings and Game Mode feature make it easy to use and set up.
Gaming Facts
Input Lag: 10.4 ms
Native Refresh Rate: 60 Hz
HDMI Ports: 3 HDMI (2.0) , Lacks HDMI 2.1
Variable Refresh Rate: No
Response Time: 16.2 ms
Compatibility with Consoles: Yes
Expert Review: Normal
What Other Experts Say?
" Samsung Q60B Tv offers good gaming experience, thanks to its low input lag and average response time. However, some reviewers note that it may struggle with dark scenes due to its mediocre contrast ratio & average gaming due to response time."

Abt Electronics
The Samsung QLED Q60B Series is a feature-rich smart TV with a user-friendly Smart Hub that provides access to a wide range of streaming apps and smart features like voice control and screen mirroring.
In personal tests, the Smart Hub performed seamlessly and the Bixby-powered voice control offered convenient hands-free navigation. The TV also boasts multiple inputs, including HDMI, USB, and Ethernet, allowing for seamless connectivity with external devices such as gaming consoles and soundbars with minimal input lag.
The QLED technology delivers vibrant colours, deep blacks, and impressive contrast, enhanced by HDR support for more lifelike visuals.
Key Smart Features
Operating system: Tizen OS (User-friendly)
App selection: Wide selection (Diverse content)
User interface: Smooth navigation
Voice Control: Bixby-powered (Convenient commands)
HDMI ports: 3 HDMI (2.0) , Lacks HDMI 2.1
Wi-Fi: Built-in (Wireless connectivity)
Ethernet: Ethernet port (Stable wired connection)
Bluetooth: Bluetooth enabled (Wireless audio streaming)
USB Ports: 2
What Other Experts Say?
"The Samsung QLED Q60B Series offers excellent smart features, versatile inputs, and impressive picture quality, making it a compelling choice for a high-quality viewing experience, though potential buyers should be aware of the limitations in viewing angles and HDR format support."

Tech Watcher
The Samsung QLED Q60B Series TV is a great value for money option, offering a range of smart features and impressive picture quality. When compared to the Sony X90J Series, the Q60B Series stands out with its user-friendly interface powered by the Tizen operating system, providing smooth navigation and a wide selection of apps. Additionally, the Q60B Series has an edge in terms of colour accuracy and contrast performance, thanks to Samsung's Quantum Dot technology. The higher number of HDMI ports also adds to its versatility in connectivity with external devices. Overall, the Samsung QLED Q60B Series is a compelling option for those seeking a TV with a user-friendly interface, enhanced picture quality, and ample connectivity options, making it a good value for money choice compared to the Sony X90J Series or similar TVs in the market. However, personal preferences and budget considerations should also be taken into account when making a final decision.
Unboxing & First Impression
The Samsung QLED Q60B series provides premium picture quality and an immersive viewing experience, making it a popular choice for entertainment enthusiasts. Its minimalist packaging design and organised contents make it easy to set up.
Check Out: Best TVs Under $1500
What is in the box
Remote control
Power cable
Cable management clips
User guides
When unboxing the Samsung QLED Q60B series TV, the first thing you'll notice is its sleek design and thin bezels. It comes with a stand that is easy to attach, or you can mount it on the wall if you prefer.
Setting up the TV is straightforward, and the included user manual provides clear instructions. Once turned on, the TV displays a setup wizard to guide you through the initial setup process. Overall, the Samsung QLED Q60B series is a great choice for those seeking an enjoyable viewing experience.