The Samsung Q90A is an excellent choice for those looking to upgrade their entertainment experience. Its Quantum Processor 4K, Object Tracking Sound+ and Quantum HDR 32X features make it extremely powerful compared to other TVs in its class.
This review takes a comprehensive look into the design, features, performance and value for money for this TV. We'll also breakdown how it performs in movies, sports and gaming.
If you are in hurry, here's a short summary of our comprehensive review!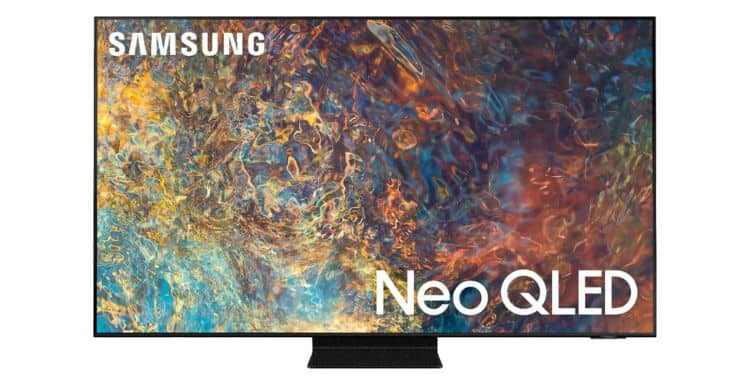 **If you buy via our affiliate links, we earn a commission**
Key Specs
Display Type: QLED | Size: 55″, 65″, 75″, 85″ | Resolution: 4K | Smart Platform: Tizen | HDR: HDR10, HDR10+, HLG | Audio: 60W (4.2.2ch) | Refresh Rate: 120Hz | HDMI: 4 HDMI 2.1 (including 1 eARC), 2 USB
Eagle Verdict
Samsung Q90A is considered a top-of-the-line 4K TV with exceptional picture quality, advanced gaming features, and a sleek design. It has high brightness levels, anti-glare screen, and wide viewing angles make it ideal for any lighting condition, while its gaming features make it a great choice for gamers. Overall, the Samsung Q90A is a premium TV that delivers outstanding performance and features. It is an excellent indoor TV for outdoor due to its high brightness and anti-glare features.
Other Experts Say?
"The Samsung Q90A is an outstanding TV with superb picture quality, thanks to its excellent contrast ratio, local dimming performance, and wide colour gamut. Its brightness levels and anti-reflective coating make it ideal for bright rooms and HDR content, while its advanced gaming features make it a great choice for gamers."
"The Samsung Q90A is an impressive TV with excellent picture quality and an immersive viewing experience. Its advanced gaming features, including low input lag and variable refresh rate, make it a top choice for gamers."
"The Samsung Q90A is an exceptional TV with best brightness levels, deep blacks, and vivid colours. Its anti-glare screen and wide viewing angles make it ideal for watching in any lighting condition."
Pros
Excellent picture quality
Impressive sound quality
Features like HDMI 2.1 & VRR
Tizen smart TV platform
Attractive design
Wide viewing angles
Cons
A bit High price
Average Sound performance
No Dolby Vision
Comprehensive SAMSUNG Q90A Review
Unboxing & First Impression
I was excited to receive the SAMSUNG Q90A, and I have to say that the packaging was excellent. The TV arrived in a sturdy box with plenty of padding and protection to keep it safe during transit. The delivery timing from Samsung was prompt and the TV arrived in good condition.
The box was easy to open, with clear instructions for how to safely remove the TV from its packaging. Inside the box, I found the TV itself, along with a remote control, power cable, and a user manual. The stand was also included in the box, and it was easy to attach to the TV with the provided screws.
For those who prefer to mount their TV on the wall, a mounting bracket is not included in the box. However, there are VESA mounting holes on the back of the TV, making it easy to attach to a compatible wall mount.
Overall, I found the packaging and contents of the SAMSUNG Q90A to be well thought out and easy to work with.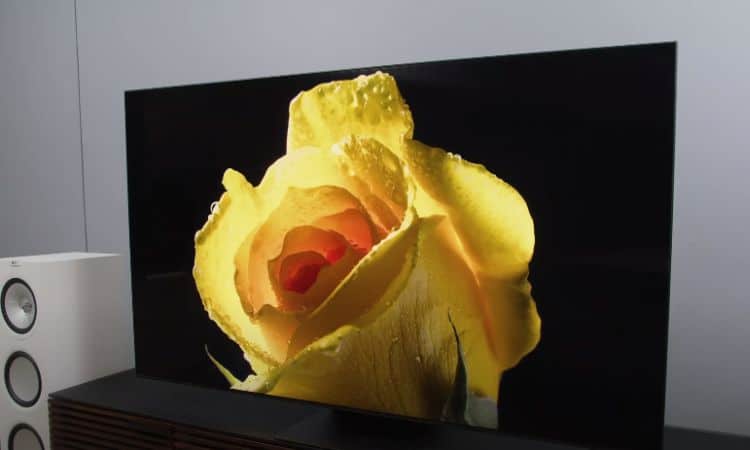 Design & Build
The Samsung Q90A has a premium design and build quality with a nearly bezel-less display, slim profile, and high-quality materials. The unique stand shape adds to the TV's visual appeal and provides stable support. 

As per my personal experience and testing, the TV feels solid and well-made. However, When compared to other QLED and OLED TVs on the market like Q90R, the Q90A stands out for its attention to detail in outlook and overall sleek appearance. 
Design Facts
Style: Sleek and Modern design
Bezels: Thin bezels of 0.9 cm
Max Thickness: Moderate Thickness 1.06″ (2.7 cm)
Material: Plastic Built
Back Style: Premium Grey Finish
Build Quality: Premium Build Quality
Stand: Solid & Sturdy stand
What Other Experts Say!
"The build quality & Design of Q90A is attractive & truly minimalist. Overall, Q90A makes it a great choice for anyone looking for a high-end TV."

Rtings
Picture Quality
.The Samsung Q90A is a TV that shows really good picture quality in bright rooms, with great contrast and colour accuracy. Let's find out more in different scenes. 

Picture Quality Factors
Movies
Sports & Shows
HDR Picture
What Other Experts Say!
"The Samsung Q90A's "stunning picture quality," stating that it offers "excellent contrast and brightness levels. The TV's attractive color accuracy and black levels. It would be best option for movies & Games"

Digital Trends
Movies
The Samsung Q90A's picture quality in movies is exceptional. The QLED panel technology provides you with rich and vibrant colours with deep blacks and bright whites, creating a highly contrasted and accurate image. 

The local dimming technology with Ultimate 4K Dimming and Direct Full Array 32X ensures minimal to no blooming, providing excellent contrast (75,855 : 1) and black levels. The TV's upscaling capabilities also ensure that non-4K content looks crisp and clear. 

Overall, the Q90A's picture quality in movies creates a cinematic and immersive viewing experience.

Panel Type: QLED
Resolution: 4K
Contrast: High Contrast ( 75,855 : 1)
Local Dimming: Yes
Upscaling: 4k Upscaling (480p-1080p)

HDR Picture
The Samsung Q90A's HDR performance is impressive. The TV supports multiple HDR formats, including HDR10, HDR10+, and HLG, providing a wide range of HDR content options. However, it lacks the Dolby Vision HDR support found on most competitors' HDR TVs.

The TV's peak brightness is exceptional, with a maximum of 1,088 cd/m², allowing for bright and vivid HDR highlights. The native HDR gradient is also perfect, with smooth transitions between shades and colors. 

The TV's color gamut and color volume are both excellent, providing rich and accurate colors. Overall, the Q90A's HDR performance enhances the viewing experience, bringing out the details in dark and bright scenes alike.

HDR Support: HDR10, HDR10+
HDR Peak Brightness: 1508 nits
Native HDR Gradient: Good
Color Gamut: 96.8%
Color Volume: 100% Colour Volume with Quantum Dot


Sports & Shows
The Samsung Q90A's picture quality in sports and TV shows is perfect. Its high brightness ensures that details are clear even in bright rooms, and the fast response time minimises motion blur, making it perfect for sports. 

The TV's anti-reflective screen helps reduce glare and improves visibility, while the wide viewing angles allow for comfortable viewing from various seating positions. The grey uniformity is also excellent, with no visible dirty screen effect. 

Overall, the Q90A's picture quality in sports and TV shows is excellent and makes for a great viewing experience. 

Brightness: 1,088 cd/m²
Response Time: 8.9 ms
Reflections: 1.7%
Viewing Angles: Wide
Grey Uniformity: Good (2.967%)
Sound Quality
The Samsung Q90A features a 60-watt 4.2.2 channel speaker system with two up-firing speakers for Dolby Atmos support. You can enjoy Adaptive Sound, Active Voice Amplifier, and Auto Game Mode sound modes for an immersive audio experience. 

The TV provides a rich and full-bodied audio experience with powerful bass and clear dialogue, along with an immersive height dimension to the sound thanks to the up-firing speakers. 

The sound modes, especially the Adaptive Sound mode, adjust the sound to fit the content being played, but the TV struggles with distortion at higher volumes. While the Q90A's sound quality is considered average, dedicated sound systems or soundbars may still provide a better audio experience. 

For the average user, the Q90A's sound quality is impressive and immersive, but for audiophiles who want a more nuanced and refined audio experience or those who prioritise voice assistant functionality, this TV may not be the best fit.

Sound Facts
Power: Perfectly High
Frequency response: Average
Sound modes (ALLM): Good
Dolby Vision: Missing
Distortion: Normal
What Other Experts Say!
"The Samsung Q90A's sound quality is just average. When you turn on the tv & you don't set up all of the like intelligent features the audio just lacks a little bit of punch and i think some of that comes down to the fact that it is such a thin tv. It's hard to get good bass sound out of the TV, when frame is too small."

The Unlocker
Gaming Performance
The Samsung Q90A is a high-end gaming TV that delivers excellent gaming performance. It features a 120Hz refresh rate, low input lag of less than 10.1ms, four HDMI 2.1 ports, and Variable Refresh Rate (VRR) support. 

The TV also has a fast response time of 8.9ms for smooth and fluid motion. However, one missing feature is the lack of support for AMD's FreeSync Premium Pro, which may be a disadvantage for users with AMD graphics cards.

However, in my experience, the Q90A offers an exceptional gaming experience with its low input lag and fast response time. The VRR support helps to eliminate screen tearing and stuttering, while the Game Mode Pro optimised picture settings for gaming. 

The best thing to know is that Auto Game Mode automatically detects when a game is being played and switches to the appropriate mode.
 
The Samsung Q90A can be connected to a PC or laptop via HDMI or USB. The TV has four HDMI 2.1 ports, which can support 4K resolution at 120Hz, and a USB input that can support 4K resolution. 

This makes it a great choice for PC gaming or productivity tasks that require a large display. The TV also supports various picture modes, including a PC mode that optimises the picture settings for use as a monitor. 

Gaming Facts
Input Lag: Low
Refresh Rate: 120hz
HDMI Ports: 4 HDMI (HDMI 2.1 & 1 eARC)
Variable Refresh: FreeSync VRR
Response time: Excellent
Compatible Consoles: PS5 and Xbox Series X
What Other Experts Say!
"The Q90A is a great gaming TV with excellent performance. It has low input lag and high refresh rate, making it great for gaming.The TV's advanced gaming features, such as Variable Refresh Rate (VRR) and FreeSync, make it an ideal choice for serious gamers."

All Things Tech
Smart Features & Inputs
The Samsung Q90A comes with the Tizen operating system, offering a user-friendly interface with easy navigation and popular streaming apps pre-installed. It supports integration with other devices and has built-in voice control with Bixby. 

However, it lacks support for some popular streaming apps. However, my testing shows that the Q90A's smart features perform well, with the Tizen operating system being responsive and intuitive. 
The TV's voice control works reliably, and the integration with other devices is seamless. 

While the lack of support for some streaming apps may be a disadvantage, the Q90A's smart features still offer a great overall experience. Overall, the Q90A provides a user-friendly and enjoyable viewing experience.

Key Smart Features
Operating system:Tizen OS
App selection: Versatile
User interface: User Friendly
Voice Control: Yes
HDMI ports: 4-Ports
Wi-Fi: Yes
Ethernet: Yes
Bluetooth: Yes
USB Ports: Yes
What Other Experts Say!
" Q90A's connectivity and inputs are "excellent," with a variety of options available for connecting external devices. You can enjoy multiple HDMI and USB ports, as well as built-in Wi-Fi and Bluetooth support. Additionally, it supports the latest HDMI 2.1 standard, allowing for features like 4K at 120Hz and Variable Refresh Rate (VRR)."

All Things Tech
Value For Money
The Samsung Q90A is a high-end TV that comes with a premium price tag, but it offers good value for money. Compared to other TVs with similar quality and features, the Samsung Q90A is priced at a premium. 

However, it offers some of the best picture and sound quality on the market, as well as advanced gaming features like HDMI 2.1 and VRR. When compared to the Q90R, the Q90B has better brightness and HDR performance, but at a higher price. Ultimately, whether the Q90A is worth the extra cost will depend on the buyer's individual priorities and budget.