Full motion TV mounts have gained a lot of popularity due to the freedom they offer to orient your TVs. Moreover, they turn your entertainment hub into a professional-looking setup.
Omni TV mounts manufacture different types of motion TV mounts available in the market. Today we'll be reviewing them along with some viable alternatives.
By the end of this article, we will discuss the following things:
Omni TV mounts and their alternatives. 

Buyer's Guide.

Frequently Asked Questions.
Quick Summary of the Main Product
In the current day and age, people put in a lot of effort when it comes to organizing their living space. Subsequently, one major part of your living space is an LED/LCD/Plasma TV.
Among the different types of mounts, full-motion mounts are the most versatile in their operations. The OmniMount OC40FM falls under the same category.
It is designed with a large mount plate and attached with a heavy-duty moveable arm. You can extend and move this arm however you see fit. 
The arm can be moved forward/backward, up/down, and left/right. Basically, you can orient your TV in any way you like. Besides that, you can also tilt your TV if it is placed at a height.
What's the key feature of this mount?
The main feature of this mount is the ability to organize your entertainment hub in such a way that you can also add other things with it. 
With its motion arm, you can create space for your home theatre sound system and other things like gaming consoles. You can also put decorative stuff to make it look even better.
Factors to Consider Before you Decide to Buy OmniMount OC40FM TV Mount
There are multiple things that you need to be aware of before you buy this TV mount. Let's take a look at them.
Design
As we have mentioned earlier, this mount is a full-motion mount. However, there is more than meets the eye.
The mount is designed in a rectangular fashion to provide more stability and grip. Because of that, you don't have to worry about any cracks or tear marks on your wall.
Is the TV plate the same size?
To make sure that there is no extra strain on the wall plate, OmniMount has designed the TV plate to be almost the size.
This evenly distributes the weight between both plates and keeps your TV in a stable position.
What happens if the weight isn't evenly distributed?
If the weight isn't evenly distributed between both plates. It eventually harms either of these plates and can severely damage your entire setup. 
Since you are not going to replace your TV frequently, it is important to keep this thing in check.
Durability
The strength of a mount is another important factor when it comes to TV mounts. To ensure this OmniMount has made their mount with industrial-grade steel alloy. 
It provides the necessary muscle to keep the TV in place. Moreover, you can easily move the TV in any direction seamlessly.
What's the benefit of the Steel-Alloy build?
Aluminum used to be the go-to option for TV mounts. But as the TVs got bigger, Aluminum didn't quite provide the long-term solution for it. 
On the other hand, a steel-alloy build counters every problem you can face with a TV mount. Steel is rust and dustproof. It can easily hold the weight of heavy TVs over long periods of time.
How can rust affect the working of my mount?
Over time, the joints and moving parts of your mount can accumulate a little bit of rust/dust. This can lead to difficulties in the movement of the arm and can even potentially jam it.
So, in the long term, this mount can easily stand the test of time against factors like dust and rust. 
Compatibility
Just being a strong and durable mount isn't enough, you need a mount that should be compatible with different TV models. It comes off as a surprise for many people that the mounting holes are designed based on weight rather than screen size.
In most cases, TV mounts are only manufactured with one mounting hole option. This limits your capability to install new TVs.
How is this mount different?
We noticed that the OmniMount OC40FM comes with two separate mounting options. The inner holes can support 13"-37" TVs with a weight limit of 40 lbs.
The outer holes can support TVs up to 56" with a weight limit of 100 lbs. Moreover, both mounting options feature the same kind of studs. 
How to check if my TV is compatible with this mount?
First, you'll have to determine what sort of mounting design your TV has. Some TVs have a center plate mount while some come with corner mounts. 
Just simply look at the backside of your TV, if it has holes in the center part then you can use this mount. However, for corner mounts, the hardware is usually included with the TV.
Wire Management
This factor is often overlooked by people but it is quite essential to the overall look of your living space. Bad wire management can put off a messy look that doesn't fit in with the environment.
To counter this, the OmniMount comes with its own wire brackets. You can use these brackets to route the power and input cables behind the TV. 
Why is wire management important?
Besides the professional look, clean wire management keeps the wire safe from the reach of kids. It also protects the wire from accidental cuts by the movement of the extendable arm.
This prolongs the overall life of your wires by a lot. Moreover, the wires can easily follow the movement of the arm if you shift it from one side to the other.
Installation
Wall mounts look complex at first sight but they are quite easy to mount. The OmniMount OC40FM is designed in such a way that you can't mount it without any professional help.
Most mounts don't need any extra steps besides the normal procedure. Such is the case with this OmniMount. You only have to screw in 4 wall studs in their respective positions.
What type of screws should I use for the wall plate?
You should always use the screws included with the wall mount. However, if your walls are thicker than the length of screws then you can buy third-party screws.
The only thing you need to make sure of is to buy the screws of the same size. Otherwise, you can damage your wall plate. 
Cooling
The OmniMount OC40FM comes with sufficient space between the TV and wall plate for cooling purposes. This is to make sure that your TV doesn't damage itself.
People often ignore this factor and end up with overheating problems. OmniMount's moveable counters this by providing an arm's space between the wall and the TV.
What if I don't have proper ventilation?
This isn't a problem if you use the TV for small periods. However, if you watch TV for extended periods, the plastic on the backside can deform.
This can potentially hurt the screen and render it useless. But this is only possible if the airflow is completely choked and there is no space for hot air to escape.
This mount is not compatible with Frame TVs and large-scale Plasma TVs.

It can only fit the stud size authorized by the manufacturer.
Our personal experience with this mount has been quite fulfilling regarding the build and overall operations. But to get the perspective of different customers, we looked at the reviews on multiple forums. 

People mentioned that the features it provides compared to its price are quite valuable. They mentioned the convenience of installation and how they didn't need any professional's help to do so. 

We also noticed that customers were satisfied with the motion mechanism of this mount. As you can see in the above review, the mounting helped this customer to watch TV from their kitchen and living room. 

We found that people used this mount for their monitors also. Since this mount can hold screens between 13-37 inches, a computer monitor can easily fit on it. 
Almost every review we found on different forums praised the mount for its utility and seamless motion. People were satisfied by the number of features it has in such a small package. 
Alternatives to OmniMount (Recommendations)
Following are some alternatives to the OmniMount that you can buy on the market. Let's take a look at the different features of these mounts.
#1: Best Large-Scale TV Mount Alternative - OmniMount OC175T Review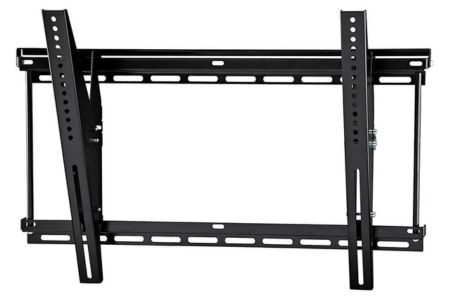 Type of mount: Wall Mount | Movement Type: Tilt | TV size range: 46" to 90" inch | VESA pattern: 100×100 to 600 x 400mm | Maximum weight limit: 150 Lbs | Wall Type: Wood Stud, Concrete | Cable Management: Yes
OmniMount manufactures different types of TV mounts. These mounts are designed to hang all sorts of TVs based on their weight and dimensions. The same is the case with OmniMount OC175T. The OmniMount OC175T is ideal for entry-level consumers looking for a low-profile and easy-to-use medium full motion mount.Take the guesswork out of choosing your perfect mount! 
This mount is designed to be a fixed/tilt mount that can easily hold TVs between the range of 43-inch and 90-inch. You can easily make room for electrical cutouts due to its open-frame style. 
Is it only available in tilt design?
Just like every other OmniMount, you can choose different styles and designs for this mount as well. It comes with two different options.
You can choose the fixed design or you can choose the tilt design. The only difference is that the fixed one comes without the tilt feature.
Why does it have two options?
OmniMount sells in two different designs to help its customers. Your living room orientation might benefit from either of these options.  OmniMount has years to encompass mounting solutions that cover the entire spectrum of home theater equipment. In short, they make aesthetically pleasing mounts for tv.
Even if you don't have the need for a different style, it is always good to have options.
Factors to Consider Before You Buy OmniMount OC175T
Following are some of the key aspects of OmniMount OC175T you should keep in mind.
Design
As a tilt mount, the wall bracket of this mount comes with a moveable bracket. You can tilt your TV forward at an angle of 15 degrees. 
But that's not all, you can also tilt your TV backwards at a 5-degree angle. This way, you can find the best viewing angle to get the optimum picture quality.
Can I tilt the mount from the sides?
No, you cannot. This OmniMount only allows a forward or backward motion for tilt. However, you can slide it from either side to make room for other objects.
Although you can't tilt sideways, the slide feature can help you attach your home theater sound system with ease. 
Durability
As we have mentioned earlier, this TV mount is designed to hang large and heavy TVs on a wall. To make sure that they stay in their place, OmniMount has made their mount with a Steel alloy.
Currently, Steel-alloy mounts are the preferred choice. This is due to the strength and firmness it provides. Similarly, this mount can hold up to 100 lbs of weight easily.
How does the strength of the mount affect my entertainment hub?
It matters in two aspects, the longevity of your mount and its ability to handle the strain. This mount can survive multiple years without a bend or a crack in its structure. 
Furthermore, the alloy is designed in such a way that the weight is evenly distributed along with the mounting bracket. 
Installation
Unlike the full-motion mount, we described earlier in this post, the installation of this mount is simple enough & straightforward. 
You can attach the mounting plate to a wall using the 6 mounting holes. Four of these holes are located at each corner while the remaining two are located in the top and bottom center.
Why does it have six mounting holes?
Most mounts come with four mounting holes because they are usually enough to keep the wall plate firm and steady. But this mount is designed to hang heavy TVs. 
The two middle studs are added to the design to keep the wall plate from bending. Because if it does, it'll break the entire plate and destroy your wall as well.
Wire Brackets
Wire management is quite essential when it comes to wall-mounted TVs. The OmniMount OC175T comes with built-in brackets for you to hide your wires.
It has plastic clips that can be locked to keep your wires in place. You can also use zip ties to attach the wires to the mount. 
What's the best way to hide the wires?
It is preferred that you use the plastic locks provided with the mount. Because they will keep your wires in place and provide space to move when you tilt your TV.
Zip ties are recommended if you are using the fixed version of this mount.
Cooling
This mount comes with a low-profile design. What is a low-profile design you might think?
Your TV and the wall mount have some space between them. In order to minimize it, OmniMount has designed the mount to be slim.
This gives a sleek look and it almost looks like your TV is attached to the wall instead of a mount. Your TV also remains cool due to this design.
How does it keep my TV cool?
Compared to a conventional plate design, the brackets have little contact with the TV. This allows the air to freely move between the TV and the wall.
The best large-scale TV mount alternative is the OmniMount OC175T. It can be used to hang a medium to large-sized TV. The durable Steel alloy is designed to distribute the weight evenly on the mount. Moreover, it has built cable management to give a sleek look. 
The OmniMount OC175T is a durable and versatile wall mount for flat-panel TVs. With a tilt function and low-profile design, it offers secure mounting and optimal viewing angles. Installation is easy, making it a reliable and convenient choice for TV mounting.
The OmniMount OC175T is a reliable and feature-packed wall mount that offers excellent value for the price. Its sturdy construction, tilt functionality, and low-profile design make it a great choice for securely mounting your flat-panel TV while optimizing your viewing experience.
Easy to install




Strong mounting brackets




Highly durable build material




Compatible with large scale TVs




4-6 stud mounting option
The user manual isn't detailed enough
#2: Best Hybrid TV Mount Alternative - Mounting Dream MD2380 Review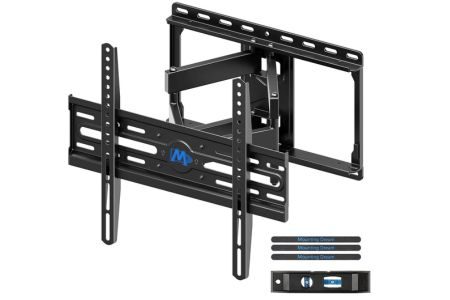 Type of mount: Wall Mount | Movement Type: Tilt | TV size range: 46" to 90" inch | VESA pattern: 100×100 to 600 x 400mm | Maximum weight limit: 150 Lbs | Wall Type: Wood Stud, Concrete | Cable Management: Yes
This TV mount from Mounting Dream is an elaborate piece of hardware. It is a combination of Tilt, Swivel, Rotating and Articulating mount.
You can use this mount to customize your entertainment hub as you see fit. Mounting Dream has made this mount to serve all sorts of needs.
Why do I need such a mount?
People often buy a single mount and think that the other mount might have been better. However, in the case of MD2380, you don't have to worry about that. 
You can tilt, swivel, or even pull your TV to your desired place. This comes in handy when your living space has little room for adjustment.
Is it good to have this many options?
Usually, being a jack of all trades isn't considered good. But in the case of MD2380, Mounting Dream has made sure to properly design everything up to the market's standard.
They have paired high-quality build material with a state-of-the-art design to keep the movement seamless. Moreover, you can attach a wide range of VESA-approved TVs with it.
Factors to Consider Before You Buy Mounting Dream MD2380
Following is a detailed explanation of some features that you should keep in mind.
Design
It is always good to have options at your disposal. This also applies to TV mounts. Even the simplest mounts have some sort of options to make your life easier.
Mounting Dream takes this one step further by combining 4 different types of mounts into one single piece of hardware. 
How does it work?
The swivel and tilt part of the mount is attached to the TV brackets. You can easily tilt your TV sideways or forward/backward with a gentle push.
However, the rotating and articulating aspect is tied with the two extendable arms attached to the wall bracket. 
How far can I extend the mounting arm?
You can extend the arm to a maximum of 15 inches from the wall. The six articulating arms help you to easily move the TV forward and backward.
Durability
Just like most of the mounts, Mounting Dream makes its mount using an industrial-grade steel alloy. This is to make sure that every single component of the mount can handle the stress.
The bolts and screws used in this mount are made from Titanium alloy. Since nuts and bolts undergo the most stress in a mount, it is important to keep their strength intact.
Is Steel-Alloy build good enough for heavy TVs?
When it comes to TVs above the 40" scale, Steel-alloy gets the job done. It has high tensile strength that allows it to hold and distribute the weight with ease.
Furthermore, Steel-alloy is also resistant to external factors like rust, moisture, and dust. So, you don't have to worry about that either.
How does durability affect the working of my mount?
Over time, your mount can encounter wear and tear damage. This usually happens due to the constant use of the articulating and tilt mechanisms. 
However, in the case of MD2380, Mounting Dream has made sure that each and every part is made from the same material. 
Installation
At first glance, this mount may seem hard to understand and mount for you. But it is easier than it seems. 
Mounting Dream has included multiple mounting holes in the wall plate to make sure your studs can fit easily. All you need is a stud finder and a power drill. 
Is there a user manual for the installation?
Mounting Dream provides a detailed installation manual with a step-by-step procedure. You also get a bubble level to make sure your mount is placed correctly. 
Besides that, you can also check their website for a video tutorial to help you with it. 
What if I have questions regarding the installation process?
You can call the customer service around the clock for any queries regarding the mount. They are very helpful and can solve any of your problems in no time.
We must also mention that the mount comes with eight mounting holes. This is to make sure that the wall plate remains firm despite the constant use of the articulating arms.
Wire Brackets
Wires can create a lot of mess when it comes to motion mounts like this one. However, Mounting Dream has kept this in check with their wire brackets. 
There is enough space for you to attach your power cable along with an optical or HDMI cable. The brackets also come with holes so you can easily tie them with the articulating arms.
Should I tie the wires with the arms?
As per the user manual, you can attach your wires using a zip tie. However, there are specific holes for you to pass the zip tie. 
You need to be careful with the zip ties because if they are tied tightly, it will cause problems in the motion of the arms. It can also damage your wires in the process.
Cooling
The mount stays at 3-½ inches distance from the wall when fully retracted. This provides enough room for proper air circulation to keep your TV from heating up.
Besides that, the bracket design of this mount keeps low contact with the TV itself. So, you can watch TV for extended periods without any worry of overheating.
The best hybrid TV mount alternative is the Mounting Dream MD2380. If you are looking for a one-time investment then this mount has all the tools your need. Furthermore, it is quite durable and can be attached to almost every TV on the market.
The Mounting Dream MD2380 is a versatile universal TV wall mount, perfectly suited for use with flat screen TVs ranging from 32-65 inches in size.The mount offers full motion capabilities, including tilt, swivel, and rotation adjustments that allow for optimal viewing angles. It extends up to an impressive 15.2 inches from the wall but sits neatly at just 3.1 inches when retracted.
The Mounting Dream MD2380 is an exceptional wall mount for flat screen TVs, that can accommodate most 32-65 inch TV models. Its full motion capabilities including tilt, swivel and rotation settings make it the most desirable option for a superior viewing experience. With its effortless installation process and inclusive accessories, this wall mount offers convenience at your fingertips when it comes to mounting your TV.
Convenient installation

Multiple mounting holes

Compatible with multiple VESA dimensions

High-quality build material



 
Needs extra care while moving the TV forward and backward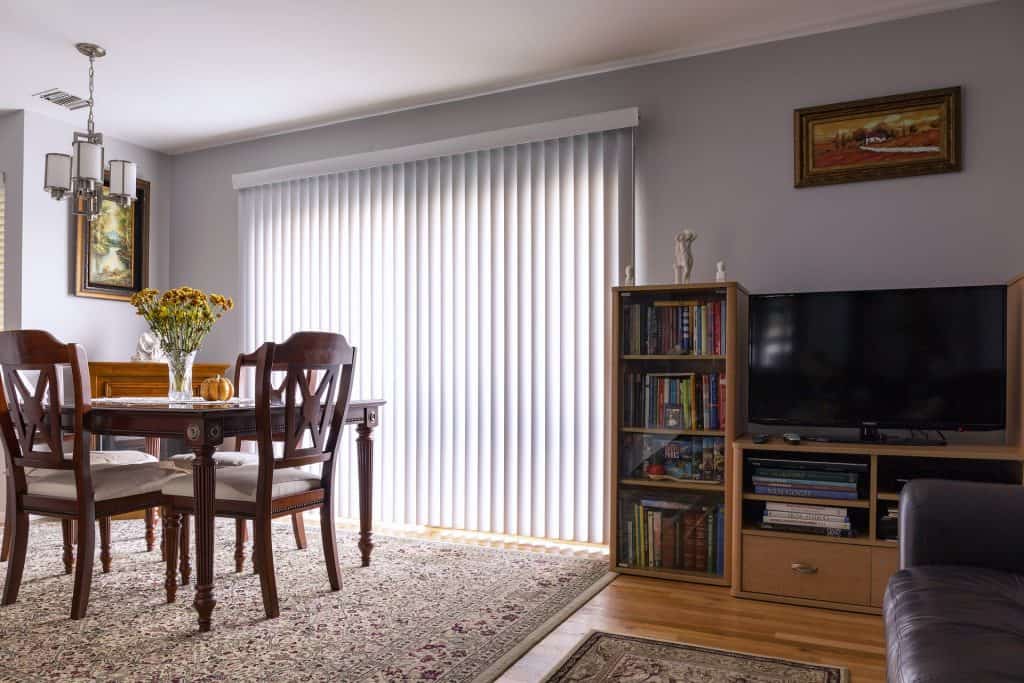 There are some factors that you should keep in mind while buying any mount for your TV. They directly impact the life and overall operation of a mount.
Design
A mount's design can go a long way in terms of working and utility. There are different types of design you can choose from. But there are three main types of designs you should go for.
These types include Rectangular, Vertical, and X-shaped plate designs. People prefer rectangular and vertical designs due to their convenient installation.
How do I choose from these options?
It is quite easy to make a decision. If your TV falls in the medium-size category, rectangular and x-shaped plate design will serve you well.
However, for larger TVs, it is preferred that you use a vertical bracket design. It reduces the strain on the mounting plate and evenly distributes the weight on the wall plate.
Durability
The strength and the ability to hold weight directly contribute to the life of your mount. Many manufacturers produce their mounts with a variety of materials.
What you should do is choose the mount based on your TV's weight rather than its size. For medium-sized TVs, an Aluminum-alloy mount is sufficient because of its lightweight.
What type of material should I choose for large TVs?
For larger TV, you should always go for a Steel/Titanium-alloy mount. Because large TVs can exert enormous stress on the wall and TV plate. 
So, in order to avoid any cracks or bends, you need a mount that can handle that strain. Steel-alloy does a very good job at handling and distributing weight.
Installation
The installation of a TV mount should never be hard. You should purchase a mount that is easy to mount and the installation process is straightforward. 
This is because you might need to uninstall it someday and that can prove to be a headache. 
How can I determine if a mount is easy to install?
A rule of thumb for this purpose is to locate the mounting holes. If the mounting holes on your mount are visible and easy to reach then it is easy to install as well. 
In some cases, mounting holes are hidden under a bracket or a cover that isn't usually easy to screw in. You should avoid such a mount if you are working on a DIY project.
With this, we come to the finish line of our review on Omni TV mounts. We must say that our experience with OmniMount has been quite satisfactory and fulfilling. 
The OmniMount OC40FM is designed to compact yet professional mount. The mounting arm enables you to orient the TV according to your living space and provides the space for extra things. Furthermore, it can firmly hold heavy TVs due to its highly durable build structure.
We hope this article helps you in making a better decision regarding mounts.
Do let us know which mount you are currently using for your flat-screen TVs.