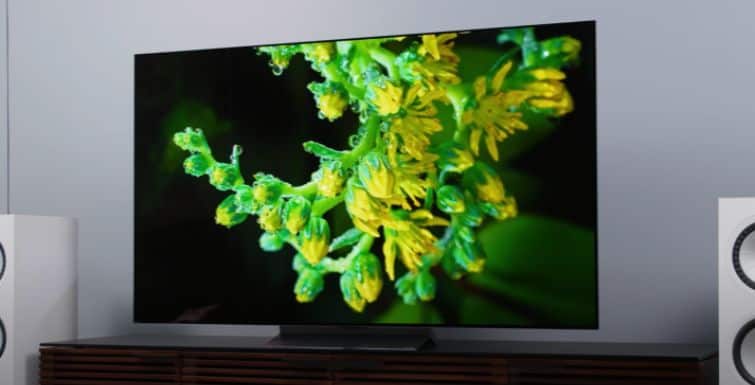 The LG C2 OLED is a top-of-the-line TV with exceptional picture quality and advanced features, making it an excellent choice for those looking for a premium viewing experience. If you're looking for a new TV, the LG OLED C2 is definitely worth considering.
Let's start with a quick overview of the TV's features and a more in-depth look at its performance.
If you are in a hurry, here's a summary of our comprehensive review!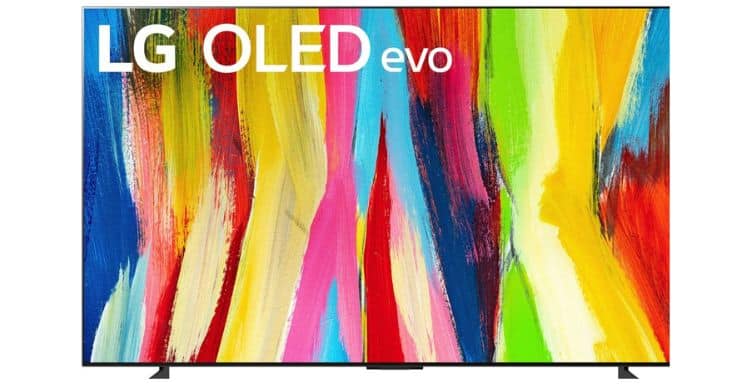 **If you buy via our affiliate links, we earn a commission**
Key Specs
Panel Type: OLED | Size: 42, 48 55, 77, 83 | Resolution: 4K | Smart TV software: webOS | HDR: Dolby Vision, HDR10, and HLG | Audio: Dolby Atmos | Refresh Rate: 120Hz | Ports: 4 HDMI 2.1, 3 USB | Audio: 40 watts
Eagle Verdict
The LG C2 is a great mid-range OLED that looks great and has great picture quality and cutting-edge features. The SDR and HDR performance is great, even though it isn't quite as bright as the other TVs. The C2 is the optimal choice for next-generation gamers due to its HDMI 2.1 inputs, extensive gaming features, and response times that are so fast you'll miss them. You won't find a better 4K OLED TV at this price.
Other Experts Say?
"The LG C2 is an incredible TV for most uses. Its self-emissive technology is superb for watching movies or HDR content in a dark room. It's also brighter than most OLED panels, making it an excellent choice for watching TV shows or sports in a bright room."
"The LG C2 OLED 2022 is the best-looking 4K TV. I have seen it in movies and gaming. With OLED, you get amazingly vivid colors with completely blacked-out blacks. This smart TV also has Alexa and Google built in. "
"If You're looking at buying this TV is things like reflections; ultimately, an OLED has very minimal anti-reflective material on it, so if you're going to be using this in a bright room as much as it still will perform very very well it's not going to be the brightest tv on the market."
"The LG OLED lineup with an excellent all-round performance with superb industry-leading Gaming features a full-on smart TV system that supports all of the HDR formats and image quality that has yet again seen a small step up in image quality."
Pros
4 HDMI 2.1 ports
Extensive gaming features
Great smart TV platform
VRR, ALLM, and 4K at 120Hz
Wafer-thin design
Cons
No HDR10+ support
Some peak brightness artifacts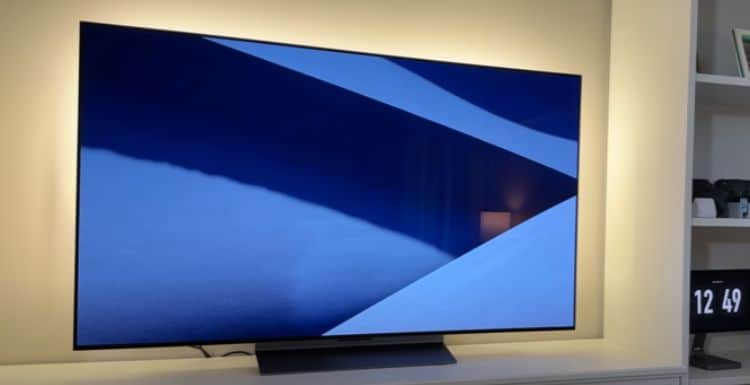 The LG C2 OLED TV is known for its sleek and modern design. It has a slim frame and thin bezels, giving it a high-end look. The TV is only a few millimeters thick and has a display almost to the edges. This makes it a great choice for people who want a TV that looks good from any angle.
The build quality of the TV is also outstanding. It is made of high-quality materials that feel strong and durable and has a solid, powerful feel. The stand for the TV is also well-made and gives the TV a stable place to sit.
There is an attractive sloped stand with a small footprint, and a normal VESA bracket (VESA 300×200) can mount the TV to the wall.
One notable feature of the LG C2 OLED TV's design is the way it hides its connections. The TV has a special cable management system letting all cables through the stand. This keeps the wires out of sight and makes the room look less cluttered.
Design Facts
Style (Front & Back): No Curved
Bezels: Thin bezels
Max Thickness: 1.73″ (4.4 cm)
Wall Mount: VESA 300×200
Build Quality: Exceptional Build Quality
Stand: Yes
What Other Experts Say?
"The LG C2 is incredibly well-built. The materials feel premium, and there's not much flex in the back panel. The smaller stand takes up less space and is considerably lighter, but it doesn't support the TV as well, so it wobbles easily."

Rtings
The LG C2 OLED TV delivers excellent picture quality, 4K resolution, and easy-to-use controls. It also has wide viewing angles, which are great for watching TV shows, movies, and sports with a group of friends.
Continue reading to learn more about its picture quality performance in movies & Tv shows.
Picture Quality Factors
Movies
Sports & Shows
HDR Picture
What Other Experts Say!
The LG C2 OLED TV was released this year. This is a 4k Ultra HD TV with a 120-hertz refresh rate for high frame rate video. The latest gaming consoles' movies look amazing with Dolby Vision and HDR 10 support. It is 20 brighter than the previous year's LG C1 TV.

Craigh's Tech Talk
Movies
If you want to watch movies in a dark room, the LG C2 OLED is a great choice. It's great for watching movies in the dark because its OLED screen can produce perfect blacks.

Thanks to its OLED screen, it can show a nearly perfect contrast ratio  (Inf: 1), with deep blacks in a dark room and no distracting blooming or haloing around bright objects.

The LG C2 can remove judder when watching 24p movies or TV shows, even from sources that can only deliver a 60Hz signal, such as a cable box. Unlike previous LG TVs, the Real Cinema setting must be activated to eliminate judder from most sources. 

 It can automatically remove judder from all sources and upscales DVD content effectively. Unfortunately, some scenes exhibit noticeable stuttering due to the virtually instantaneous response time.

Display Type: OLED 
Resolution: 4K
Contrast & local dimming: Near contrast ratio (Inf: 1), no local Dimming 
Upscaling: 4k Upscaling 
HDR Picture
The LG C2 is just as good when it comes to HDR. It's not as bright as the other LG models, but it can reach 754 cd/m2 on a 10% window and 174cd/m2 on a full-field pattern in the Standard mode, and 756 cd/m2 on a 10% window, and 164cd/m2 on a full-field pattern in the more accurate Filmmaker mode. 

The model supports various HDR formats, including Dolby Vision, HDR10, and HLG, but not HDR10+ dynamic metadata, which Amazon Prime Video prefers.

In my testing, the LG C2 gives you a great HDR movie experience in a dark room. It's bright enough to bring out the bright spots in most scenes and captures what the author meant well. It has an outstanding HDR color gamut (71.75%),  but only an average HDR color volume (34.2%), as colors are not as bright as white.

In my experience, The C2 has an equally outstanding color rendition, with DCI-P3 coverage of 99%. This lets you get the most out of HDR's bigger range of colors, and when you add in brighter images, the results are often breathtaking. 

HDR Type: Dolby Vision , HDR10, and HLG 
HDR Peak Brightness: 754 cd/m² 
Native HDR Gradient: 100% Black to 50% Gray 
Color Gamut: Superb color gamut (71.75%) 
Color Volume: normal color volume (34.2%) 
Sports & Shows
The LG C2 OLED is excellent for watching sports and TV shows in a bright room. It's bright enough to overcome glare in a bright room readily and has excellent reflection handling. 

Additionally, it has a wide viewing angle, which is perfect if you have a big seating area or prefer to roam around while watching TV because the picture is still clear from the side. 

It does a good job of making low-resolution content look better, which is great if you like to watch old TV shows. There are many streaming apps on the webOS smart screen, so you're sure to find your favorite shows and movies.

In my experience, it has an incredibly fast pixel response time (0.2 ms) and reflection handling with a wide viewing angle so the whole family can watch their favorite show together. 

It has excellent gray uniformity. There isn't much of a dirty screen effect in the middle, which is great if you want to watch sports or use it as a PC monitor. 

Unfortunately, there are some issues with uniformity, including a faint pink tint on one side of the screen and the aggressive brightness limiter causing brightness fluctuations with certain content.

Brightness: 740 nits of peak brightness
Response Time: near-instantaneous (o.2 ms) 
Reflections: Fantastic reflection handling (1.5%) 
Viewing Angles: Wide viewing Angle 
Gray uniformity: Excellent gray uniformity (1.166%) 
The LG C2 OLED TV's internal speakers are upgraded from 5.1.2 to 7.1.2 channel sound with 40W power. We didn't notice a huge change, but LG's built-in. OLED speakers are usually quite good because they support Dolby Atmos and have an AI sound feature that makes the soundscape more immersive.
The LG C2 can decode Dolby Atmos, and its processing can make object-based sounds make you feel more like you're in the scene.
However, even with non-Atmos soundtracks, the AI Sound Pro processing can give the soundstage greater dimensionality. It also improves the dialogue's intelligibility by bringing it to the forefront of the blend.
In my experience, the LG C2 has a good range of frequencies. It has a good low-frequency range (80.00 Hz) but can't make much noise like most TVs. At the highest level, there are some compression and pumping artifacts.
On the other hand, at moderate listening levels, it has a well-balanced sound profile, which makes dialogue easy to understand.
In our testing, The LG C2 has good distortion performance overall. Even at maximum volume, there is minimal harmonic distortion.
Sound Facts:
Power: 40 watts (5.1.2 to 7.1.2 channel )
Frequency response: good (80.00 Hz)
Sound modes (ALLM): Yes
Dolby Vision: Yes
Distortion: Good distortion
Expert Review: Good Tv
What Other Experts Say?
"I expected a little test of the sound of two stones uptown, one stone down, stay low, keep an eye on the clock. This TV supports Dolby Atmos, passing sound through to a receiver or streaming device."

Craig's Tech Talk
If you're a gamer with one of the newest game consoles, the C2 has all the technology you could want: 120Hz refresh rate, variable refresh rate, auto low-latency mode, Nvidia G-Sync, and AMD FreeSync.
Furthermore, all four of its HDMI inputs support version 2.1, which means they can provide the most fluid gameplay experience possible for those using a PlayStation 5, Xbox Series X, Xbox Series S, or high-end gaming PC.
The LG C2 is a great choice for next-generation gamers because it has four HDMI 2.1 ports that handle 4K at 120Hz and VRR, including Nvidia G-Sync and AMD Freesync. ALLM will immediately switch to the low-latency game mode when a console is found. This model has an input lag that ranges from 13ms to as low as 5ms, based on the frame rate.
In my experience, It offers an exceptional gaming experience, with a near-instantaneous response time (0.2ms) and low input latency for a responsive gaming experience with minimal blur.
Gaming Facts:
Input Lag: Low (10.5 ms)
HDMI Ports: (4 HDMI 2.1, 3 USB)
Variable Refresh Rate: 120HZ
Response time: 0.2 ms
Compatibility with Consoles: yes (Xbox One X|S, Xbox Series X|S, PS4 Pro)
Expert Review: fantastic TV
What Other Experts Say?
"The LG C2 is a fantastic TV for gaming. It has an extremely quick response time, so there's almost no noticeable blur behind fast-moving objects. It also has low input lag for a responsive gaming experience, and it supports all three variable refresh rate formats."

Rtings
WebOS 22 is the latest iteration of LG's smart TV platform, and it includes plenty of features and an excellent selection of apps. It has all the popular streaming services such as Amazon Prime Video, Apple TV, Disney+, HBO Max, Netflix, YouTube, and even Twitch; the only big omission is Crunchyroll.
In my experience, AirPlay 2 is also supported, which makes it easy to get material from your iPhone to the big screen. You won't run out of things to watch very quickly.
The LG C2 OLED TV has four HDMI inputs. All four are HDMI 2.1, supporting 4K ata (120 Hz) variable refresh rate, with one supporting HDMI ARC/eARC (enhanced audio return channel).
These HDMI ports have a variable refresh rate (120 HZ) and an auto-low latency mode, so the PS5 and Xbox Series X can use their next-generation graphics.
The LG C2 also works with AMD FreeSync and NVIDIA G-Sync. Aside from that, the set has 3 USB Type-A ports, an RF coaxial link, an ethernet input, and an optical audio output.
Key Smart Features:
Operating system: Web OS
App selection: Great
User interface: Easy to use Interface
Voice Control: Yes
HDMI: 4 HDMI 2.1, 3 USB
USB: USB 3.0 ports
Bluetooth: yes
WIFI: yes
Ethernet: yes
What Other Experts Say?
"The operating system all 2022 LG TVs feature a new WebOS 22 operating system, which offers a better experience than the previous web os 6.0 it's faster to navigate you've got better personalization, you've got all the streaming services that you're likely to want to make use of and it supports 4K Dolby Vision and Dolby Atmos."

Smart Home Sound
The LG C2 OLED TV is widely considered one of the best TVs on the market. It offers outstanding picture quality thanks to its use of 4K resolution and HDR technology. Finally, we'll wrap up our thoughts that TV has the better overall value.
Unboxing & First Impression
I was excited to get my LG C2 OLED TV, and when I opened the box, I was immediately amazed by how sleek and modern it looked. The TV was safely packed in a sturdy box, and it was easy to set up.
Check Out: Best TVs Under $3000
The box was simple to open, and there were no ambiguities in the directions for removing the tv from its packaging in a secure manner. I was impressed by the TV's sophisticated appearance when I first took it out of the box.
In the box of the LG C2, there are the usual things:
Remote (with 2x AA batteries)
Cable management clips
User manuals
IR blaster
When we first saw the LG C2 OLED TV in person, we were stunned by its elegant design and exceptional picture quality. The LED panel's ability to make deep blacks and bright colors makes it possible to see a clear picture.