TV stands are the perfect way of organizing your living room. Not only does it allow you to keep your television safe, but it also serves as a storage unit for knick-knacks. What better place can you get a premium and classy TV stand than IKEA?
While IKEA offers endless TV stand choices, how do you decide which one is ideal for your room? Which material would suit your requirements? What is the process of assembling the TV stand?
If you're also facing similar questions, then you're at the right place! This article will tell you how to get your hands on that perfect IKEA TV stand.
Read on!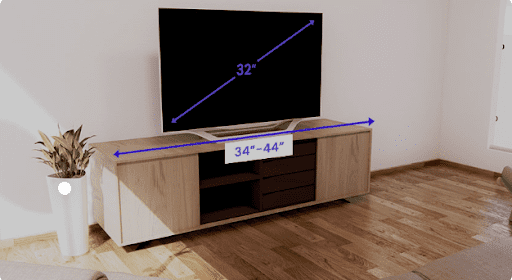 1. Understand the Size of Your TV Console
While buying an IKEA TV stand can seem like a straightforward process, it involves quite a lot of technicalities. The most integral step is to get the measurements of your TV console right. By measuring the size of your TV, the accommodation area, and the height of the TV stand, you purchase a TV stand that spruces up the space!
Step 1 – Measure the TV Size
The most common way to measure the TV size is considering the size mentioned by the brand. However, the size of a TV is usually the diagonal length (from the upper left corner to the bottom right corner, excluding the frame).
In contrast, the TV stand manufacturers measure the stands horizontally. So, if you use the diagonal length to measure the stand size, you'll end up with a stand that is much larger than required.
Hence, if you want to find the perfect size, it'll be best to measure according to the width of your TV, including the frame part.
It is also recommended to go for a more comprehensive approach while selecting the TV console. Choosing a stand that fits the TV dimension to dimension can chip its corners or overhang the TV, something you should avoid.
Moreover, it is best to leave some extra space to keep decorative items like vases, bonsai, and photo frames – the stand will be a part of your harmonious space anyways! And if you plan to upgrade your TV in the future, it will be better to go for a bigger size.
Size Guide for Large, Medium, and Small TV Stands
Here's a size guide you can follow to determine which IKEA TV stand will work best against your TV size:
| | | |
| --- | --- | --- |
| TV Stand Size | Recommended Minimum TV Size (Diagonal) | Recommended Maximum TV Size (Diagonal) |
| 30" | 34" | 38" |
| 35" | 39" | 43" |
| 40" | 44" | 48" |
| 45" | 49" | 53" |
| 50″ | 54″ | 58″ |
| 55″ | 59″ | 63″ |
| 65″ | 70″ | 73″ |
| >70″ | 70″ | >70″ |
Step 2 – Measure the Area That Accommodates Your TV Console
Simply finding out the perfect size of the TV stand isn't enough. You need to find out whether you have enough space to accommodate the object in question and keep it safe. Here are some basic rules you need to follow:
Ensure the room's electric sockets align with the TV stand's cable holes.

Avoid placing the TV stand near bright light sources like the window or under the light bulb. This is because the contrasting light will make it hard to watch the TV. You can also ruin your eyesight.

Viewing distance is also integral. Ignoring it would mean sitting uncomfortable position and straining your neck or eyes.
Recommended TV viewing distance according to resolution
| | | |
| --- | --- | --- |
| TV (Diagonal) | 1080p | 4k |
| 40" | 5-8.5 feet | 3.5-5 feet |
| 43" | 5.5-9 feet | 3.5-5.5 feet |
| 50" | 6.5-10.5 feet | 4-6.5 feet |
| 55" | 7-11.5 feet | 4.5-7 feet |
| 60" | 7.5-12.5 feet | 5-7.5 feet |
| 65" | 8-13.5 feet | 5.5-8 feet |
| 70" | 9-14.5 feet | 6-9 feet |
| 75" | 9.5-15.5 feet | 6.5-9.5 feet |
| 80" | 10-16.5 feet | 6.5-10 feet |
| 85" | 10.5-17.5 feet | 7-10.5 feet |
Step 3 – Figure Out the Height of Your TV Stand
The height of the TV stand is vital as TV viewing distance. This crucial aspect ensures you enjoy your streaming experience without discomfort or strain. Here's how you can measure it:
First, measure the distance between the floor and your eyes while sitting on a seat or sofa (sit in your preferred position).

Next, ensure that the central point of the TV screen while seated is at your eyes' level. Confirm and record this value.

Finally, calculate the height of your TV stand – subtract the height value from the TV bottom to the TV center from the recorded height value of the appropriate central point. Ensure the TV tabletop isn't lower than 12" of the calculated value.
2. Choose the Materials for the TV Stand
If you've ever bought furniture for your home, you'll know the valuable role materials play. They can make a massive difference between styles, durability, and prices. Here we'll discuss the two most common furniture materials offered by IKEA, wood and engineered wood.
Wood
Wood is a classic and timeless material used to make furniture for centuries. It is known for its durability, attractive look, and elegant texture. Wood is the most common IKEA TV stand material.
Since wood comes from a variety of tree species, it offers different textures, smells, hardness, and tones. Hence, you can pick your wood TV stand according to your aesthetic sense! Moreover, it is derived from timber forests with high density and long usage periods.
However, the only drawback you'll face with wood is its price. Wooden IKEA TV stands are relatively more expensive than their other counterparts and might not be budget-friendly for every individual.
Engineered Wood
Engineered wood is your best bet if you're working on a tight budget but still adore the texture, tone, and other wood features. IKEA's second most offered materials are fiberboard (MDF) and particle board.
Fiberboard (MDF)
Fiberboards, or MDFs, are produced by recycling solid wood products. The products are broken down into fibers, glued together at significant heat and pressure, and panels are formed. The process creates a relatively smooth MDF board, allowing surface treatment like coloring, embellishing, and veneering.
Particle Board
Particle Board is another commonly integrated material in IKEA TV stands. This material is obtained by pressing discarded wood, sawdust, and resin together under heat. The most significant advantage of particle board is its ability to be drilled, cut, milled, painted, and glued easily. Hence, it is now most widely used in the furniture industry.
The only major issue with particle boards is the presence of resin. Several harmful substances usually accompany resins. CARB P2 (California Air Resources Board's (CARB) Phase 2 is the safety certification against formaldehyde emissions from engineered wood products.
IKEA has strong policies against formaldehyde emissions and ensures that all its suppliers follow strict guidelines.
3. Look For Other Functionalities of the Stand
Besides being accommodation for a TV, the TV stand also serves other purposes. So, while buying yourself one, be sure not to limit your options!

Storage Unit
Storage is perhaps the most sought-after functionality of a TV stand. Living rooms usually have too many belongings that end up cluttered around the room. You can easily eliminate this problem with a spacious cabinet accompanying the stand!
The TV has several accessories like a game console, controllers, video players, external speakers, and voice boxes, even if you don't have separate belongings. Keeping them stowed away in the storage space would ensure that you don't lose track of it and get easy access to them whenever necessary.
Display Shelf
TV stands can also be an addition to your aesthetic arrangement of the house. Your souvenirs, decorative items, and small ornaments can go inside the shelf and give everyone an idea about your interests and personality. Furthermore, it will make the TV space more attractive.
Cable Manager
Televisions and their accessories are all riddled with wires and would look haphazard and ugly just laid out in the open. You can remove these wires from sight with cabin holes and space in the TV stand.
FAQs
Does the TV stand have to be the same size as the TV?
No, it is recommended to give the TV some extra space. It will ensure that the stand does not chip the corners and fits all your future TV purchases that might be larger.
How do I choose an IKEA TV stand?
To choose an IKEA TV stand, follow the given steps:
Find the ideal stand size that fits your TV.

Choose the features you want the TV stand to accommodate.

Measure the viewing distance and sitting height.

Pick out the color and design that suits your taste.
Conclusion
Buying an IKEA TV stand can seem daunting, but it becomes pretty easy as long as you understand the technicalities. Be sure to follow every measure we've listed in the article to find your perfect companion that stays with you for years to come!