Flat-screen TV units are the new trend that adds an aesthetic appeal to your house. All you gotta do is decide whether your television would look best on a dedicated stand or without it.
Dedicated TV stands and entertainment centers have perfectly positioned fittings, with wire holes, storage compartments, and a lot of other things. But, they are pretty expensive and consume a lot of space!
It is true you need a durable installation or setup to ensure that your TV is safe where it sits. But you are not ought to have a proper TV stand for it, as the alternatives might just be aesthetically fit, affordable, compact and durable!
You can try adding various props and elements to your TV setup so that you won't need a dedicated stand anymore. And to ensure that this happens, here we are helping you learn ways how to prop up a TV without a stand.
13 Ways to Prop Up a TV Without a Stand
Here are some of the best ways for you to brush up on your creativity and eradicate the need for using a standard TV stand anymore:
Make Good Use of Your Dresser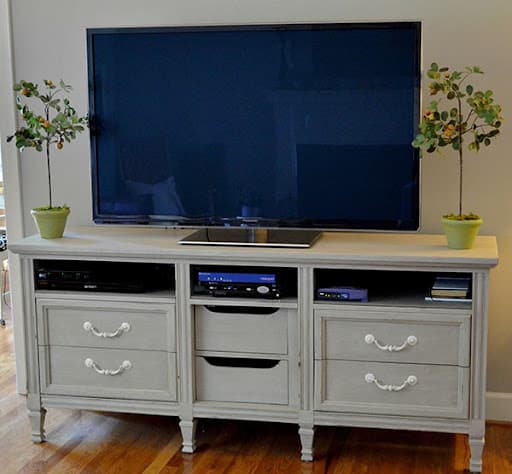 Dressers were limited to just bedrooms till now. But, digging deeper into your creativity, if you have sufficient space in your living area, bring your dresser to make it a stylish television stand.
The best thing about dressers is that you get a lot of additional space to hide cords and store entertainment goods such as CDs, USB drives, remote control, etc.
Your dresser has already impressed you with its elegant look. So, in quest of learning how to prop up a TV without a stand, you can turn around your antique, traditional, or rustic dressers into an appealing television station.
2.Make Perfect Utilization of a Chest
Chests are narrower and taller than dressers but can be used interchangeably as an alternative to a television stand.
You can prop up a TV without a stand by using a chest of nominal height. The taller chests that have a height close to the ceilings are not ideal for the purpose.
Just like dressers, you get ample storage space to keep your entertainment essentials and hide away the messy cords.
It is good if you already have a spare chest that goes well with the living room and can be used for setting up the TV. But, if you don't, they come cheaper than a quality TV stand.
3.Cabinets Are Not Just For Clothes Anymore!
Cabinets are low-heightened and wide structures that come with a couple of storage drawers. They are commonly used for setting up TVs, shelving books, etc.
It is better than having a TV stand because it is a cheaper option and doesn't deteriorate over time.
4.Add an Artistic Touch to Your TV with an Easel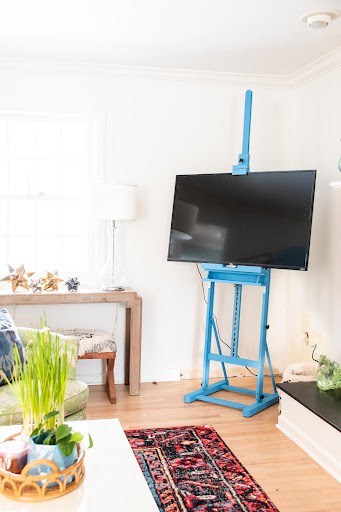 You recognize the easel as a stand for artists. But, there are specific easels made especially for holding televisions. They are just durable versions of the ones used for holding the drawing boards.
It is slightly expensive in comparison to other options here. But the best thing is that you get wheels on its legs to move the television around when you need more room for people to settle in.
It is a great option for people with smaller living rooms or halls!
5.A Tripod Can Hold Your TV in Place!
A TV tripod is just a mechanical version of the easel for holding up a television.
Chuck the idea of using a traditional TV stand. Instead, you must get a TV tripod that adds a style statement to your entire entertainment center. A TV tripod costs less than a regular TV stand.
Moreover, it is easy to set up and will save much of your space. Hence, you will have enough room in your living or entertainment area for other aesthetic pieces of furniture.
6.Nothing is as Simple as a Flat Bench
Most households always have a bench around the residence for various odd jobs. Why not use it for holding up a television?
If you don't already have one, then there are cheaper options available online for you to consider variety. Your television won't fall off the bench if you secure it well with adequate support.
The size of the bench you need depends on the size of your television. Use the one with a flat surface to distribute the TV's weight evenly. You can use furniture straps for added safety.
If you still have leftover space on the bench after placing your TV, add decorative storage boxes, plants, or other props to add an even better appeal to the space.
7.Credenza Is Better for a Bigger TV
Credenzas are long table-like structures with racks or door cabinets below them. You can use them in various creative ways!
They resemble the cabinets but are quite different in their actual applications.
If you are up for a big TV, a credenza will be better than the cabinets. You will have a lot of space on the top portion after placing the TV, which you can use for setting up pots and other artwork.
They have a good viewing height and go well with almost all living room setups.
8.Fireplace TV Stands Add Extreme Aesthetic Touch
If your house has an electric fireplace, save money and hassle by placing your TV on it. You will have a great viewing angle with this setup.
But be cautious about the heating capacity of a regular fireplace. They are not ideal for accommodating television on them.
Most electric fireplaces are just for ambiance, and only such variants are best fit for being used as alternatives to TV stands.
9.Place Your Second TV on a Sideboard
Sideboards are low-profile alternatives to TV stands. If you have more than one TV in your house and want to set it up in your bedroom or child's room, then a sideboard will do justice to the look and ease of access.
You get additional storage spaces with the sideboard that you can use to store the gaming consoles, electronics, or other additional accessories.
10.Bookcase Adds a Retro Touch to Your TV Setup
A low-heightened bookcase with ambient lighting can add a retro touch to your TV setup. It is way better than a standard TV stand!
It will have a great viewing angle if you can cover the entire length of the wall with the bookcase installation. In that way, keep the TV space at the center to make it the room's focal point.
Surround the room with family photos, plants, and artwork to glam the entertainment center.
11.Console Tables are Best Fit for Moderate-Sized Televisions
Console tables are small pieces of furniture often placed right behind a full-length sofa or between two single sofa chairs.
A standard console table is around 30-40 inches wide, which is ideal for you to make it a television stand. They are cheaper and are available in various styles and designs.
They can easily accommodate your TV, along with all of its components. You can place this set up in your living room, bedroom, or family room.
Some of the console tables also come with drawers or storage spaces to let you store CDs, USB drives, gaming consoles, and other such entertainment tools.
12.Use Your Coffee Table For Holding More than Just Coffee Mugs
Coffee tables were not the right fit to be used as a stand for bulky and heavy televisions in the past. But, with the latest technologies, the design and weight of a modern-day flat-screen TV are quite feasible for a coffee table to withstand.
Coffee table is often short heightened as it is originally designed to hold snacks and drinks. Watching TV at such a low angle should be your personal preference.
If you have a low-heightened sofa set, using a coffee table to accommodate the television will appeal greatly to your living room.
13.Use Your Living Room to the Fullest With Corner Shelving
One of the most ignored approaches for installing a television is corner shelving. Most houses have empty corners in their living rooms or family rooms. Utilizing them to save space and add visual uniqueness is a great idea.
But remember, you are limited to buying either a small or medium-sized television to ensure it is ideal for corner shelving.
Corner shelving is an attachment that you must fix onto a corner of your wall. The TV is then placed on it, which projects a great viewing angle for you, your family, and the guests.
You have freed up a lot of space to add elegance and creativity to the rest of the TV room.
How Can You Mount Your TV Without a Stand Using Different Mounting Options?
Why need stands when you can just mount them on the wall? As the name suggests, a wall mount will permanently fix your TV onto your desired position on the side of your chosen wall.
But there are a few options for you with the mounts that will allow you to maneuver the viewing angle of the television for a better experience.
Forget television stands! Here are the different mounting options for you to omit the need for using a television stand or its alternatives:
Fixed TV Mounts
Fixed TV mount is the most common bracket people prefer for fixing their television to the wall. A fixed mount is cheaper than other options and is mostly for people who want a low-profile look.
Tilting TV Mounts
A tilted mount adds flexibility for viewers to adjust the position of their TV for a better experience. Unlike fixed tv mounts, you can tilt your TV up and down to set a proper viewing angle.
Pull Down TV Mounts
Pull-down TV mounts are even more flexible in terms of their moving capacity. This wall mount will enable you with vertical movements, tilting movements, and swivel capabilities for your TV.
Full Motion TV Mount
A full motion mount is the most expensive mounting option among the others, as it offers the best viewing experience for the owners. It lets you adjust the position of your TV in four directions (up, down, front, and back). Following that, you also get to swivel and tilt the TV as per your needs.
How Do You Build a Television Stand from Scratch?
Fine! If you are not willing to spend a penny buying an alternative to a TV stand or a television mount, why not make a DIY TV stand? It will not just save money but you will also have a good experience.
Here are the basic steps that you must follow in the pursuit of making your DIY TV stand:
Spare a couple of hours of your time for the project.

Arrange all the power tools and raw materials such as screws, nails, shelf-pins, wooden boards, plywood, crosscut, wood clamp, angle clamp, tape measure, and saws.

Follow the image below to find your cut list for dedicated parts.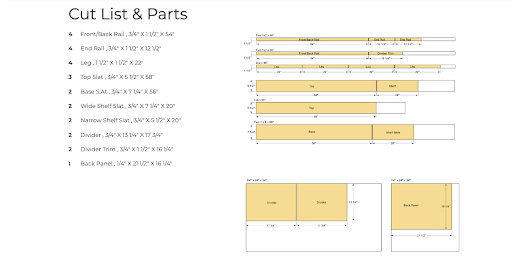 4.First, you must obtain four rails at the base and the top of the TV stand. Make sure the wooden board is 3/4 inches thick to give you a strong base.
5.Cut out the four legs and then use 1 1/4″ hole screws to attach them to the rails.
6.Cut three uniform top slats and drill some pocket holes in them. There will be four holes in each of the slats. Follow the image below to know the drilling dimensions.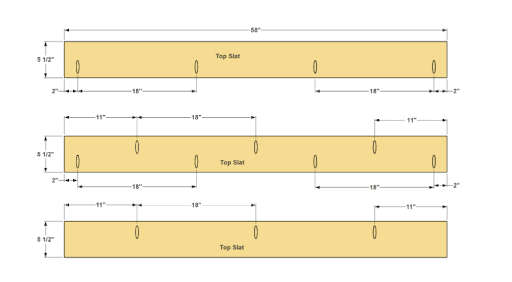 7.Join the top boards with hole screws, and you will have the panel ready.
8.Cut out the base slats per the diagram below and drill pocket holes as stated. Following that, use a saw to create a notch at two corners of each base slat. Once done, assemble the base slats with hole screws.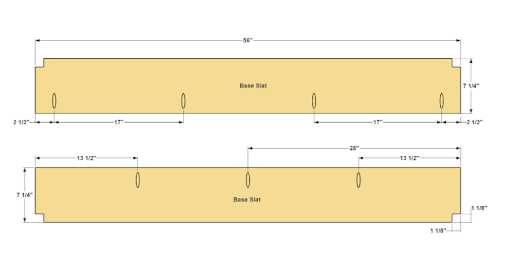 9.Make and assemble the shelves as per the dimensions shown below.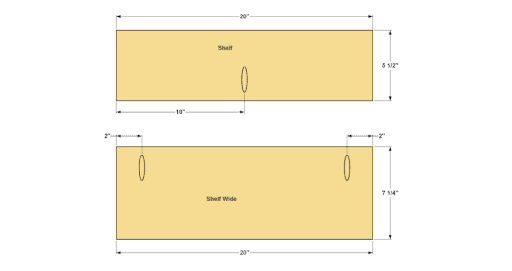 10.Install the top and base to the frame of the stand you already have. Use hole screws to fasten the assembled top and base slats.
11.Take measurements for making dividers between the top and base slats. It will act as a separate storage column. Set them straight and check them with a spirit level before you fasten them with the screws.
This is just a simple idea of creating a basic TV stand all by yourself. You can add many design elements if you have the knowledge and creativity. But make sure to follow these steps for a standard approach and take care of your safety while using power tools.
Conclusion
Have you ever considered replacing the usual TV stands with many alternative options? Probably no! It is because the stores market their stands in an appealing manner, which lures us into buying them.
After reading this article, you know that you can prop your TV setup to look much more aesthetic without even spending so high a price for the dedicated stands.
Pick your alternative from the 13 options above, or go for a functional TV wall mount. The choice is yours!
FAQs
What can I use if I don't have a TV stand?
If you don't have a TV stand, you can prefer using a coffee table, cabinet, dresser, and other alternatives to accommodate your TV. If not that, you have mounts to fix your TV on the wall and save you space around your room.
Can I make my TV stand?
Yes, you can make your TV stand, but the process demands time and minimal experience with power tools.
Is it better to wall mount a TV or put it on a stand?
If you lack space in your living or TV room, mounting it on a wall will be better than using a stand. But big living spaces can make their room look elegant with a proper TV stand or creative alternatives.
How do you raise a TV stand off the ground?
If you have a store-bought TV stand, they probably have adjustment brackets on the backside. Pull the stand and adjust the height to raise the stand off the ground.