Mounting your TV can be a great option to save space but for people who don't want to drill holes, TV stands can be a great option. 
They're often referred to as TV mount stands or floating mount stands and they offer the same functionality as most regular TV mounts, if not more.
Quick summary
In this post, we will discuss how TV stands work and how you can easily mount your flat-screen TV onto a standard TV stand. 
We will also discuss the pros and cons of using a TV stand instead of a TV mount. 
So without further ado, let's get started. 
Tools and Supplies Needed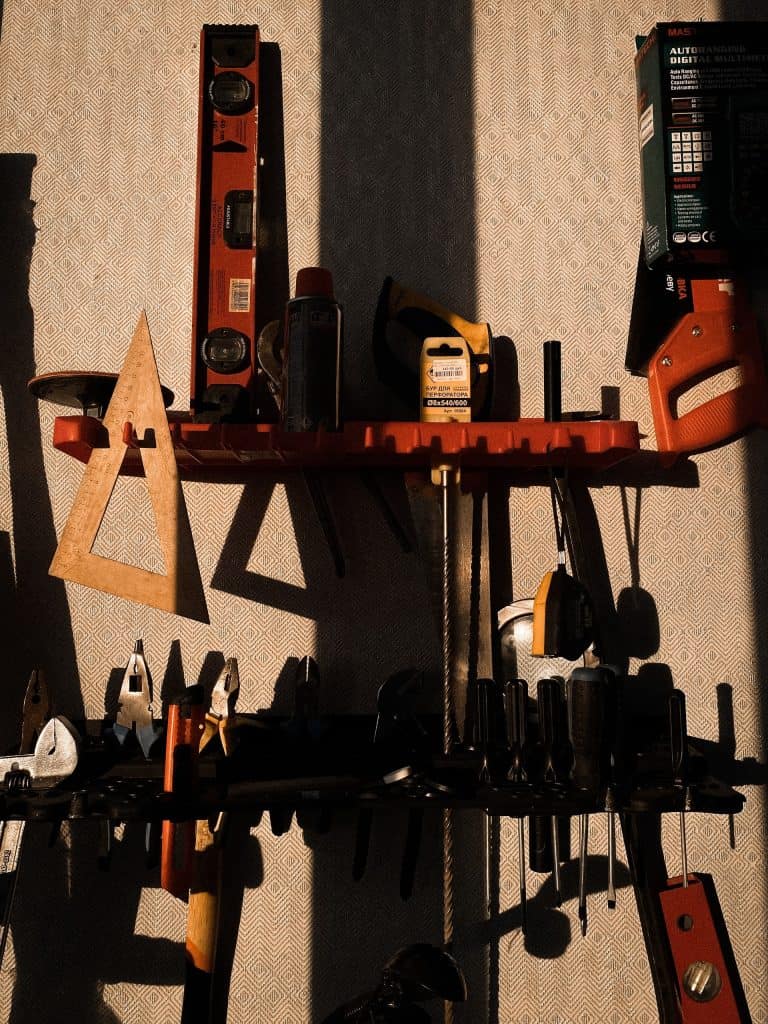 When you mount a TV into the wall, you usually require a lot more tools than you would with a TV stand. 
That's one of the great advantages of TV stands, you don't have to buy a whole bunch of extra tools and materials just to get the job done. 
The tools you will need are: 
Assorted screws and bolts (provided with the TV stand you buy) 

A wrench 

A screwdriver

Measuring tape
There's a high chance you'll already have these tools lying around in your house and won't have to go buy anything extra. 
Once you have all your tools gathered, you can get started with the installation. 
How to Mount a Flat-Screen TV onto a TV Stand ?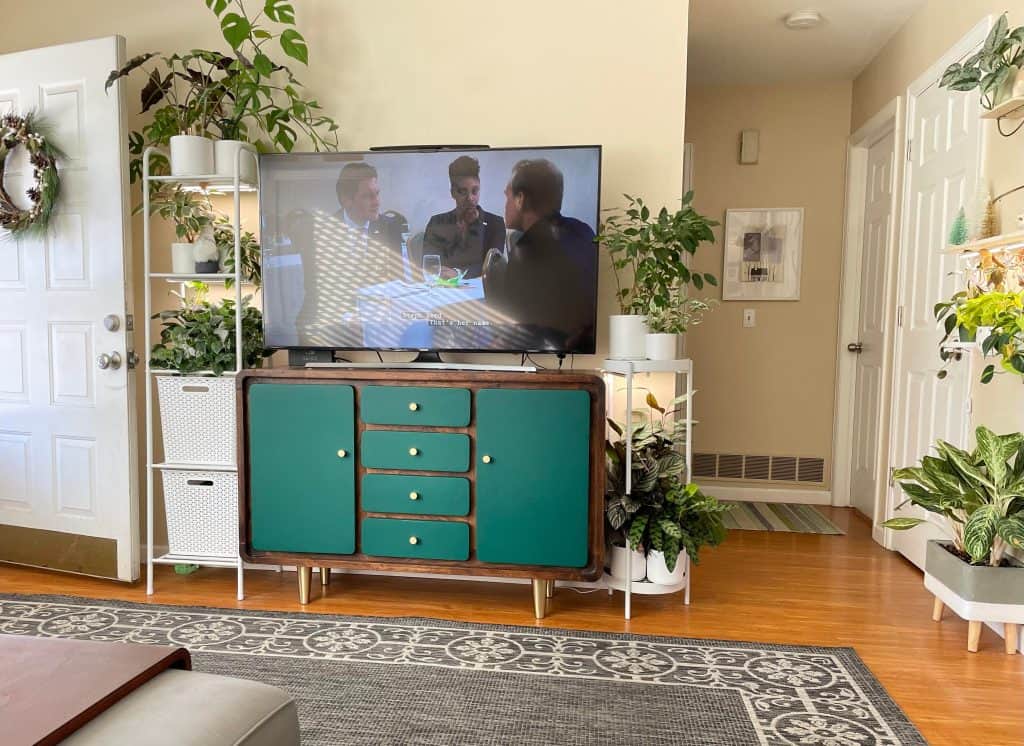 Image Courtesy: Reddit
The process to mount your television onto a flat-screen TV stand is actually much simpler than if you were to use a TV wall mount. 
Just follow these steps and you should be golden: 
Step 1: Place your flat-screen TV face down on a flat surface. Make sure that the surface you lay it down on is smooth and does not have any protrusions. You don't want any scratches on the screen of your TV. 
Once the TV is lying on the surface face down, take your measuring tape and measure the distances between the mounting holes at the back. 
The holes will be in either a square or a rectangular shape depending on the VESA pattern of your TV. Just measure all the distances between the four holes and note them down. This is your TV's VESA pattern. 
It's important for you to identify your TV's VESA pattern because TV stands (and TV mounts) usually support a wide variety of different VESA patterns. Hence, they have a ton of different holes that TVs can be attached to. 
Of course, you don't want to use the wrong holes for your TV which is why it's important to identify the VESA pattern first. That way, you will know what the appropriate holes on the stand are for your TV.
Step 2: Once you have identified the correct mounting holes, take the adapter bracket of the TV stand and attach it to the back of your TV.
Please note that the adapter bracket is a part of the TV stand that is not initially attached to it. 
You attach the adapter bracket to your TV first and then attach the adapter bracket to the TV stand to get the final product. 
To attach the adapter bracket to the back of your TV, you will need to use the assorted screws and bolts that were provided to you with the TV mount. 
Make sure that you read the instructions provided by the TV mount manufacturer very carefully. 
Tighten the screws using a screwdriver or wrench to securely attach the adapter bracket to the back of your TV. Make sure that you don't over-tighten or exert too much force while screwing as that can damage your TV. 
Step 3: With the television screen facing forwards towards you, lift it up and hook up the adapter bracket to the TV stand plate. 
Hook up the top part and slowly lower the TV until it rests comfortably against the television stand plate. 
Depending on the model and manufacturer of the TV stand, the adapter bracket may attach on its own or you may have to tighten some screws and bolts.
Make sure to read the instruction manual thoroughly to understand what needs to be done for the adapter bracket and TV to be securely attached to the television stand plate.
Step 4: Once the adapter bracket has been mounted onto the TV stand, you may have to tighten a few screws. 
Take your screwdriver or wrench to tighten all screws that would securely hold the TV in place. Once again, you must be careful not to overtighten as that might damage the TV stand plate. 
Once everything is properly tightened, make sure that you test it for stability. Hold your TV and shake it slightly to see if it's stable. 
If it wobbles too much, then that means there's a screw or screws that you have not tightened properly. Look over all the screws and ensure everything is securely tightened. 
Flat-Screen TV Stand vs TV Wall Mount: Which is Better?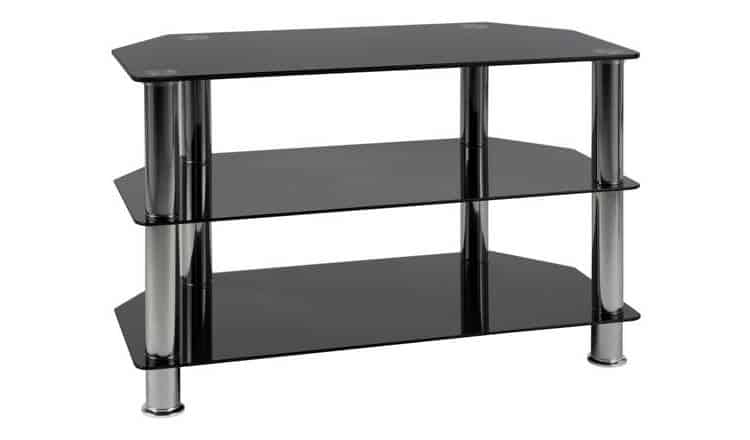 Image Courtesy: Reddit
We're often met with questions about whether or not TV stands are a better option for most living rooms than TV wall mounts. 
The truth of the matter is that neither of them is better than the other. It all depends on what your own needs are. For some people, TV stands would work better while for others, TV mounts would be a better option. 
Let's discuss TV stands first: 
TV stands are a great option if you're not too confident with the installation process. As you saw above, you only need 2 or 3 tools to get the job done with TV stands. 
On the other hand, with TV wall mounts, you need a whole bunch of tools including electric drills, drill bits, plastic anchors, and much more. 
If you don't want to spend a ton of time and money installing a wall mount, then a TV stand can definitely work great. 
Furthermore, TV stands can also provide a fair level of movement so you can change your TV's viewing angle. The freedom of movement may not be as much as full-motion mounts but it's certainly more than fixed or tilting mounts. 
However, with all their advantages, TV stand mounts do have their own set of disadvantages. First of all, they are usually more expensive than wall mounts that offer the same level of functionality; Not by a lot but still enough to be significant. 
Secondly, TV stands take up a lot more space than wall mounts do. If you mount a TV to the wall, all the space beneath it is free for you to use. On the other hand, a flat-screen TV stand takes up the floor as well as the wall it's standing next to. 
Now let's look at wall mounts: 
Wall mounting is great because it helps you save a ton of space in your room that you can use for other furniture and activities. 
Not only that but higher-end wall mounts have a ton of movement options that you can take advantage of. Full-motion mounts are something that allows you to move your TV in many different positions. They're great for large spaces. 
Furthermore, if you don't want to spend too much money, you can get a fixed mount for dirt cheap. 
Even though this is all great and dandy, wall mounts do have their own fair share of disadvantages too. 
Firstly, they are a lot more difficult to install. There are a ton of factors involved with a wall-mounted TV that you will need to take into account. 
The installation process differs heavily depending on the type of wall you have. Furthermore, if you don't install it properly, there's a high chance that the TV mount may loosen up in the future. 
This can be extremely unsafe and your TV could end up on the floor. 
Not only is the installation process a lot more complicated but you also need a lot more tools to get them installed properly. 
Just a hammer and a wrench won't do; You will most likely need a drill of some sort along with drill bits, plastic anchors, and even a stud finder.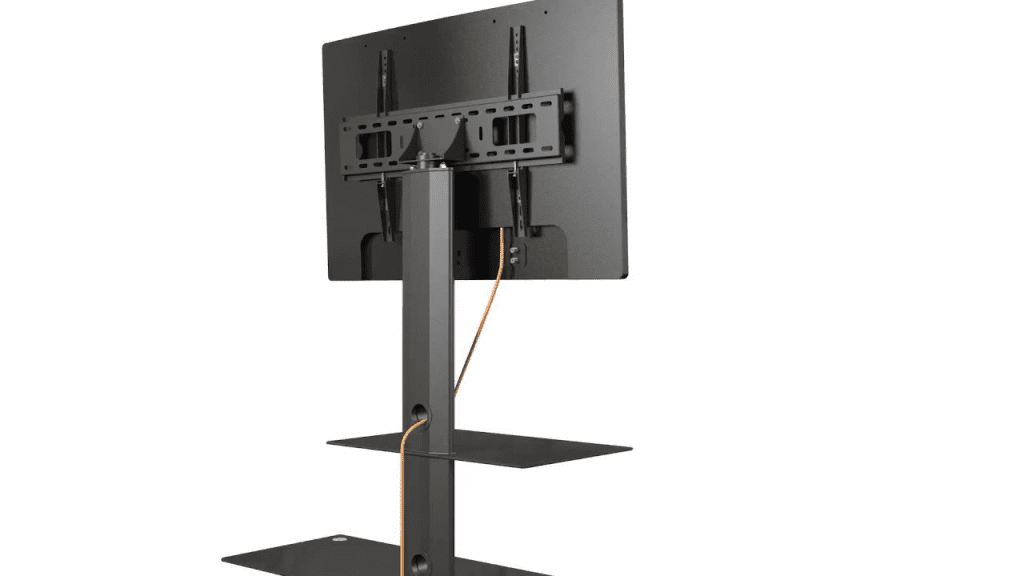 As you can see, it's a lot easier to mount TVs to TV mount stands. You need much less equipment and the process is simpler too. 
If you have any questions or confusion regarding the process, please reach out to us in the comments section below.