Hanging a TV on your wall can be a great way to save up space. But we do agree with you that the process involved can be a little daunting. Especially in the case of wall mounting a TV on drywall.
However, with the help of this easy-to-follow instructions guide, you will be able to mount your TV on the drywall in no time.
Just follow these instructions, make sure you have all the tools and equipment required for the mounting process.
Mounting A TV Wall Mount On A Drywall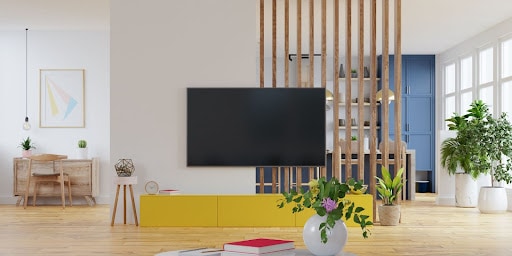 Mounting a TV on drywall is a tough process as it is often difficult to find a spot where the wall would be able to carry the weight of your flat-screen TV. However, with the right set of instructions, you can ensure that your TV on the wall stays.
The biggest concern when mounting a TV on drywall is to ensure that you make correct use of the stud finder and find a suitable place to mount your TV. 
Even a tiny mistake in this regard can lead to major damages.
If you still want to mount a TV on your drywalls, here is a step-by-step guide on the process.
Following this set of instructions will allow you to get a mounted TV in any room of the house you want.
Tools Required To Mount A TV On Drywall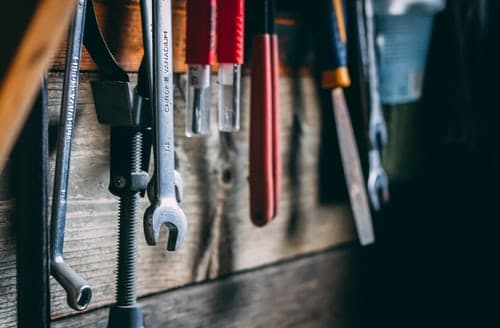 To mount a TV on drywall, you will need the following tools:
A power drill

Drill bits

TV mounting kit

TV bracket

Level

Screws and a screwdriver

Tape measure
After you have gathered all the tools necessary, it is time to get started with the mounting process.
Guide To Mounting A TV On Drywall
Before you get started, make sure to have gathered all the tools and equipment close by. 
You don't want to be running around looking for a screwdriver mid-process. 
Additionally, if you can, get the help of a friend as it would make the process a lot easier. Now without any further ado, let's jump into it.
Step 1: Find the Right Spot
The first step of mounting your TV is to find a suitable spot for your TV mount. Although this might sound trivial, this step requires a lot of thought. You would need to first pick out the room you want to mount the TV in. 
You need to find a spot that is protected from the glare of the sun. Additionally, it needs to be at an optimal viewing distance from the place you would be seated at. 
Moreover, consider the angle of the TV after mounting and if it is accessible to be viewed without much strain on the viewer. 
Note that this process is to be done before you make any markings on the walls to minimize the damages. 
Step 2: Test Your Mounting Kit
Now that you have the most optimal location picked out for your TV, test out the mounting kit you have procured. These kits aren't universal and may differ based on the type of walls you are using them on and the TV brands you have opted for. 
Mounting kits also have a weight limit they can carry, however, quite a few of them come along with an adjustable weight limit to accommodate different brands.
Additionally, different kits come along with different hardware. Some have toggle bolts, while others come with your regular screw bolts. This is why it is important to go through the kit you have, and ensure that it works with your choice of TV and can be used on drywall.
Step 3: Locate the Wall studs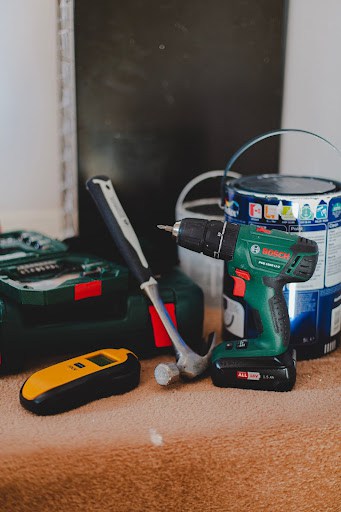 Now comes the technical aspect of the mounting process. Although locating the wood studs in your walls is important regardless of the surface, they are quite essential when it comes to drywalls. 
On its own, drywall does not have enough strength to support TVs. 
This is why most wall-mounting kits for drywalls require you to have 2 studs to ensure that your TV stays on the wall securely. You can do this by making use of the stud finder. 
Just place it against the wall and use a pencil or other marking instrument to mark their locations. 
You would also need a tape measure to do this so that you can identify the ideal distance between the two located wooden studs.
If the studs in your drywall are too far apart, you will have to find the central point. Simply measure the distance between the two studs and find the center. 
Mark the holes according to the VESA pattern of your TV keeping the center point as reference. This will help you pick the most secure part of the wall to mount your TV on. 
Before you screw in your mounting screws, you will have to make use of toggle bolts to ensure the TV securely stays on the wall.
Step 4: Install the Brackets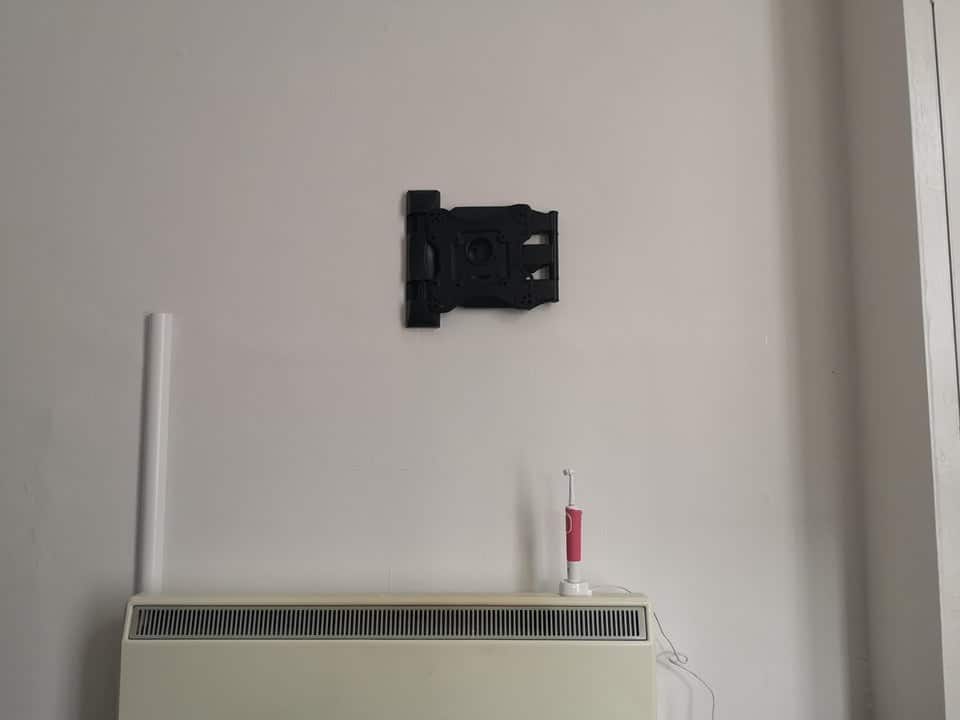 Before you start drilling holes and installing the TV to the wall, it is ideal to have the bracket installed on the back of your TV. 
This will allow you to assess the weight distribution of the TV and allow you to better understand the placement of the screws. 
Make sure that the brackets you have found are for the correct size TV. 
To install the bracket to your TV, just make use of the instruction manual added with the brackets. With a typical bracket, all you would need to do is locate the holes behind the TV and line them up with the ones on the bracket. 
Afterward, all that is left to do is secure them in place with screws.
Step 5: Get the Mount on the Wall
Now that everything is ready, it is time to get the drywall mount on the wall. To do this, you would need to have marked the holes you need to drill and have a power drill handy.
Additionally, make sure when you drill holes, they are secured over studs to ensure maximum safety.
Before you start drilling in the mounting holes, make another check by putting the mount against the wall and ensuring all the holes line up. 
Afterward, get to drilling and you should be able to screw in the mount with the help of screw bolts and a screwdriver. For additional efficiency, you can have the bolt tightening extension for your power drill, and use that to tighten in the screws.
Step 6: Install the TV to the Mount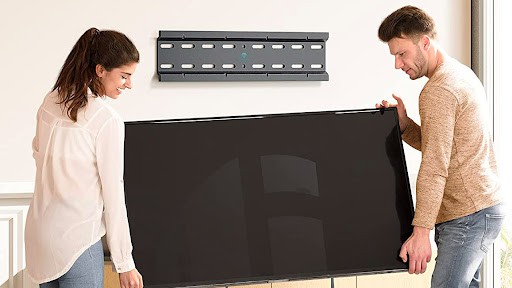 With the mount installed on the wall, it is time to get your TV on the wall. To do this, line up the hooks on the back of your TV with the wall mount and click them in place. 
If you do this correctly, the TV should lock in place. 
However, make sure to consult the instruction manual for the TV mounts you are using to make sure there aren't any other screws that you need to secure. 
The next most important step is to adjust the wires under the TV mount. When you mount a TV, the wires are usually pushed to the side.
In some cases, you could take them through the wall plate and into the wall. However, in most cases, you can use a cord binder to bring together the wires of the new TV. 
Plug all the wires into their respective ports and make sure the power source is stable. 
Step 8: Add Media Multi-Media and Cable Boxes
Now that everything is all set up, you can add your multi-media and TV cable boxes as well. Make sure to attach speakers, gaming consoles, and boxes like your Apple TV. 
You can arrange the attached multimedia on a cabinet or TV stand. Make sure to put heavier items on the bottom shelves and fill in the upper shelves with something light. 
If you have the budget, certain companies make grooves into your wall to install additional multimedia so it blends in with the rest of the wall-mounted look.
Types of Wall Mounts for a Drywall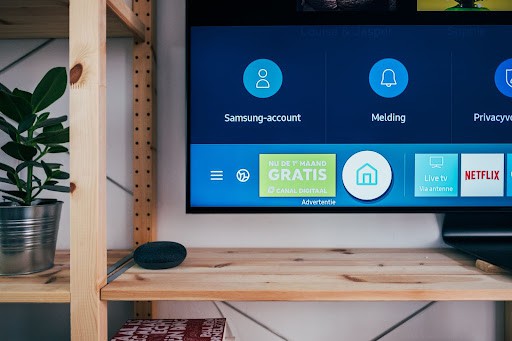 Most of the time, you will be able to mount any type of wall mount on your drywall, however, what type would be the best for your house and your needs? 
With so many options available, let us look at them to help you understand which one would be the best for your wall mounting needs.
As the name implies, a fixed mount is one where your TV is technically embedded in the wall at a certain location and angle. 
You cannot move your TV around once it has been installed. However, these mounts are often easier to install and are a lot more secure compared to some of the other types on this list.
They also let you have the same viewing angle, and if you have chosen the best one, you don't have to worry about messing it up.
A tilting mount allows you some freedom of movement when it comes to setting up your TV on the wall. Although this movement isn't a lot, it will help you adjust viewing angles in case you have changed your viewing position. 
For us, these are a very good option especially if you have a lot of sitting options in your room. 
The tilt option can help adjust the viewing angle for those sitting close to the TV or on the ground for using a gaming console. It helps give you more room to make adjustments.
Full motion mounts help give you a range to move and adjust your TV. They can be tilted and swiveled. You can extend and retract the TV screen according to your needs. 
A full-motion TV mount gives you the most room to make adjustments and change the viewing angle. 
It is especially worthwhile to use one in the bedroom so that you can watch TV from a comfortable chair and your bed as well. This is because lying down can make viewing the TV difficult without making adjustments.
Considering the Condition of Your Wall
The condition of your wall also determines if you should mount a TV on drywall. Look out for cracks and any issues in the wall before drilling the holes for your TV bracket. Make sure the wall is not too weak and when you use a toggle bolt, make sure to tighten it in place.
Signs of a damaged wall include cracks and chipped paint, water damage, termites, and more.
Make sure to use TV mounts that are meant to support the weight and size of your TV so that it stays on the wall.
Always use quality materials and buy a TV mount that can support the size and weight of your TV. 
How to Mount a TV on Drywall - FAQs
Can I mount a TV on drywall that has plaster on it?
Yes, it is easy to mount a TV on drywall that has been plastered. Once you find the perfect location for your TV, make sure to use a wall anchor before screwing in the TV mount.
How do I find the VESA pattern for my TV?
The VESA pattern for any TV is mentioned on the box or in the instruction manual, however, you can look up one online as well. This will be based on the size of your TV. Always follow VESA patterns to have stable mounting holes behind your TV.
What can I do if there is no power outlet near my TV location?
It is always advised to pick a location for the TV that is close to an existing power outlet. In a situation like this, you can either create a new power outlet in the wall or use an extension cord to make the power outlet more accessible for your TV.
Is an at-home installation cheaper than a professional one?
An at-home installation can be quick and save money if you know what you are doing. Follow the instructions and have a friend help you out. However, professional installations are not very expensive if you are looking for a basic mounting service.
What kind of toggle bolt do I use for drywall with studs too far apart?
There are many different kinds of toggle bolts and wall anchors that you can use for drywalls that have studs too far apart. Butterfly toggles are common because it's easy to lock them in place and they are very reliable.
How can I avoid messy wiring behind my TV?
Having your wiring run through the wall is a great way of avoiding any wiring mess behind or beside your TV. However, if that is not an option you can always use cable ties for better cable management.
How to Mount a TV on Drywall - Conclusion
Now that we have established how to mount a TV on drywall, you can easily install a TV anywhere in your home. 
Make sure to follow instructions to the best of your abilities.
Our extensive FAQs help you understand the common issues many people face when trying to mount a TV and how to avoid them.