It can be a great idea to have a TV outdoors in your gazebo for family gatherings and parties. 
There's nothing quite like having friends over for BBQ parties on big game nights where everyone can huddle around and watch outside.
Quick summary
In this post, we will discuss the challenges and pitfalls associated with mounting a TV in a gazebo. 
There are a number of different ways through which you can mount a TV in a gazebo and we'll go through some of the easiest and most popular ones. 
We recommend you go through the entirety of this post to find the method that works best for you. 
So without further ado, let's get into it.
Deciding the Location for Your Television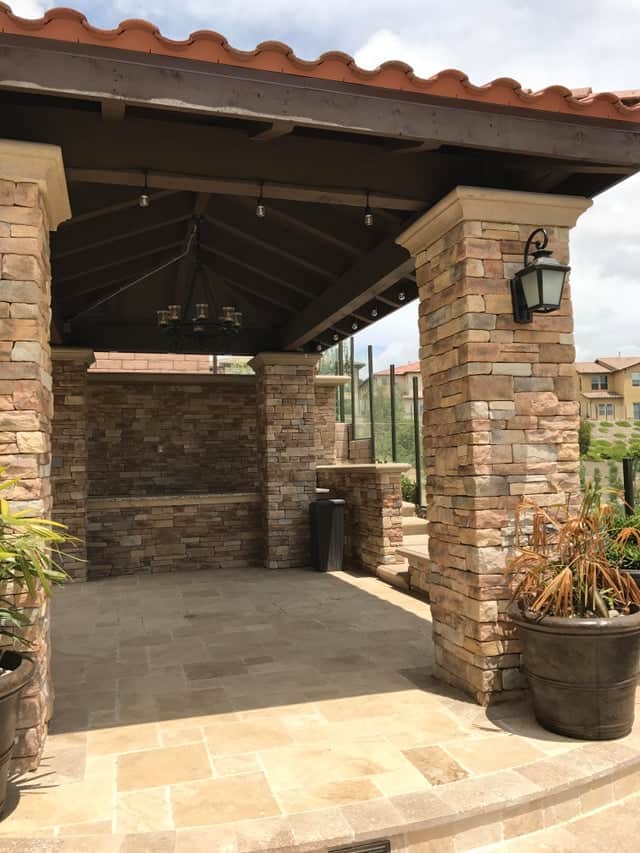 Image Courtesy: Reddit
As with most TV mounting projects, the first thing you should do before any construction takes place is to decide where you want the TV. 
When it comes to choosing the location, there are many different factors that you must take into account. Some questions you should ask yourself are: 
Will the location receive a lot of direct sunlight during the common times when you want to watch TV during the day? 

Do you have a pool or any other body of water nearby that could cause splashing on your TV? 

If it rains, will your TV be protected from it? 

Do you plan to position the TV high enough so that it can be viewed from many different positions and angles? 

If your gazebo has a space for a fireplace, would the heat from it be a little too near to your TV? 
We recognize that your TV will be outdoors but even so, you should try your best to protect it from outside factors as much as possible.
Quick tip: It's an extremely good idea to mount your TV in a position so that its screen faces north. That way, the sun will be behind your TV at almost all times of the day. 
Hence, you won't have to worry about the glare on your television screen. 
Once you have decided on the perfect location for your television inside the gazebo, you can start to think about which installation method you will use. 
Deciding the Installation Method
When it comes to mounting a TV in a gazebo, you have a few different options in terms of installation. 
These options are: 
This method is by far the easiest and it's what we recommend if you don't have a ton of experience with DIY construction. 
One of the pillars of a gazebo can definitely provide a durable attachment surface for your television. 
The problem with this method is that your positioning is limited by the placement of the pillars. The angles you can achieve for your TV are fairly limited.
Of course, this is always an option but it requires the highest amount of effort, tools, and materials. 
The great thing about building your own frame and structure is that you have the freedom to build it at any location inside your gazebo. 
This can enable you to choose any angle you wish for your viewing pleasure.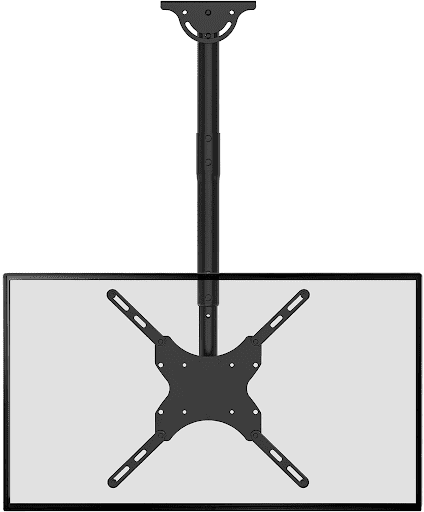 If you get a ceiling mount for your television, you can definitely use it to mount the TV to the ceiling of your gazebo. 
This can definitely be a great idea since ceiling mounts usually have 360-degree movement. 
Hence, you'll be able to rotate the TV all the way around in your gazebo so that no matter where you're sitting, you'll be able to watch it. 
This can also be a great solution to reduce glare at different times of the day. 
As the sun's position changes, you can rotate the ceiling mount so that the screen faces away from the sun. Thus, removing glare from the screen. 
Utilizing an Outdoor TV Enclosure for Your Gazebo
Image Courtesy: Reddit
When you intend to mount your TV outside, it's a good idea to invest in a TV that is meant for the outdoors so it can withstand harsh weather conditions. 
However, regardless of whether or not you have an outdoor TV, it's still a good idea to either build a cabinet for it or to buy a pre-built one. 
This enclosure will increase your television's lifespan and protect it further from the outside environment. 
One great way to weather-proof your cabinet would be to place weather-strips around its perimeter. 
This will prevent any moisture from leaking into the cabinet and damaging your television. 
When it comes to the door design of the cabinet, there are a number of options to choose from including: 
Double doors:

This cabinet consists of two doors that open to the side. It gives your cabinet a rustic, traditional look and also protects your TV well. 
Bi-fold:

If you want to give your cabinet a more luxurious look, having bi-folding doors for your cabinet can be a great option. 
Popup:

If you intend to mount the cabinet in a smaller gazebo and don't have a ton of space for maneuvering, we highly recommend opting for this type of door. 

Barn doors:

These also give your cabinet a very rustic look which is great if you want to wow your guests. 
Investing in a Waterproof TV Cover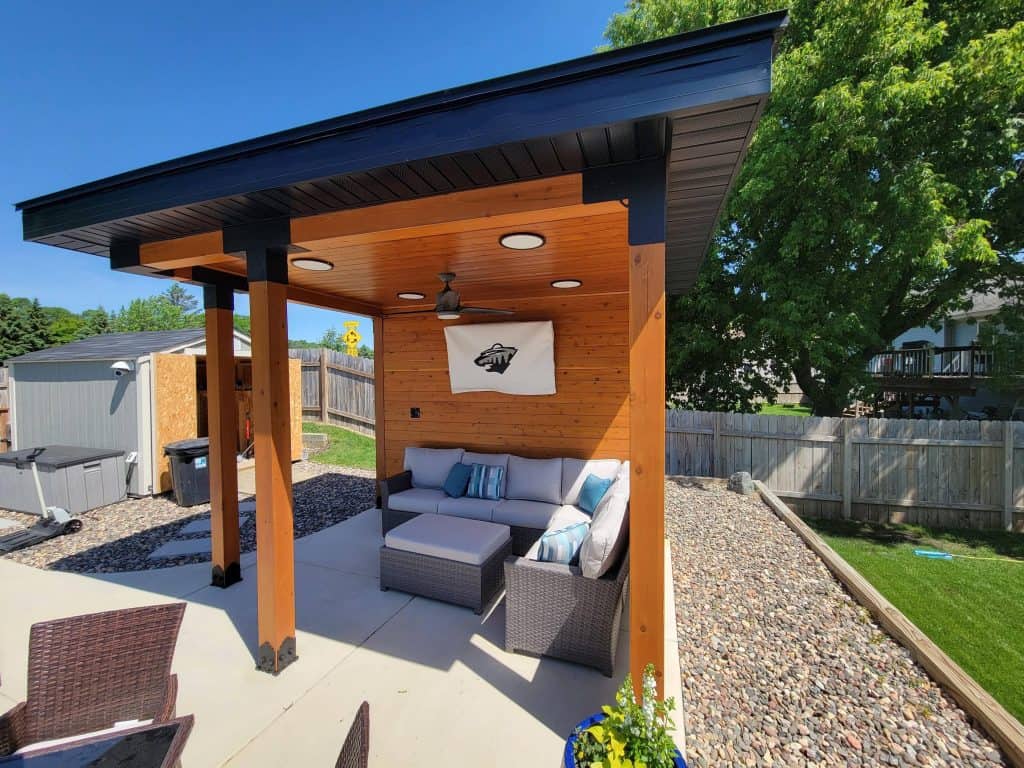 Image Courtesy: Reddit
If you did not build a custom frame for your TV outside in a gazebo, your TV will be exposed to the outside elements constantly. 
Even if it's an outdoor TV, it's still a good idea to give it some kind of protection so that it stays operational for a longer time. 
For this, you can get a weatherproof cover for your TV. It's a cover that is made from waterproof and weatherproof material. 
When the TV is not in use, you can cover it with it and it will consistently protect your TV from harsh weather conditions. 
As you can see, there are a number of different approaches you can take when it comes to mounting a TV in a gazebo. 
Make sure to assess your needs first and then make a decision on which mounting method you want to use. 
If you have any more questions, please let us know in the comments below.