After you finish the work to mount a tv on the wall and have to put it in a corner? Don't fret! It's actually easier than you might think, and there are quite a few ways to do it.
Have you lately relocated or been inspired to change your living space? Perhaps you reasoned that placing your tv in a corner would be the ideal approach to maximize your new living space. 
Choosing the site, however, may pose a variety of issues before you even mount it. Here are six different methods to choose from, with step-by-step instructions for each one for a better idea.
In this blog, we will discuss some useful things:
How To Install A Corner TV Mount?

Common questions about mounting a tv
Common Questions About Mounting TV
Before mounting a tv on the wall or in the corner, we often have many questions like how do I measure for a corner wall mount? How should I anchor my tv to drywall?  What size screws do I need for mounting my flat screen on brick? 
Do you provide corner mounts that work with curved TVs? Can I install my flat screen myself? Well, you don't need to worry, we are here with a complete detailed guide. Just keep reading below for the best solution to your problem.
Steps To Mount a Tv in A Corner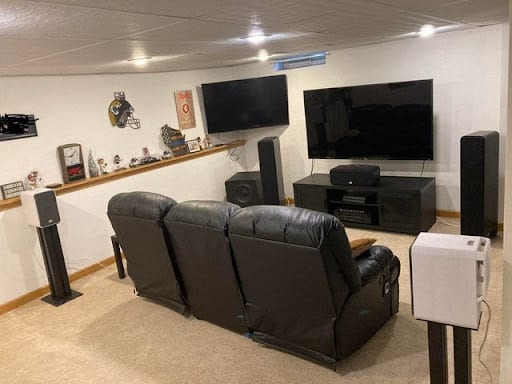 Source: Reddit
While the television is one of the most commonly used gadgets in many houses, many people prefer that it be put in a less prime spot so that it is not the room's focal point.
When a TV is mounted in the corner of a room, it is easily accessible for comfortable viewing without becoming the focal point. Look no further if you want to discover how to install a TV in a corner. 
Our step-by-step instructions will show you all you need to know about TV wall mounts and how to put one in a living room corner.
1. Take Precautions First
Placing your tv too close to any window may cause overheating issues, as UV rays can break down electronic components. If your mount needs to be placed close to a wall or window, look for mounts that claim they offer adequate ventilation and heat dissipation.
Also, mounting your tv directly under a ceiling light is problematic because of reflections and glare on the screen, so consider how you'll position lighting fixtures before installing any hardware.
When it comes time to mount, keep yourself safe by wearing proper safety equipment: eyewear like goggles or glasses with side shields that protect from dust and debris; gloves (if you're using tools); hearing protection (if using loud tools); and sturdy shoes with nonslip soles for traction when climbing ladders.
2. What Tools You'll Need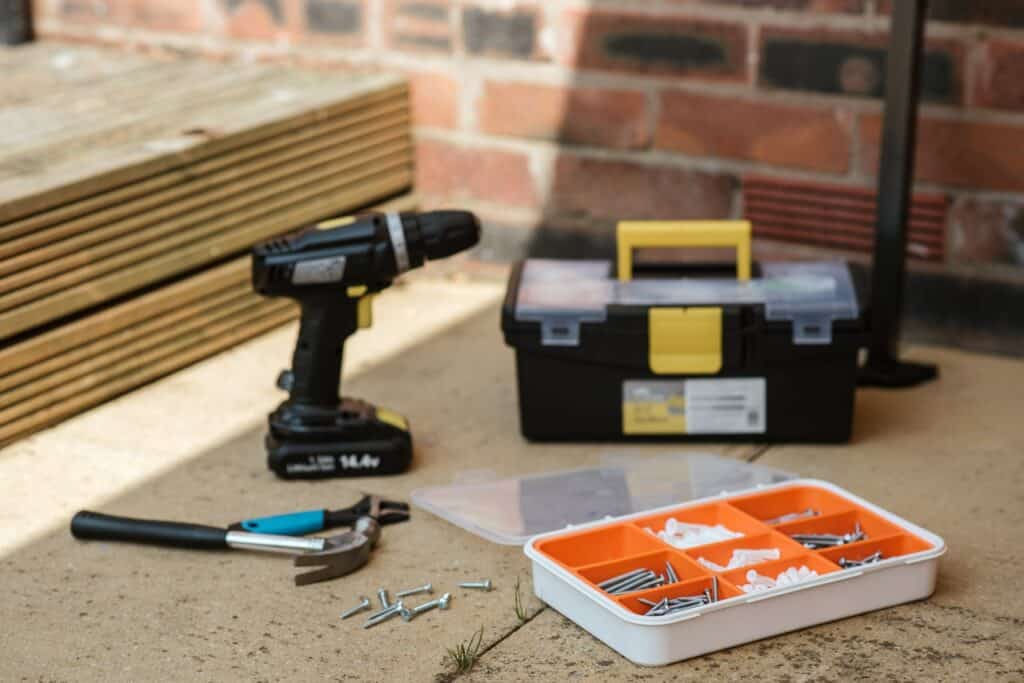 There are many tools you'll need when mounting your tv on the wall, but here are some of our favorites. 
Level

Pencil/Pen

Drill With Screws and Anchors

Stud-Finder
Getting a single stud is essential because if you mount your television onto drywall without one, you run the risk of it falling off (and breaking). 
We highly recommend investing in an electric stud finder as opposed to using a manual one—not only will it be more effective, but it's also safer.
3. Check the dimensions and weight of your television.
Whether you're going to buy a new flat screen or attach an existing one, it's critical to know the exact dimensions of your TV so you can purchase the appropriate mounting hardware. 
The last thing you want is to discover that your TV has been mismatched with corner TV mounts that aren't rated to support it.
Fortunately, avoiding this issue is simple! Simply access the dimensions and weight of your television before selecting the appropriate corner TV bracket to hold it. In case you want to corner, install a flat-screen TV that weighs more than 125 pounds. 
A corner mount with a dual-arm bracket is the way to go. Wall installation using a single-arm bracket is the best option for flat-screen TVs weighing less than 125 pounds.
4. Selecting Your Mounting Bracket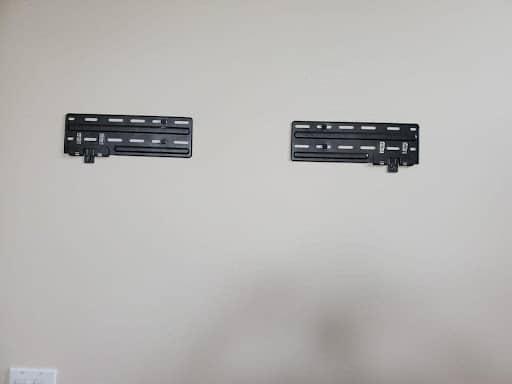 Source: Reddit
For many flat-screen TV in the corner, you will need an L-shaped bracket and a mounting kit. If your television does not have built-in VESA compatibility, you may need to purchase additional hardware that can accommodate your model. 
To start, use a stud finder or laser level to determine where you should place your wall mount on each side of your corner; mark these locations with some masking tape.
When you're out shopping for your mount, make sure that you select one that is compatible with your tv. The most common mounts are VESA-compliant, and you should find out if your television is VESA-compliant before purchasing the amount. 
Most manufacturers have detailed specifications on their products, so if you can't find VESA information online, call them or check on their website. However, as the number of products increases over the internet, with just a little research you can find a mount that fits your requirements, such as a mount with a continuous tilt feature.
5. Attach Wall Mount at Back of the TV
You can begin the mounting process after you have your TV and TV mount ready. To begin, go over the instructions that came with your television. 
Specific instructions on how to utilize mounting hardware with your television should be included. 
Many flat-screen TVs have four places on the rear to which the TV mounting system may be attached. Four bolts or screws that connect the wall mounting bracket to the TV may need to be removed.
6. Drill holes at Right Location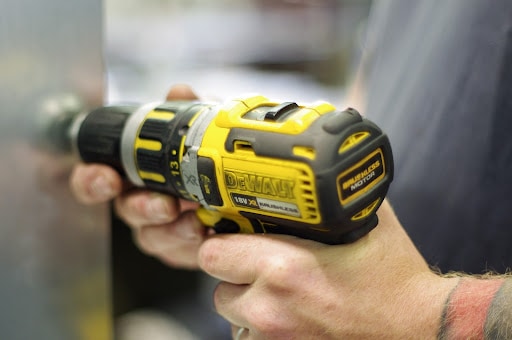 The best place for your new television set is obviously where you can see it best. But if you're placing it into an awkward space that doesn't allow for easy viewing, use these tips and tricks for mounting your set with minimal hassle.
It's time to get the wall drill! It is vital to maintain that you are drilling into the wall studs and using a wall level to ensure that the mounting bracket is level when you connect it during the drilling phase.
After using a pencil mark to find the perfect VESA patterns, make note of the actual width of the TV and determine if there is appropriate space for the TV after mounting it. If not, you might have to use a mounting arm. Make use of a tape measure for this purpose.
After figuring all of this out, start drilling holes. And make sure you have the correct angle in mind when you are drilling in the corners.
Some TV mounting brackets even include built-in levels to assist with this.
Attach the mounting bracket to the wall with wall bolts and ensure its level once it's in place. Make sure that the bracket is securely attached to the wall.
7. Enjoy Your New Corner Mounted TV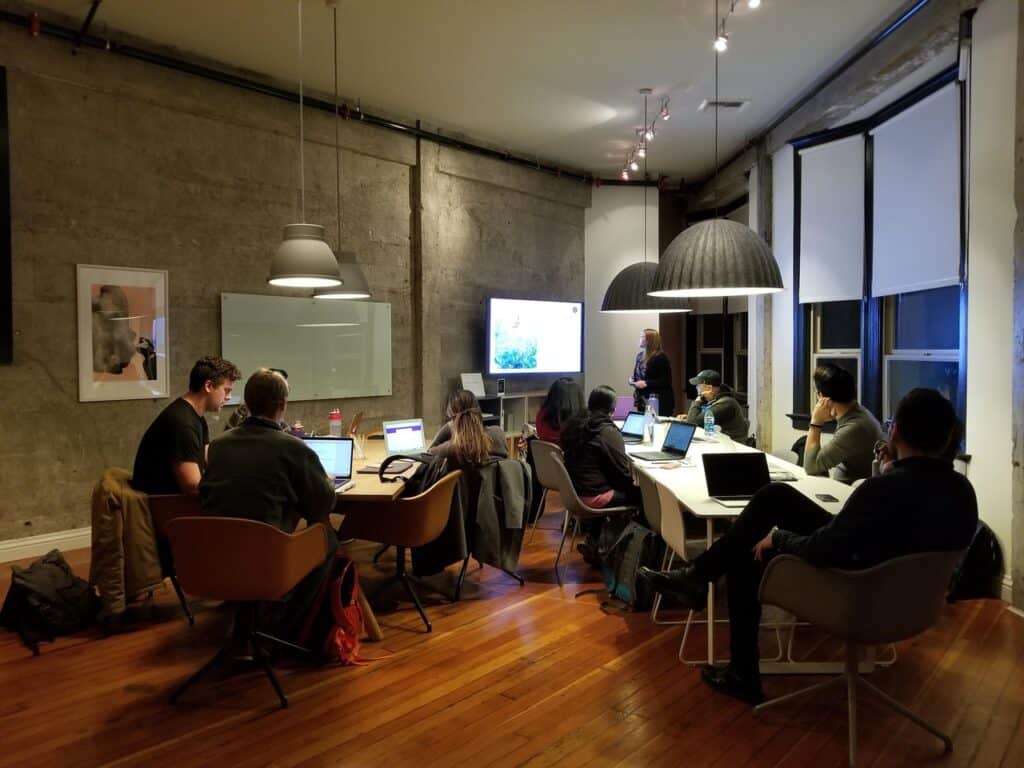 After being done with all of that, all you have left to do is enjoy your newly mounted TV. 
If you have followed the step-by-step guide and taken care of the all the aspects such as picking out the perfect TV mount with the right wall plate, considered your TV's dimensions, have the desired height set up, and went did a double check on everything, you should be able to have the perfect corner mounted TV for your house.
How to Mount a TV in a Corner - Conclusion
No matter what corner of your home you're looking to mount your TV, we've got solutions for you. 
Some DIY mounting solutions are cheap and easy but won't last as long as other options that cost more; some might be affordable upfront but require professional installation.
We hope this guide was helpful, for any further information, please feel free to reach out to us.