The soundbar is one of the niftiest inventions created. You no longer have to worry about a thousand running wires around your TV mount for a good quality sound system.  
But, it's baffling how often a soundbar is mounted in the wrong place or on the wrong bracket. Proper soundbar placement will not only enhance your home theater experience but will also ensure safety.
Quick summary
In this post, we will discuss: 
Soundbar positioning 

How to mount your soundbar to your TV and your wall

Soundbar vs home theater surround sound system
So, without further ado, let's dive right into it.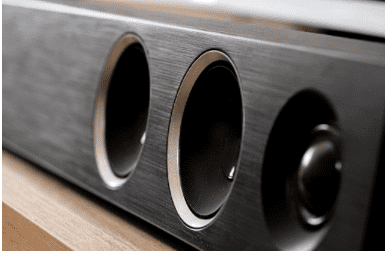 As you may already know, TV wall mounts get smaller and smaller leaving no space to install speakers. As a result, the built-in speakers are shrinking in size as well or installed at the back of the TV. This makes for an extremely poor listening experience. 
Therefore, adding a soundbar will greatly improve the sound quality of the TV. 
But, this also involves a few technicalities. Not only does the soundbar needs to be placed at the center of your TV for the best audio but you also need to keep in mind its dimensions. 
For example, the Yamaha YAS-109 does not need plenty of space. So, you can place it on a piece of furniture under the TV since it only needs 2 1/8″ of height clearance. However, if you want to mount it on the wall with spacers, you will need 5 1/8″ of clearance below your TV.
TV Wall Mount Positioning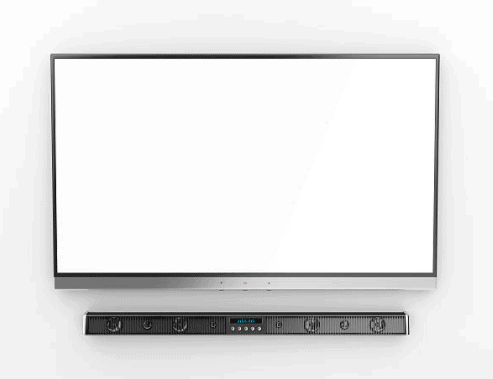 Positioning your TV at the correct place is as important as the soundbar placement. 
You want your TV to be right at the center of the wall. If the wall mount is off to one side that can lead to a neck strain or just uncomfortable viewing in general. 
For the best viewing experience, we would recommend mounting it at a place where your eyes are at the center of the TV screen when seated down. 
You can easily calculate this by the following equation:
When seated, an average person's eyes are 42.5″ off the floor

Apply the formula: 42.5 – (TV height / 2) = Ideal height of the bottom of the TV
Tabletop or a Wall Mount?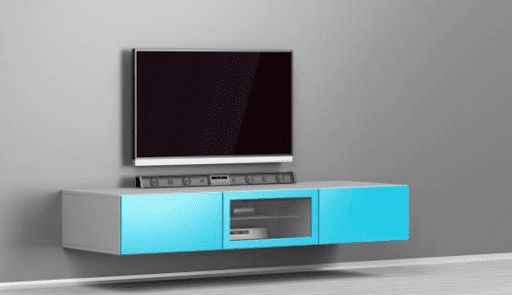 After properly adjusting the position of your TV and your soundbar, you need to decide whether a tabletop or a wall mount is better for your soundbar. 
Now, you may be wondering: Does a soundbar work better above or below the television?
We recommend mounting it at the location closest to 42.5 inches off the ground (where your ear falls at a seated position). This is usually below the TV in most of the soundbar installations.
This mostly depends on your preference. If we talk about wall mounts, they're usually the safer option. They also offer a bit more flexibility in terms of wall mounting the TV instead of being stuck with heigh of the furniture you've placed your TV on. 
The same goes for the soundbar. However, we would suggest you follow whatever method you're doing with the TV. 
In addition, if you're using a tilted or a flat bracket, you'll have no problem mounting the soundbar beneath the television. 
But, if you have an articulating mount we would recommend attaching the soundbar to the arms of the mount. This will allow the sound to follow the angle where you have positioned the TV. 
Now that you know the importance of a good TV mount, let's take a look at some of its options: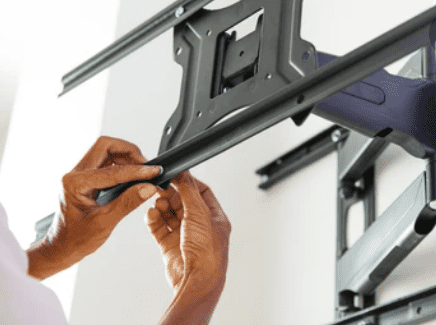 If you dont need to angle your TV to watch it from different corners of the room, a flat mount would be a great option for you. 
These come in ultra-thin models as well. However, keep in mind that if you want to mount anything behind the TV (such as Apple TV, soundbar, etc), you'll have no room to do that.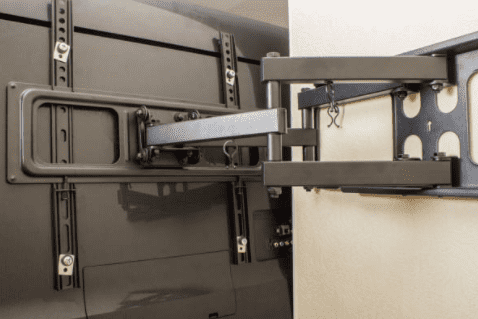 If you have to mount your TV too high due to limited space, we would suggest you get a tilt mount. This will allow you to tilt the TV downwards so it can be at your eye level.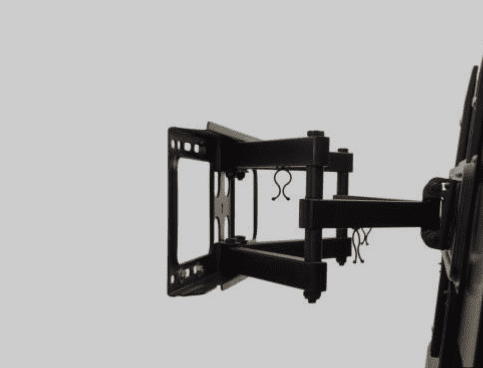 The articulating mount will allow you to pull the TV out from the wall and swivel it around. Bear in mind that these mounts add depth and make the TV project out of the wall. It can be as much as 6 inches. 
On the upside, it makes it extremely easy to service the TV and plug devices behind it.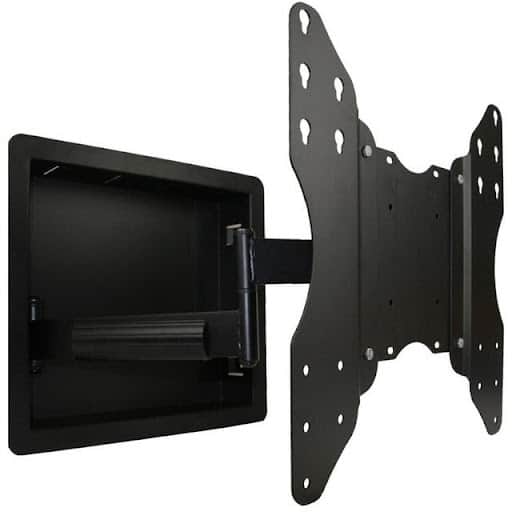 Image Courtesy: Reddit
Companies have started to manufacture a recessed articulating arm. It allows you to completely recess the bracket into a flush mount enclosure in the wall. 
We would not recommend this for amateurs since it is quite difficult to install. You need to perfectly place the recessed box within the wall and center of the room.
This may cause your framing and drywall repair to get it just right. But the end result is great. It will allow you to push the TV right into the wall with no gap.
Can I Mount a Soundbar to my Wall?
As we discussed earlier, mounting a soundbar to a wall is a great option especially if your TV is already wall mounted. 
If you want your soundbar mount placed above or below the TV is completely up to you. However, there are some factors you need to keep in mind before a wall-mounted soundbar installation. 
The first thing you need to look out for is that you're mounting your soundbar bracket on a vertical wall.
We recommend you check the strength of the wall as well. If the drywall is too thin, it may not be able to hold your soundbar mount. But if you already have a mounted TV, then it should be safe to do a soundbar installation. 
Moving forward, if you want to connect the soundbar through wires, you'll have to connect the devices before the wall mounting process. 
Note: Don't forget to unplug your soundbar and TV before you install them.
We would also recommend you measure two inches of space between the TV wall mount and the soundbar while installing it. This will make sure that the IR receiver on your TV and soundbars aren't too close. 
Steps for Soundbar Installation to the Wall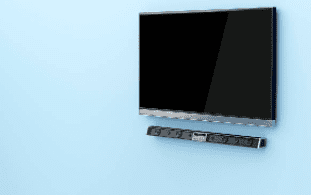 Here's what you need to do:
Align the wall mount guide against the wall to make it straight. We would suggest angling it parallel to the bottom of the TV for accurate results. 

Check to see if the center is aligned with the center of the TV.

If you have a wall mount guide, get a pencil and mark where the screws would go.

Use a drill bit and drill into those holes.

Push the screw through the screw holder, then through the hole. Secure it nicely.

Attach the bracket mounts to those screws on your soundbar.

Gently hang the soundbar brackets on the wall mounts and secure them well.

You can also just add the mounting brackets to the wall itself and avoid actually attaching the soundbar to the TV mount. This way, the TV still has freedom of movement while the soundbar stays securely mounted on the wall bracket.
However, also keep in mind that not all soundbars come with their own soundbar brackets. Such as Bose Soundbars, Bose Soundbar 700, Sonos Beam, Sonos Beam playbar, and more.
Can I mount a soundbar to my TV mount?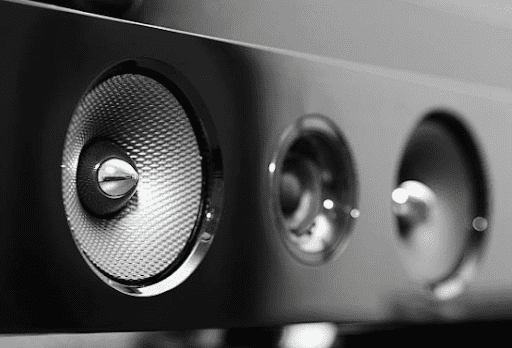 If you want to avoid drilling holes into the wall, this is a great method for you to follow. 
For a TV-mounted soundbar, the first thing you would need is a soundbar bracket. You can easily find them online or in stores. Whereas, Soundbars such as the TCL Alto 7 include cables and soundbar kits in the package. 
Once you've bought the brackets, you'll have to remove the TV from the mounting holes if it's already mounted. Although this is extra work for you, this has to be done because the soundbar brackets need to be installed using the same holes. 
Here are the steps on how to mount a soundbar to a TV:
Eyeball the soundbar brackets' placement on your TV wall mount. Line it up as close as you can. Then remove the TV mount.

Check to see if the soundbar has a control panel. Leave enough space between the soundbar and TV so you can still press the soundbar buttons.

Next up is the attachment of the TV to the wall mount and the bracket. Have everything ready, so it's just a matter of getting them mounted in place with screws.

Install the soundbar on the brackets and check if any adjustments need to be made.

Next, mount the TV wall mount to your wall.

When purchasing soundbar-to-TV brackets, there are options available for specific products, but they can be overpriced.  You can just buy quality universal soundbar-to-TV brackets. 
Benefits of a Soundbar Mounted to a TV
There are plenty of benefits to getting your soundbar mounted to your TVs. When you connect your soundbar to the wall or sit it on a rack, a good amount of audio is absorbed by the surface. 
This is not the case with soundbars connected to a wall-mounted TV. This way the soundbars will move when the TV moves. 
For example with a full-motion TV wall mount. As you tilt your TV to face it in another direction, the soundbar will move with the wall mount brackets connected to the TV. 
Therefore, we would highly recommend full motion TV mounts if you want a TV-mounted soundbar. This way your soundbar will always be facing you giving you the best audio quality. 
If you're someone who doesn't want to mount your soundbar at all, you can simply place the soundbar on your entertainment unit. 
While this is a simple task to go about, there are disadvantages if you have children or pets. Your soundbar may be more prone to accidents if it is not secured by soundbar brackets. 
Since soundbars aren't cheap, we would suggest getting your soundbar wall mounted. This will also allow more flexibility as your soundbar brackets will be at ear level ensuring the best sound quality.
Soundbar vs Home Theater Surround Sound System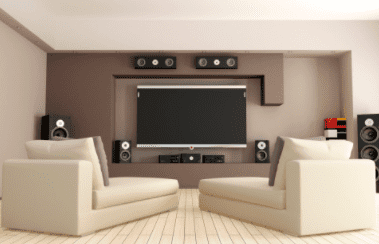 You might be wondering should you get a home theater system and a soundbar? 
Before soundbars became really popular, 5.1 channel HTiB (Home Theater in a Box) speaker systems were quite in. But they needed to add wires for all 6 speakers which was a nightmare for most people. 
But soundbars have evolved over the years. Most soundbars come with a wireless subwoofer with sound quality much better than the HTiB speaker systems.
If you don't have a pre-wired house for theater speakers (e.g 5.1 inches, 7.2 inches, etc), we would recommend you stick to soundbars. Unless you're fine with cutting down drywall around the room for new speaker wires. This will be quite tedious and labor-intensive. 
This wraps up our post. We hope we were able to help you decide whether you should have your soundbar mounted or placed on a flat surface. 
Putting the soundbar flat on a surface is easy but many people prefer the good looks when it comes to soundbar installation. 
A soundbar mounted with a TV will make sure you get the best audio whenever you're seated. But you'll be required to buy a good quality soundbar to achieve this because a cheap one won't cut it. 
You can also hire a professional to mount your soundbar to the TV.
Do let us know if you have any questions.