There are multiple ways you can mount a TV on your wall. A newly mounted TV adds new flair and enables you to add more things to your entertainment hub.
But how do you mount your TV on a wall? What sort of equipment do you need for your flat panel TV? How do you drill holes? We will discuss all these things in this article.
Read this guide to find out all the answers to the questions you might have.
Quick summary
By the end of this post, we will cover the following topics:
Step-by-step process to install mounting hardware.

Benefits of a wall-mounted TV.

Important tips and tricks.
Let's get started.
Procedure to Mount a Flat Screen TV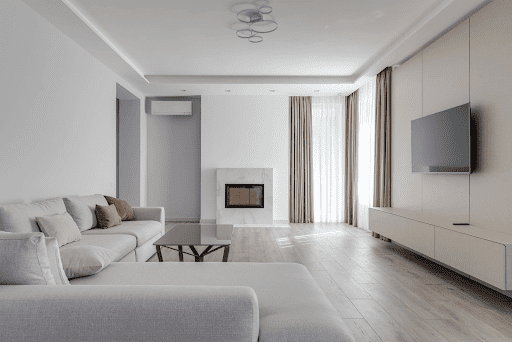 When it comes to large flat-screen TVs, the trend around the world is to just hang them on a wall. But you can't just screw holes in a wall and attach the TV to the wall. 
There are mounting brackets and other tools that you can use to make your entertainment hub look sleek and professional. 
Is there anything I need to keep in mind before I mount my TV?
Every TV mount is designed to be placed on a straight wall. You should avoid using a TV mount on uneven or weak drywall. If there is too much weight, it can lead to a disaster. 
Now, let's see the detailed steps on how to install your wall mount. 
1. Marking the drill holes
The first step is to mark the mounting holes before your mount a TV. The best way to do so is by taking measurements of your TV.
After you measure the dimensions of your TV, accurately measure the right height and width of your mounting plate. 
How do I mark the holes?
Take pieces of masking tape to represent the height/width of your TV and mounting plate. Place the mounting plate over the tape and mark the holes with a pencil.
2. Using a drill for the holes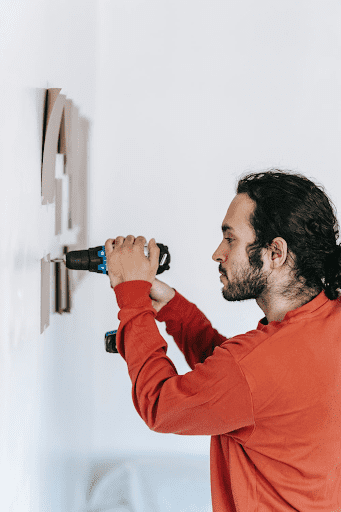 There is a common practice of just hammering in the wall studs in the mounting bracket. It is wrong and you should avoid doing that. 
What should I do instead?
The best way is to drill pilot holes inside your wall with a power drill. You can use the depth of the holes according to the weight of your TV.
You will then have to place plastic jackets inside each hole for the lag screws. You can either use lag screws or lag bolts, it depends on your personal preference. 
Make sure that the drill bit you use is smaller than the opening in your wall bracket. Otherwise, you won't be able to use screws or bolts.
3. Mounting the Wall Bracket
Once you drill your holes, you can then use the wall studs to install the wall plate. Make sure that you use the included hardware of your wall mount. 
Be sure to remove the masking tape before mounting your plate.
Why shouldn't I use my own studs?
The first reason is compatibility. Third-party screws might not fit accurately. The second is the access factor. You might not be able to screw them in and out conveniently. 
Carefully place your wall mount on the holes and screw in the studs. It is a good rule to divide the process into two halves. 
Screw the nails diagonally from left to right or right to left. This way, you'll be able to place the wall mount and use your other hand to easily place the bolts/nails.
After you have placed the mounting plate on your drywall, it is time to install the TV plate. 
The right way to do this is by placing your tv on a flat surface. You should then place the mount on the holes behind the screen and slowly screw in the studs. 
How tight should I screw the nails on the bottom edge?
People often use only two studs for mounting the TV plate but it is essential to use screws for all four holes. 
In order to make sure that your plate doesn't move once you mount your TV, the screws should be placed manually. 
Use a normal screwdriver and keep turning it until you have to apply extra force. 
How can I check if the screws are tight?
You can easily check if the mounting plate is placed correctly on your home theater screen. All you have to have to is grab it by the edges and give it a little jerk.
If the plate doesn't move from its place then you have done your job correctly.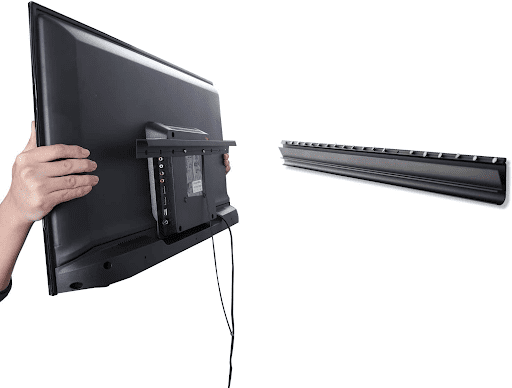 Now that you have all the pieces to your puzzle, it's time to put it together. But before you do that, make sure every piece of masking tape has been taken off.
Why is it important to take the tape off?
There are two reasons for it. One, it will look hideous behind your new TV. Two, it will be hard for you to take it off after you mount your TV.
You will need one extra person for this task. Both of you need to pick the TV up from either end and carefully attach the TV mount to the wall mount.
Shouldn't I just place it directly on the mount?
You should avoid doing that at all costs. If you mount the TV right away, you will find it hard for yourself to manage the cables. 
The easy way to do so is to attach the upper half of the mount and let the other person hold it with a firm grip. 
This way you'll be able to pass your wires through the mount in no time. But you have to be careful around the access points and try not to pull the wires.
After you route your wires through the mounting hole, it is time to finally mount your TV on the drywall. 
Place the top edge of your TV plate on the wall mount and slide it to fit the right location. Once you get on top of it, the mount should slide just right in a seamless manner. 
What if I can't find the right location?
If you can't find the right mounting bracket at first, try to move the TV to the wall and move it either left or right. 
Usually what happens is that the holes aren't aligned. In most cases, moving the TV a little to the left or right should fix it. 
Now that you have attached everything, it's time to turn on your TV and find the right viewing angle.
Use the mount brackets to tilt the TV left/right or slightly forward. It all depends on the sitting orientation of your room.
You won't have to do this step if your TV is placed in the center of the room. However, with the right TV, you won't even have to adjust it.
What is the best viewing distance?
The right angle for viewing a TV depends on two things, picture quality and eye level. Your couch or set of chairs should be placed at a distance that doesn't distort the picture.
And the other thing you should keep in mind when you mount a TV is that it should be at your eye level. 
You shouldn't have to look up or tilt your head because it can lead to severe neck problems down the road. 
Benefits of Mounting your TVs
Now that you know how to hang your TV to the wall, let's see why you should do it. There are multiple reasons for it. 
Here is a complete list: 
You can free up a lot of space with a wall-mounted TV. This space underneath your flat-panel TV can be used to place things like a soundbar or a gaming console.

It looks neat and clean. A TV mount is virtually invisible to the naked eye which gives your home theater a futuristic look.

The cable management is far easier with a TV mount. Once you mount a TV, you can use the mounting hardware to route the cables throw the wall.

Convenient to attach new devices. Most TVs have their socket on the bottom side, a newly mounted TV makes it easier for you to connect new wires.
Important Tips to Consider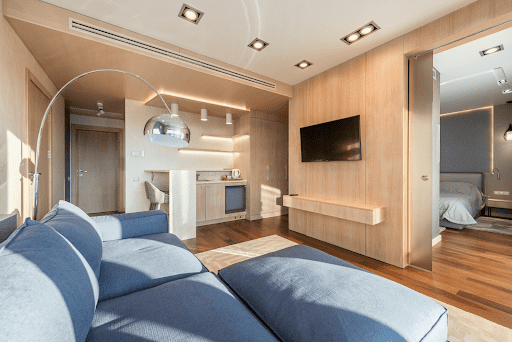 Let's look at some important things you should always keep in mind when you mount a TV.
Always use an extra wooden plank to hang your TV with walls. Drilling pilot holes can reduce the strain on your wall. 

The screws attached with the bracket are made with a universal design. Always read the manual to check which TV you can attach with your wall mount.

Always use a Phillips screwdriver to attach the TV bracket. Screw the bolts in gently and don't use excessive force. It can damage the insides of your TV.

Before you do anything, take a good look around the room to find the right location. Mark it with masking tape to get a better idea.

If you are going to mount your TV on drywall, always use a stud finder. You can also get an electronic stud finder to find the right place for your pilot holes. 

Make sure that the bolts on the TV mount are insulated on their tips. This will reduce the chances of static current that could otherwise damage your electronics.
Frequently Asked Questions
We found some common questions on the web related to mounting a TV. 
How deep should I drill a pilot hole?
It depends on the size of your TV. Usually, a 2-inch hole is more than enough to mount a TV between 32'' and 55'' but anything above this size requires multiple holes.
Should I wear protective gear while mounting my TV?
The only thing you need to wear is a pair of insulated gloves. It will reduce the risk of static current going inside your electronics. 
Why should I use a stud finder?
It basically helps you mark the wooden beams behind your wall so you can easily adjust your bracket. Otherwise, you'll just hang your TV on the drywall and it can possibly break.
What is the ideal position for my TV?
The best position for your TV is in the center of your room. You should place your speakers in pairs on either side to get the best immersive experience. 
This brings us to the end of our article on mounting a flat-screen TV. It is an easy process but with some tips and tricks, you can give your living space a new touch.
A mounted flat-screen can open up so many options to organize your entertainment hub. The extra space it provides enables you to place your gaming consoles, soundbars, and other decorative materials with your home theater. 
We hope this post proves to be beneficial for you.
Do let us know which mount you used to mount your TV.