Nothing feels better than relaxing on a cozy sofa and enjoying your favorite content on the TV. A suitable TV stand will elevate your viewing experience and give you ample space to incorporate your sound system and other accessories.
With a little bit of creativity, smart work, and handy tools, you can easily create your own unique TV stand. Here in this guide, we will give you a step-by-step guide to building your TV stand. Moreover, we will also offer some attractive and practical DIY ideas that will complement different room settings.
So, without any further ado, let us dive into the details.
Some Crucial Things To Consider Before Picking Up Your Tools
What is the size of your TV?
The advertised size of the TV screen is the diagonal size, which is measured from the two corners of the TV screen, excluding the TV panel. You need to find the actual size of your flatscreen so that you can build a suitable TV stand that can hold it safely.
Take out your measuring tape and measure your TV's true width, height, and depth. However, if you have to buy a new TV, you can use this calculator to get the actual size and note it to build a TV stand.
Where will you place your TV stand?
Picking the right location for your TV stand is crucial as it alters several aspects. A TV stand will become your room's focal point, so decide the location wisely.
You first need to pick a room in your home where you will place your TV stand. Picking a room where you have less space is a no-brainer. After this, you need to pick a location where you have sufficient space to place the stand and access the power supply.
If there is no nearby socket, then you need to factor in the process of offering a power supply while building the stand so that you can operate your TV and its accessories.
What type of TV stand do you need for your place?
There are different types of TV stands that have their own features. Here are some of the popular ones.
1.Traditional TV Stand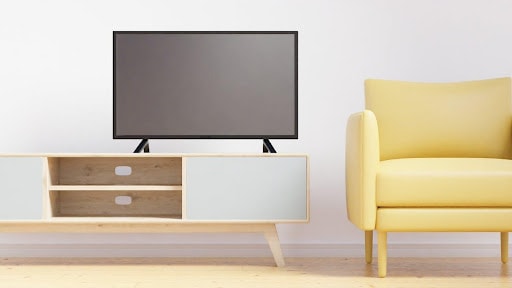 Being an all-purpose style, these stands can be used anywhere in your home. You can place them in your dining room, living room, or your bedroom to incorporate your TV and other equipment.
2.Entertainment center
These units are recommended for larger spaces. Besides encompassing your TV screen, it has ample storage capacity to hold different ornaments and several accessories.
3.Floating TV stand
Floating TV stands save a lot of space and, at the same time, give a clean, clutter-free look to your room. These TV stands are suitable when you want to save space and are looking for a TV stand that is cleaning-friendly.
4.Cabinet
As the name suggests, a cabinet stand comes with drawers, shelves, and closed cabinets to store your items and accommodate your TV screen. Some variants come with legs that offer sufficient ground clearance for efficient cleaning. These units are easy to move around and can be made out of wood and metal.
5.TV stand with built-in fireplace
These units are perfect for the living room to create a focal point and improve the overall aesthetics. The stand can hold a TV and a fireplace together so that you can enjoy your winter evening watching your favorite movies in a warm and cozy environment.
Now that you have the answers to the above questions, it is time to pick up your tools and build your unique TV stand.
Tools required to make a TV stand
Lumbar pieces

Plasterboard

Power Drill

Wooden Screws

Miter Saw

Circular Saw

Level

Tape Measure

Glue
Step-By-Step Guide to Building a Simple Wooden TV Stand
Step 1: Take accurate measurements
First, you need to take measurements of your TV stand. A typical TV stand must have 3 inches extra width on both sides than the actual width of your TV.

Besides this, the center of the TV screen should align with your eye level. In general, the center should lie 42 inches above the ground for a better viewing experience from the sofa.

To calculate the height of the TV stand, first mark your eye level on the wall. Now, measure the distance and subtract half height of your TV screen from it. The result will be the optimal height of your TV screen with a difference of one inch up or down.
For example, if you are going to make a TV stand 60-inch flat screen, then the actual width will be close to 52 inches, and the height will be close to 30 inches.

So, the correct measurements for the width and height of your TV stand will be 58 inches and 27 inches, respectively. Here the ideal eye level is taken 42 inches from the floor level for calculating the height of the TV stand.
Step 2: Cut the lumbar & make desired holes
Cut the lumbar with your power saw to make rails, shelves, side panels, legs, and doors. Label every piece after you cut it so that there is no confusion while assembling them.
Now, drill the holes using a power drill in all the parts according to your TV stand structure.
Step 3: Assemble the back and front frames
Use the rails to construct the front and back frames of your TV stand. Use proper screws and glue to fix the frame. Keep both frames aside to let the glue dry.
Step 4: Attach legs to the bottom shelf
Use a power drill to fit the legs to the undershelf of your bottom shelf. Use suitable wood screws with glue to keep the legs intact in the longer run.
Step 5: Assemble all the shelves with the rails
Add middle, top, and bottom shelves to the rails to build a basic structure for your TV stand. Start with the bottom and work your way up to the top. Also, add the side panels to the rails with the help of wooden screws and glue.
Step-6 Add doors and knobs
Construct the doors for your cabinets and add knobs to them so that you can access them with ease. Use hinge screws to mount the doors on the clamps.
Step-7 Finishing touches
Once all the glue dries, sand the whole TV stand with sandpaper. Now you can polish, paint, or add some texture to your TV stand according to your personal preference.
Expert Advice: Use wood putty to fill in the extra holes in your TV stand to get a smooth finish.
Some DIY ideas to try out
1.X Side Frame TV Stand
It is a basic TV stand with X-shaped side frames. The TV stand possesses two open shelves creating a large cavity in the middle to store your items.
You can rest your TV on the top shelf. The X-shaped side frames elevate the strength of the whole unit.
2.Sleek And Rustic TV Stand
Add a rustic TV stand to your bedroom or living room to bring some contrasting elements to the modern living style. You can create open shelves to store your books, plants, and other ornaments and use the top shelf to hold your Tv console.
3.Corner TV Stand
Are you short on space to accommodate a traditional TV stand? Don't worry. The corner TV stand is here to the rescue. You can build a triangular stand with some cabinets or drawers to hold the items and add the wires into them. You can add a stone top to improve the aesthetics and hold your flat screen. Remember, these stands are mostly suitable for small TV screens.
4.Floating Media Unit
Facing trouble cleaning the dust and dirt particles with your TV stand? A floating media unit will resolve your issue and give a stylish and neat look to your interiors. By using some mounting brackets, you can build a floating media unit to hold your TV and other accessories up in the air. Now, you can easily use the vacuum for cleaning purposes and maintain a hygienic environment in your room.
5.Tall Entertainment Unit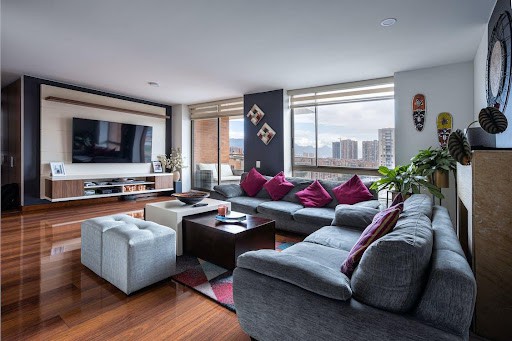 With a tall entertainment unit, you can rest your TV and add your sound system and other accessories within a single unit. The bulky unit can handle a lot of weight, allowing you to keep books, plants, picture frames, and several other ornaments. The unit will create a focal point in your room and offer ample storage to keep all your items in it safely.
Final Verdict
Now that you are familiar with the procedure to build a basic TV stand, experiment with different styles and build a unique TV stand for yourself.
We have also mentioned some DIY ideas you can try if they fulfill your requirements and complement your room interiors.
FAQs
Q: Can I build my own TV stand?
A: If you have some basic knowledge of carpentry and know your way around tools, then with little planning, you can build a basic TV stand for your room.
Q: How much time does it take to build a TV stand?
A: The time depends on your ability to work, the size, and the type of stand you are going to build. Generally, a basic stand can be made from scratch in 3 to 4 hours.