One day out of nowhere you notice that your TV is not leveled and is lopsided on the TV mount. 
It bugs you every time you look at it and you are confused about how to fix it. If you're in a similar situation, we understand how annoying that can be. 
Therefore, to make your life easier, we have compiled this guide that might help you level your TV on your wall mount yourself. 
We have added all the instructions, tips, and FAQs to help you. Let's get into it. 
This guide will help you level your TV on the wall mount on your own. It also includes tips and a FAQs section.
How to Successfully Level Your TV on the Wall Mount - In-depth Guide
First, you have to make sure what caused the TV to be lopsided. There can be a lot of factors that might be the reason for this issue. Identify the reasons from the list given below:
Wallplate is not being leveled properly.

Wallplate is loosely or falsely attached to the wall.

TV adjustment can be one of the reasons. 

The step where the TV and wall plate are attached has some fault. 
Things You Need to Successfully Level Your TV on the Wall Mount
This step is necessary as you have to make sure you have all the tools required. You must have a level to check if your TV is properly balanced or not. 
To tighten and loosen the roll adjustment screws, you must have an Allen wrench or any hex key. 
Tip: We recommend using an Allen wrench as it is one the best hex key in the market and is compatible with every roll adjustment screw.
Step-by-step in-depth Guide on How to Level Your TV
Whatever might be the reason, this guide will help you solve it if you follow it carefully. The steps are given as follows:
Step 1: TV Back View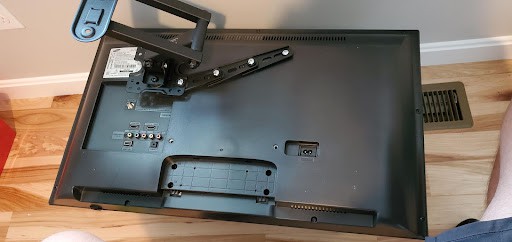 Source: Reddit
To solve this problem, you must have a clear view of what you are working on. If you have a fixed TV mount then it is likely that you have to remove your TV and adjust it again from the start.
However, if you have any of the modern TV mounts, you can extend the TV out and take a clear look. 
Step 2: Place the Level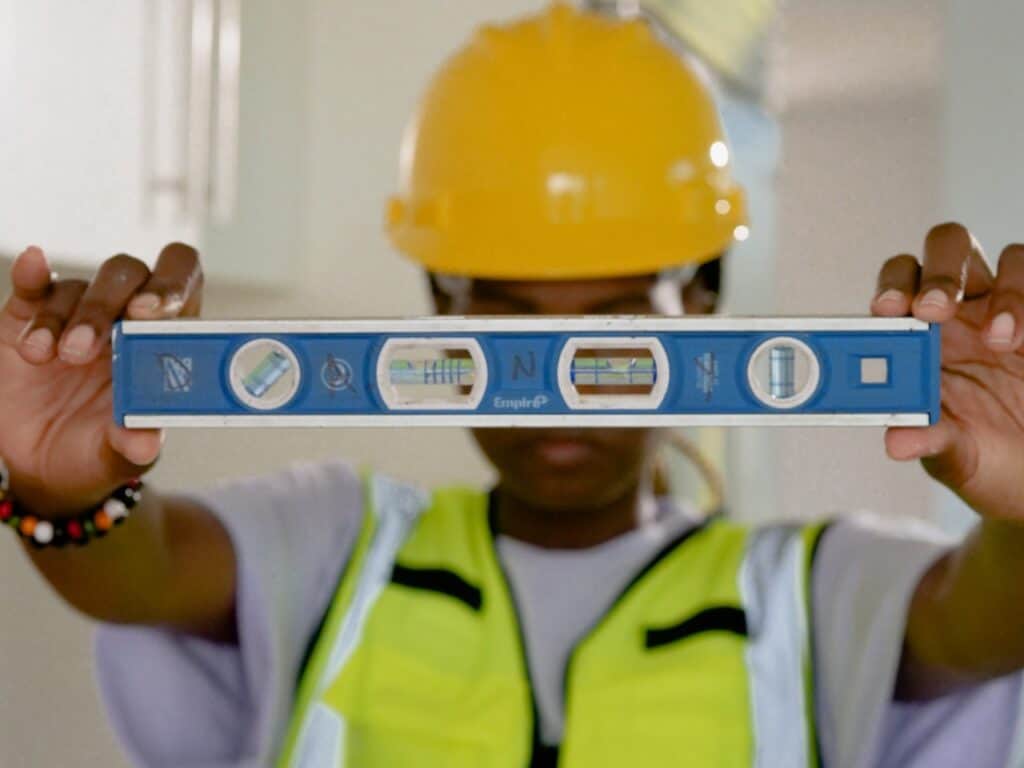 This step requires a level, place it on the back of the TV. Lay it across the horizontal rails or on the top of the TV. 
Therefore, you will be able to tell which side is lopsided and which screw to fix first. 
Step 3: Locate the Screws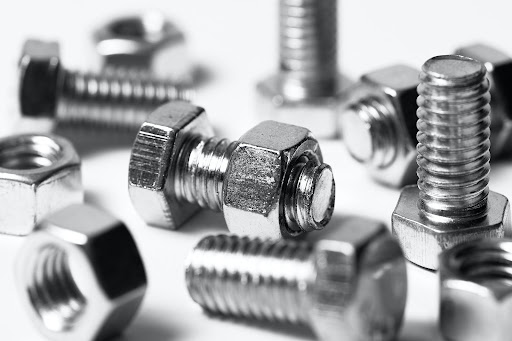 These screws are called roll adjustment screws and are located at the back of the adapter head. 
Step 4: Loosen One of the Roll Adjustment Screws
With the help of an Allen wrench, loosen the screws with a counterclockwise motion. Do this for both of the adjustment screws. 
Tip: Allen wrench is also known as a hex key, and is a small handheld tool. It is used to turn bolts and screws that have hexagonal sockets. Most of the adjustment screws are compatible with it.
Step 5: Level Your TV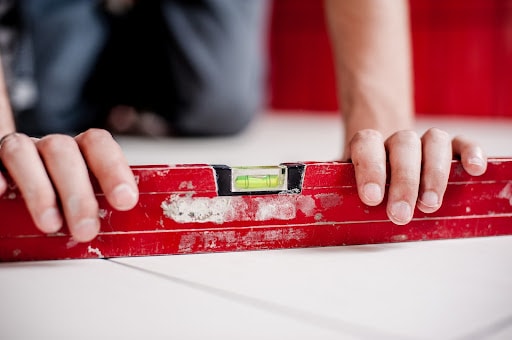 Roll or spin your TV until it is leveled properly. Look at the level you have placed so you can make sure that the adjustment is correct. 
Step 6: Tighten the Roll Adjustment Screws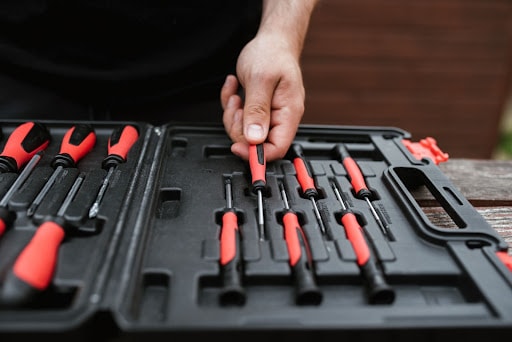 Tighten the first roll adjustment screw pretty well and then tighten the other. Make sure you have properly secured both of them. 
Moreover, this step is important so you do not have to face the level issue again. If left loose the TV might fall on the floor. 
Step 7: Last Checkup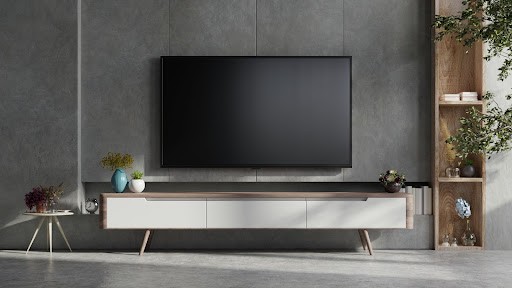 Make sure once again if the TV is leveled properly by looking at the level you placed. If it is not leveled yet, repeat step 4 until your TV is leveled. 
Tip: You can be extra careful in step 4 and use the level properly to not waste your time repeating it. 
Frequently Asked Questions (FAQs)
We have also added this FAQs section to help you with any confusion you might have.
Why is my TV crooked on the wall mount?
Many people do not do the final adjustments after they have completed mounting their TV on the wall. This last step is necessary to adjust the level and tilt of the TV. This might be all you need to solve this issue. 
However, there is a high chance that one of your roll adjustment screws at the back of the TV is loosened with time. 
How can I stop my TV mount from tilting forward?
If the TV appears to be tilted forward, the mounting screws or the roll adjustment screws at the back of the TV are loosened. You can tighten the screws and make sure they are firmly attached to the wall. 
Moreover, if your TV is tilting forward, both of your screws are loose so you need to tighten them both.
Why is my TV not leveled properly?
Usually, the problem can be in the TV mount arms. When the arms are folded back after an adjustment, the arms might be turned completely extended to one side. 
However, you can properly fold them back to solve the issue. If this is not the reason then you can look into this guide and level your TV. 
Can you adjust your wall-mounted TV?
Many of the TV mounts need to be adjusted after they are installed. So yes, you can adjust your already wall-mounted TV. 
You can adjust its level and its tilt according to your liking. You can also manually adjust your TV in any direction if your TV mount supports full motion range.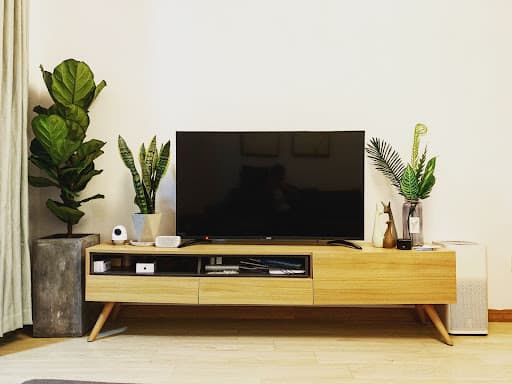 We understand that adjustments after installation of your TV on the TV mount can be quite frustrating. 
However, it can be solved in mere minutes if you follow this guide. We have compiled everything you need to know about how to level your TV yourself. We have also added tips to save your time. 
We hope this guide helped you, for further queries contact us.