If you're unsure of how to install the Hangman simple TV hanger, then this guide is all you need. 
We assure you that it is not as difficult as it seems. This guide has everything you need to successfully mount your TV to a hanger. 
TVs and mounts can be really expensive, you wouldn't want to get into an unwanted accident. Follow the guidelines and tips provided carefully so that you do not make any mistakes.
This guide has everything you need to know including: 
A step-by-step guide on how to install your TV

How to hide the cables from your hangman TV hanger?  

Extensive FAQ section 
Without further ado, let's dive straight into it.
How to Install Hangman Simple Mount TV Hanger - Complete Guide
For your convenience, we have made this easy step-by-step guide on how to install a Hangman simple mount TV hanger. 
It is important that you follow the steps carefully to avoid any sort of damage. 
Note: Remember that it's always a good idea to read the instruction manual carefully before you get started. 
Step 1: Identify VESA patterns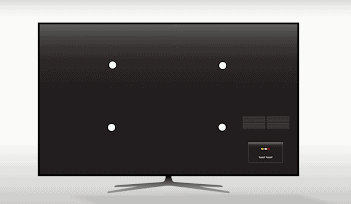 The first thing you need to do is locate the two VESA mounts that are on the backside of your TV. 
Step 2: Install the Brackets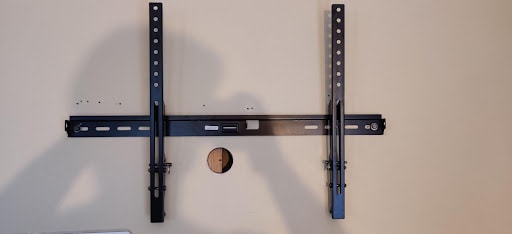 Source: Reddit
Next, with the help of the bolts, carefully install the TV brackets. Normally the brackets come with the mount. However, if you've misplaced yours, it is crucial that you first get the right bolts.
If you use the wrong bolts, the brackets might not be able to carry the weight of your TV, which could lead to a terrible disaster.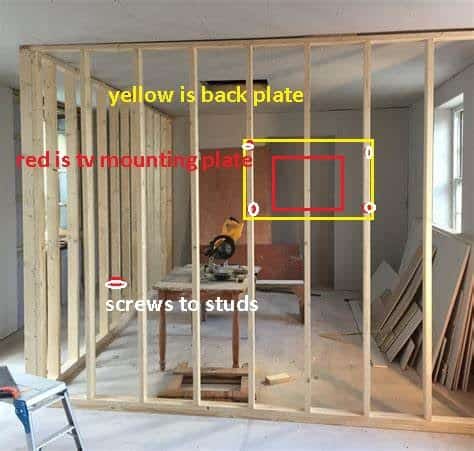 Source: Reddit
With the help of an enclosed stud finder, locate the exact position of the studs. 
Note: The second stud should be approximately 16 inches apart. 
Step 4: Install the Stud Screws
Now, carefully install the stud screws into your wall with the help of a screwdriver.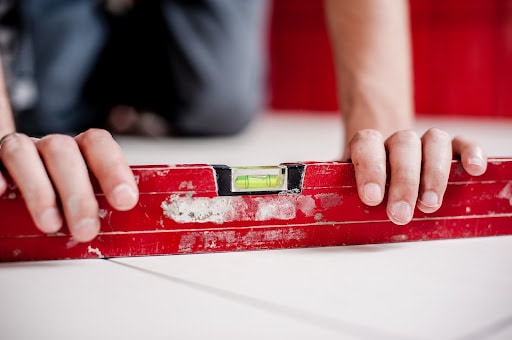 This step is very important because you wouldn't want a crooked angle TV.
Slide the level onto the track and mark the angles. Be sure to recheck the measurements to avoid any parallax error.
Step 6: Install the Security Cables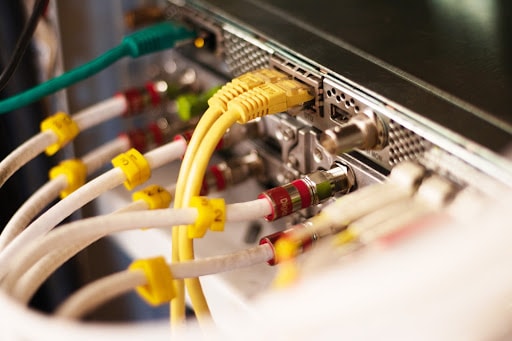 Step 7: Interlock the Brackets
Carefully lift your TV and interlock the back of your LCD or LED with the bracket. Ensure that your TV is fixed before you let go of it completely.
How to Hide the Cables After You Install a Hangman Simple TV Mount Hanger?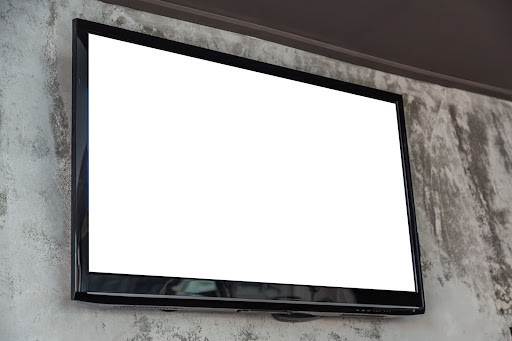 If you've followed the previous steps carefully but are now concerned about your cable wire hanging out, don't worry because we're not done just yet. 
Here's what you can do to ensure that your cable wire does not ruin the aesthetics of your room. 
Note: This method works best for almost all types of flat screens that range between 32 inches to 80 inches in size.
Step 1: Mark the Center of the Cable ( or the Eye)
Once you interlock the brackets, identify and mark the eye of the cable wire, and carefully remove your TV. 
Step 2: Get Drilling 
Carefully, with the help of a power drill, drill a hole into your wall that is approximately 2 inches deep. 
Step 3: Install A Snap Toggle Anchor 
As mentioned, install a snap toggle anchor and screw in a bolt, and tighten it with the help of your trusty screwdriver. 
Step 4: Mount Your TV 
Once you hide the wires with the help of a toggle anchor, safely mount your TV back into place.
Frequently Asked Questions (FAQs)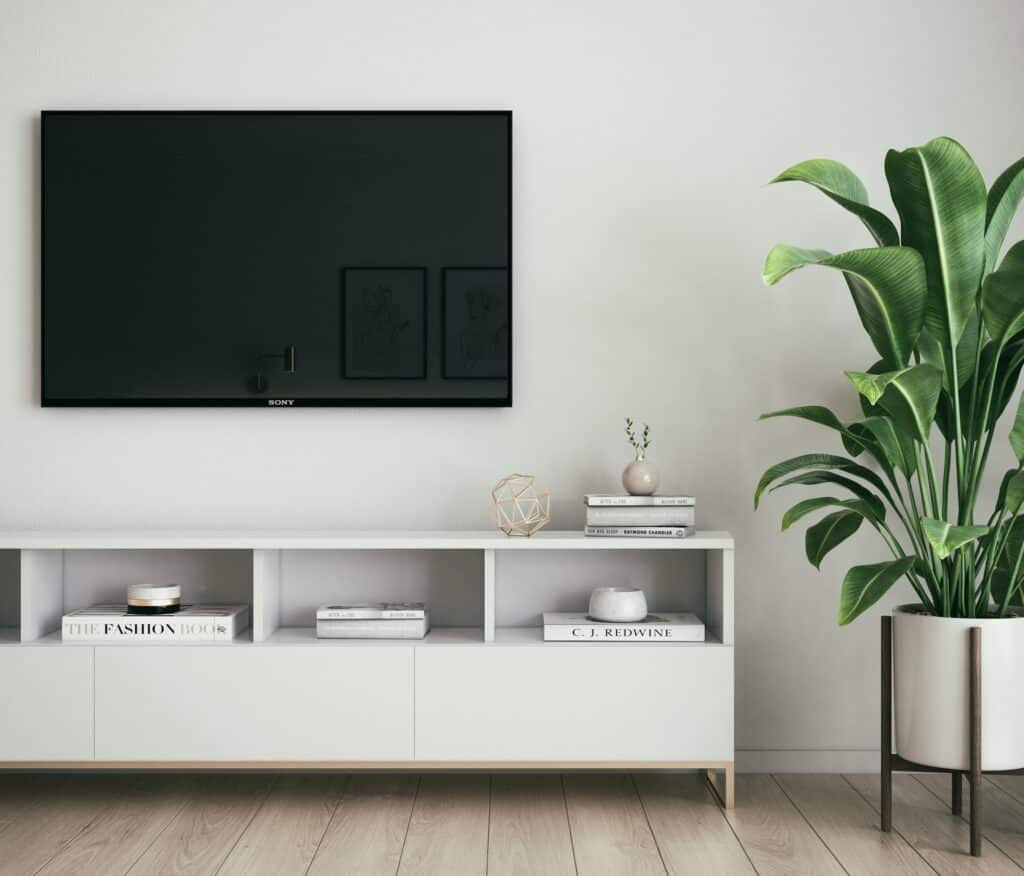 How do I use the hangman no stud TV hanger?
Install a bracket screw at the back of your TV, and the other ones into the wall. Then, mount them together. 
The foam back will protect the wall from scuffing. 
What tools do I need to mount my TV?
To effectively install your mount and TV, you will need the following tools: 
A drill bit 

Stud finder 

Screwdriver 

Measuring tape 

A level 

Bolts ( depending on your TV) 

Screws 

A drill
Why do I need a stud finder to mount my TV? 
You don't want to drill in the hole in the wrong place. It is a good idea to invest in one. However, if you don't want to purchase one, you can always get it on rent. 
Is a no-stud TV mount safe? 
If you check the compatibility and install your TV the right way, no stud mounts are pretty reliable. 
In our opinion, molly bolts are a good choice to anchor a no-stud TV mount.
What type of drill bits should I get to mount my TV?
We recommend that you get 3/16 inch drill bits to drill a 2.5-inch hole. However, it is a good idea to read the manual to see which drill bits are compatible with your mount and can hold the weight of your TV.
Should I get hollow wall anchors to mount my TV? 
Getting hollow wall anchors is a bad idea. You should know that normally they can not support the weight of your wall mount and the television. 
We wouldn't recommend it because it could lead you to an unwanted disaster. 
Will the no stud TV hanger leave holes in my wall? 
Once you remove your mount, the nails will only leave tiny pinholes. You can remove the mount anytime you want and reuse it without worrying about wall damage. 
Now that we have reached the end of this article, we hope that this guide has made the process easy for you.
We understand that it may seem intimidating at first, however, if you follow the guidelines provided step-by-step, you'll be done before you even know it.
If you feel like we have missed out on anything, please feel free to reach out to us.