Attaching a TV will add a touch of comfort and practicality to any RV wall. 
However, you will need a secured mount to keep the TV in a fixed position and safe from any damage. 
The following article will give a step-by-step guide on how to attach a TV mount to an RV wall.
The following information will be discussed in the article: 
How to attach TV to an RV wall 

Mounting ideas in an RV
How to Attach a TV Mount to An RV Wall?
Before you start the process you should have the following items ready. Some of these items are necessary while others are optional. However, we advise you to have all these items as it would make the process very simple.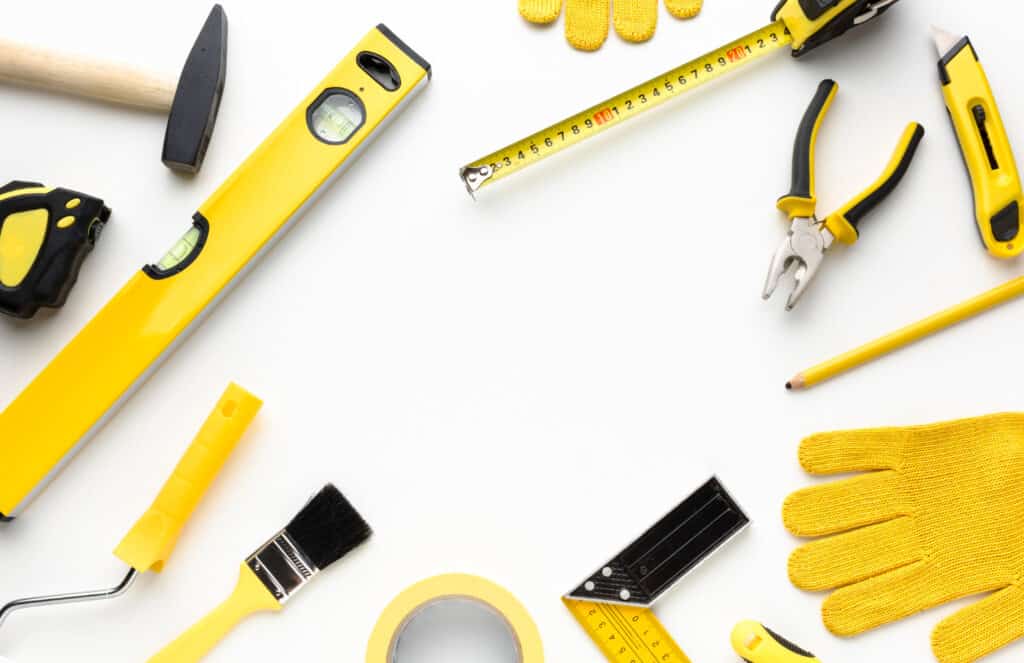 RV TV wall mount 
RV TV mounts are made for RV walls. They come with specially designed lockable swivel arms, which hold the TV in place and minimize the risk of vibration damage. The type of mount you choose is dependent upon your personal preference. It could be a fixed or tilted wall mount.
Power Drill
A power drill will speed up the process compared to a regular screwdriver. 
We recommend that you get Phillips head bits and masonry bits to create pilot holes and position the mounting screws. 
A good quality deep scanning stud finder will help you find the studs in your RV wall. Without a stud, the RV wall is not strong enough to hold the TV. 
A friend
Since there is limited space in the RV, a friend will always be preferred to hold things in place or carry the TV. 
Painter's Tape
Once the wall studs are found, you can use painter's tape to mark them. This will help you find them easily later on and avoid pencil marks on your RV's wall. 
Strong Adhesive
It is also suggested to keep a strong industrial adhesive on hand in case you don't have someone to help you out with the process. Additionally, pieces of Velcro strips 
The following are the steps required to attach the TV to your RV wall.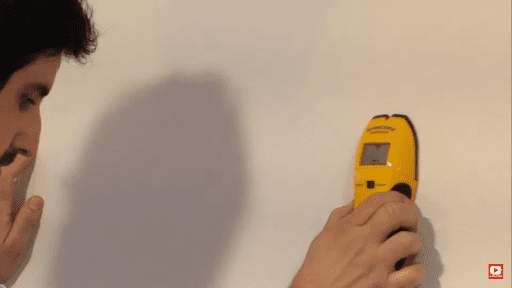 Source: Reddit
Use the stud finder to locate the studs in your RV wall. Most RV walls have a two-inch-wide stud that goes from the ceiling to the top of the window. The stud is sturdy and will easily hold the TV and the wall mount.
Use your painter's tape to mark these studs.
Some RV manufacturers place a sticker to identify the studs.
What to do if you are unable to find the studs?
It might be difficult at times to find the studs, especially in an RV wall. If you find yourself in such a situation, you can try and knock on the wall until you find the stud. Another thing you can do is call the manufacturer so he sends you a print of where the studs are.
If both these methods do not work, you can use an infrared thermometer. This works best if there is a high-temperature difference between the exterior and interior. Since the studs have no insulation you will see a temperature difference once you scan over them.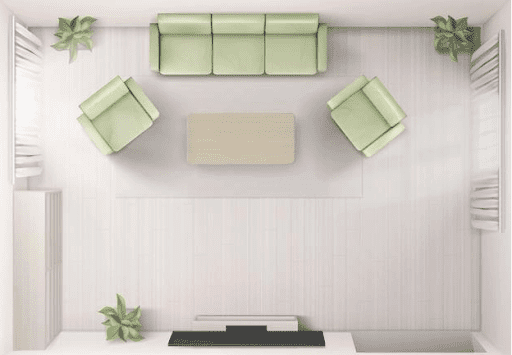 Measure the height of the wall bracket and mark the areas where you plan to drill holes for your screws. Use a level to ensure that your mounting bracket is even. This will avoid the chances of a crooked TV.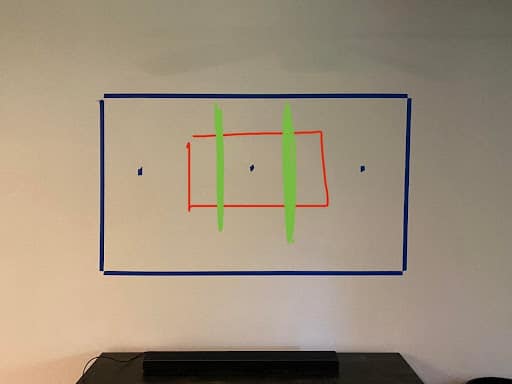 Source: Reddit
Drill the pilot holes in the studs where you marked before. The pilot holes should always be slightly smaller than the screws. Use a spacer on the drill bit to avoid drilling entirely through the RV wall.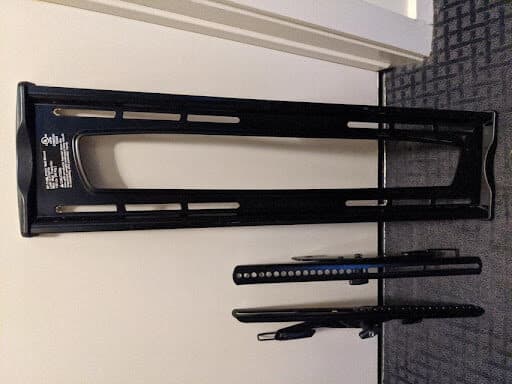 Source: Reddit
Use the screws to secure the mounting bracket into the RV wall. Make sure to only secure the screws and not over-tighten them. 
Over tightening them can strip the holes and damage your RV wall. 
Then secure the mounting plate to the back of your TV. It is recommended that you go through the instructions manual before you do this step. 
Then secure the wall bracket to the mounting plate. It is preferred to double-check to make sure they are as secure as possible and avoid the risk of damage. 
Once done your TV mount is securely attached to the RV wall.
What are some tips to make sure that attaching a TV mount to an RV wall is safe?
To make sure that process is safe, you can take the help of a friend especially when you drill the pilot holes and connect the bracket. In addition to this, you must not do any of these steps when the RV is in motion.  
Lastly, make sure that you only attach the mount once you find a stud. If you choose an improper surface to mount on, you might get a broken TV or an injury. Now you know how to attach a TV mount to an RV wall. 
Tips To Consider When Mounting A Flat Screen TV On An RV TV Mount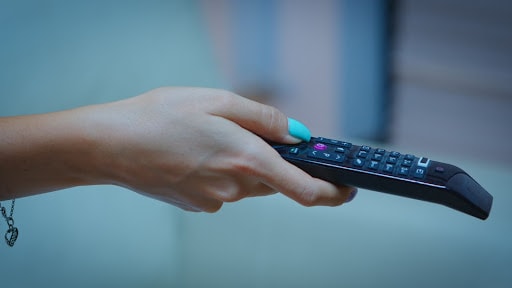 There is quite a bit of planning that goes into mounting a flat-screen TV with the help of an RV TV wall mount. 
These things will decide where your TV mounted inside the travel trailer will be installed. Additionally, the type of mount you used will have no effect on your RV TV installation as well. Along with the wall surface, you are using to mount upon.
The first thing you need to consider when mounting a TV is the type of mount that you will be using. Will it be a regular TV mount, an articulating arm mount, or a full-motion mount? Depending on the type, the installation process will be different.

When you are drilling the holes for your TV mount, make sure to avoid any unnecessary holes. This will turn your plywood surface into a plywood cutout.

The mounting surface will also decide how much weight your articulating mount will be able to take and if your RV mount will hold the TV in place.

Another aspect that affects the straightforward process of mounting is the size. TV that is large in size will need an appropriate distance from the viewing area to get the perfect viewing angle and optimal experience.
Mistakes To Avoid When Mounting Your TV In An RV
There is a lot that could go wrong when you are mounting a TV in an RV. These mistakes, may sound insignificant, can lead to costly consequences. 
This is why it is suggested to always try and avoid these common mistakes when you mount a TV in your travel trailer:
You should always consider reading the manufacturer's instructions. This will let you know of any technicalities involved in the process.

Choose the location first before you start pre-drilling holes. This will help you avoid unnecessary holes in your RV. Most RVs will need you to have this fixed if you have too many holes, which would lead you to incur an additional cost.

Consider sun exposure when you are mounting a TV on RV Wall.

The height needs to be optimal because you will not have a lot of space to have it tilt around for viewing angle adjustments.

Check the sturdiness of the hinged piece of your adjustable mount before you go ahead with the installation of your TV to avoid any accidents.
You can also hire a professional to mount your tv.
What Are Some Mounting Ideas in an RV?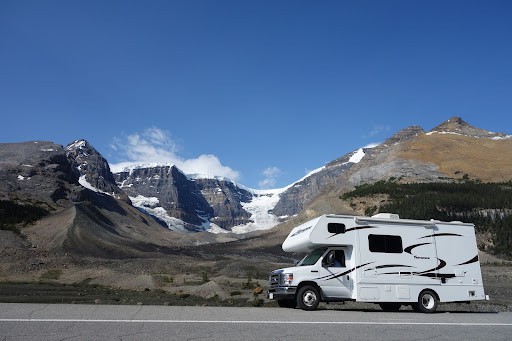 On Cabinet 
This is the most common place to mount a TV in an RV. This is preferred because using cabinets as a TV stand is the easiest and the most simple. However, this can be unappealing due to the mess of wires. 
Under Cabinet Mounting
Under-cabinet mounting is also common but it takes up a lot of space. When you install a TV in an RV you already have less space to work with. If you go for this option it is preferable that you choose a small television set. 
Mount on a Wall in the RV
This is the simplest method to install a TV in your RV. You just need to make a few holes, then attach the mount, and then on it the TV. The disadvantage is that there will be holes in the wall. 
Outdoor Mounting
This is the most difficult kind of RV mounting. This type of mounting is used usually on a camping trip. You need to make sure that the mount is removable so you can relocate the mount inside the RV. 
How to Attach a TV Mount to an RV Wall? - Wrapping Things Up
We hope that you have now learned how to attach a TV mount to an RV wall. In addition to this, you have also learned different places in an RV that can be used to attach a TV on.  
We advise you to read the guide carefully as attaching TV mounts to an RV wall can be tricky at times due to the limited space available. 
We hope the information we provided was useful. Now you know how to attach a TV mount to an RV wall. Let us know your opinions.