Are you new to the soundbar world and need to learn how to connect your LG C1 to your soundbar?
Your soundbar and Tv need to sync to give you a smooth home theatre experience. Even though the LG company uses cutting-edge technology and provides the best products, managing each setup might take a lot of work for starters.
So, if you have just unpacked your LG TV and soundbar and want to avoid dealing with the hassle of audio delays and poor sound, check out this brief guide our team has put together.
Various Ways to Connect LG C1 to Soundbar?
You can connect soundbar to LG C1 in multiple ways because  two units have many combinations to make the system work well. Let's discuss how you can connect by utilizing various inputs. 
1. How To Connect Soundbar To LG C1 With HDMI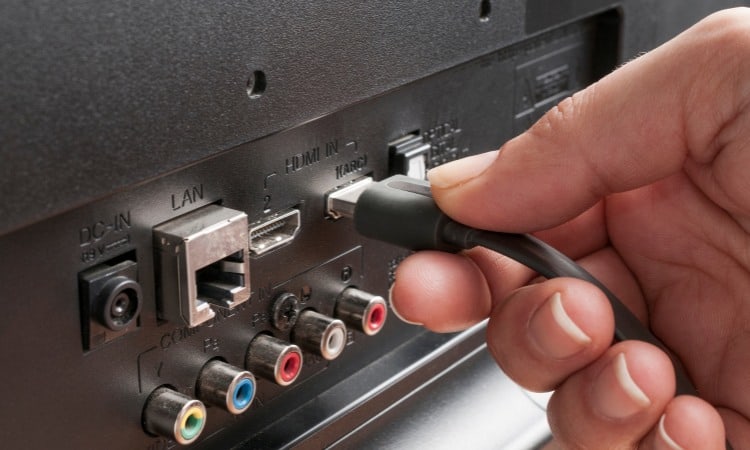 One common connectivity option is HDMI (High-Definition Multimedia Interface) port. Although a soundbar has audio, HDMI cables transmit high-quality audio and video together. 
You could also find references to HDMI eARC (enhanced audio return channel). Or the 2017 update that offered greater bitrates, richer surround sound, and support for more audio codecs, as well as HDMI ARC (audio return channel), which introduced two-way audio in 2009.
Your LG TV must have HDMI-ARC to connect your soundbar via HDMI to your TV. The term "ARC" (for Audio Return Channel) implies that the cable can transmit audio in both directions.
Locate the HDMI 1 port on the TV, often the HDMI (ARC) port, to connect a soundbar to an LG C1.
Insert one end of the HDMI cable into the soundbar's input slot and the other into the HDMI port. To select the port, you must navigate the TV's settings.
Additionally, ensure the cables are inserted correctly and that the ports are clean and free of damage, dust, dirt, and debris. By blowing them out with compressed air and using a Q-tip dipped in rubbing alcohol, you may clean the ports.
Finally, there should be no damage to the cable. Also, it would help if you regularly cleaned it because the dirt and dust can adversely affect data transmission.
Related: Best Soundbar For LG C1
2. How To Connect Soundbar To LG C1 With Optical Cable
You can also use an optical cable with LG soundbars. This cable, sometimes called a digital audio connection cable, might transmit high-definition sound from your TV to your sound bar.
Locate the optical input port on the TV before connecting an optical cable from your LG sound bar to it. Run the cable to the soundbar's optical input port after plugging it in. 
The next step is selecting the correct port in the TV's sound menu.
Using HDMI or optical wires with a soundbar has always been up for discussion. Both options are functional, but using one or the other can have advantages. 
When an electrical signal reaches the other end of the cable, optical connections convert it into optical light before converting it back to electrical. This can pass signals with a more excellent video and audio resolution while reducing interference even more than HDMI.
3. Connect with Aux or 3.5mm Cable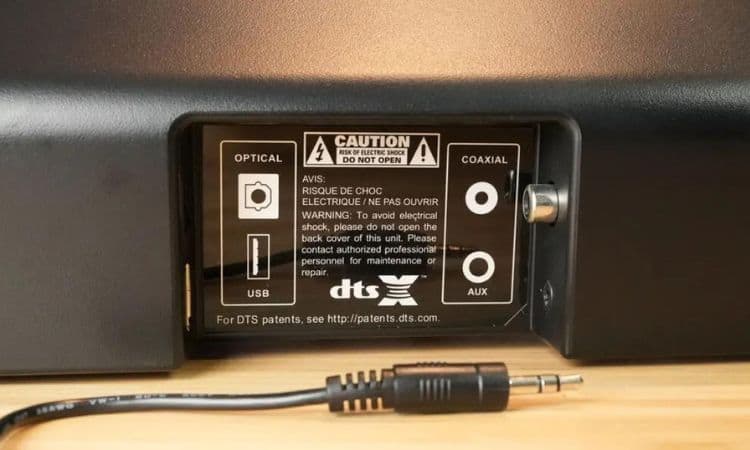 The red connector goes into the red socket, while the white connector plugs into a white output socket. This applies to both the soundbar and the TV.
This option would be beneficial if a TV does not support HDMI or digital optical cable.
You can use an auxiliary input or a cable to send an audio signal. Similar to how we use connections in our mobile phones and other audio devices, this can be used for audio signals.
If your TV or Soundbar does not support the connection, an alternative is an aux to RCA converter. Instead of using HDMI and optical cables, these cables are less expensive.
Most soundbars available today support 3.5mm auxiliary jacks. You don't need to be an expert to use an aux cable to connect to a TV.
Syncwire nylon braided aux cord is what we recommend using if your TV has this connection feature. All devices with a 3.5mm audio headphone jack are compatible. The connector has a 24K gold plating to improve signal reliability and clear audio transmission.
This great substitute just costs ten dollars or less. However, there are better answers than this. You'll need to fix a few problems with this connection.
Related: Best Soundbar For LG TV 
4. How To Use a USB port To Connect LG Soundbar To TV
A Soundbar rarely has USB ports, and those that do usually aren't used for audio. The right port will only sometimes be present, and your TV will always be able to read it.
You could try the following steps:
Connect the TV and the USB port located in the Soundbar.

Pick the right Soundbar function.

Choose the right TV sound setting.
USB is used for data– it is less likely to work with audio. Although it might appear to work, HDMI, Bluetooth, Wireless, and Optical connections are considerably better.
5. LG Sound Sync: Wireless Connection Of Soundbars to LG TV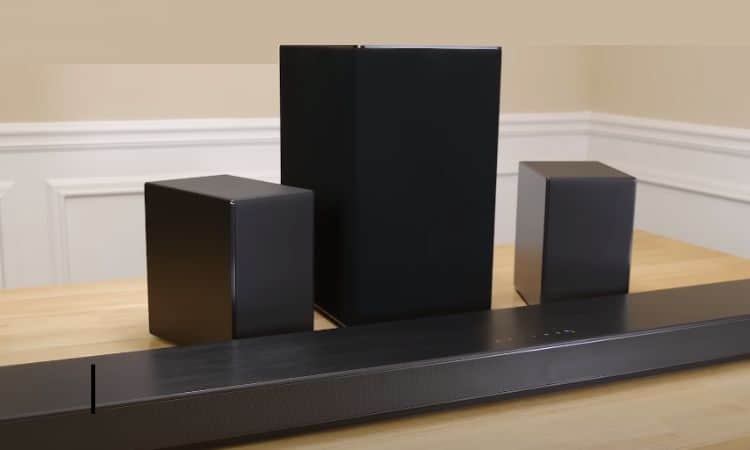 LG C1 come with a feature called LG Sound Sync. It enables a wireless home theatre system or soundbar connection to your LG TV.
Sound sync makes it simple and wire-free to connect your LG TV to your home theatre, soundbar, and sound plate. With Sound Sync, your LG-compatible devices can connect wirelessly, eliminating the need for cables and synchronizing audio between devices.
Check out: Best Soundbars With Built-In subwoofer 
Using a Soundbar or Sound Plate, Activate Sound Sync.
Press the Home button on the Magic Remote.

Select the Settings icon.

Click on sound, and then Sound Out.

Switch the setting to "LG Sound Sync Wireless" from "TV Speaker."

Press Device Selection (Your TV will start looking for compatible connections.)

Press the LG TV button on the remote control. (The soundbar will now go into pairing mode.)

The sound bar's name will show up on the screen.

Clicking the circle next to the name will begin the Bluetooth connection.

It will now appear under "Paired Devices."

Click the Trash icon to remove the speaker from the list.
Activate Sound Sync for a Home Theater
Turn on your Sound Bar.

Press the FUNC or F buttons on the remote control until the right LG T selected.V is

In the sound settings on your TV, enable LG Sound Sync (Wireless). For specific instructions, read the owner's manual for your TV.
If everything is connected properly, "PAIRED" will show up on your Sound Bar's display window for around 3 seconds, and your display window will show "LG TV."
Where does the soundbar go in an LG C1?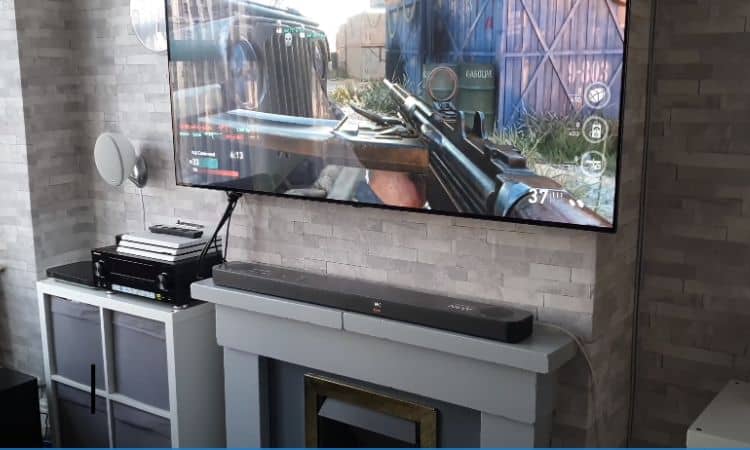 The problem is that the upward-firing speakers for Dolby Atmos would fire into the bottom of the TV if you have mounted your LG C1 to the wall. As a result, you should use something other than the wall mounting brackets included with the soundbar.
Something like the Rocketfish mount is what you should get. To provide the upward-firing speakers with a clear shot to your ceiling, the soundbar would hang 4 to 6 inches below the TV. 
Two curved black metal rods would extend below the TV with the Rockfish.
What soundbar is compatible with LG C1?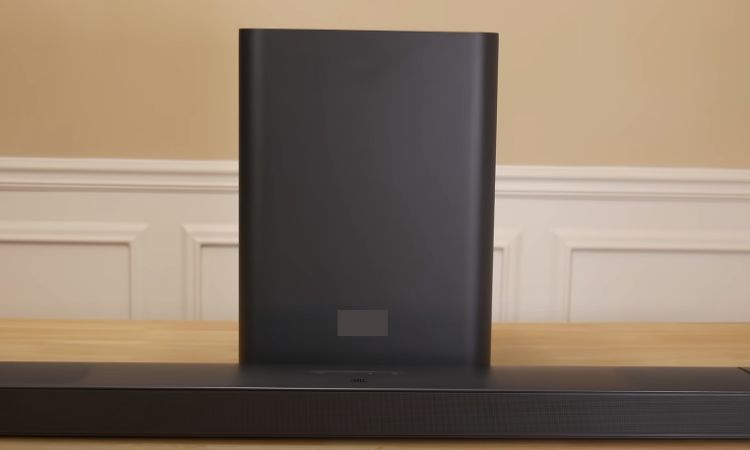 Given that the LG C1 TV's rich display and fast response time work well with Dolby Atmos and Trueplay tuning, our sound engineers recommended Sonos Beam as the best soundbar for the C1.
However, the best soundbars should generally have excellent audio with high sampling rates and bit depths. You would want acoustics that can keep up with high frame rates and the best displays, as the LG brand has been at the forefront of new TV technology.
Owners of LG TVs should pick soundbars with Dolby DTS or Atmos 3D surround sound to improve the audio quality and experience when watching movies.
The best way to pair an LG TV with external speakers for an exceptional listening experience is with a soundbar. However, occasionally, an issue that neither a manual nor a soundbar expert can fix could arise.
It can be challenging to figure out how to connect a soundbar to an LG TV initially, but as you complete all the procedures, you'll understand every setup. Our technical staff and in-house audiophiles advise you to carefully examine the user manual if you still need to figure out the cables for your home theatre setup. It might be more helpful than you thought.
We hope this article helped you with "How do I connect my LG C1 to my soundbar?"
Which HDMI port is an arc on LG C1 TV?

Only the first HDMI port on the LG Smart TV supports ARC and should be marked. You'll need a high-speed HDMI cable which is sold separately.