Fino TV mounts have been making waves in the industry lately so we decided to check one of their products out. 
We tested their mount for many months with different TVs to assess how it performs under different conditions. 
We've provided our findings in this post alongside some alternatives as well that you can take a look at. 
Quick Summary of the Main Product
This fixed mount from Fino is quite a treat since it's a sleek-looking mount that sits at just 1 inch from the wall when properly mounted. 
This sleek setup allows you to have a neat and tidy-looking living room with your TV hung up safely. We tested this mount with different-sized TVs within its supported range to see how it performs. 
We're pleased to tell you that there was no difference in performance between different-sized TVs. Installation and use were exactly the same and we ran into zero issues when testing different TVs. 
The mount has audible locking brackets so you can make sure that the mount is properly secured and the installation job is done.
Wide TV Size Range 
The mount can support TV sizes that range from 32 inches all the way up to 60 inches. This makes it a great choice if you have a smaller TV now but want to upgrade in the future. 
You can just buy this mount and when you buy a bigger TV, you won't have to buy another mount for it. 
VESA Compatibility 
The mount is fully VESA-compatible so you can use it with any TV that is within its TV size range and is VESA-compatible. 
VESA-compatible TVs are about 90% of the whole market. Hence, you'll really have no trouble in most cases with compatibility with this mount. 
It supports VESA patterns that range from 200 x 100 mm to 400 x 400 mm. 
Flush Mount
The mount sits a mere 1 inch from the wall when you properly mount it. This gives the mount a very sleek look that is sure to wow guests that come visit you. 
The flush mount also ensures that you get a neat and tidy look from your hanging TV overall. 
Audible Locking Brackets
The mount features audible locking brackets so that you hear an audible sound once the mount is properly secured and locked in. 
With many mounts, you don't have any way of knowing whether it has been properly installed. With this mount, everything's pretty clear.
Factors to Consider Before you Decide to Buy the Fino TV Mount
Price 
The mount is quite decently priced considering the fact that it does not provide a lot of movement options. 
We feel that its price is quite justified considering the amount of value you get from this fixed mount. 
TV Size and Weight 
The TV can support TV sizes that range between 32 inches and 60 inches. It can support TVs that weigh up to 80 pounds. 
That weight capacity is more than enough for newer TVs that are 60 inches and many older, heavier ones too. 
Mount Type
The mount is a fixed mount. Hence, you will not get anything in the way of movement options with it. It's a great option for smaller rooms that have just one primary viewing angle. 
However, if you switch viewing angles regularly and want to get a mount for a larger room, this may not be the mount for you. 
Excellent build quality

Sleek, minimal design

Easy to install

Budget-friendly

Helpful customer support
Of course, we wanted to check out what other people think of this mount as well. While we did have a great experience with this mount, that doesn't necessarily mean everyone has had the same experience. 
We checked out the product's reviews on Amazon and were pleased to see that most people love the mount. 
They used to ship HDMI cables along with the TV mount in the past which a lot of customers are happy about. Sadly, they don't do that anymore. 
Here's a review we found on Amazon: 

Similar to the Fino TV Mount (Recommendations)
#1: Best Heavy-Duty Alternative - Amazon Basics Heavy-Duty Full-Motion Mount Review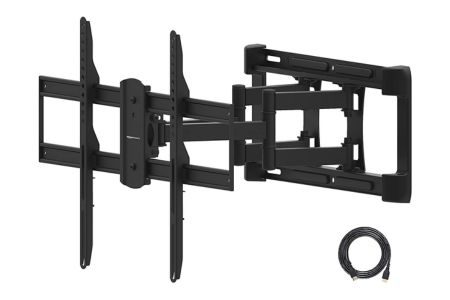 Type of mount: Tv wall mount | Movement Type: Swivel, Tilt, Articulating | VESA patterns:  200x100mm to 600x400mm  | Maximum weight limit: 132lbs| TV size range: 37″ to 80″ | Wall Type: wood stud, brick or concrete  | Cable Management: Yes
Most products by Amazon Basics tend to be well-constructed and they do the job they're meant to do. This mount is no different. 
It features a sleek design that's easy to assemble and install. The articulating arm is quite smooth to move and you can use it to move your TV easily to suit your viewing angle. 
The mount even comes with mounting hardware and a pre-drilling template to make the installation job much easier. 
Factors to Consider Before you Decide to Buy Amazon Basics Heavy-Duty Full-Motion Mount
Price:
The price of the mount is quite justified since it's a full-motion mount that can support a wide range of TV sizes. 
TV size and weight:
The mount can support TV sizes that range between
37 inches
and
80 inches.
It has a maximum weight capacity of
132 pounds. 
Mount type:
It's a full-motion mount and quite a good one at that. You can use the arm to tilt, swivel, rotate, and extend your TV from the wall. It's perfect for large gatherings and rooms with multiple viewing angles.
The best heavy-duty alternative is the Amazon Basics Heavy-Duty Full-Motion Mount since it can support TVs that weigh up to 132 pounds. It also comes with a pre-drilling template that really makes the installation job much easier.
Sturdy construction

Great movement options

Supports a wide range of TV sizes

Budget-friendly

Great customer support
Not suitable for smaller rooms
#2: Best Tilting Alternative - Amazon Basics Lift and Tilt Mount Review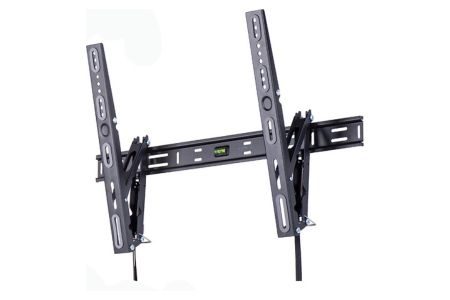 Type of mount: Tv wall mount | Movement Type: Tilt | VESA patterns: 100×100 mm to 600x400mm | Maximum weight limit:  88lbs| TV size range: 50 – 85-inch | Wall Type: wood, brick or concrete  | Cable Management: No
If you want a simple tilting mount for your TV, then this option from Amazon Basics is definitely worth considering. 
It can fit all VESA-compatible TVs such as LCDs, LEDs, and Plasma TVs. The built-in spirit level is a great addition as it allows you to ensure the mount is not being installed crooked. 
The mount even has built-in cushioning pads that protect your TV and also enhance its sound. 
Factors to Consider Before you Decide to Buy Amazon Basics Lift and Tilt Mount
Price:
The price is even cheaper than most tilting mounts that you find on the market of the same size. Considering the amount of value you get, it's a great TV mount. 
TV size and weight:
The TV mount can support sizes of TVs that range from
50 inches
to
85 inches.
Not the greatest spread we've seen from a TV
mount but it works
well as long as you have a bigger TV. It can support TVs that weigh up to
88 pounds. 
Mount type:
It's a tilting mount so you're not getting much in the movement department. All it can do is tilt your TV forwards and backward. However, that's often all you really need if you intend to mount it in a room with just a single, primary viewing angle.
The best tilting alternative is the Amazon Basics Lift and Tilt Mount since it's very simple to install, affordable and provides you with cushioning pads to enhance your TV's sound.
Built-in level makes for easy installation

Responsive customer support

Cushioning pads enhance your TV's sound

Well-constructed

Affordable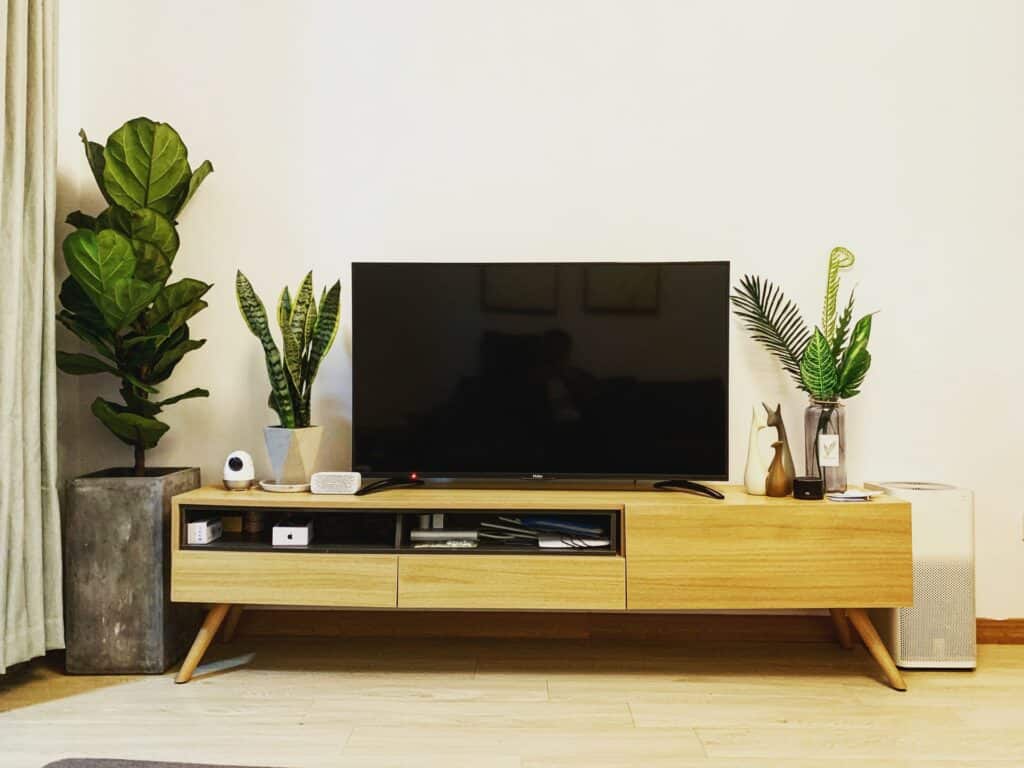 Finding the right mount for your needs can be highly difficult. That's because there are a ton of factors you must take into account in order to find the most suitable one for your needs. 
Assessing your needs is a vital part of finding the correct mount. That's why in this section, we have compiled the different factors you need to think about. 
They will help you assess your needs and thus, find what properties you need to have in the mount of your choice. 
These factors are: 
Price 
The price of the TV mount you buy is important because you don't want to overspend. At the same time, you don't want a cheap-quality mount supporting your expensive TV either. 
Hence, the important thing is to find a sweet spot where you don't spend too much money but still buy a high-quality mount that fulfills your needs. 
Higher-motion mounts are typically more expensive than lower-motion mounts. However, even if you buy a full-motion mount that provides the highest level of movement, we recommend you don't go above $100. 
That's because you can easily get a high-quality full-motion mount with a high range of movement for under $100. If you spend more than that, you're just overspending and wasting your money. 
The only case where spending over $100 on a wall mount is justified is if you have a TV that does not follow VESA standards. In that case, you may need to get a mount that is specially designed for it. 
Specially designed mounts like that are typically much more expensive than VESA-compliant mounts. 
You must also ensure that you don't spend too little on your TV mount as well. A cheap mount might be cheap because it's made from mediocre materials. Such a mount could break down on you within a few weeks or months. 
If it does break down, your TV will end up on the floor and it might even break. You don't want to take that kind of risk which is why we do recommend that you at least spend a reasonable amount on your mount. 
In addition to that, ensure that you buy your TV mount from a reputable manufacturer as well. 
Mount Type 
The type of mount you get is an important factor to think about because if you get the wrong type, it can really ruin your viewing experience. 
Mounts are differentiated into different types based on the level of movement that they can provide. 
Full-motion mounts, articulating mounts and swivel mounts are all examples of high-motion mounts. 
On the other hand, fixed and tilting mounts are examples of low-motion mounts. 
Ceiling mounts are also a type and they're unique because you install them on your ceiling. Ceiling mounts can be either fixed or variable. 
Fixed ceiling mounts don't provide any movement from your TV apart from some that can maybe allow you to change the height of your TV. Variable ceiling mounts allow your TV to be rotated a full 360 degrees. 
Full-motion mounts provide the highest range of movement out of all mount types. They can enable your TV to be swiveled, rotated, tilted, and extended from the wall. They are usually the most expensive mount type due to this reason. 
Swivel mounts have a lower range of motion since they can only allow you to swivel your TV around. 
Tilting mounts provide very little motion for your TV. They allow it to be tilted forwards and backward. This may not seem like much but it comes in very handy if you have glare on your screen due to a nearby window. 
Fixed mounts, as their name suggests, are completely fixed. This means that they don't provide your TV with any motion options at all. They can be ideal for smaller spaces where you have primarily one viewing angle. 
If you have a larger room that you use for parties or events or if you have more than one usual viewing angle for your TV, you should go for a high-motion mount. 
However, if you have a smaller room, you should definitely go for a low-motion mount. If you have a small room and you buy a high-motion mount, you won't be able to use it to its fullest potential. That's because you won't have the space to properly use it. 
TV Size and Weight 
Naturally, you must ensure that the mount you buy is able to safely support the size and weight of your TV. 
Finding out the size of your TV shouldn't be too hard as it's a factor that's highly advertised by TV companies. You can find out the weight of your TV by looking for it online. Most TV manufacturers have the complete specifications of their TVs on their websites. 
Once you've figured out what the size and weight of your TV are, you will easily be able to find a mount that supports it. 
Compatibility 
People are often surprised when we tell them that just because a mount supports your TV's size and weight, that doesn't necessarily mean it will work with it. 
That's because, in addition to the size and weight, you also need to take your TV's VESA pattern into account. Please note that this only applies if your TV is VESA-compliant. 
The VESA pattern of your TV refers to the distance between the four mounting holes on the back panel. It can easily be found through a quick search online. Even if you can't find it, it's easy to find out manually on your own. 
All you have to do is lay your TV screen down on a soft, flat surface. Then, use a tape measure to measure the distance between the four mounting holes. They will be arranged in either a square or a rectangular shape. 
After you've found out the VESA pattern, just note it down and you can look for mounts that support that specific VESA pattern. 
Wall Type and Stud Spacing
It's important to take into account the type of wall you intend to install the mount onto because not all mounts can be installed onto all types of walls. 
For example, a typical mount is usually designed to fit onto a Drywall that has wooden studs. If you try to install such a mount onto concrete, there's a high chance you may run into problems during installation. Even if you do install it successfully, it's still not safe and could be pulled out.
Hence, always take into account what type of wall you have and buy a mount for that specific type of wall. 
You don't need to worry about stud spacing if you don't have studs in your wall. However, if you do, then it's something to consider. The stud spacing refers to the distance between corresponding studs in your wall. 
To find the distance, use a stud finder to find the locations of two studs next to each other in your wall. Then, measure the distance between them. 
Design
The shape of a mount impact many things including the overall performance and longevity. Moreover, the mounting plate design is what matters the most. 
There are three plate designs that you can choose from. They are as follows:
A horizontal plate mount features a rectangular or square-shaped plate for mounting your TV. This plate can be solid or hollow depending on the mount's manufacturer.
Either way, the mount spans all over the mounting holes. It provides maximum surface contact with your TV's mounting holes. 
What TVs are suitable for it?
Horizontal plate design is suitable for small to medium-sized TVs. They are not heavy and can be easily mounted. 
Furthermore, you can choose a horizontal plate design for all types of motion-enabled mounts. 
Over the past years, this design has gained a lot of traction due to its weight distribution ability. Instead of solid plates, this design uses slim vertical brackets. 
These brackets can be unmounted and adjusted left or right to better fit the mounting holes of your TV. Besides that, each bracket has a series of mounting holes on both ends.
Are the brackets durable?
You can use these brackets to mount heavy and large-scale TVs. It includes LCD, LED, OLED, and Plasma TVs. 
The brackets have minimum contact with the TV compared to a horizontal plate. Hence they can distribute the weight evenly across the mount's structure. 
Can I use it for curved-screen TVs?
One major advantage vertical brackets have over other designs is that it has intrinsic compatibility with curved-screen TVs. 
You can easily mount curved-screen TVs up to 80-inches without any trouble. 
Lastly, the X-shaped design is specifically made for small-sized TVs. It supports any TV between the 22-inch and 35-inch range. 
The only downside of this mount design is that it has limited versatility. In most cases, there are only two separate pairs of mounting holes. 
Do articulate mounts have X-shaped plates?
Articulating mounts do feature an X-shaped plate design but they have a single extendable arm. Larger models usually come with vertical bracket designs.
So, which one should I choose?
We recommend buying a mount that fits your TV perfectly. For this reason alone, vertical bracket design is your best option. 
You can adjust it anyway and mount your TV easily. Moreover, if you wish to change your TV to a curved screen, you won't have to buy a new mount for it. 
Wire Management
This aspect is often neglected by the majority of people when they are buying a TV mount. Clean wire management is an essential part of TV mounting. 
TV mount manufacturers provide two solutions for it. These are mounting holes for zip ties and dedicated wire brackets. 
Which method is the best?
As far as the overall utility is in question, both options are viable. However, it also depends on the option your TV mount comes with. 
Some mounts only feature mounting holes for zip ties while some only come with wire brackets. This is an important feature you should look for before buying a TV mount. 
What if my TV doesn't have either of two options?
In case your TV mount doesn't have an option for wire management, you can use zip ties and wall anchors. 
Just simply curl up the wires and tie them up with zip ties. After that, you can use wall anchors to attach these cables to the wall for safekeeping. 
Locking Mechanism
Locks are quite essential when it comes to motion-enabled mounts. These locks keep the moving parts of your mount secure and fixed in a specific position. 
You can choose from 2 types of locking mechanisms. Bolt locks and lever locks. They are given below:
These locks are an extension of screws that can be used to lock the tilt, swivel, or even the articulating motion parts in one place. 
You can operate them like any other screw but it doesn't need a screwdriver for it. Moreover, the locks have a rotating head that can be easily operated with your fingers.
How strong are these locks
In terms of strength, these locks are quite sturdy. They can easily stand the test of time. Besides that, they keep the mount in place even if force is applied from either side. 
The second type of lock work like a light switch. You can lock or unlock your mount's motion by pulling the switch up or down. 
They are highly convenient to operate and take little to no time in doing so. However, they can loosen up due to constant use. 
Do articulate mounts have lever locks?
In most cases, articulation mounts have a combination of lever and screw locks. The lever locks are mostly used for keeping the tilt angle in place. 
For swivel and articulating motions, manufacturers use screw locks. 
Which locking mechanism is more suitable for me?
It comes down to the size of your TV. If you are using a Plasma or OLED TV then bolt locks are the best option. 
Whereas, for LED and LCD TV, you can go for lever locks. This is mainly due to the weight difference between these categories.
That's the end of our Fino TV Mount review. 
We hope you were able to assess whether or not it's the right mount for you. We feel it's quite a great option as long as a fixed mount is what you need. It's easy to assemble and install. Plus, it's quite aesthetically pleasing as well. 
What do you think of the Fino TV Mount? Let us know in the comments below.