There are endless ways for you to set your TV stand to make it look appealing and be the focal point of your living room. But what can add more elegance to the overall setup than a rug underneath it?
You can place the TV stand on a rug. But that adds an entirely different process of considering choices, colors, materials, type, and other factors.
Your rug should go well with the room and must complement the entire setup of your living room. We will help you out with not just the answer to this question but also how well a rug can go along with a TV stand.
What Type of Rug Is Mostly Used For Placing TV Stands?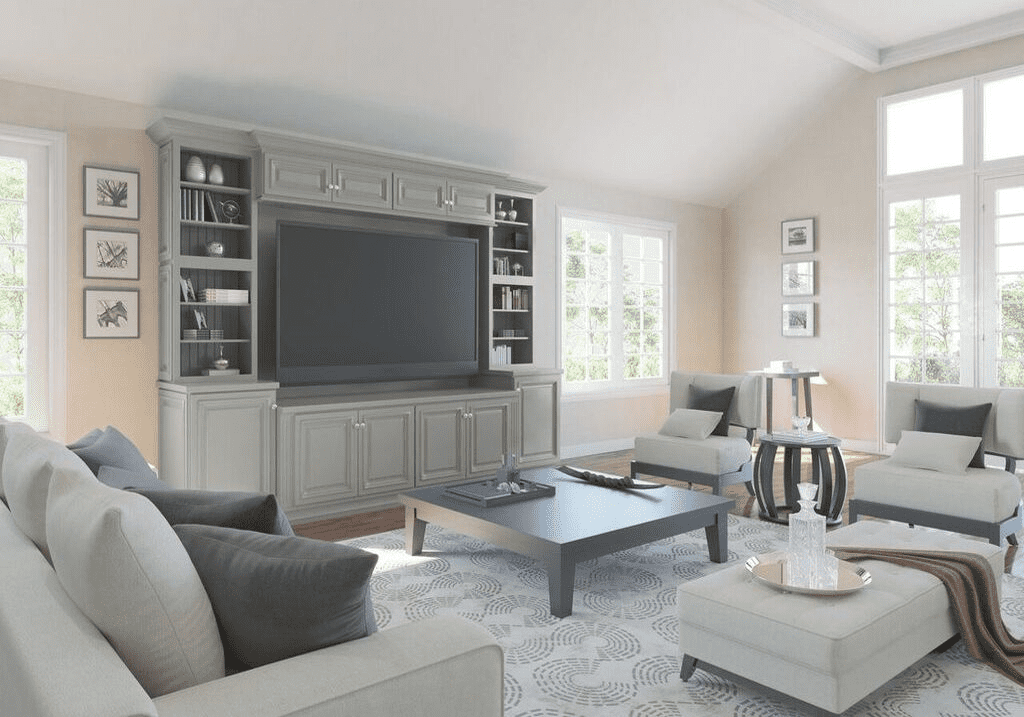 An area rug is a perfect candidate for placing TV stands on it. They serve the purpose of anchoring the furniture in dedicated rooms.
Area rugs, to be specific, are alternatives to wall-to-wall carpets and are not fixed. This adds the liberty for you to easily clean or remove it over time. You don't have to commit to these area rugs forever, as you can always switch or upgrade them whenever you get bored of using one.
TV stands are bulky, and some get fastened to the walls. So, when you intend to redecorate your living room, moving the TV stand or media console cannot be an obvious option.
Instead, changing the rugs will make a visual impact that some things have been revamped in the room to change the entire look of the setup.
Dos and Don'ts with Area Rugs For TV Stands
To ensure that you don't make any purchase mistakes while getting an area rug for your TV stand, here are a few Dos and Don'ts to help you out.
Do Extend the Rugs Entirely Under the TV Stand
TV stands come in varying sizes, and so do the rugs. You must go for a larger rug than the dimensions of your TV stand.
Extend the rug placement throughout the front legs and back legs of the TV stand. Keep the rug centered while you place the furniture on it to make it aesthetically appealing.
Do Consider the Dimension of Complementing Furniture Pieces
If you have some complementing furniture arrangement around the TV stand, such as cabinets or side tables, then do measure their dimensions as well while buying the rug.
It won't look appealing if your TV stand is underneath the rug while the furniture pieces on either side are on the bare floor. The contrasting look of the TV stand on a rug will be lost.
So, ensure the rug is wide enough for you to extend it through all the key pieces of the entire TV setup.
Don't Get Confused about Color or Pattern
Rugs are available in various color and pattern options, which can be confusing. The thumb rule for choosing the color and pattern of the rug is to consider the walls of your living room.
If you have light-colored walls, it is better to have a dark-colored rug with an appealing pattern. The color and pattern should contrast one another.
The base can be of a dark color, so the pattern can have light-colored elements to complement the entire look.
Don't Hesitate to Extend the Rug to your Couch
A living room will feel complete when you extend the rug from the base of your TV stand to your couch, lamp, and other furniture pieces.
We didn't mention it earlier because it is an individual choice and depends a lot on whether you have a room and budget for it or not.
It is only the right choice if you have a big living room, as a larger rug in a small room will leave an unpleasant look. It is because there will be a very little gap between the wall base and the edge of your rug.
For smaller rooms, it is better to either have fixed carpeting in the entire room or an area rug limited to the TV stand and a couple of parallelly surrounding furniture.
How to Choose the Right Area Rug For Your TV Stand?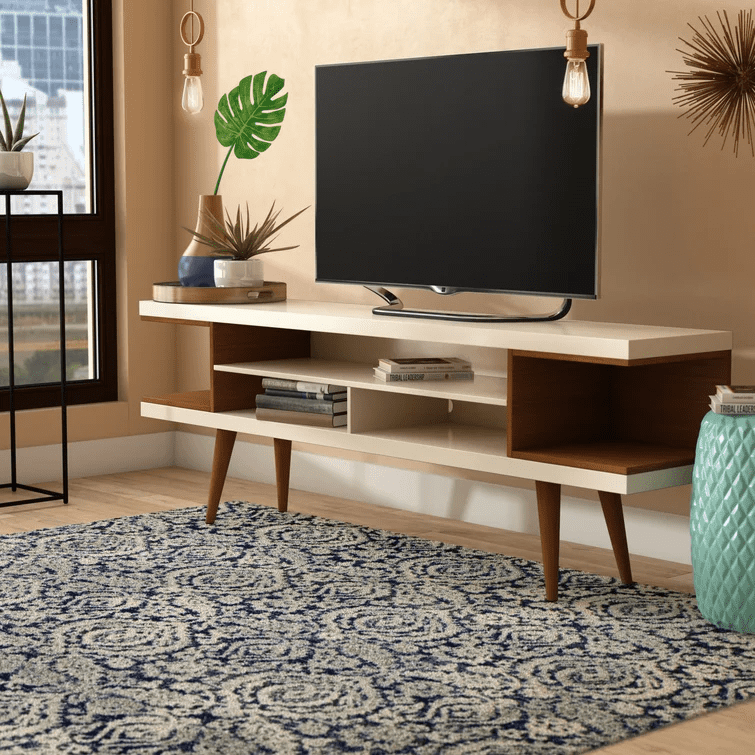 Now that you know what to do with the rug for placing it underneath your TV stand and other associated furniture pieces, it is time to get an insight into how to choose one.
Here are a few of the considerations for you to choose the right area rug to complement not just your TV stand but also the entire living room:
Styles
Area rugs are available in different style categories, such as furniture styles, room styles, lighting styles, and several other varieties. For a TV stand, you will probably need to check out the options under the category of furniture-style rugs.
Some of the best style-rich area rug designs for your living room can be bold florals, simple Jutes, sisals, or creative geometrics.
It is important you understand the style and what kind of atmosphere it will create around your room. You don't have to match it with everything around your room, but the texture and tone should at least complement the TV stand and surrounding furniture that you are placing on it.
Colors
If your living room consists of furniture, decor items, and walls of various colors and patterns, then a rug with a single color or neutral tone will look good.
Otherwise, you can consider the walls and ceiling and their color tone to decide whether to go with a dark or light rug shade. A light-colored rug will go well with dark-colored walls and ceilings and vice versa.
You are already aware of this thumb rule, as discussed in the previous section.
Patterns
Solid-colored walls and TV stands will demand a patterned rug to add a lively look to the room. On the other hand, if you have patterned and textured furniture, then a solid plain rug will do the job of introducing a calming effect around the room.
Types
There are high-pile and low-pile area rugs available in stores. Low-pile rugs are affordable and are easier to clean than high-pile rugs. The notable difference is that the high pile area rugs are thicker and softer to walk on.
It gives a luxurious underfoot sensation, and the rooms feel cozier with it. The maintenance effort increases with high pile rugs, because thick surfaces are difficult to vacuum.
Therefore, if the foot traffic in your living room is high, it is advisable for you to go for low-pile rugs. But, if it is just the family that has occasional access to the television room, then a high-pile rug will be better in terms of aesthetic advantage.
Cost
Cost of an area rug depends on the size, material, type, and overall quality. It depends on your budget to decide what quality, size, color, pattern, and style you prefer for your TV stand.
Investing in a quality rug will ensure that it lasts longer with minimal maintenance. As a result, you won't have to change or replace it sooner.
FAQs
How Do You Arrange a Living Room Rug Underneath a TV Stand?
The best way to arrange a living room rug under your TV stand is by extending it to cover all legs or edges of the furniture. Make sure the TV unit is placed at the center of the rug and there is an equal gap between the rug and wall on either side.
Can We Use A Rug Vertically Underneath a TV Stand?
If the vertical dimension of the rug houses the TV stand entirely, it is possible to do these alterations. But the condition is that you might have to restructure the surrounding furniture to land on the carpet surfaces to add elegance to the living room.
Conclusion
So, if you are doubtful about whether you can use a rug underneath the TV stand, then you definitely can. The only thing you must know is how to use it effectively to glam up the focal point of your living room.