Fireplace TV stands are famous because of their versatility. It is possible to get both a fireplace and a TV stand from the same unit. It occupies less space and enhances the beauty of your living room.
Since the TV is the focal point of the entertainment space in any house, using the fireplace TV stand will highlight the region without creating another distraction in the living room. Sounds great. But are fireplace TV stands worth it?
Naturally, you would be worried about the risk factors, long-term issues, and so on. Find answers to all your questions in this blog. Read on, guys!
What is a Fireplace TV Stand?
A fireplace TV stand is a unit that contains a fireplace (wood-burning stove or gas) and can hold TVs on the top. It has a dual role and makes a great addition to your home. Fireplace TV stands come in three major types:
Wall-mounted
Free-standing (liner and corner)
Mantel
The free-standing models are suitable for medium to large rooms, while the wall-mounted models are perfect for small room. Opt for the mantel if you already have traditional fireplaces at home. The TV stands are made of wood and metal (or a bit of both).
The fireplace TV stands are expensive compared to regular TV stands as they are specifically designed to withstand fireplace heat. You cannot use a traditional TV stand as a fireplace TV stand as it is not properly insulated. This can damage the cables and the delicate components inside your TV.
If you still don't want to risk it, there's another great option to try. Electric fireplace TV stands have become highly popular in recent times.
Types of Heating in Electric Fireplace TV Stands
The average unit can heat up to 400 sq ft area, while some models can heat a 1000 sq ft room with ease. The temperature won't be super hot but will border on warm. It's enough to make you feel comfortable and reduces the pressure on your central heating. The heating element can be of two types:
Infrared Heater
Electric fireplace TV stands that heat up 1000 square feet of space have infrared heaters. The quartz infrared technology inside works to heat the furniture and air in the room, thus reducing the chilliness.
Fan-Forced
This is a traditional design that can warm a room of 400 square feet. using an HVAC system. The fans inside the unit force air to pass through the heated coils and release hot air into the room.
An electric fireplace TV stand doesn't damage the TV as the heat generated is not strong enough to harm the cables or other components. In fact, you can safely store your DVDs, CDs, media console, media devices, and other cables in the cabinets.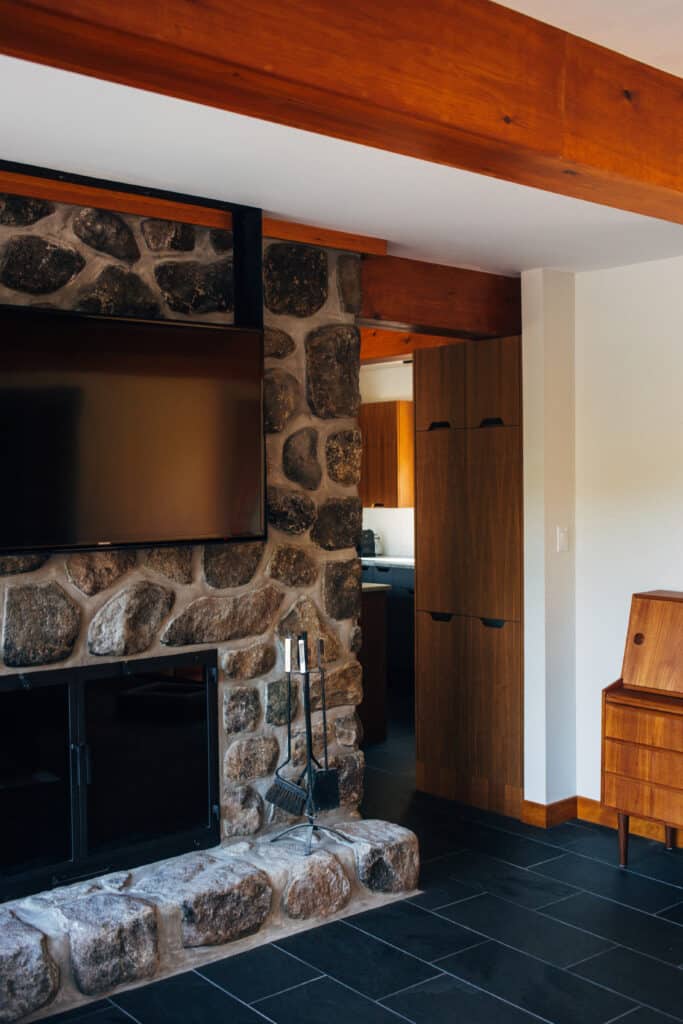 The Benefits of Having a Fireplace TV Stand
Whether you opt for a regular fireplace TV stand or an electric one, you are sure to enjoy the benefits of investing in a solid TV stand.
Save Space
Space is a constraint in many homes, and a fireplace TV stand solves the problem with ease. You can easily find a TV stand that fits the room's dimensions.
Create One Focal Point
Fireplaces are the highlight of a living room but so are the television sets. Instead of having two focal points in the same room, club them together. That way, you can arrange the furniture around the fireplace TV stand to enjoy your favorite shows and soak up the warmth.
Easy to Decorate
Finding the right décor for your home can be tough, but not anymore. Arrange your decorations on and around the fireplace TV stand to enhance its beauty and brighten the room. Fireplace TV stands to improve your home's aesthetics.
Coziness and Warmth
A fireplace TV stand makes the room cozy and warm by producing enough heat to lower the temperatures a little. It is a cost-effective method to lower the electric bill and save money in the long run.
Multiple Choices
You don't have to compromise when choosing a fireplace TV stand. With so many options in the market, pick the one that best suits your home, requirements, and budget.
Tips to Choose a Fireplace TV Stand of the Right Size
Now we come to the most important part of the post. The size of your fireplace TV stand should be in sync with the rest of the room. Anything too big or small will create an imbalance and affect the overall appearance.
Measure Room Size
First, it is necessary to measure the size of the living room/ entertainment center. This will give you a clear idea about the TV and TV stand that will look good in the space. Make note of the room's dimensions and floor space carefully.
Measure TV Dimensions
If you already have a TV, measure its dimensions, especially the height. This is a compulsory step. The dimensions of a flat-screen TV will be different than that of an older bulky model.
Placing large TVs on a tall fireplace TV stand will further increase its height and make it hard to view the screen from your seating position. Similarly, a small TV on a shorter stand will place the unit below your eye level.
Determine Storage Space Requirements
A fireplace TV stand with built-in storage can be beneficial if you have a smaller room. The cupboard space/ cabinets in the fireplace TV stand help with storing DVDs, DVD players, other electronics, etc. Cable management is also easy, as you can hide the cable box on the shelves.
Choose the Location/ Position
Finalize the best place to install the fireplace TV stand in the living room. You should do this before buying the TV stand.
For example, if you choose a corner of the room, you'll have to buy a corner TV stand. If you choose the longest wall in the room, you can buy a linear fireplace TV stand. Also, consider that's there's a nearby electrical outlet and power board to plug the cords.
Measure Fireplace Size
If you already have a fireplace, measure its dimensions and buy a fireplace TV stand that matches the size and design. Remember that it should be easy to insert and remove the fireplace from the TV stand (especially for an electric fireplace unit).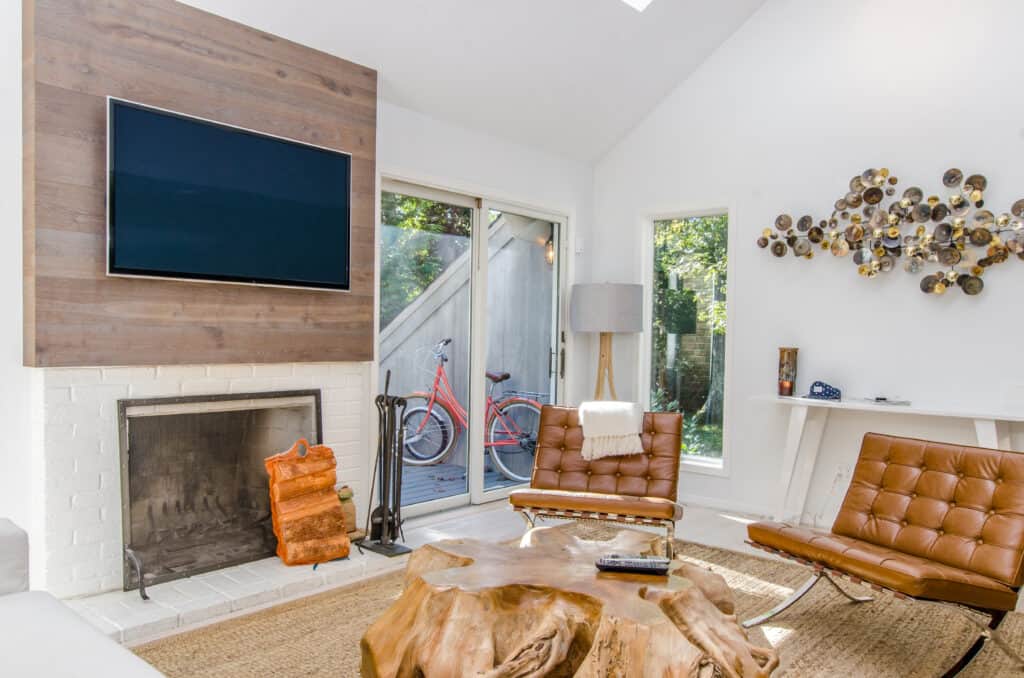 What Makes a Fireplace TV Stand the Best Choice for Your Home?
The following tips are for electric and traditional fireplaces TV stands. Some features, like remote control, flame-only mode, etc., are limited to electric fireplaces.
Heating and Flame Effects
Do you want a fireplace TV stand that produces heat? If you don't wish to use it to warm the room, buying an electric fireplace with a flame-only mode will save you money. Electric fireplaces use LED lights to project flame patterns onto the tempered glass doors.
The latest electric fireplace TV stands come with realistic flame effects and displays to create the illusion of having a traditional fireplaces at home. What's more, these require less maintenance as you don't need to sweep the ashes, replace the logs, and clean the fireplace often.
Size and Storage Options
The storage space in a fireplace TV stand depends on its size. Larger TV stands have more storage space and vice versa. You can also choose between closed and open shelves.
The closed cabinets can either have wood or glass doors. Locked cabinets, adjustable shelves, and secret compartments are also available.
Design, Style, and Material
The fireplace stand can be solid wood, metal, or stone. Electric fireplaces go well with metal TV stands, as heat damage is not a concern. Furthermore, you can adjust the heat settings without safety concerns.
Another aspect to consider is the style and make of the TV stand. A contemporary design will not blend in a room with countryside or rustic décor. You need a heavy wooden fireplace TV stand instead. Choose a fireplace TV stand that fits into the existing layout and design.
Budget-Friendliness
You don't have to go beyond your budget to buy a TV stand with a fireplace. There's something for every budget. In fact, electric fireplace TV stands can be less expensive than traditional fireplace TV stands (unless you want all the latest features).
Additional Features
While it is not compulsory, buying a fireplace TV stand with some of the below features is a good idea.
Adjustable Thermostat
This allows you to change the heat settings and turn off the thermostat when the room reaches the required temperature. The thermostats can be automated as well.
Heat and Flame Only Modes
Electric fireplaces can produce flames that look like real fire coming from real wood. You can also shift between flame-only mode or turn on the heating element to warm the room.
Remote Control
Remote controls make it easy to change the settings without moving from your seat. When you can use a remote control to operate the TV, why not use one for the electric fireplace?
Cool-to-Touch
To keep pets and children safe at home, choose an electric fireplace TV stand that doesn't heat up even when it produces heat. This is known as the cool-to-touch feature, where the metal components will be at a normal temperature, even when the fireplace is being used. No risk of burning.
Adjustable Flame Colors and Shapes
The flame colors and shapes can be changed in electric fireplace TV stands by projecting LED lights. Some create a realistic flame effect that you feel as if real wood logs are burning in the fireplace.
Setup and Installation
If you're a DIY fan, buy a fireplace TV stand that can be easily assembled and installed without expert help. However, some models are tricky and should be set up by a technician.
Conclusion
We can conclude that a fireplace TV stand is worth the investment in many ways. It provides a lot of advantages in the short term and long term. Electric fireplaces are even better as they are portable, cost-effective, and trendy. Take your time to choose the right fireplace TV stand for your home and enjoy the beauty and heat it offers.
FAQs
1. Can you put a TV on a fireplace TV stand?
Yes, you can. A fireplace TV stand is designed to accommodate a TV on the top. However, you should read the product specifications to ensure there won't be any long-term damage.
2. Do fake fireplaces give off heat?
Some fake fireplaces are capable of giving off heat. Such units are fitted with infrared heaters or fan-forced heaters to generate warmth.
3. Do I need to hire a professional installer for my fireplace TV stand?
It depends on the type of fireplace TV stand you buy. Some models can be easily assembled without any guidance.
4. Can I use a regular TV stand with my electric fireplace?
No. You should not use a regular TV stand with your electric fireplace. It can damage the unit and the TV.
5. Do TV stand fireplaces use a lot of electricity?
An electric fireplace uses around 1KW to 1.5KW per hour, which costs $0.10 to $0.20 per hour. However, the electricity consumption depends on the make, model, brand, and usage of the electric fireplace.