VIZIO TV is probably the best option if you do not want to spend much on your television.
Its usually less expensive than its rivals, but it has all the latest features. Vizio TVs, like all tech, will occasionally fail to function in some portions.
In this way, you will encounter numerous problems when using them. For instance, when you press the menu button, you may have to deal with a flickering Vizio TV screen.
Let's look at some of Vizio TV owners' most common problems. We also try our best to provide all possible solutions to fix them, as Vizio TVs are rather simple to fix.
Also, check our guide on the best 75-inch TVs under $1000. 
Common VIZIO TV problems & how to fix them.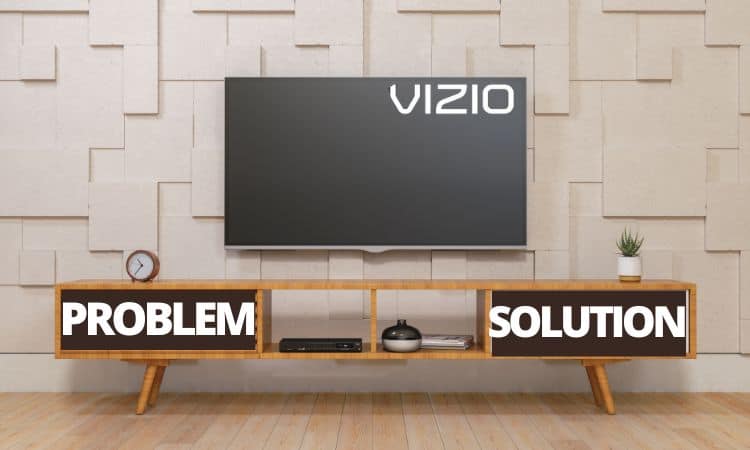 Customers have complained about several issues that we will discuss in detail below. User manuals always come with Vizio TVs, so they prove so handy in solving the problems with the Vizio TV menu.
However, if you don't have a user manual right now, keep following the article to resolve any issue. Here are some of the most common Vizio TV problems and how to fix them:
1. Vizio TV is on but the Screen is Black
The external device is in great trouble if your VIZIO TV shows a black welcome screen but has sound.
You might have to change the inverter board or power board to troubleshoot the VIZIO TV black screen problem.
In this regard, pressing the remote control to press the menu button doesn't recover the problem.
Before contacting the manufacturer try the following method. It may save you from further hassle.
Solution
If your VIZIO TV goes black for a few seconds, it is called the black screen of death. You may try this method to fix the VIZIO smart TV black screen issue.
First of all, check if you have a stable power connection.

Turn off the blank screen.

Now remove the power source.

Press the menu and hold the TV's power button.

Hold for 30 seconds, then release.

Now Turn on your TV again.
If this does not solve the VIZIO TV power of blank screen issue, perform a led indicator light or flashlight test to ensure it has a faulty inverter board.
After Vizio TV troubleshooting, you should shine a lid indicator light for a flashlight test on the TV from a close distance. If you can see any image, it has a faulty inverter board.
You should contact an authorized repair center to replace the hardware and power cycle.
2. Vizio TV Screen is Blinking
You may experience a flickering Vizio TV screen or lagging problems at any time. This problem mostly occurs due to badly plugged power cords, particularly the HDMI cables in the power outlet.
So, you prefer to check the cable connections by following the Vizio TV troubleshooting guide. However, you can also contact the manufacturers if the problem is caused by internal damage.
Before wasting your money, try to solve the Vizio TV problems. For this, follow the instructions below before asking for their help.
Solution:
External devices or connected wires might cause VIZIO TV Screen problems. So, before you do anything else, unplug your other cables and devices for a minute. Restart your television to see if everything is working properly now.
Here is another method you can try. You can go through the advanced video settings from the welcome screen to make some changes.
You should turn off the settings below to stop the screen from flickering.
Advanced Adaptive Luma

Backlight Control

Ambient Lighting
If the screen is still blinking or the TV turns off, you should conduct a power cycle with Wi-Fi support by following the steps:
Turn off your television.

Unplug the power cable.

Press and hold the power button for half a minute and then release it.

Plug back the power cable.

Turn on the power again.
If it is not working before asking for assistance from the manufacturer, you should perform a factory reset. For this, follow the instruction below to learn how to reset VIZIO TV:
Go to the Menu option.

Now select System from there.

Then select Reset & Admin.

Select Reset TV to Factory Defaults.

If required, enter the system PIN, which is 0000.

Select Reset.
Resetting any smart TVs are intuitive. Just follow the steps on the screen, and you should be able to do that.
3. Vizio Remote Control Does Not Work
A Vizio TV remote is occasionally viewed as a point of criticism or weakness for Vizio TVs. The reason is that it can cause power supply board failure.
Many users have complained about the remotes suddenly stopping operating even with factory resetting, but there are multiple causes for this.
Solution:
Since not all batteries are made equal, you should examine your remote's batteries first. Therefore, if you are using less expensive cheap, quality batteries, it is more likely to suck up power more quickly.




It would help if you considered replacing the batteries to check whether it fixes the issue. If it still does not function, there are chances that some internal component damage has occurred due to dampness or shock.




Newer Vizio TVs can also have this problem. Fortunately, Vizio offers replacement remote controls for a reasonable price, so request one. Meanwhile, you can do the following:




You can get the Vizio Remote Control software, which disables power supply board failure with factory settings. As a result, it can operate the SmartCast System using your smartphone as a remote control.




There are iOS and Android versions of the Vizio Remote App. You must ensure your device is on the same Wi-Fi network as your Vizio TV. You can learn more about this problem here.
You can learn more about this problem, here.
4. Vizio TV Does not Connect to Wi-Fi
If you have VIZIO TV internet connection problems, you are not alone. Most often, people face VIZIO TV Wi-Fi connection issues.
This problem may cause by a slow internet connection. Find out how to solve the VIZIO TV internet connection issues below.
Solution:
While troubleshooting VIZIO TV Wi-Fi connection issues, you must ensure a stable internet connection. Now follow the instruction below:
Connect a different device to the internet to check the network stability.

Press the menu button.

From the menu button, go to Network.

Then select DHCP from Manual Setup.

Now turn DHCP to ON.

Now turn off and remove the power cable from the socket of your TV, Router, and Modem of Wi-Fi.

Hold the power button of these devices, then release it after 10 seconds.

Now turn them on and connect your TV.
If you still have the same problem, you prefer factory resetting. We have mentioned above how to do so.
Now, connect your TV again to the Wi-Fi from the settings. You can also try a wired Ethernet connection if the problem stays.
5. Vizio TV Does Not Turn on
A variety of reasons could be accountable for this problem. It's impossible to determine what went wrong with the power outlet.
Before concluding, you must check a list of things. Follow the instructions below to find out what went wrong and how to fix it.
Solution:
As you are aware, you must examine various factors to determine the problem and potential solutions. First, see if you have any issues with the power button.
Your VIZIO TV has two power buttons. One is featured on the television's body, while the other is placed on the remote control.
So, if your VIZIO TV remote is not working, you can use the power button on the TV's body to turn it on.
If the problem is the TV won't turn on with the remote, you can change its batteries. Or you can buy a new remote for your VIZIO TV.
On the other hand, if your remote is okay, however, still your VIZIO TV has a black screen and no sound, then you should check the power cable.
Your TV will not turn on if the power cable or cord is damaged. Check to see that the television is properly connected to the power source.
Finally, if your TV's remote control is working and has an active power supply, then most probably, it is a hardware issue.
In that scenario, we urge that you seek an authorized repair center for power cycling. If you have a warranty, you can get free service.
You can learn more about this problem, here.
6. Horizontal lines on Vizio tv screen
Common problem users have reported is experiencing horizontal lines on the screen.
There are several possible reasons for the appearance of horizontal lines while Vizio TV troubleshooting.
It could be something as simple as a loose HDMI cable or something major like permanent damage to the panel.
LED indicator light lines can appear on your TV and can be horizontal lines running horizontally across your TV's width.
In addition, they can also be colored vertical lines running vertically on your Vizio TVs display screen. Let's find out how to solve this problem.
Solution:
Firstly, check if the lines are moving or stationary on the welcome screen. If they are stationary, it's a hardware (LCD) problem, and the TV screen turns to lag.
So, you'll need to contact Vizio or take your set to a TV-authorized repair center.
If the lines are moving, then it's a software (Firmware) problem; try the following fixes for Vizio TV troubleshooting:
Run a picture test. Your input source to your Tv might be having issues. You can switch your input source to another and check if it shows the same horizontal lines. If yes, then the issue is not your TV but the source.

The Power cycle or power supply is an effective way of solving common TV problems like the horizontal lines either black or colored on Vizio TV smartcast.
To perform the power cycle or power supply, you need to unplug the power cord, particularly the HDMI cables, from the power source, keep it disconnected for 15 mins, and then restart it again.
If the issue persists, you need to update the firmware via their OTA updates to the latest version to ensure the power supply.
After installing updates properly, check whether it is updated to the latest version. Now, it is recommended to perform a restart of your Vizio TV.
If all else fails, you can factory reset your TV. This will remove any settings that might have been updated on your TV, so you'll have to do it before you make any changes to your TV.
This can be done quickly in the settings, and it will usually run a season scan to ensure that your TV is back in working order.
7. Vizio TV Blue screen of death
It is normal to panic when your TV screen abruptly turns blue while watching your favorite show.
In the world of computers, a blue screen often gets a bad reputation and is regarded as a possible sign of irreparable damage.
The reason is that the black screen turns to death, whereas the TV becomes useless.
However, a blue screen could mean a cabling issue when it comes to TVs, or the source device is not set in a proper mode. So before you panic, try the following fixes below.
Solution:
First, unplug the TV from power for about 5 to 10 minutes, and then plug it back in to see if the problem clears up. Your TV has processors, like any other operating system, can crash, unplugging it from the mains, resets the microprocessor.

Next, check the antenna connections, audio-video, and HDMI cables. When there is weak or no signal from a source device, your TV screen will shift to blue.

Check your source device settings and make sure that all output settings are turned on. Then, try another source device to see if a blue screen still turns up.

If you've tried all the above and still have a blue screen, you might need to check the TV hardware for faults. This often involves testing the power board voltage. If the power board is fine, you might need to replace your TV T-Con board.
8. VIZIO Smartcast Not Working
VIZIO TV smart cast is an awesome feature that allows you to browse and discover TV shows, music, and live streams.
However, often you might face trouble accessing the Vizio TV smartcast.
If the Smartcast is not loading or shows are unavailable, you can prefer to have a fire TV stick in this regard.
Solution:
There could be several reasons behind the Smart Cast not loading on your VIZIO TV. You should try the following steps to solve the issue.
Ensure that you have a stable internet connection

Switch your TV to HDMI 1 and wait for a while

Now press the Menu button

Then go to System > Reset & Admin > Soft Power Cycle > Yes.

Your TV will restart now.

Wait till the Information Bar disappears.

Now, wait half a minute before changing the TV from HDMI 1 to Smart Cast.
If this process does not resolve the issue, you should prefer factory resetting and having a stable internet connection. In addition, you can also give a try to Amazon fire TV stick.
You can learn more about this problem, here.
9. Vizio TV Won't Turn On With Remote
If your remote works well but you can't turn on your TV with it, follow the steps below.
Before you do that, ensure the remote control has new batteries and that there are no obstacles between the TV and the remote.
Solution:
This is not a major problem. If your remote is outdated or is not working after replacing the batteries, you should get a new one first.
If your new remote isn't working, try the following:
Unplug the power cord.

Hold the power button down for ten seconds.

Plug the power cord back.

Now turn on the TV again.
Hopefully, the menu button on the remote will work again now. Now, watch this video if your TV still is not turning on.
10. VIZIO TV Shows Pictures But No Sound
Another common problem that Vizio TV users encounter is of having no audio.
Three reasons could be causing sound problems on your VIZIO TV.
You won't be able to hear anything if your TV's cables are damaged or the volume is reduced to zero with a fire TV stick.
On the other hand, if you have a faulty speaker, your TV will show pictures without sound.
Solution:
If you are using the built-in speaker of your VIZIO TV, then follow the instructions below:

Make sure your TV's volume is not set to zero.

Check to see whether the television is muted.

Ensure you have attached the right cables in the right place.

Disconnect and reconnect all the connected devices, particularly the HDMI cables.
If you have the same problem again, then try the following instruction:
Press the Menu button

Go to Audio settings.

Now TV Speaker setting option should be ON.

If it is OFF, then press OK to turn it ON.
If these two methods do not solve sound issues with VIZIO TV, you need to replace the built-in speakers.
A good quality TV speaker can help improve sound quality and enhance the audio settings.
Alternatively, you can connect your TV to an external device speaker. Replacing TV speakers is also a good solution for newer Vizio TVs.
Conclusion
Your Vizio TV can stop working from time to time because of several factors. In this article, we try to cover 10 common Vizio TV problems and their solutions.
You can troubleshoot many problems with your Smart TV by performing a factory reset. Also, troubleshot Vizio TV by updating the firmware.
Common issues are present in every device and can be resolved with little effort.
According to our analysis, users can troubleshoot many Vizio TV problems with a factory reset only. In addition, the Vizio TV troubleshooting guide also includes using a Fire TV stick.
We hope you don't have to face any hassle and that these solutions work. If all steps fail, contact customer support for further assistance.
Why is my VIZIO TV not working?

You will need to restart the television. To turn off the television, unplug the power cord from either the back of the television or the outlet, whichever is most convenient. Keep the power button on the side of the TV down for three to five seconds. Disconnect and then reconnect the power cord before turning on the TV.

Do Vizio TVs have issues?

When you try to use a Vizio TV, it's common to give you errors and sometimes not work properly, even though it's a high-tech product. The screen flickering, the SmartCast not working, and the TV lighting up but not displaying any visuals are three of the most common complaints regarding Vizio TVs.

How long do VIZIO TVs last?

If you take excellent care of your Vizio TV, you can extend its life to as much as 10 years, but on average, it will only last you approximately 7 years. Vizio TVs are great TVs that you can enjoy for a long time.

How do I troubleshoot my Vizio Smart TV?

To troubleshoot your Vizio Smart TV, follow these steps:

Ensure all cables (power, HDMI, etc.) are securely connected to the TV and external devices.

Turn off the TV, unplug it for a minute, then plug it back in and turn it on.

Verify your Wi-Fi and the TV are connected to the correct network.

Check for firmware updates in the TV's settings menu and install any available updates.

Replace or reset the remote's batteries, and ensure a clear line of sight between the remote and the TV.

If specific apps aren't working, try closing and reopening them, or uninstall/reinstall them.

If streaming apps have issues, check your internet speed and consider using an Ethernet connection for more stable streaming.

If using external devices, ensure they're updated and connected properly.