You can have an entertainment center using a built-in stand. These stands are shaky, in the reach of children, and prone to stumbling.
This is why a sturdy TV wall mount will give your TV a great safe space on the wall to rest. A Cheetah Mount is a great option for you to consider.
In this post, we will thoroughly discuss all the reasons why you should purchase a Cheetah Mount. If you think it is not the right choice for you, then we will also inform you about alternative TV wall mounts. 
Table could not be displayed.
Table could not be displayed.
Quick Summary of the Main Product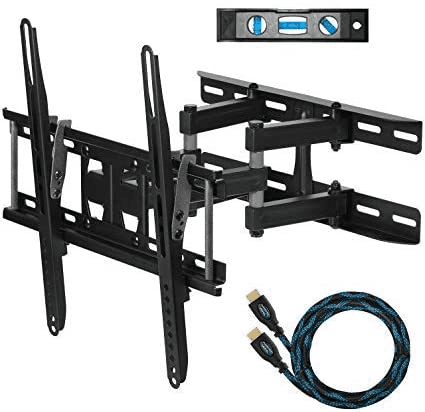 We chose the Cheetah wall mount as our best TV wall mount option because of its extremely low price. Its affordability does not mean any compromise on the quality. 
Cheetah is not a well-known brand, therefore, only a few stores carry this tilting TV bracket. However, you can get them for 1/4th the price on online stores such as eBay and Amazon.
It can also be mounted in a corner and the dual-arm extension allows you to rotate it to show the screen around the room.
The Cheetah wall bracket has the ability to:
Tilt

Swivel

Extend

Remain fixed
Moreover, it can fit any flat-screen TV of major television brands, such as:
The only problem with this TV wall mount is that it does not come with an instruction manual. 
Design
The Cheetah wall mount's sturdy build can allow a variety of motions. It retracts 2.7" and has screws that provide a tilt to the frame when they are loosened. You can tighten them to hold the TV securely again. 
It has dual-armed functionality that allows easy extension away from the wall while providing full support to the TV.
Wall Mount Setup 
As mentioned earlier, the Cheetah TV mounts come with minimal instructions. However, that is not an issue at all because it provides the complete mounting hardware you require. 
The mount ships spacers and four sets of TV mounting screws. It does not have screws for all TVs, but Cheetah stocks hundreds of TV screw sets that can be shipped to you without any fee.
Moreover, the wall plate level might depend on the weight distribution of your TV. You can loosen the four screws in the TV plate for rotation adjustment. 
Performance 
The ease of movement of the dual arms decreases when the TV is mounted on them. Due to the large size of the TV, it can be a little difficult to retract the TV because it swivels from side to side. 
While the TV is securely fixed on the TV plate, the mechanism makes the TV move away from the TV brackets which makes the mount feel flimsy. 
Factors to Consider Before you Decide to Buy Mounting Dream UL Listed TV Mount
Pricing
This tilting TV bracket offers good quality for under $40. It is very suitable for price-conscious customers who can get this mounting bracket that performs all the duties of a good mount. 
Capacity
The Cheetah mount supports TVs of sizes 20-65 inches and has a weight capacity of 115 lbs. 
It can fit VESA 400 TVs easily but it is not compatible with VESA 600 TVs. Moreover, it has a 17" wall plate that can be placed in the center of 16" wood studs. 
Specifications
The Cheetah mount is a full-motion, articulating wall mount. It provides an extension of 14" from the wall for easy viewing and retraction of 2.7" if you want it to be in a flat or fixed position. 
Moreover, it has a 130-degree swivel on both sides and provides a 10-degree tilt upward and downward.
Features
The Cheetah mount has the following features:
400x400mm VESA patterns

115 lbs weight capacity

20-65" TV size

16" wood studs

17" wall plate

14" Extension

2.7" retraction

130° Swivel 

10° Tilt

10′ Twisted Veins HDMI Cable

6″ 3 Axis Magnetic Bubble Level

Lifetime guarantee

±3° rotation
Advantages and Disadvantages of Cheetah Mount
Affordable 

Low-profile due to retraction

115 lbs weight capacity

Supports a large variety of flat-screen TVs 

Smooth dual-arm operation

Suits brick or concrete walls as well as wall studs.
Difficult repositioning mechanism

Minimal instructions
The reason why customers are highly satisfied with the Cheetah mounting bracket is that along with being extremely affordable, it has great quality.
It provides a variety of post-installation wall adjustment options and it is compatible with all types of wall whether it is a concrete wall or a plaster wall. 
Some of the customer reviews we found online include:



Cheetah TV Wall Mount - Alternatives (Recommendations)
#1: Best Overall Tilting TV Mount - Mounting Dream Review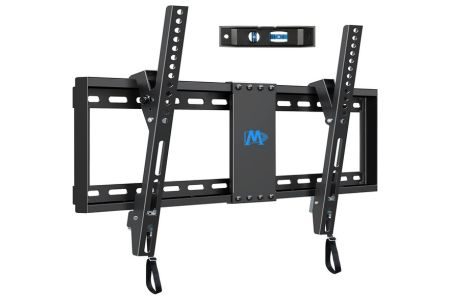 Type of mount: Wall Mount | Movement Type: Tilt | TV size range: 37 inches to 70 inches | VESA pattern: 600 x 400mm | Maximum weight limit: 132lbs | Wall Type: wood studs or concrete wall  | Cable Management: No
This TV wall mount is one of the best-selling TV wall mounts on Amazon. You can get the full tilt adjustment experience with this very affordable mount. 
It is a low-profile TV wall mount that remains 1.5" from the wall to keep it out of the way. This mount includes quick-release straps to allow easy access to electrical outlets behind the TV. 
Since this is a less expensive TV wall mount, therefore, it does not give you the post-installation level adjustment option. You should make sure that you keep the correct level pre-installation.   
Factors to Consider Before you Decide to Buy Mounting Dream
Pricing 
The MD2268-LK is available for $29.99 on mountingdreamonline.com. Your purchase is guaranteed with a 30-day return and refund policy and free shipping.
Capacity
This TV mount has a universal design to provide a good TV mounting experience. It supports most TVs of sizes ranging from 37-70". 
It can support 110 lbs and has VESA compatibility for TVs with 200x100mm up to 600x400mm measurements. 
Specifications
The Mounting Dream mount saves space and has a flexible design. It is a low-profile TV wall mount that has a 2.56" flush profile that saves a lot of space.
Moreover, you can get a 5 degree tilt upward and a maximum tilt of 15 degrees downward. It also has a +/-1° post-installation adjustment.
Features
The features of Mounting Dream include:
44.3 x 24.1 x 8.1 cm dimensions

37-70" TV size

600x400mm VESA compatible 

110 lbs weight capacity

2.56" flush profile

+5/-15 degree tilt

+/-1° post-installation adjustment

16"-24" wooden studs

10-year warranty

3.46 kgs weight
The Mounting Dream tilt mount is one of the best tilting mounts out there because of its extremely low price and great quality.
Affordable

Universal mount

Flexible design

Install your TV easily with a 3-step process

Tilt adjusting
No post-installation level adjustment
#2: Best Full-Motion Mount - Echogear Review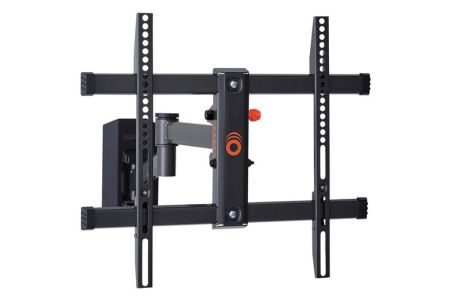 Type of mount: Wall Mount | Movement Type: Swivel, Tilt, Articulating | TV size range: 23 inches to 60 inches | VESA pattern: 100 x 100 mm to 400 x 400 mm | Maximum weight limit: 60 lbs | Wall Type: Wood Stud, Concrete, & Steel Stud | Cable Management: Yes
The single mount Echogear wall bracket is the best fit for any flat-screen TV. This TV mount can extend, tilt, and swivel to give you an excellent display effortlessly. 
A single stud TV mount means that you need to drill only once which is great if you do not want any mounting holes in your wall. 
Moreover, you do not need to detach your TV and use tools to tilt or swivel the TV. You can change the position with a simple touch of a finger.
The best part about this TV mount is that it has a through-arm cable management system with cable ties to handle any hanging cords. 
Factors to Consider Before you Decide to Buy Echogear
Pricing
The Echogear TV mount is available for $49.99 at a discount of 17% on the Echogear website. They provide free shipping on any item you purchase. 
Capacity
Echogear TV mount has a universal design to support TVs of sizes 32-60". It can support up to 60 lbs in weight with VESA patterns ranging from 100x100mm to 400x400mm. 
Specifications
The entire process of TV mounting is worth it if you get a full-motion TV mount that allows post-installation adjustments. Similarly, Echogear provides a generous 20" extension.
Moreover, you can swivel your TV left and right up to 90 degrees. You can also tilt the TV 15 degrees upward and downward. 
Features
The Echogear TV mount features include:
44.45 x 33.02 x 10.16 cm dimensions

4.47 kgs

60 lbs weight capacity

400x400mm VESA compatibility

+/-15 degree tilt

+/-90 degree swivel

20" extension

32-60" TV size
Moreover, it includes all the required screws for mounting such as:
TV screw washers

Wall plate template

Arm extensions brackets
The Echogear TV wall mount is one of the best wall mounts out there because it is sturdy and provides full-motion action at an affordable price
Full-motion

Affordable

Generous tilt angles

Long swivel angles

Great 20" extension
Limited VESA compatibility

Difficult to center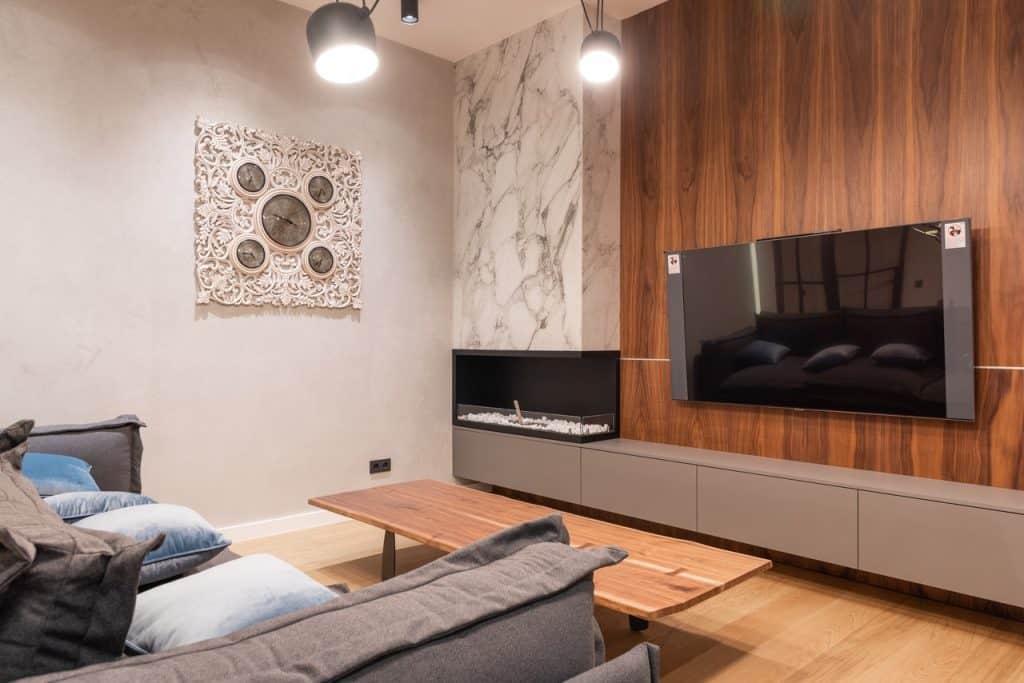 We understand that when you purchase a new TV, you would want to display it in the best way possible. A flat-screen is best mounted on a wall. 
So how do you decide which mount is most suitable according to what your TV requires?
In this section, we will discuss what factors you should consider when you want to purchase a mount:
Pricing
Wall mounts are typically quite expensive. The price mostly depends on their features and specifications. 
If you want a sturdy mount for your large and heavy TV, then it's okay to buy an expensive mount. However, you need to make sure that it provides the value you want for its price.
Capacity
You cannot purchase a new mount every time you change your TV. Therefore, it is a good option to invest in one that supports a variety of weights and sizes. 
Specifications
We highly recommend a full-motion mount since it gives you several options for post-installation adjustments. Therefore, check how much a mount can extend, tilt, or swivel before you purchase it.
Features 
If you purchase an expensive, full-motion mount as a long-time investment, then make sure you receive the full benefits. 
The package should offer:
Long warranty of at least 10 years

Different screws

HDMI cable

Cable management systems

Complete mounting hardware
This concludes our post on Cheetah TV mount with complete information and alternatives. 
Cheetah TV mounts are great mounts that provide sturdiness and complete support. Even though it is quite affordable, the quality is not compromised at all. 
You can avail the full-motion experience with Cheetah mounts and you do not have to worry about the support it provides to your TV. 
We highly recommend Cheetah TV mounts. However, if you are unsure about this mount, then you can also consider our alternatives: Mounting Dream or Echogear. 
Let us know if you have any more questions. 
1- What is the weight capacity of the Cheetah TV Mount?

The weight capacity of the Cheetah TV Mount varies depending on the model. The majority of models can support TVs up to 77 pounds, but some can support up to 115 pounds. It's important to check the specific weight capacity of the model you're interested in before purchasing.

2- Can the Cheetah TV Mount be installed on any type of wall?

The Cheetah TV Mount can be installed on most types of walls, including drywall, concrete, and brick. However, the installation process may vary depending on the wall type, so following the instructions carefully is important.

3- Does the Cheetah TV Mount come with all the necessary hardware for installation?

Yes, the Cheetah TV Mount comes with all the necessary mounting hardware or tools needed for installation, including mounting bolts, a lock washer, measuring tape, an electronic stud finder and plastic spacers. However, you may need additional tools, such as a drill or screwdriver, depending on the wall type and installation location.

4- Is the Cheetah TV Mount adjustable?

Yes, the Cheetah TV Mount is adjustable. Most models allow for tilt, swivel, and rotation adjustments, giving you more flexibility in positioning your TV.