Big-sized televisions add up a vibrant look to the entire living room. It feels good to settle down with family and watch your favorite entertainment content on a humongous screen.
An 85-inch television can make your living room a mini theater. With the right sound systems and ambiance aesthetics, the movie experience will be beyond amazing.
Complementing such a huge television in your house needs an obvious and suitable TV stand to accommodate not just the television but all of the accessories that you bring in with it.
A fireplace TV stand would be an ideal suggestion to build a suitable ambiance for an amazing entertainment experience on an 85-inch television.
This idea is really interesting. Let us show you the best fireplace TV stands for your 85-inch big television. Check out the ambiance they can create, and grab your deal!
5 Best Fireplace TV Stands for an 85-Inch Television
Here are the five best fireplace TV stands for your 85-inch television that will give you both aesthetics as well as functionality: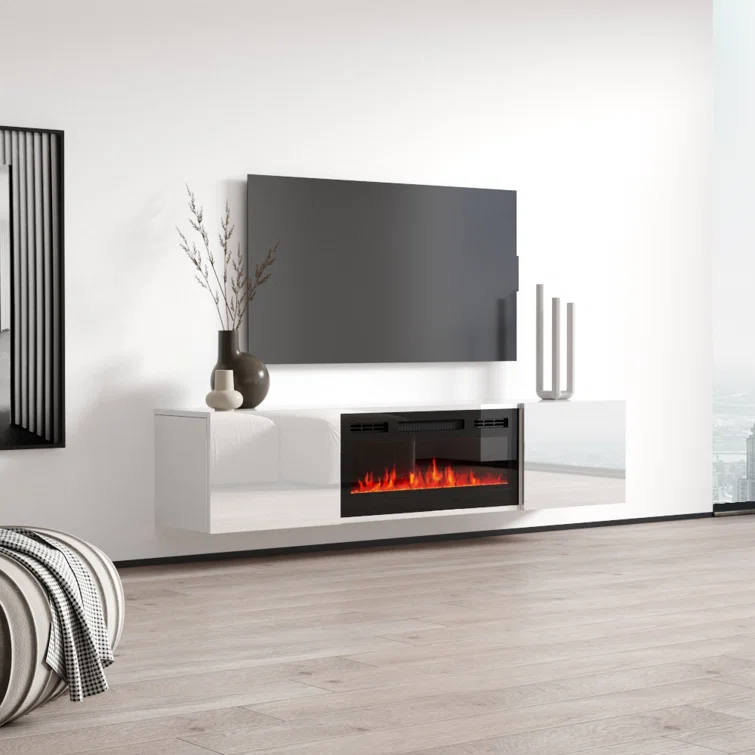 Aiyanah TV stand is glossy flat bed furniture that can accommodate a TV of up to 88 inches. It has an electric fireplace setup and built-in lighting to give you the perfect dark room ambiance. It has a contemporary design blended with storage space compartments to be the center of focus in your living room.
Specifications:
Suitable for TVs of up to 88 inches
High gloss fronts and body
Made up of engineered and solid wood
Fireplace remote control included
Weight capacity- 70 lbs
Dimensions- 15" H x 72" W x 14" D
Number of cabinets- 2
Heat-emitting electric fireplace
Pros:
Comes with timer setting and temperature control features
Fireplace can be customized with three flame colors
A glossy finish adds aesthetic and shiny appeal
Easy to clean and maintain
Wall fasteners are included with the kit
Cons:
Weight-bearing capacity could have been better
Time-consuming installation process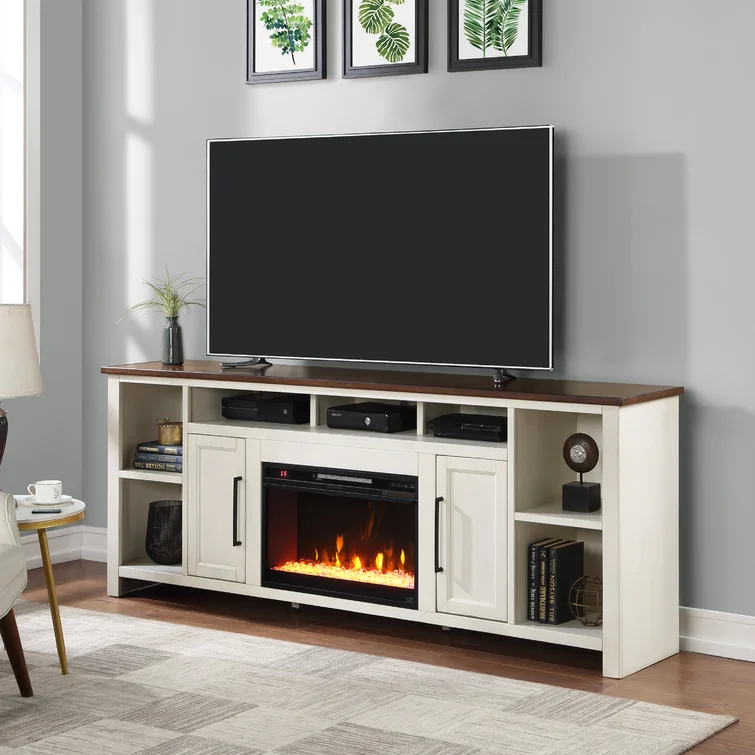 Cayuta is another popular brand that manufactures mesmerizing, premium-looking TV stands with a fireplace. This stand by Cayuta can withstand a TV of up to 88 inches, sufficient for what you are looking for. It has a two-tone color theme to complement the look of this stand with a fireplace.
Specifications:
Suitable for TV of up to 88 inches
Dual-tone color theme with a distressed finish
Made up of solid wood
Fireplace remote control included
Weight-bearing capacity- 350 lbs
Dimensions- 85 9/16" W x 33 ½" H x 17 ⅜" D
Number of cabinets- 2
Number of open storage spaces- 7
Heat-emitting electric fireplace
Pros:
Plenty of open spaces for your desired storage
Comes with a dedicated soundbar shelf
Three flame color settings
Optimal weight-bearing capacity
Cons:
Premium pricing is on the expensive side
Commercial use is prohibited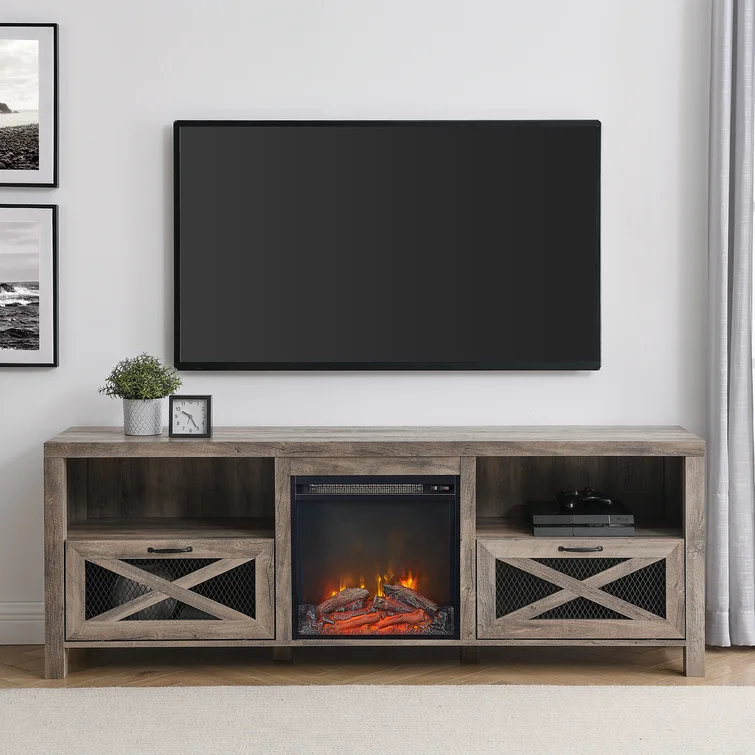 Tansey has brought to you a fireplace TV stand that is rusty and has an antique touch. The theme of fireplace TV stands can go well with any kind of interior and lighting setup. One more thing that makes this furniture stand out is its metal drop door cabinets. You get both open and closed storage spaces with it.
Specifications:
Suitable for a TV of up to 85 inches
Rustic color theme with a farmhouse charm
Made up of engineered wood, steel, and glass
Weight-bearing capacity- 250 lbs
Dimensions- 70" W x 25" H x 16" D
Number of cabinets- 2
Number of open storage spaces- 2
Heat-emitting fireplace up to 400 sq. ft.
Pros:
Light and heat-controlling ability
Available with cord management outlets
Embedded with magnetic door catches
Light in weight with just 103 lbs
Available in four different colors
Cons:
Storage spaces are small in size
Takes around 2 hours of assembling time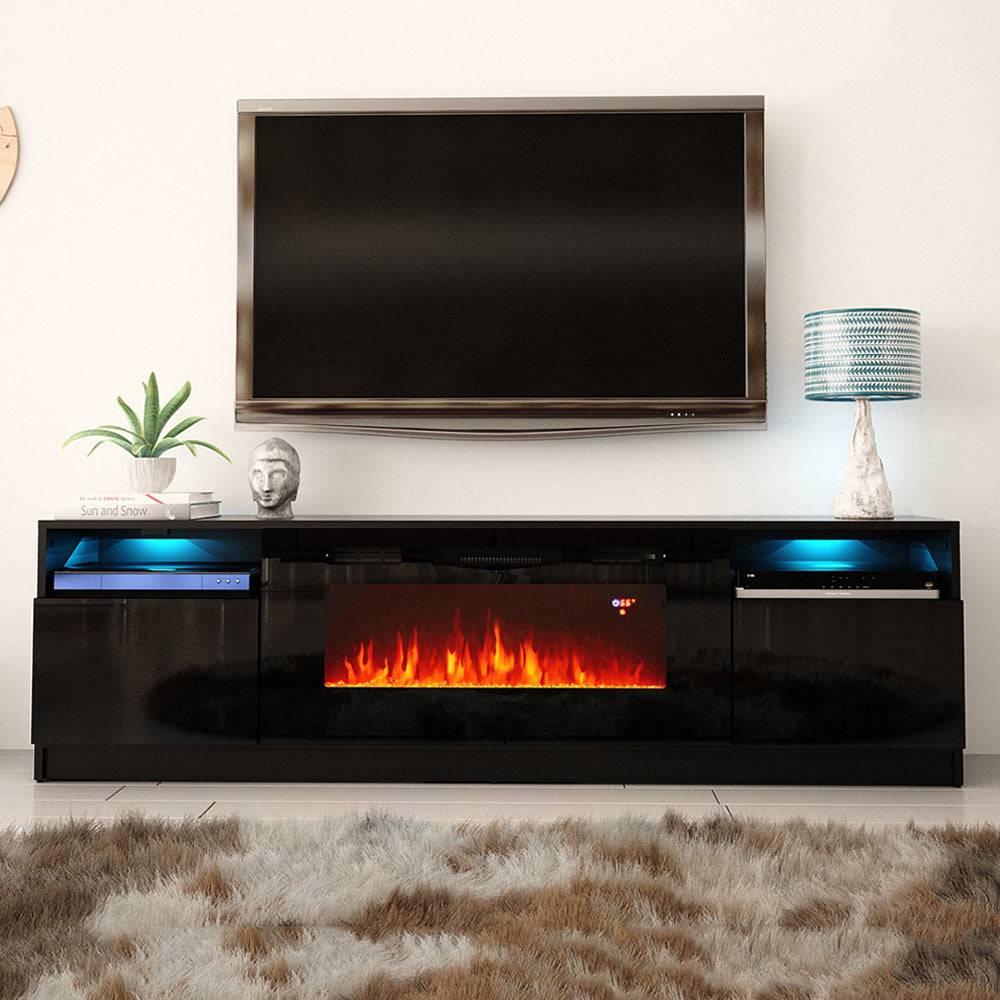 York 02 Fireplace TV Stand is a spectacle and is meant for the premium interiors in a living room. It is an eye-catching and elegant TV stand to complement your big TV screen. Apart from the basic features, this fireplace stand has everything to make your guests stick around your living room all day.
Specifications:
Suitable for TV of up to 90 inches
High gloss fronts with a matte finish
Made up of engineered wood
Modern and unique contemporary design
The fireplace remote control included
Dimensions- 78.7" W x 22.3" H x 13.5" D
Number of cabinets- 2
Number of open spaces- 2
Pros:
Available with three changeable flame colors
16 color LED lighting system is installed with remote control
Spacious storage cabinets
Available in three different colors
Ambient lighting adds more elegance
Cons:
The unit is on the heavier side
Time taking assembly procedure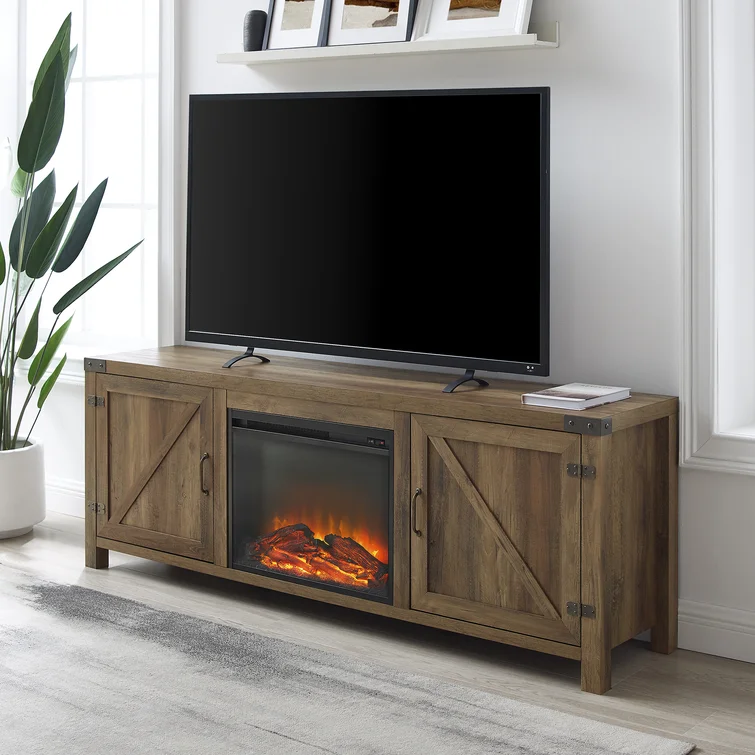 Coridon TV stands come with big storage cabinets that have two shelves each. The shelves are adjustable to let you store sound system units or other accessories as you desire. Apart from storage spaces, you get cable management outlets at the back.
Specifications:
Suitable for TV of up to 85 inches
Rustic and farmhouse-inspired theme
Made up of engineered wood
Dimensions- 70" W x 25" H x 15 ⅜" D
Weight-bearing capacity- 150lbs
Number of cabinets- 2
Heat emitting fireplace
Pros:
Antique metal accents add a modern look to the rustic appeal
Two adjustable shelves for convenience of storage
Changeable flame colors
Available in two different color options
Easy to clean and maintain
Cons:
No fireplace remote included
Weight-bearing capacity is average than other options
Things to Consider Before Buying a Fireplace TV Stand for Your 85-inch Television
With an electric fireplace TV stand, you don't have to choose between having a big television or a fireplace as the focal point of your living room.
Now that you have the best five fireplace TV stand options, it is advisable to note the choosing factors to help yourself decide on one. Here are a few things you should consider on priority:
Flame and Heating Effects
An electric fireplace doesn't burn wood logs but replicates an LED-lighting image of flames on a screen. Behind the screen, there lies an infrared heating system that operates with around 110V and 10 amperes to heat the surrounding area for a soothing entertainment experience in the winter months.
Check the specifications on how wide the heating effect will be felt. If you are concerned about the ambiance that the image of flames will create, then seek an option with more light settings to switch.
Storage Availability
Apart from just setting up an 85-inch television, people also need a good amount of storage space. Consider the availability of closed cabinets and open storage spaces with your preferable fireplace TV stand.
If you have a sound system, DVD player, tons of CDs, decor pieces, and other such entertainment accessories, then look for options that have more storage space.
Finishing or Style
Whether you want a glossy, matte, or rustic finish on your fireplace TV stand, the choice remains on your preferences. But, consider the interior of your living room, the wall colors, and the theme to decide what finish your TV stand would go well with the room.
Each finish or style can add a different kind of elegance to your TV setup. So, if you have plans to pair other pieces of furniture for building your entertainment center, consider matching it with the style or finish of your fireplace TV stand to make the setup look outstanding.
Features
Electric fireplaces should have heat control, heat modes, timers, blower control, and remote accessibility features to make it easy for the house owners to operate them. Coming to the furniture, the stand should have cord outlets at the back, adjustable shelvings, ample weight-bearing capacity, and other important features.
These features will ensure that your fireplace TV stand is not just aesthetically good but also functional.
FAQs
Are TV stands with fireplaces worth it?
TV stands with electric fireplaces are worthy investments. It is because an electric fireplace doesn't emit heavy heat like a real fire and has an infrared heating system. It is environment-friendly and has an LED display to add ambient aesthetics to the entire living room.
Does an electric fireplace use a lot of electricity?
Electric fireplaces consume the same amount of electricity as the usual space heater. They use 120 volts for powering the heater and draw around 1500 watts at 12.5 amperes. They are energy efficient and will cost you around $0.15 per hour.
Conclusion
You have the best five fireplace TV stands that are compared across hundreds of options over the internet. We have referred to the user reviews of each of these TV stands to get a practical opinion of users. We have also listed the factors for you to narrow down your search further to pick the one that would suit your setup the best.