The minimalist design aims to get rid of the clutter and elaborate designs. It makes the space appear big and airy by simplifying the designs and décor. A minimalist television stand offers the right combination of simplicity and elegance.
From solid wood to floating shelves and a fireplace TV stand, you can find minimalist TV stands in many designs and within your budget. Let's check out some of the best ideas to find a minimalist TV console for your lovely home.
9 Best Minimalist TV Stand Console Ideas
Floating TV with Wooden Wall Mount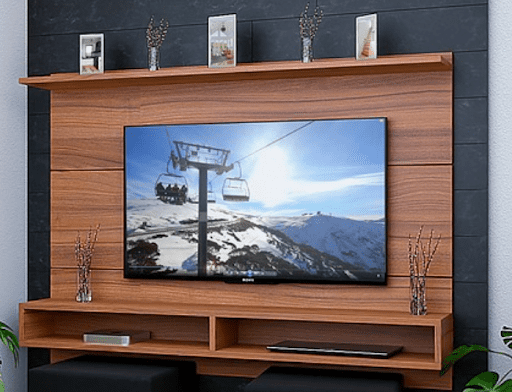 A floating TV console occupies less space and sits compactly on the wall. Pair it with your wall-mounted TV for a minimalistic look. A wooden stand with walnut veneer and open shelves will provide decent storage space.
The minimalist floating shelf is the best option if you want to set up a TV stand in a small space. Just choose a simple design without extensions or ornate attachments. You can use your items to decorate the stand.
Mid Century Modern
The mid-century modern TV stand became popular between 1945 and 1969, after WWII. The designs are simple, innovative, and functional. Natural materials and clean lines are the highlights of this style.
A wooden TV stand with a rectangular design and neat edges will be a perfect choice. Pick the one with a couple of cabinets and an open shelf to store the cables, set-top box, media console, etc. Opt for colors like pecan, walnut, etc., to make the TV stand as a focal point in the living space.
Open Design with a Steel Frame
A steel frame has a sleek design, and a wide open shelf will be a great choice for the entertainment area. Use the space to store the DVDs, speakers, cables, etc. Steel frames in gray will go well with flatscreen television units.
The steel TV console comes with a sturdy square frame on both sides. The frame acts as the legs, giving it a solid grip on the carpet. Such TV stands can easily hold around 100 pounds of weight. The top of the stand can be a sheet of wood. Furthermore, this TV stand goes with floating TV units too.
Minimalistic Wooden Farmhouse Style
Want to combine country farmhouse style with your minimalist décor? Try a simplified wooden farmhouse TV stand in a conventional design. It's a compact unit that can handle 250 pounds of weight.
The wooden country-style design is an apt choice for all types of TV units. You can mount the TV on the wall or place it at the top of the stand. Go for open shelves to showcase your decorative pieces in style. Place books, weaver baskets, small vases, etc., and decorate the space.
Asymmetrical Wall Mounted Stand
Floating television stands have become famous in recent times. There are several models available in the market that are made of wood, metal, etc. Try the asymmetrical wall-mounted TV stand if you're looking for a minimalistic design with a twist.
It's a simple design with a rectangular wooden TV stand. However, the top extends to one side, and the bottom extends to another. This gives it an asymmetrical shape and additional space for storage and decorations. It can handle up to 70 pounds and sits neatly on lighter-colored walls.
Slated Wood TV Stand with Metal Frame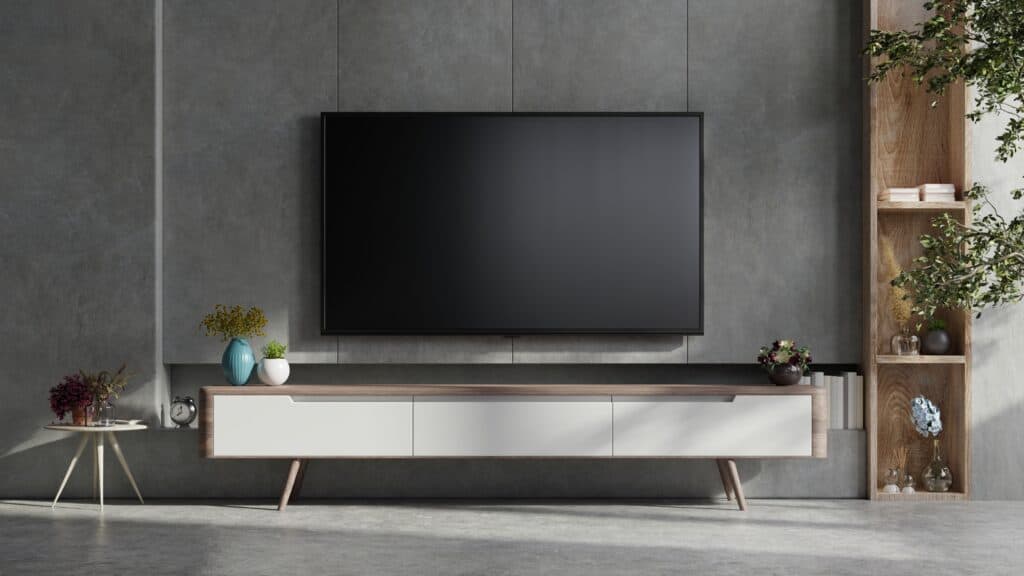 The TV cabinet should match the furniture in the living space and blend well with the interior design. A slated wood TV stand is a beautiful choice for rooms with cream taupe and beige overtones. The wooden television stand has cabinets with closed doors at the bottom half and open space at the top.
The unit sits on solid metal legs and has discrete metal handles to complete the look. These models are longer and can go with a TV of any size. A large flatscreen looks as good as a small TV and makes the space appear neat.
Luxurious TV Stand with Closed Cabinets
You can ace the luxurious minimalistic look with a rectangle TV stand in shades of white, off-white, and gray. Choose the one with closed cabinets and sharp edges. These models have an LED light system to light up the stand from the inside.
The TV stand is spacious and goes with posh/ sophisticated interiors. The stand is made of wood and can easily take the weight of a large television. The open cabinet is small but enough to place the set-top box.
Corner Stand with Open Shelf
Corner TV stands with Scandinavian metal legs and wood shelves sit well in the corner of the living room. These minimalist television stands have more depth and can store a lot of items. They have more cabinets, too, if you want to use the space for decorations.
The corner TV cabinets can have open, closed, or adjustable shelves, but hide the cables from plain sight. A small TV stand works well in bedroom and kitchen corners if you have a second TV in those rooms.
Glass and Wood Sleek TV Stand Box
Contemporary designs have a lot to offer minimalist lovers. Here's a curved wall-mounted wooden stand with shuttered cabinets on the sides and fiberglass in the center. It comes in a convex shape without extending too much on the front.
Despite the curved shape, the TV stand is sleek and stylish. It is a perfect companion for large TV units mounted on the wall. What's more, the embossed design on the stand can be used to string fairy lights or LED lights to brighten up the space.
Conclusion
Minimalist TV stands can blend with the room's interior design or stand out to make the entertainment center the focal point. Consider your options and compare them to choose the right television stand for your home. The space has to be attractive and relaxing for you, your family, and your guests.
FAQs
Can I use anything else as a TV stand and make it look good?
Well, you can try. A sturdy chest, dresser, or console table might work as a TV stand. However, it is not designed for the purpose and may not provide the same features as a TV stand. Also, make sure the 'stand' you choose is strong and big enough to hold the TV.
Can the TV stand be smaller than the TV?
It's not recommended to use a smaller TV stand as it can create an imbalance and cause the TV to topple. Generally speaking, the TV stand should have at least 2 inches extra width than the TV you place on it. This makes the stand secure and stable.
Which colors are the best for minimalist design?
Neutral colors like grey, taupe, shades of white, off-white, black, and shades of cream, and pastels like pink, blue, green, etc., are good choices for minimalistic design. Follow a monochromatic scheme and use subtle variations of the selected colors to create texture and depth.