MantelMount is one of the leading companies that crafts and engineers wall mounts with pull-down functionality.
One of the best in the business for above the fireplace pull-down specialized mounting systems, they have created a complete line of wall mounts that covers a wide range of applications.
In this article, we are going to review the very best Mantel Mount tv mounts, that pulls out and down, from which you can choose from. 
We have compiled a list of the top five in the line-up and will explain its features, pros, cons, and a few tips to help you make your decision.
Before we get started, let's compare top picks.
Name
Winner
Runner Up
Also Great
Description
Our most popular mount, the MM540 Enhanced Pull Down TV Mount gives you true safety and our complete functionality and feature-set.
The MM340 Standard Pull Down TV Mount sets the standard in quality and safety for entry-level Pull Down TV Mounts.
The multi-award winning MM700 Pro Pull Down TV Mount is a perfect blend of heavy duty construction and smooth full range motion.on and smooth full range motion.
Winner
Name
Description
Our most popular mount, the MM540 Enhanced Pull Down TV Mount gives you true safety and our complete functionality and feature-set.
Runner Up
Name
Description
The MM340 Standard Pull Down TV Mount sets the standard in quality and safety for entry-level Pull Down TV Mounts.
Also Great
Name
Description
The multi-award winning MM700 Pro Pull Down TV Mount is a perfect blend of heavy duty construction and smooth full range motion.on and smooth full range motion.
#1 MantelMount mm540 – Above Fireplace Pull Down TV Mount
Perfect for your fireplace, the MantelMount mm540 passes off as an upgraded version of the MantelMount mm340 with only a slight increase in the TV size specifications.
What would the perfect hangout look like to you? Having the boys over for some food, drinks, and sports or having a little family get-together with a side entertainment and lots of motion pictures to watch.
Whichever you choose, using the MantelMount mm540 as your TV mount allows you to enjoy a great eye-level view. Everyone catches every moment!
This is specially made for TVs with specifications around 44 to 80inches. And like the mm340 tv mount, the mantelmount mm540 model combines top-notch autogas pistons with very light-weighted alloys and a mix of high-tech counterbalance.
In simpler words, the gas pistons are smooth and quiet.
This allows anyone to swivel it with ease. Interestingly, the mm540 model swivels at 30 degrees left and right in each direction and you can also decide to place in one direction at an angle of 60 degrees.
It doesn't end there. It also has a plus feature of tilting downwards as much as 9 degrees which lowers it for even better viewing.
This brings a whole new level of viewing entertainment because now you can sit anywhere and get an impressive view of your TV. You can also adjust your TV whichever way you want to.
You also don't have to worry about your TV size because it's sturdy and stable.
Did we forget to mention that it has a built-in soundbar attachment? This gives it an extra sound enhancement which is sensational. Now you can get the full visual and sound experience all in one piece.
A satisfied customer wrote: "If you're looking to mount a TV above a fireplace, this really is the only solution you should be considering. It's sturdy as hell, and the hydraulic assistance makes it so my 70-year-old mom can move the TV up with ease."
Features Of The MantelMount mm540
This amazing fireplace mount has incredible features that make it an ideal choice for any minimalist looking for an eye-level view in the distance.
Some of them include:
Heat Sense Pull-down Handles.
This feature doubles as a safety check for your flat screen because it turns red at 110%, so you know when to cool things down a little. Attached to this Heat sensor is a pull-down handle that also serves as an extra balance for your screen. When you talk of safety, strength, and stability, the mm540 mantelmount has its place amongst the best. This is why the MantelMount mm540 is the perfect tv wall mount that lowers.
Paintable Wall Covers
For an extra on the aesthetic side, this mantel mount model has paintable wall covers. You may decide to paint to the color of your wall or flatscreen, just to spice things up a little.
High-Grade Steel
The mantelmount mm540 can stand weights of about 20-90 pounds all thanks to its amazing high-grade steel.
Also, this accounts for the durability and contributes to the stability of this wall mount. Every wall mount should always give you an assuredness that your flatscreen is safe just where it is and this mantel mount model does this effortlessly.
It is easy to position and can be adjusted by anyone.
The installation process is very easy as the instructions are quite clear.
Its adjustable stops allow for smooth flexibility.
Has a safety bolt installation measure which is a plus
Its 9-degree adjustable tilt allows you to get a better view.
It has a manual mechanism for adjusting the tilt and you can only do so by reaching behind your flatscreen Tv.
It has an easy-to-use pull-down handle.
Features dual gas pistons and lightweight alloys.
The installation is protected by safety bots.
It's very easy to position.
Simple cable management.
The installation process is very easy.
It is budget-friendly.
There are no provisions to securely mount a soundbar.
There are no markings for suggested weight adjustments.
#3 MantelMount mm700

 Pro – Fireplace TV Mount Pull Down Bracket
Built with seamless innovation, the MantelMount took it a step higher with the Mantelmount mm700. If you want to go full "beast mode" then this is your ride or die anytime.
You can have some man-cave moments with the boys as the mantelmount mm700 allows you to mount a plus-size TV with a 3D experience just for you and the boys.
Laced with a badass auto stability feature and gas pistons that are smooth and flexible, this allows you to pull a Tv that weighs over 30-115 pounds off the wall to the perfect eye level without lifting a muscle. This is definitely a great way to flex those TV angles.
Here's the best part, you can go sporty or have some virtual football hangout sessions without missing any moments of the game. There is no limit to the fun you would have when you can see everything from anywhere!
A satisfied customer wrote: " At the time of my purchase, this is the only mount available for a very large TV like mine to work well over a fireplace. I enjoy it's is high quality and it works perfectly, just the way I want it."
Features Of The MantelMount mm700
Features of the mm700 include:
Heavy Duty Construction (3mm Steel)
Made from the finest of materials, this 3mm thick steel helps the mm700 withstand any weight and this capacity makes it a great deal if you want to go big on your flatscreen.
This part hinges onto the back of your flatscreen and serves as great support for it when you swivel it. It also makes it easy for you to adjust to a 60-degree position without having to worry about its balance.
So if you are looking for a wall mount available for a very large TV to work well over a fireplace, This is it! Serving some high-quality steel to your desired taste.
Sliding Wall Plates
With flexible sliding wall plates, you can mount your flatscreen to any stud spacing, while the wall rail slides side to side for center alignment.
This feature is responsible for the proper center alignment and a great balance. It allows for free movement and makes it very easy to adjust. The particular feature looks to make positioning work without breaking a sweat.
Paintable Wall Covers
Like the mantelmount mm540, this model has paintable wall covers. If you would like to play around with the colors and design of your living room, you can paint these covers.
What's better than a flatscreen hanging over a fireplace with a touch of classic background design? Epic!
Has heat-sensing pull-down handles that turn red when heated. This is great for the safety of your flatscreen.
It also had good cable management for extra safety.
This product is easy to position and adjust.
Easy to install.
It is built with quality materials and is very durable.
The maneuverability of the MantelMount mm700 is top-notch.
It offers great value for money.
It can't be used for flatscreens with most of its weight on one side.
Mounting brackets should be thicker compared to the TV being mounted.
#4 
MantelMount mm750

 – Above Fireplace Pull Down TV Mount with Four Premium Gas Pistons and Attached Recess Box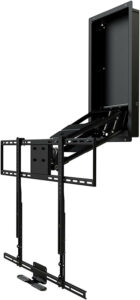 If you were impressed by the
mm700 pro
then you should check out this
MantelMount mm750 version.
This doesn't just lift the bars high, it hits expectations and levels it a lot higher.
MantelMount
went all out on this one. Throwing caution to the wind, they combined high-level steel and some extra features that were made to handle heavier,  larger, and very complex screens. And this is just to give you that pro max experience so it's either you go big or go home! This particular version is for the
home theater
die-hard fan that wants to enjoy all the experiences of a 3D cinema view with quality sounds raving through the roof. Now you can bring the scenes to the perfect eye level and say bye-bye to neck pains and eye strains. So are you looking for some monster support for that TV of yours? Then search no further, because the
mm750 mantelmount
is all you need. You have got a great TV already, the perfect furniture and your wall is game for any weight, so why not?
A satisfied customer wrote
: "
Love this product. The versatility of pulling down to watch tv and then push back up above the fireplace is great. Total game changer from the standard mounts and highly recommended for anyone considering."
Features Of The MantelMount mm750
The features of the
mantelmount mm750
take it a level higher. Some of them are:
Four Automotive Gas Pistons
The
mantelmount mm750
is enhanced with extra two gas pistons, so it has four automotive gas pistons, unlike the mm700 which has just two of them. This is required for a smooth and flexible movement during positioning. Undoubtedly, these plus features boost the ability of this pull-down TV
mount to resist twisting when you go full
range motion on it. This is really important because a slight deformation in its material can affect the accuracy of positioning. In layman's terms, it would be hard to get it hooked in one position, which could be frustrating for you. Fortunately, these gas pistons are strong enough to prevent this from happening. And in addition to that, these four automotive gas pistons add strength to the tabular lifting arm and guide it from the wall down to your desired viewing level.
Heavy Duty Construction (3.5-5mm Steel)
With steel that thick, the mm750 provides all the sturdiness and maneuverability you would need. Combined with the ease of four automotive gas pistons, this heavy-duty construction steel avoids wrapping and deformation.
Safety Installation Latches
Installation is made easy with these safety installation latches. This way you can avoid any hazard that could come with the installation of this wall mount. It's completely safe and you have nothing to worry about.
Recess Box
The mm750 also includes a strong steel enclosure that conceals the lifting arm when it is elevated. The housing can be designed to be mounted on the surface or buried for flush-to-wall TV storage of up to 1.8 inches. This pro model is designed for all home theater lovers who have a taste for perfection in everything.
It is smooth in motion and has high stability due to its extra gas pistons.
Has a wider and full range motion than its predecessor mm700
It sits at any point along with its range of motion.
It can lift flatscreens weighing close to 100 pounds.
It is sturdy and stable
Quite complicated to install
It is cumbersome and has a heavy wall mount.
It is not suitable for a DIY task. You would be needing extra help.
#5 
MantelMount mm860

 Motorized Drop Down & Swivel TV Mount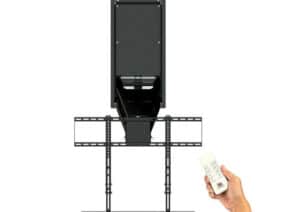 The
MantleMount mm860
is an advanced and improved version of the
MantelMount
pro series.
MantelMount 
decided to shoot through the roof with this sophisticated, motorized pull-down TV mount design that can be operated with a remote from anywhere in the room. And they sure beat our expectations.
With the finesse of a properly designed and well-engineered technology, a connoisseur can finally take a breath of fresh air.
Despite its size, this mount is remarkably quiet when moving and it is even quieter than a motorized projection screen. You could even raise or lower it without disturbing someone sleeping.
No matter how high your mantel is, you can lower your flatscreen mounted using a MantelMount mm860 to the ideal viewing level so you can adjust the screen's center.
Although it does not offer as much swivel adjustment as a traditional articulating arm mount it gives the ease of pulling your Tv to a perfect level compared to a traditional one.
Now, all Mantel Mount designs are awesome and in fact, they are very easy to mount and adjust but there's a pain point. To move them, you would still need to get up, walk over to the TV, and reach up to adjust the angle. So that means you might not use it much as it could.
However, the MantelMount mm860 relieves you of all that pain because it is motorized and automated which is an improvement in every way over earlier Mantel Mount pull-down products.
A satisfied customer wrote: "Very good experience. The product had good instructions, making it easy to install, and it met my expectations for positioning and flexibility."
Features Of The MantelMount mm860
Remote Control Choices
This Mantel mount model has a remote for easy adjustment without having to move an inch from where you are.
In addition to basic up and down, left or right operation, the no-point remote has two memory positions for setting and recalling screen positions, and a home button that retracts the TV, fully raising it. Isn't this awesome?
Power Sensing Technology
No one is going to use your TV over a fireplace lit with fire, however, if that happens the mm860 has a power Sensing technology that automatically retracts your flatscreen once it senses a temperature above 110°c.
This super feature provides the safety and preservation that your flatscreen needs.
Recess Housing
Like the mm750, in the Mantelmount mm860, the lifting arm retracts neatly into the recess box during movement. And because of this, it happens so smoothly.
Up to 1.8-inch TVs can be flush-to-wall wires can be stored within the housing, either mounted above ground or buried.
Support a TV of 35-125 pounds. You can go big on your TV with this one, you don't have to worry about anything.
You can easily change the positioning of your TV just by the press of a button.
Top-notch maneuverability
Has good cable management for extra safety.
It is sturdy and stable
It is heavy.
It is not easy to install.
It allows only 25 degrees of left to right swivel, unlike the others that allow over a 30-degree upward movement.
It is quite pricey.
First, What is A Pull-Down TV Mount?

Every home theater lover dreams of owning a pull-down wall mount for their flat screens. The comfort of watching your TV from any angle is incredible and in a pool of many choices in the market, the MantelMount pull-down TV mount stands out.

The pull-down wall mount is a relatively new invention that allows your flatscreen to pivot left, right, and downwards depending on the viewing angle within a room. An example is the MantelMount Pulldown TV mount series.
Each day, there is a rise in popular demand for this particular TV mount because of the sophistication and comfort it gives. An extra functionality the pull-down tv mount offers is the ability to lower the TV for better viewing at eye level, which is not possible with a traditional TV Mount.
Typically, most traditional TV mounts are only able to swivel left or right, you can also pull it out and tilt it down. Whereas, a pull-down tv wall mount can go full range motion allowing you to see the action from any angle you are sitting.
Factors To Consider When Buying a Pull-Down TV Mount
A pull-down wall mount changes your viewing experience in remarkable ways. However, there are a few factors you must consider when buying a pull-down wall mount if you want to enjoy that wholesome viewing experience. A few of them are:
The Location Of Your Flatscreen
When buying a pull-down tv mount, one of the key factors you should consider is the location. Where would you love to have your TV mounted? Do you want it to be the centerpiece of your living? How about mounting it above your fireplace?
Whichever you decide to get, you have to make sure the TV mount can give you a comfortable view from all angles of the TV screen. The direction of the Sun to your room is also important to consider when placing your TV.
One more thing, if you have furniture or other decorative pieces in your living, you should also consider re-arranging if it would affect the installation of your new TV mount and also your viewing experience.
Cable Management
There is probably no decor solution that people are more concerned about than this one. It's best to get it professionally installed if you want the cords hidden.
However, before getting a pull-down TV you should consider how good its cable management is and if it can be properly hidden so it doesn't add an unpleasant detail to the outlook of your living room.
This is because the location of your cable television might affect the appearance of the TV.
Height and Placement
How high do you want your TV to be and at what position do you want it to be mounted?
If you want it placed high above your fireplace then you should be getting a pull-down TV mount that can go really low for your convenience. All thanks to the MantelMount brand, they do justice to this.
Viewing Distance
What makes for an optimal TV viewing experience varies greatly depending on who you ask. Others prefer to sit further back due to their more sensitive eyes, though some say sitting close to the television makes for the best immersive experience. But this is about you.
Choose a distance that would give you better viewing pleasure just as you like it and to achieve this, get a pull-down that fits in perfectly.
To find the distance from a TV, retailers, and manufacturers usually multiply the digital width of the TV by 2.5. You should try this also and get the perfect spot for yourself. You could also measure so you can get the right mount for your TV specification.
Size of your Flatscreen
This list wouldn't be complete if we don't mention the size of your flatscreen. Yes, it plays a very big role in determining the type of TV mount you should get for yourself. Be sure the mount you buy fits your TV properly.
If you would like to go big on the flatscreens then you should choose something that would lift your TV from the wall to the eye-level viewing position effortlessly. Also, try not to use an undersized TV mount as this can be harmful to your TV and to avoid hazards in the future.
Double Check On Your Walls
Another factor to look out for is the strength of your walls. How rigid is it? How much weight can it carry? If you can answer these questions correctly then you are good to go.
Of course, having a maxi-sized TV and pull-down TV mount is a good idea and sounds fancy but your safety should come first. Most houses have the fireplace built as the focal point in the living room and if it's strong enough then you are good to go.
Choose a TV mount that wouldn't be a hurdle to your walls when mounted with your TV. Thankfully, MantelMount has your back on this with different designs you can choose from.
Flexibility Of The Pull-Down Mount.
This is a tricky part. Many people know they want a flexible pull-down TV mount that swivels but they have a hard time getting one that swivels to their satisfaction.
You should check out the flexibility of the TV mount you want to buy and see if it gives you the kind of flexibility you want.
Value For Money
There are lots of pull-down TV mounts out there with all the nice and attractive qualities that you would love. However, their prices may be a little stiff.
In cases like this, you should properly weigh your options and check out the value of the TV mount you are trying to buy. Ensure that you are not buying because you feel it is fancy or overpaying for a feature that you will not use.
Individual Product Reviews
Check out product reviews and see what other customers are saying about it.
You don't have to read every review or watch every video available on the product. Just pick out 2-3 on it and properly analyze it while looking out for features that appeal to you.
We have done the legwork for you and attached a few reviews we felt stood out on each above the fireplace Mantel mount design.
Now you know all that, let's get the right TV mount just for you
How To Install MantelMount Pull Down TV Mount The Right Way
Now that you know which MantelMount kit to buy, the next step is the installation process. You don't want to break anything while installing or worse install it wrongly.
Not to worry, we have done the job for you. By the time you're done reading these instructions, you would be one step away from fixing your very own MantelMount model.
What You Need
A Power Drill and Bits
To properly attach your mount to the brick wall over your fireplace, you need a power drill. This is to avoid damaging the screws.
A 3 or 5-foot level.
This is to make sure your TV is level on its vertical and horizontal sides.
Socket screwdriver and a variety of sockets.
This is to properly attach the bolts of the mount to your TV.
A measuring tape.
Drills for drywall.
Paper and pencil.
Extra hardware and bolts; you can never be too careful. Just in case your mount is missing some screws.
A Hammer drill
To break through the brick wall, you'll need some extra strength.
Brick bits with carbide tips
This is for stronger drill power as standard drills could break when you use them on your brick wall.
Cord covers
These are intended to hide your cables in plain sight beneath your television. They come in a variety of shapes and sizes to accommodate your specific configuration. They can also be painted to match the color of your walls.
Concrete anchors.
Anchors are used in place of a stud when mounting on brick walls (for example fireplaces). They prevent screws from falling off, so they are much better than studs.
Rubber mallet.
Now,
The Installation Process
First, make the appropriate markings on your brick wall where you would be drilling and attaching your anchor.
For the next step, you have to carefully select the anchor and screw you would be using. Also, you have to be extra cautious with which type of drills you opt for, so you don't end up using the wrong screws and damaging them. Here, a ¼ inches drill should do the trick.
Adjust any screw holes that line up with mortar so that the screw can be anchored at least half an inch from the brick's edges into the brick.
Now with your hammer-drills, drill some holes in the brick wall where you want your TV mount panel to be placed
Attach the mount by drilling a hole in the wall, around 2.25″- 2.5″ deep. This is the part where you use painter's tape to mark and measure for better precision.
When that is done, it's time to fix your anchors. With a hand vacuum nozzle clean out dust from the newly drilled holes.
By placing the anchor without proper vacuuming, you won't be getting a properly laid anchor. This is a mistake a lot of people make. So, make sure you check that, vacuum first, and then place anchors. Finally, gently hit the anchors in place using a mallet for proper alignment.
Now, this is the tricky part, all drill holes and anchors should be in line with your bracket. Meticulously monitor the placing of brackets and ensure the screws go into the right holes.
Washers help to seal all that in, and you would find some in the MantelMount tool kit. Add them to your concrete screen while aligning them through your TV mount.
With the right-sized ratchet, fasten one screw. A socket adapter would also work perfectly for this, then use your level to check the bracket isn't misaligned and finally tighten the remaining screws.
Voila! All you have to do now is mount your TV on the bracket.
This might sound complex, so if you need a little help, you can get some from professional installers.
The FAQ's
For some extra clarity, we have gathered some frequently asked questions about the MantelMount brand and their answers. Have a look.
What is the patented Auto Straightening feature?
The Auto Straightening feature is responsible for automatically straightening your Tv when it is in a swiveled position while it is raised.
MantelMount particularly considered this as swiveling the TV while it is switched on would easily cause it to collide with the wall.
This patented feature is common to all MantelMount designs, so you can comfortably make your choice.
Can a center speaker be used instead of a soundbar?
If your center speaker looks like and is sized like a soundbar then it can be used. If not you would be needing a third-party attachment.
Should I buy it online or offline?
Shopping for a TV mount online comes with mouth-watering discounts and coupons which is a great idea. But the downside to this is the delivery time, if you are in a bit of a hurry, you should probably look out for one at an offline store.
Where can I get it online?
You can visit Mantelmount's official site here, or you can buy from a reputable dealer online. They also have all product designs available on Amazon.
The Bottom Line
There you have it, our top 5 reviews for the best Mantelmount TV mount for flat screens in 2022. We understand choosing a TV mount can be tricky but we are sure this guide would ease things up.
So, which of them did you choose? A little tip? Pick something that is comfortable and adds more details to your living room decor.
With this guide, you are one step away from luxury living and having the best viewing experience ever!
Trouble installing a mount? Contact us today to get your tv installed