Having a television in the kitchen can be a nice luxury. Whether brewing your coffee or preparing dinner for your family, you don't have to miss your favorite show. A smart television may readily improve the entertainment options in the kitchen.
It's safe to suggest that not any TV would be a good match for this area given the unique shape of the kitchen room and how little space is available. Small, highly portable TVs are typically the first choice for homeowners seeking the best kitchen TV.
You don't always have to sacrifice quality when choosing smaller televisions. There are several compact TVs available with excellent features. That guarantees flawless image performance with a small footprint.
Table could not be displayed.
Our Top 8 Picks For Best Kitchen TVs Review
Here's a detailed review of the top 8 products for best kitchen TVs. If you want to know how we picked these products and what are the key factors. You can go down to 
Detailed Buying Guide 

FAQ Section
1. SAMSUNG M5 Series (Best Overall kitchen TV)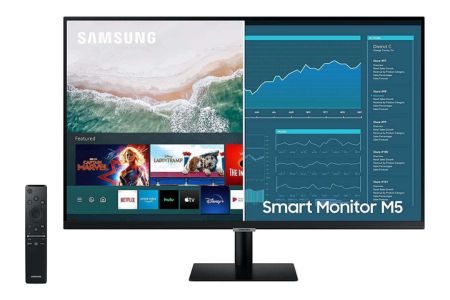 Screen Size: 27-Inch | Display Type: LED | Resolution: 1080p | Refresh Rate: 60Hz | Smart Apps: Netflix, Amazon Instant Video, YouTube | Brand: SAMSUNG | Connectivity: Bluetooth
SAMSUNG M5 TV with full HD resolution is primarily a monitor but also functions as a TV. This is an excellent substitute if you want to work and watch from your kitchen.
The TV may be as large as 43 inches, so if you need a bigger size TV and have the room, you might want to consider going one or two sizes larger. However, due to the high audio and picture quality, the 27-inch size would be ideal for practically every kitchen.
This TV performs well, regardless of how bright or dark the environment is, thanks to Adaptive Picture. So, you won't ever need to strain your eyes to see the screen better if it's dark out.
You can stream unending entertainment besides watching TV in high HD, which makes it the best streaming kitchen TV. It's quite useful, much like the Samsung FRAME. Fortunately for your budget, the M5 costs about a third as much!
 It is also ideal for sports enthusiasts and gamers.
Don't want to miss the game while preparing dinner? No issue! Thanks to Ultra-wide Game View, you can easily keep track of the score in an optimal format.
In my opinion, It's also ideal for driving games because you can see a lot more of the road and enjoy an immersive gaming experience. Finally, the remote control is included so you may continue to work and play simultaneously.
The Samsung M5 series is the best streaming kitchen TV with built-in speakers. It shows a stunning picture, day or night; a sensor detects ambient light to adjust brightness with Adaptive Picture.
Additionally, you can use PC on-screen tools to boost productivity. The Microsoft 365 suite lets you view, edit, and quickly save documents to the cloud. Use Tap View on your phone to view photographs or watch videos on the big screen. Wireless DeX offers a full PC experience without a PC.
"The 27-inch Full HD (1080p) display on the SAMSUNG M5 Series Smart Monitor offers crisp and clear visuals. The colors appear vibrant, and the viewing angles are excellent. Whether you're binge-watching your favorite Netflix series or working on graphic design projects, the display won't disappoint."
"One of the significant advantages of the SAMSUNG M5 Series Smart Monitor is its extensive connectivity options. It supports Apple AirPlay, which allows seamless streaming from Apple devices like iPhones, iPads, and MacBooks. Additionally, the built-in Bluetooth lets you pair your wireless headphones or speakers, enhancing your viewing experience."
Excellent sound quality

Seamless switching

Easy to clean
2. ViewSonic VA2055SM (Best kitchen counter TV)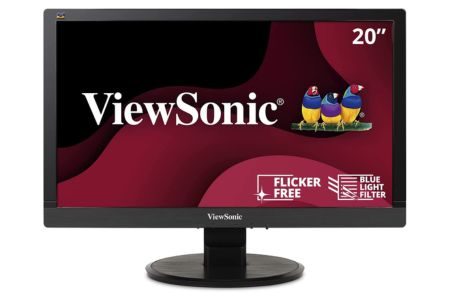 Screen Size: 20-Inch | Display Type: LED | Resolution: 720p | Refresh Rate: 75 Hz | Smart Apps: Spotify, Netflix, Hulu, Skype, YouTube, Amazon Instant Video | Brand: ViewSonic | Connectivity: HDMI, Wi-Fi, USB
The ViewSonic is very different from most 20-inch choices, especially if you want to use it in the kitchen.
The ViewSonic VA2055Sm has a 20-inch Full HD Super Clear MVA touchscreen panel with two 2-watt speakers built in. The LED screen has a resolution of 19201080, a contrast ratio of 3,000:1, VGA and DVI ports, and a mount that is compatible with VESA.
Also, Flicker-Free and Blue Light Filter technology helps keep your eyes from getting tired when you watch for a long time.
In our testing, ViewSonic's unique ViewMode gave us easy-to-use presets that made the screen work best for each app.
It has one of the best pixel performance policies in the industry, as well as ENERGY STAR and EPEAT certifications and an energy-saving "Eco" mode. The VA2055Sm is a great long-term investment for both personal and business use.
For a 20-inch TV, the list of features is very amazing. If you're looking for the best kitchen TV, this is it. It has a great screen that's made to reduce eye strain and high-quality audio. It works great for all kinds of games and fun. The only bad thing is that, based on how your system is set up, you might need to buy a DVI to HDMI cable.
"The ViewSonic VA2055SM 20 Inch 1080p LED Monitor with VGA Input and Enhanced Viewing Comfort impresses with its affordability and thoughtful features. The 1080p resolution delivers crisp visuals, while the enhanced viewing comfort helps reduce eye strain during prolonged usage."
"One of the strongest selling points of the ViewSonic VA2055SM is its affordability. Considering its price point, the monitor offers compelling features, including enhanced viewing comfort, decent visual quality, and reliable performance. This could be a great option if you're on a budget and seeking a reliable monitor for general use."
Ultra-Wide viewing angles

Full HD 1080 resolution

Dual stereo speakers

75 Hz display

Eco-mode
Supports DVI instead of HDMI

No smart tv features
3. SAMSUNG Q60A Series 32" (Best Display Kitchen TV)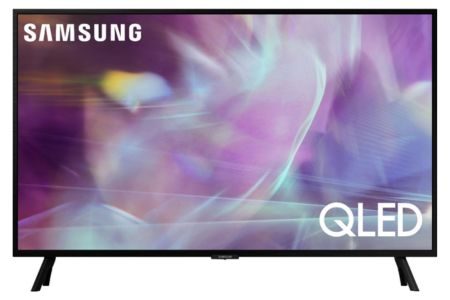 Screen Size: 32-Inch Display Type: QLED Resolution: 4K Refresh Rate: 60Hz Smart Apps: Netflix, Hulu, YouTube, and More Brand: SAMSUNG Connectivity: Wi-Fi | Bluetooth | HDMI | USB | Ethernet (LAN)
This Samsung 32-inch set includes a full HD LED display. It comes with a 4K resolution of 2160 pixels, which provides high color and contrast to make everything appear realistic.
It can keep up with fast-moving action sequences or sports activities without any lingering blur thanks to its enhanced motion technology and 60Hz refresh rate (excellent for gaming, too!).
In our testing, You can stream content all thanks to the TV's built-in streaming player. Three HDMI connectors, two USB ports, and two built-in voice assistants are additional nice-to-haves.
It's the best display kitchen TV gift if you have a home cook for whom you care.
SAMSUNG 32-Inch Class QLED Q60A Series is an excellent TV for the kitchen as you can enjoy and cook at the same time. It's worth making a place for the extra inches even if this TV is on the larger side, especially if picture quality is important to you.
"The QLED technology on this 32-inch TV is the standout feature. Boasting 4K UHD resolution, the visuals are sharp, vibrant, and detailed, bringing out the best in your favorite movies, shows, and games."
"Gamers will appreciate the low input lag and quick response time, making this TV suitable for casual and competitive gaming. However, it lacks advanced gaming features like variable refresh rate (VRR) or high refresh rates, which might be disappointing for some hardcore gamers."
Built-in speakers

Built-in voice assistants

4K display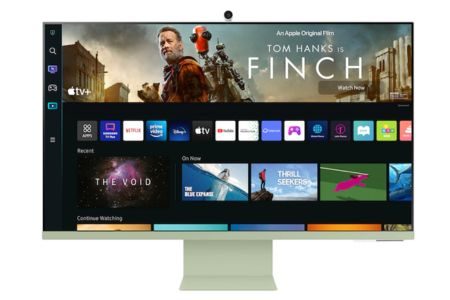 Screen Size: 32-Inch Display Type: LED Resolution: 4K Refresh Rate: 60Hz Smart Apps: Spotify, Netflix, Hulu, Skype, Brand: SAMSUNG Connectivity: HDMI, Wi-Fi, USB
The Samsung m8 32-inch smart monitor has everything the best kitchen TV does except a tuner. If a display doesn't have a tuner, it's not a TV from a legal and technical point of view. Instead, it's a monitor.
But if you don't use traditional cable and satellite connections and just use an antenna, it's a great TV for everything else.
In my opinion, It offers an immersive gaming experience due to its 60 Hz refresh rate, low input lag, and good response time. Even though it doesn't have HDMI 2.1, the Samsung smart monitor is good for games on PS5 and Xbox X.
In my own experience, It has a stunning picture, impressive sound, and enhanced connectivity options. It has a clear and bright LED screen and smart features that let you watch movies, sports, and play games.
If you connect your computer to Wi-Fi, you can fully enjoy Netflix, YouTube, and games. And you don't need a separate PC to edit papers, browse the Internet, or work on other projects.
It is an entry-level Samsung Kitchen TV with a 60Hz refresh rate. Its response time is also not low. It doesn't have HDMI 2.1 ports, which make fast-paced games run easily, but it's a good Samsung TV for gaming because it has a low input lag and a good refresh rate.
"One of the standout features of the Samsung M8 Series is the slim-fit webcam. It's cleverly integrated into the design, offering a convenient way to participate in video conferences and virtual meetings."
Excellent QLED image quality
5. SAMSUNG 43-Inch Class Frame Series (Best kitchen smart TV)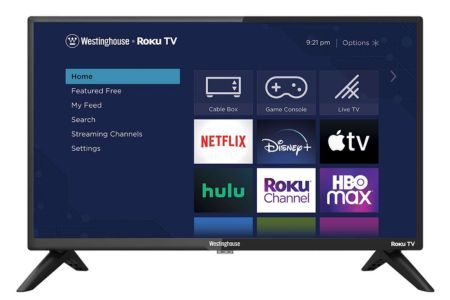 Screen Size: 24-Inch | Color: Black| Resolution: 720p | Refresh Rate: 60Hz | Smart Apps: Spotify, Netflix, Hulu, Skype, YouTube, Amazon Instant Video | Brand: Westinghouse | Connectivity:  Wireless
The Westinghouse 24″ HD Smart Roku TV is a smart home device that works with almost every other device. It has voice search and control so you can find the activities you want faster.
In my experience, This TV allows you to stream in High Definition and enjoy your entertainment with reduced motion blur and a crisp picture, along with audio powered by Dolby.
During our tests, it gave us crystal-clear sound with better speech and louder volume for a fuller sound mix.
The Westinghouse Smart Roku TV is very easy to use, lasts a long time, and doesn't cost a lot. At this price, there's really nothing wrong with anything. Even though the sound is only loud enough for a small room and the screen isn't the best, I think it's amazing that Roku can give so much quality and features for so little money.
"With a 720p High Definition resolution, the display on this Westinghouse TV is crisp and clear for its size. The colors are vibrant, and the contrast is decent. While it might not match the sharpness of higher-end 1080p or 4K TVs, it delivers a satisfying viewing experience for everyday use, such as watching movies, TV shows, or streaming content."
Roku Smart OS

Value for money

Wireless Connection Support
Sound quality is not good
6-VIZIO D24F4-J01 Smart TV (Best Streaming TV)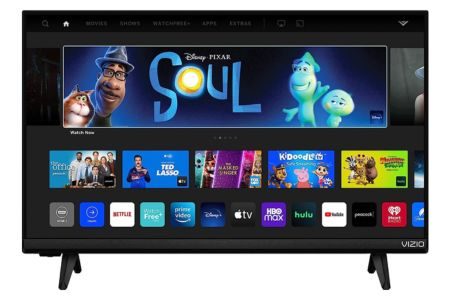 Screen Size: 24-Inch | Display Type: LCD | Resolution: 1080p | Refresh Rate: 60Hz | Special Feature: V-Gaming Engine, Auto Low Latency Mode, AMD FreeSync Certified, DTS Virtual:X, Variable Refresh Rate | Brand: VIZIO Connectivity: USB, HDMI
VIZIO's 24-inch LED HD TV holds first place on our list of the best kitchen TV due to its excellent quality and affordable pricing.
Several nice-to-have features include full HD 1080 pixel resolution, outstanding brightness, and color saturation, built-in speakers, and preloaded streaming services.
In my own experience, It also provides screen-mirroring support for Apple Airplay and Chromecast.
Vizio LED TV has a V gaming engine. With variable refresh rate and Freesync gaming features. You can enjoy the latest games immensely.
In our testing, Vizio TV has fats IQ processor. So you can run any app and navigate your favourite TV shows super fast.
As far as technology is concerned, the TV is nice and sleek. It doesn't have a huge surround, so it tucks away perfectly for the least noticeable addition to your kitchen.
Additionally, it has a sturdy stand that allows you to prop it up on a counter. You can install this TV out of the way if you'd like to save counter space instead.
"The Full HD 1080p resolution on a 24-inch screen might not match the ultra-high resolutions of larger TVs, but it still delivers crisp and vibrant visuals. The picture quality is excellent, with vivid colours and decent contrast levels."colors
"The TV's user interface is intuitive and user-friendly, making it easy for even the less tech-savvy individuals to navigate effortlessly. The onboard processor handles tasks well, and we noticed smooth performance while streaming content and using apps."
High pixel HD

Preloaded with streaming services

Built-in speakers
No built-in voice assistant
7. SANSUI ES24Z1 (Best portable TV for kitchen)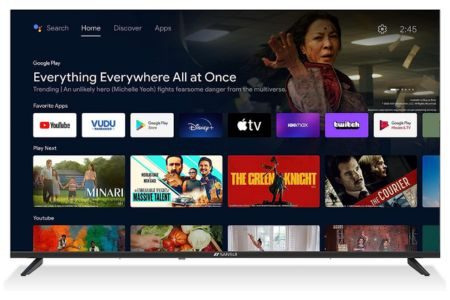 Screen Size: 24-Inch | Display Type: LED | Resolution: 720p | Refresh Rate: 60Hz | Special Feature: Built-in with HDMI, USB,720p LED HD TV | Brand: SANSUI | Connectivity: VGA
The SANSUI 24″ LED TV's high-definition picture quality and 1366 x 768 resolutions perfectly display every detail. For clear vision, the screen adopts a 178° viewing angle, which gives you a superior visual experience when watching movies and television.
SANSUI 24 Inch HD TV is an excellent addition to the kitchen. Whether you're watching TV, playing games, or just relaxing with music while cooking, you can easily share your media files via HDMI/VGA or a smart device.
It's the best portable TV with its slender bezel and sticks stand design; it will add a stylish touch to your kitchen. This 24 Inch LED TV may be conveniently placed on a cabinet or wall-mounted to conserve space.
SANSUI 24 Inch HD TV is a great portable TV for the kitchen. It has smart features, which makes it a great choice. It has a wide viewing angle of up to 178° for a deeper immersive experience. The DLED image technology used by the SANSUI 24″ TV uses direct lighting to illuminate the entire screen. It also enhances depth resolution details and brightness contrast, especially at night.
"Including Android TV as the operating system is a big plus. It offers a user-friendly interface with easy access to a wide range of apps through the Google Play Store. Browsing through your favorite streaming platforms like Netflix, YouTube, and Amazon Prime Video is a breeze."
Multiple ports for connectivity

Great TV for the money
No Bluetooth

No Wi-Fi

No built-in apps
8. SuperSonic Portable Widescreen (Best TV for Kitchen wall)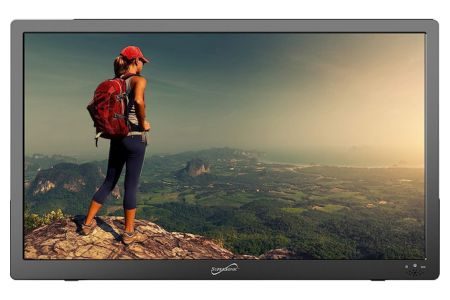 Screen Size: 16-Inch | Display Type: LED | Resolution: 720p | Refresh Rate: 60Hz | Smart Apps: Netflix, Hulu, Skype, YouTube, Amazon | Brand: Supersonic | Connectivity: HDMI, Wi-Fi
Do you want to permanently mount a TV on the kitchen wall and yet want the option to watch TV in the kitchen? A decent alternative is a SuperSonic portable TV.
These are far more compact and less advanced than conventional ones. But they still function well—especially this type, which includes an LED screen that provides a sharp, clear image.
Although the SuperSonic Portable LED TV isn't a smart TV, it is the best TV for kitchen walls. It also has USB, AC/DC, and MMC connections. To access your chosen streaming services, you can link it to other media devices like Firestick, Roku, and Chromecast.
No matter how you arrange your kitchen, moving about is convenient due to the portable size.
In my own experience, Super Sonic SC-449 is a portable TV that can easily move around your kitchen walls. It also makes you to watch TV or the news easily.
The extra feature which allows you to connect to USB is excellent. It will enable you to watch anything you want or even listen to your favorite songs while doing your kitchen chores.
"The audio quality, while not extraordinary, is adequate for casual viewing. However, if you seek a more immersive audio experience, connecting external speakers or using headphones is recommended."
"The Supersonic 16-inch LCD Display also impresses with its range of multimedia input options. The USB and SD card slots enable you to play your favorite movies, music, or photos directly from your portable storage devices."
Portable

Compact

Equipped with many ports
Lower resolution

Not smart
Key Factors for Buying Best Kitchen TVs
Before purchasing a kitchen TV, there are a few things to consider.
Dimensions / Size

image quality

Price

Smart capabilities

Controls
Dimensions/ Size:
When selecting a kitchen TV, size is among the most crucial considerations. Any TV you choose must be able to fit inside the room's allotted area. That being said, having plenty of room for a TV doesn't mean you should get the biggest one available.
Choosing the perfect kitchen TV with a large enough screen for daily use without affecting your kitchen's style is the key. Depending on the size of your kitchen, a size range of 20 to 40 inches is the most optimal.
If your kitchen is small, you can get away with a smaller television, but if your kitchen is big, you'll need a screen closer to 40 inches.
Image quality:
Another important aspect is the image quality.
Nobody likes viewing their favorite shows on a blurry screen, so it's crucial to be sure that any device you choose can give a clean and clear image.
It means seeking out devices with full 1080p HD resolution for larger TVs. Although smaller TVs don't require as many pixels to look excellent, 720p should still be your minimum goal.
Price:
As with any purchase, you should pick a product within your price range. You can focus your search and select only the models you can afford by establishing a budget upfront.
Many excellent options are available at every price point due to the growth and advancements in TV technology over time. Nowadays, you don't need to spend hundreds of dollars to have a great TV for your kitchen!
Smart capabilities:
The most practical way to watch videos nowadays is on a smart TV. Besides offering access to all the common TV channels, they also include built-in streaming and internet.
You should absolutely be concerned about securing smart functionality for your new kitchen TV. It's especially true if you have streaming channel subscriptions and want to watch your favorite shows while cooking!
Controls:
You need an easy way to operate your TV if you watch it in the kitchen. The remote control that comes with every TV can be awkward to use if your hands are soiled from cooking.
Searching for TVs with voice commands is something we'd advise. You may change the channel and volume with these controls from anywhere in the kitchen, although they are not required. But still, voice controls can significantly enhance your TV viewing experience.
Conclusion:
We hope that by the time you conclude this article, you have a better grasp of the kitchen TVs that are currently on the market.

You can't go wrong with the VIZIO 24-inch LED HD TV if you seek the best overall kitchen TV experience. The Insignia 24″ smart HD TV is a fantastic low-cost alternative if you want something more economical. If you're still having difficulties deciding which gadget will be ideal for you, look over the helpful buyer's guide above.
Which TV is best for the kitchen?

VIZIO 24-Inch Class D-Series LED 1080p Smart TV

Is a TV in the kitchen a good idea?

Time is frequently important in the morning for the majority of people. Consequently, including some multitasking entertainment is a great way to start your day off right. If your kitchen has a TV, you can watch the morning news and weather while drinking coffee or eating breakfast.