If you find flat-screen TVs to be insufficiently immersive, you need to try curved versions. Curved TVs can offer a more immersive visual experience due to their curved panels.
Curved TVs are frequently seen as more beautiful than traditional flat-screen models. Though curved TVs are less popular than conventional versions, there is still a respectable demand, especially among gamers.
Though many brands have launched curved TVs at one point, we found that Samsung curved TVs lead in terms of reliability and performance. In this guide, we'll introduce top-rated curved TVs that you can buy in 2023.
Our Top 5 Picks For Curved TVs Review
Here's a detailed review of the top 5 products for best curved TVs. If you want to know how we picked these products and what are the key factors. You can go down to 
Detailed Buying Guide 
FAQ Section
1- Samsung UN65MU8500 (Best curved TV For Gaming)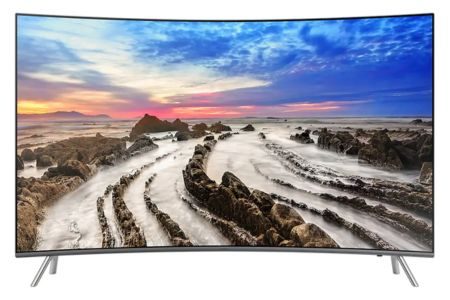 Screen Size: 65-Inch| Display Type: LED| Resolution: 4k| Refresh Rate: 120Hz| Smart Apps: Netflix, Hulu, Skype, YouTube| Brand: SAMSUNG| Connectivity: Wi-Fi
The Samsung MU8500 is a fully smart 4K TV with solid build quality. It has a curved panel that looks aesthetically pleasing.  As far as picture quality, you will get good color accuracy and decent contrast ratios ( 4167:1). Unfortunately, its local dimming is subpar. 
It gets reasonably bright in SDR while in HDR brightness is a bit less. The only major problem with picture quality is its narrow viewing angles.  
In our testing, It upscales low-quality content such as DVD (480p), or HD content into 4K really well. Overall a good TV for watching movies, TV shows, and sports without any stutter. 
For gamers, this TV offers low input lag, a decent response time, and a 60Hz refresh rate. It has 4 HDMI 2.0 inputs for connecting multiple external devices simultaneously. But it does not have HDMI 2.1 or VRR support.
Overall, Samsung MU8500 is a decent all-around TV that does well in movies, sports, and gaming alike. It can be used as curved tv for a computer monitor due to its low input lag, quick response, and high refresh rate of 120Hz. Though it has narrow viewing angles and flicker issues sometimes.
"As a gamer, I was particularly interested in testing the gaming capabilities of this TV. The UN65MU8500 delivers excellent gaming performance with low input lag and a high refresh rate. Whether you're into fast-paced action games or immersive RPGs, the TV ensures a smooth and responsive gaming experience."
"The built-in speakers are decent, but for a truly cinematic experience, I'd recommend complementing the TV with a dedicated sound system or soundbar. While the TV's audio is clear and adequately loud, an external audio setup enhances the overall enjoyment of movies and TV shows."
high contrast ratios

High SDR Brightness

low input lag during 

Very Responsive

 120 Refresh Rate
Poor local dimming

Image quality degrades at an angle

Flicker issues

No VRR
2- Samsung UN55RU7300FXZA (Best 55-inch Curved TV)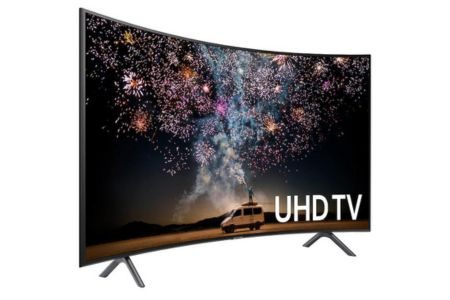 Screen Size: 55-Inch| Display Type: LED| Resolution: 4k| Refresh Rate: 60Hz| Smart Apps: Netflix, Hulu, Amazon Instant Video, Browser| Brand: SAMSUNG| Connectivity: Bluetooth
The Samsung RU7300 is a good 4k TV with excellent picture quality and a curved display. The build quality of the TV is also very good but not premium. The stand of the TV is also sturdy and supports the TV very well. 
Since this TV uses a VA panel, so it is able to generate deep blacks and high contrasts which makes it ideal for viewing in low-light environments. But the TV does not have a local dimming feature. 
The TV is not really best for bright rooms because it has quite a mediocre peak brightness of 282-287 in both SDR and HDR. But the TV has great black uniformity and color accuracy. So overall picture quality is good for watching movies. 
The TV does an excellent job of upscaling low-quality DVD or HD content into 4K. The TV has good reflection handling capabilities as well. But unfortunately, the viewing angles are poor, so this TV is not suitable for large seating arrangements. 
In my opinion, It has a refresh rate of 60Hz and lacks cutting-edge gaming capabilities like VRR. The input lag is also very low but the response time is not good. As a result, you might face motion blur occasionally.  
Furthermore, because of its slow response time, fast-moving scenes are subject to slightly increased motion blur. 
This is a fully smart TV that employs Tizen OS. This OS is really user-friendly platform and has a ton of apps accessible. It has 3 HDMI 2.0 inputs to let you connect your favorite gaming consoles.
The Samsung RU7300 is a great TV for most purposes. It is a wonderful option for watching in a dark room because of its VA panel's ability to produce deep and even blacks. It is good for moderate lighting and has respectable reflection handling but is not good for a bright enough ambience. It has very little input lag for gaming but does not support technologies that use a variable refresh rate to lessen screen tearing. Because it can't display a wide color gamut and get bright enough to make highlights jump, so it can sadly only offer a passable HDR experience.
"The performance of the Samsung UN55RU7300FXZA is impressive across the board. Its quad-core processor ensures smooth multitasking and quick app launches. Whether you're switching between apps, browsing the internet, or playing games, the TV handles everything with ease."
"The 4K UHD resolution of this TV delivers stunningly sharp and detailed images. Colors are vibrant, and blacks are deep, thanks to the TV's HDR (High Dynamic Range) capability. Whether you're watching your favorite movies, playing games, or streaming high-quality content, the Samsung ensures a visually captivating experience."
Excellent low input lag.

Produces deep, uniform blacks.

High contrast ratios

Great color accuracy

Excellent 4k upscaling 

Low input lag
Poor HDR brightness

Disappointing viewing angles.

Low response time
3- SAMSUNG TU-8300 (Best Budget Curved TV)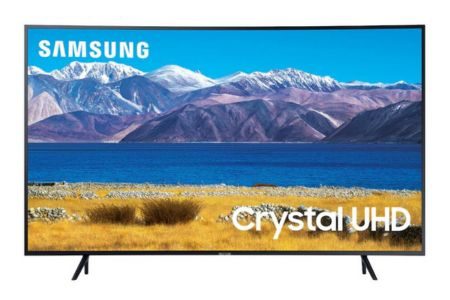 Screen Size: 65-Inch| Display Type: LCD| Resolution: 4k| Refresh Rate: 60Hz| Smart Apps: Netflix, Hulu, Amazon Instant Video, YouTube, Browser| Brand: SAMSUNG| Connectivity: USB, HDMI
The Samsung TU8300 has a curved screen and is a decent TV for most purposes. In terms of image quality, you won't have any complaints. 
In my experience, It offers superb black uniformity and contrast ratio due to its VA panel. But we found that it lacks a local dimming feature to enhance deep blacks further. 
So if you are looking for a decent TV that is the best TV for dark rooms, this is a solid option. It can also upscale low-quality content to 4K. It does not get bright enough in HDR mode but performs better than others in this budget range.   
For gamers, it has a 60Hz display and a shockingly minimal input lag, it, unfortunately, does not support variable refresh rates (VRR).
 Last but not the least, its response time is mediocre. If you're searching for the best curved 4K TV for gaming, it's a decent option.
The Samsung TU8300 is a decent TV for various uses. It's a good TV for watching movies because of its amazing black uniformity and excellent contrast. Although it has minimal input lag, which makes it ideal for video games, its slow response time causes motion blur with fast-moving content. Finally, its low HDR peak brightness and lack of a large color gamut will likely disappoint you.
"One of the standout features of this TV is the integration of Amazon Alexa. You can control the TV using voice commands through the remote or even via a separate Alexa device. From adjusting volume and changing channels to searching for content, Alexa makes the overall experience much more convenient."
"The 65-inch UHD display with 4K resolution on this Samsung TV delivers breathtaking visuals. The colors are vibrant, and the contrast is sharp, thanks to the HDR technology. Whether watching movies, playing games, or streaming your favorite shows, the picture quality remains consistently impressive."
Upscales HD content to 4K.

Incredibly low input lag.

Support black frame insertion.

Excellent contrast ratio.
Only mediocre response time.

Low HDR peak brightness.

Doesn't support any variable refresh rate technologies.
4- Samsung UN55MU6500 (Best 65-inch Curved TV)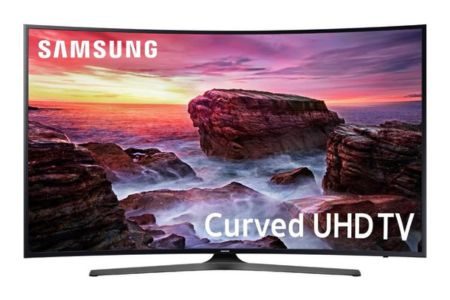 Screen Size: 65-Inch| Display Type: LED| Resolution: 4k| Refresh Rate: 120Hz| Smart Apps: Netflix, Hulu, Skype, YouTube| Brand: SAMSUNG| Connectivity: Wi-Fi
The Samsung MU6500 curved Ultra HDTV redefines the viewing experience by creating a vibrant high dynamic range (HDR) image. Your favorite streaming content options are easily accessible due to this Smart TV user interface (UI).
The MU6500 includes integrated Wi-Fi networking so that you can access your favorite apps and web-based material as well as share content and mirror your screen with other smart devices like your smartphone or tablet. 
There are several possibilities for attaching high-definition video sources thanks to the three HDMI inputs. 
Additionally, there are two USB connections onboard for syncing flash drives and other multimedia accessories which makes it the best curved 4k tv to buy.
The MU6500 by Samsung is a curved LED UHD TV with HDR. It has a curved LCD display with LED backlighting and Motion Rate 120 technology to eliminate blur in fast-moving images. A more immersive experience is made possible by its curved form.
"The 4K Ultra HD resolution of the UN55MU6490 boasts four times the pixels of Full HD, resulting in breathtakingly sharp and vibrant visuals. The colors are rich, accurate, and vivid, thanks to Samsung's proprietary color-enhancing technologies."
Excellent Gaming Features

Anti-Glare technology

Low Input lag
HDR performance is not impactful

Blacks are a little grey
5- SAMSUNG TU-8000 Series (Top Rated 75-inch TV under 1000)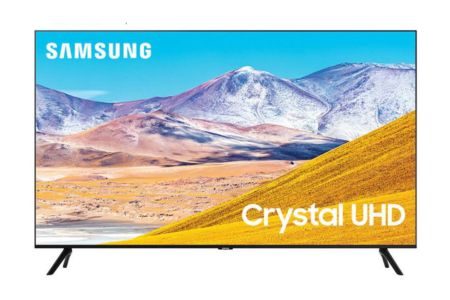 Screen Size: 75-Inch| Display Type: LCD| Resolution: 4k| Refresh Rate: 60Hz| HDR: Yes| Smart Apps: Tizen OS, Netflix, Hulu, Spotify, Skype, Amazon Instant Video| Voice Assistant: Alexa, Google| Connectivity: 3 HDMI, Wi-Fi, USB
Samsung TU8000 is another best-curved TV. Even though it's a 2020 model, it's a great choice from SAMSUNG. Its most important selling points are its 4K screen resolution, low input lag, and fast reaction time.
It has the same high contrast and rich blacks as the Samsung AU8000. Even though it doesn't have local dimmer zones, it does a great job in the dark room. You can watch films and games on it. 
It has a lot of extra features, such as HDR10+. It runs on the Tizen OS, which is easy to use and lets you get a lot of apps. But its HDR performance is bad because its brightness is low and its color range is small. 
This type has a very fast processor and a number of features, such as Ambient Mode and Eco Sensor.  It can improve the quality of low-quality DVDs like 480p, 720p, and 1080p. 
This TV is good for casual games because it has a refresh rate of 60Hz. This TV has more features than any other TV on the market at this price, and they all work together very well to make a very immersive experience. 
It's easier to block glare with Crystal glass. The curved screen looks great and keeps shadows and glare from making it hard to see what's going on. 
On the other hand, it has narrow viewing angles and can't get bright enough to get rid of glare. Also, it doesn't have game tools like VRR or HDMI 2.1.
This is the top-ranked best-curved TV. It can do a great job even in dark places. But it doesn't work in places with a lot of light. It's also great for playing games for fun. But it doesn't have VRR, which is fine for a camera in this price band.
"With the Samsung TU-8000 Series, users can enjoy stunning 4K visuals enriched by vibrant colors and satisfying contrast. Its smart features enable effortless navigation through popular streaming platforms, while the elegant design complements any home entertainment setup."
"The Samsung TU-8000 Series offers a compelling 4K UHD experience with vivid colors and good contrast. Its smart TV capabilities provide seamless access to various streaming services, while the sleek design enhances any living space."
High Contrast & perfect blacks

Low input lag

Good reflection handling

4K Ultra HD screen

4k Upscaling for 420-1080p
Narrow Angles

No Local Dimming
Buying Guide for best curved TVs
Resolution:
Rule number 1 to buying a TV is to get a 4K resolution with upscaling. Now, 720P and 1080P TVs are almost outdated. The only scenario I would go for is 1080p resolution if I am buying a small 24-inch TV with a limited budget.
Picture Quality
TVs are all about picture quality. Go for TVs that have high contrast, high peak brightness, and great color accuracies. 
Viewing Angles
Wide viewing angles are better than narrow viewing angles. With a wide viewing angles TV, image quality remains consistent whether you view it from the front or from the side couch. 
Refresh Rate
Our advice is that your curved TV has a minimum 60Hz refresh rate. But if you are a hardcore gamer, you should look for a TV with a 120Hz refresh rate. In this guide, we have included only those TVs that have a 60-120Hz refresh rate.
Input Lag & Response Time
If you are a gamer, you should go for TVs with minimal input lag and quick response time. This way you can enjoy smooth gaming without any motion blur. 
Curved TVs VS Flat TVs
Is the Curve Worth It?
As a result of the curved edges allegedly allowing the screen to occupy a broader area in your field of vision, curved TVs are said to provide a more immersive viewing experience. The manufacturers of curved TVs tout a variety of benefits.
Curved TVs make gaming more realistic because they give the appearance of peripheral vision.
Everything is equally spaced from your eyes, and you are free to move your eyes as naturally as you like. Eyes are easily stressed during gaming. Due to this equidistant property, curved TVs lessen eye strain.
You obtain superior color consistency at different viewing angles because of the curved form factor.
Additionally, curved TVs offer sharper images.
You experience curved TVs almost in 3D. Curved TVs offer that realistic feeling because of the depth planes, even if a real 3D display and glasses are still superior.
Additionally, curved TVs have superior contrast. When compared to distributing light on flat panels, the contrast performance is superior since light is pointed at where you are sitting.
Curved TVs also provide larger viewing angles. Nevertheless, a curved TV is only useful if you're seated near it and you're the only person watching it because those watching from the sides might see a distorted image.
Related: Why Curved TVs Failed? 
Curved TVs for Gaming:
Curved monitors are revolutionizing the gaming industry because they give competitive players a much more immersive gaming experience. As TV technology advanced, gamers began to choose curved TVs specifically for console gaming.
Because the best curved gaming TVs are all about creating an immersive experience, choosing the proper size is even more crucial when choosing one.
Curved game TVs are available in a range of sizes, often from 55 to 65 inches. To choose the proper curve, it's crucial to consider your seating arrangement and the distance from the TV.
Related: Are curved TVs good for gaming?
We looked at resolution, response rate, and technology to determine the best curved screen TV to buy. At least 4K resolution, which describes how closely together the pixels are arranged on the image, is what we advise. 
The resolution improves as the number of pixels increases. Streaming services and an expanding number of channels currently offer widespread compatibility for 4K.
The response rate is an additional essential factor. To avoid blurring on fast-moving images, look for a reaction rate of at least 120Hz. Anything with a frequency of 60Hz or lower will display a definite blur, which can ruin the pleasure of viewing TV in general.
Finally, look for improved auxiliary functions that improve the visual quality and depth perception of your curved TV. Depth Enhancer technology is one illustration of how contrast can be altered based on the screen area. 
This guarantees more depth in any seated posture.
Which is the best curved TV on the market?

Samsung UN65RU7300FXZA 65-Inch Curved TV

Is a curved TV better?

In comparison to flat-screen TVs, curved TVs are not always superior. Due to depth perception's wrap-around effect, which offers a 70-degree viewing arc and limits viewing From an angle, it is more challenging to see from the opposite side.
Curved TVs also stand out more when they are 55 inches or larger.

Why are curved TVs not good?

The curvature of the TV reflects light across the screen, which can wash out the screen, making it difficult to watch. Whether it's light from windows, lamps, or wall fixtures, this glare can create terrible viewing quality. Sitting off-axis or off-center can also create bowing in the image.

Are curved TVs outdated?

Curved TVs are essentially dead now, but Samsung still offers the RU7300 model in both 55- and 65-inch models. The company has also dutifully rolled out new curved TVs, although they aren't as impressive as the brand's best models.