Finding the best 70-inch TV for under $1000 is not an easy job as most TV brands don't manufacture 70-inch TVs. Usually, all brands manufacture a 55-65-75 inch range. Furthermore, a TV of large size comes at a hefty price. But thanks to our team who always keep digging to find the best and budget-friendly TVs for our readers.
After searching out more than 30 TVs under the latest test technology, we found the best 70-inch TV under $1000 that are perfect for any home.
These large TVs are picked just because they are performing well, have a sleek design, and premium look, and are manufactured with the latest technology. To keep things short and to save time, here is a quick list of our top three picks.
Our Top 5 Picks For Best 70-inch TVs Under $1000 Review
Here's a detailed review of the top 5 products for best 70-inch TVs under $1000. If you want to know how we picked these products and what are the key factors. You can go down to 
Detailed Buying Guide 
FAQ Section
1. Samsung 70-Inch BE70T-H Pro TV (Best 70-inch 4K TV Under $1000)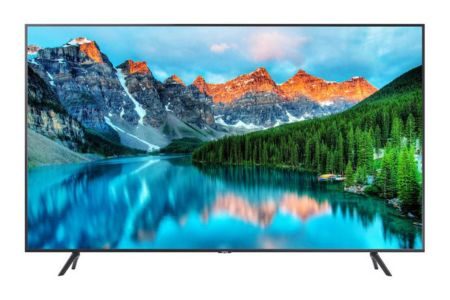 Screen Size: 70-Inch| Display Type: LED| Resolution: 4k| Refresh Rate: 60Hz| HDR: yes| Smart Apps:  YouTube| Voice Assistant: Alexa, Google| Connectivity:  HDMI
Do you use your TV more than 16 hours a day? If yes, Samsung BE70T-H Pro TV brought unlimited fun and entertainment opportunity for you. With a fast refresh rate of 60 Hz the TV runs 4K video games, movies, and shows smoothly which makes it a great value for money. The built-in speakers are perfect for listening clear eco-sound that gives you an immersive experience while watching movies and playing games.
Unfortunately, after testing we found that the TV only has a Youtube app, but not other Smart TV features. But, you can make it a smart TV by connecting any streaming device like Firestick or Roku. Use an HDMI port to connect any streaming device with the help of a USB cable as a power source. After connecting the device, you can watch Hulu, Netflix, Amazon Prime, etc.
The excellent TV has a Samsung Business content management app that you can install on your mobile phone. You can upload any type of content within just three steps from your phone or tablet by installing this app.
The TV has an ultra-fast Crystal 4K processor which presents you with a UHD resolution display. Whether you're thinking of playing high graphic games or want to watch high-end display movies this TV is ready to show you accurate and smooth colors.
Typically, most TVs create a bad experience when it comes to dark scenes. But after testing we found that the TV is manufactured with a high dynamic range that shows you a wide color spectrum in dark scenes. Furthermore, the wide view angels make this TV a considerable choice for any large space.
Although the TV has some excellent features but to maintain the quality reliability you can only watch for 16 hours a day. Not too bad. But if you're looking for a place where you need to operate the TV 24/7 this can disappoint you. so choose wisely considering the operating time duration.
Overall the TV has a sleek and elegant design and looks premium in any place. But, if you're looking for a home TV this might be now your choice. As TV lacks some smart TV features and comes with business intent so, it can be the right choice for any business for commercial use.The slide options and customizable user interface make it easy to use for business advertisements. Plus, multiple input options make it one of the best TV under $1000.
"Samsung 70-Inch BE70T-H Pro TV delivers a remarkable viewing experience with its expansive 70-inch display and high-quality visuals. Its professional-grade features make it perfect for businesses and commercial settings, ensuring stunning presentations and engaging content."
"With a generous 70-inch screen and advanced professional capabilities, the Samsung BE70T-H Pro TV sets a new standard for commercial displays. From impressive visual performance to smart business-oriented features, this TV is a top choice for businesses seeking to make a lasting impression."
Also, check our guide on the best 75-inch TS under $1000.
Multiple input ports Compatible with

Youtube and Samsung TV Plus

Customizable Templates

Control TV with the mobile phone app

Automatic On/Off feature
Non-smart TV

Limited operating time

Not good for home use
2. SAMSUNG 70-Inch Class QLED 4K Q60C Series (Best 70-inch Smart TV Under $1000)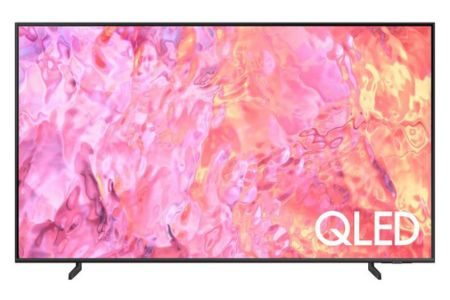 Screen Size: 70-Inch| Display Type: LCD| Resolution: 4k| Refresh Rate: 60Hz| HDR: HDR10+| Smart Apps: Apple TV+, Crackle, Discovery+, Disney+, Fandango, fuboTV, HBO Max, Hulu, iHeartRadio, Netflix, , Prime Video, Redbox, Sling TV, Tubi, Vudu, XUMO, YouTube, YouTube TV| Voice Assistant: Alexa| Connectivity: 3 USB, Ethernet, HDMI
Samsung 70-Inch QLED 4K Q60C – the TV that's all about stunning visuals and immersive sound! With its 70-inch screen and 4K resolution, you'll be treated to lifelike colors and clarity that'll blow your mind. Thanks to Quantum Dot technology, you get a billion shades of color at any brightness level. Plus, the Quantum Processor Lite 4K enhances everything you watch, taking it to a whole new level.
No more squabbles over temperamental colors, as the Dual LED backlights bring balanced and accurate hues to your screen. And let's not forget the mind-blowing Quantum HDR that brings out impressive contrasts and deep blacks, just like the creators intended. Need a TV for sports and action-packed movies? Motion Xcelerator has got you covered with smooth motion and clear details.
As for the sound, Object Tracking Sound Lite puts you right in the middle of the action with 3D surround sound that follows on-screen movement. And if you pair this TV with a Q-Series or S-Series soundbar, Q-Symphony 3.0 will give you a fully orchestrated sound experience.
This TV is a real entertainment powerhouse, and with Alexa and Google Assistant compatibility, you've got voice control at your fingertips. Enjoy streaming services like Netflix, YouTube, Disney+, and more, and get ready to indulge in a visual and auditory feast with this Samsung beauty!
The Samsung 70-Inch QLED 4K Q60C is a visual treat with stunning 4K resolution and Quantum Dot technology. Its Quantum HDR and smooth Motion Xcelerator elevate the viewing experience. While the TV offers voice control and great features, the 60 Hz refresh rate and potential audio limitations may be drawbacks for some. Overall, it's an impressive entertainment powerhouse worthy of consideration.
"The Samsung 70-Inch Class QLED Q60A Series impresses with its vibrant Quantum Dot technology, delivering stunning visuals and rich colours. Its 4K resolution and impressive upscaling capabilities ensure a captivating viewing experience for all your favourite content."
"Offering a generous 70-inch display, the Samsung Q60A QLED Series stands out with its advanced Quantum Dot technology, guaranteeing exceptional picture quality and lifelike colors. With its user-friendly interface and robust upscaling features, it's an excellent choice for immersive entertainment."
Stunning 4K visuals

Quantum Dot technology

Smooth Motion Xcelerator

Impressive Quantum HDR

Voice control compatibility
Cannot hold larger televisions
3. SAMSUNG 70-inch TU-7000 Series Class Smart TV (Best Budget 70-inch TV under $1000)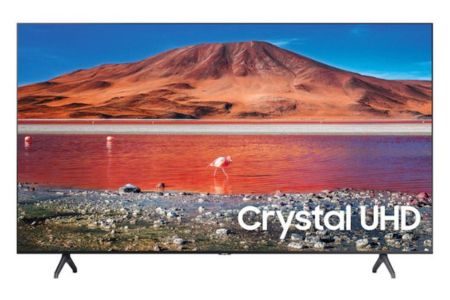 Screen Size: 70-Inch| Display Type: QLED| Resolution: 4k| Refresh Rate: 60Hz| HDR: yes| Smart Apps: Netflix, Skype, Hulu, Youtube, Spotify, Amazon Instant Video| Voice Assistant: Alexa, Google| Connectivity:USB, HDMI
The Samsung 70-inch TU-7000 Series Smart TV is a fantastic budget-friendly option for big-screen lovers. With its 4K resolution, you'll experience crystal clear and vivid colors that make everything pop. 
Plus, it's a smart TV, so you can access all your favorite streaming services like Netflix, Hulu, and more. The TV also comes with a nifty on-screen guide that helps you navigate through your streaming and live TV content with ease. 
And did I mention the ultra-fast processor that turns everything into stunning 4K? It's pretty cool! The TV has two HDMI ports, a USB port, and even Wi-Fi and Bluetooth connectivity for wireless convenience. 
So, whether you're binge-watching your favorite shows or enjoying some weekend sports, this Samsung TV is a solid choice to elevate your viewing experience without breaking the bank.
The Samsung TU-7000 Series Class Smart TV is designed to offer an enhanced TV-watching experience with its smart features, 4K resolution, and vivid color display. It's a good option for those looking for a large-screen TV with a budget under $1000.
"The Samsung TU-7000 offers a budget-friendly option for those seeking a 4K smart TV. With better picture quality and a user-friendly interface, it's a solid choice for casual viewers. However, it lacks advanced features found in higher-end models."
"Samsung's TU-7000 is an affordable 4K smart TV that caters well to everyday entertainment needs. Its satisfactory performance and intuitive interface make it suitable for the average consumer, though enthusiasts might miss some premium features.So, a budget-friendly, large-screen TV is a great choice for friends and family."
4K Resolution

Smart TV Features

Crystal Display

Ultra-Fast Processor

Wi-Fi & Bluetooth Connectivity
Limited HDMI Ports

No higher refresh rate

Limited USB ports

No advanced HDR support
4. SAMSUNG 70-Inch Class Crystal UHD CU7000 Series (Best gaming TV under $1000)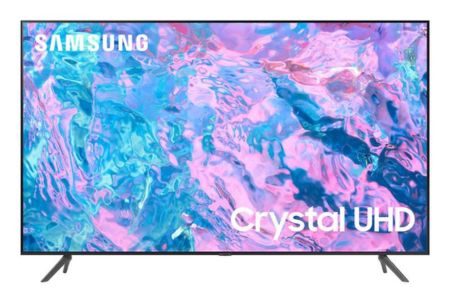 Screen Size: 70-Inch| Display Type: LED| Resolution: 4k| Refresh Rate: 60Hz| HDR: yes| Smart Apps: Netflix, Hulu, Disney+, Amazon Instant Video, YouTube| Voice Assistant: Alexa, Google| Connectivity: USB, HDMI
Samsung 70-Inch Class Crystal UHD CU7000 Series, the ultimate gaming TV without breaking the bank! With PurColor, you'll be blown away by the vibrant and lifelike colors, whether you're watching nature's beauty or thrilling action scenes. 
And that's not all – the Crystal Processor automatically upgrades everything to dazzling 4K resolution, making every moment crystal clear. Say goodbye to missing details with Mega Contrast, as it adds depth and naturalness to each frame. 
Even in the darkest scenes, HDR ensures you won't miss a thing, with perfect brightness and contrast. Your ears are in for a treat too, as Object Tracking Sound Lite creates 3D surround sound that moves with the on-screen action. 
Plus, team up your Q-Series and S-Series soundbar with Q-Symphony to enjoy a fully orchestrated audio experience. Finding your favorite content is a breeze with Samsung's Smart TV Hub, tailored just for you. And gamers, rejoice! The Samsung Gaming Hub brings all your gaming desires into one place. With this TV, you've got it all!
The Samsung 70-Inch Class Crystal UHD CU7000 Series appears to be a compelling option for gamers and those seeking an immersive entertainment experience with its array of features and innovative technologies.
"The Samsung 70-Inch Class Crystal UHD CU7000 Series stands out as the best gaming TV under $1000, delivering stunning visuals and low input lag for smooth gaming experiences. Its large 70-inch display immerses players in breathtaking gaming worlds without breaking the bank."
"Incredibly affordable and perfect for gamers, the Samsung 70-Inch Class Crystal UHD CU7000 Series earns the title of the best gaming TV under $1000. With its expansive 70-inch screen, impressive Crystal UHD display, and minimal input lag, gamers can enjoy unparalleled gaming adventures without stretching their budget."
Vibrant PurColor

4K Crystal Processor

Detailed Mega Contrast

Impressive HDR

Immersive Object Tracking Sound
Limited Q-Symphony compatibility

Complex Smart TV Hub setup
5. SAMSUNG 70-Inch Class QLED Q60A Series (Best QLED TV Under $1000)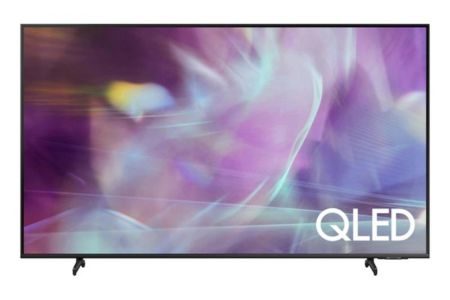 Screen Size: 70-Inch| Display Type: QLED| Resolution: 4k| Refresh Rate: 60Hz| HDR: yes| Smart Apps: Browser | Voice Assistant: Alexa| Connectivity: Wi-Fi Bluetooth
Do you want to upscale your watching experience? The Samsung Q60 Series is here to give you a 100% colorful display with a lifelike experience. The entry-level TV gives you excellent picture quality with a wide color gamut. While the QLED 4K display technology ensures that you always watch a crystal clear display.
Suppose, you're a gaming player, or there is someone who plays games in the family, this TV might be not as good for gaming. As it comes with the HDMI 2.0 port so it might not be possible to connect the TV with PS5 or Xbox Series X. Other than this, you can connect with older Playstations and Xbox series, the responsive screen, and fast refresh rate is good enough to play many high graphic games.
The smart TV is powered by the Tizen stream feature so you can access your desired app and streaming services any time sitting at your home. Furthermore, with the complete voice control through Alexa built-in, it becomes easier to change the channels, and search any query with just voice control.
The sleek and elegant TV equips 4K upscaling and has a quantum processor that helps in watching vivid and lifelike color no matter its high brightness outside or dim light.
The built-in speakers give you 3D surround sound with each detail in a movie or game. The TV also equips a Q-Symphony soundbar that is perfect for listening to podcasts and shows. The speaker's sound is powerful enough that even in a scene if it drops a leaf from the tree it gives a natural sound. So, it is a good feature that you can experience the clear sound quality on your large screen TV.
The Samsung Q60 is overall a decent choice for watching in light conditions. The TV features some extra specs that make it considered among the users.Furthermore, the high-quality sound, good brightness, deep blacks, and great contrast ratio add value to its manufacturing. However, the viewing angles are compromised. Plus, the high response rate with minimum input lag makes it the best choice for gaming players.The best piece for any home to watch quality content with a 4K display and play games.
 "The Samsung 70-Inch QLED Q60A Series offers a stunning display with vibrant colors and deep contrasts, making it ideal for immersive entertainment. Its impressive AI upscaling enhances content, while the sleek design complements any living space."
"In a nutshell, the Samsung 70-Inch QLED Q60A Series impresses with its captivating visuals, powered by Quantum Dot technology. With intelligent upscaling and a user-friendly interface, this TV delivers an extraordinary viewing experience for any cinephile or sports enthusiast."
Perfect deep blacks

Extra brightness

Quantum processor lite 4K TV

100% color volume feels like real

Sleek and slim manufacturing
Limited local dimming

Restricted sitting arrangments

Heavyweight
Key Factors for Buying Best 70-inch TV under $1000
Buying a TV these days needs some experience to understand the difference between features. To buy the best 70-inch tv for under $1000 you must be aware of the latest technology features. 
So here are some exclusive features explained. When selecting a TV ensure that the TV you choose has these features.
Typically there are four common types of display technology LED, LCD, QLED, and OLED. QLED is known as one of the best display technology as it delivers high brightness, large screen sizes, and a longer lifespan. Furthermore, they are also budget-friendly. VIZIO 70-Inch M-Series 4K QLED HDR Smart TV is also a choice if you are interested in a QLED display.
LED/LCD TVs also have extensive features but are not as good as QLED. OLED TVs are pricy and good for quality image display. The OLED technology is based on organic light-emitting diodes which help in creating a vivid and bright image. But the only problem with OLED TVs is they are supposed to be burned anytime but it's rare.
That's why when buying a TV go for a QLED that comes at a good price still useful for a better experience.
Also check our guide on best TV for bright rooms QLED VS OLED.
Most of the TVs are coming with 4K resolution (3840 x 2160 pixels) which is the current standard in the market. UHD (Ultra High Definition) TV has good picture quality and a wide color gamut like 4K resolution.
HDR (High Dynamic Range) technology is advanced and the TV with HDR, HRD10+, and Dolby Vision is high in demand. Typically, HDR TV produces more brightness, and contrast ratio, and has 30% more color production.
But, it can't be said which is a better choice. As both technologies are useful and help in creating immersive screen display and color accuracy. In short, HDR technology makes existing pixels in the TV more colorful and accurate, while UHD technology helps in creating new pixels within the TV to bring more colors and brightness.
Also, check our guide on  Best TVs For dark room
Refresh Rate: 60 Hz Vs. 120 Hz
These numbers refer to the responsiveness and refresh rate of the TV. The higher the refresh rate the better quality, smoothness, and speed of the processor you'll get. 60 Hz TVs are also good and give complete satisfaction to viewers without lagging in the display. However, they might not as useful for gaming.
So, if you dream to play games on your new TV then try to choose a TV that has a 120 Hz refresh rate. However, it might cost a little extra but the price is worth it. The Hisense ULED Premium Class U8G Quantum TV has a 120 Hz refresh rate plus it comes with an auto gaming mode. which means this TV is specially designed for gaming purposes as well as for watching movies and shows
Would you like to watch all of your content on a large screen? If yes, then select a TV that has smart features. Check out that your TV has multiple connectivity options where you can browse, download apps, and watch streaming services. A smart TV must have built-in WiFi or Ethernet so that it can be connected to a wired or wireless network.
Quantum Dots and Local Dimming
When LEDs and LCDs are illuminated, quantum dots generate colored light for better display. They are also used to enhance red and green color saturation. While the local dimming feature helps in watching in a dark and bright place. The local dimming feature improves the performance and gives an excellent display in dark or bright rooms.
Also check our guide on  Best anti Glare TVs for bright room
In conclusion, the best 70-inch TV under $1000 is the one that fits your needs duly. The model with the latest features is more reliable than others.
Also, a variety of technical features, such as voice control, Dolby vision, and Atoms, QLED, or OLED display, will make these TVs more demanding.
Smart TVs can be controlled from anywhere in your house even without a remote control. So, you better make a wise choice among the latest models.
Having tested all the TVs under $1000, we highly recommend the Hisense ULED Premium Class U8G Quantum. As it has a high refresh rate and quantum technology.
This masterpiece can be used to play games, edit videos, or perform other graphical tasks. Moreover, the large screen makes it an ideal deal for a large family.
Lastly, prior to going for any specific TV, keep in view your budget as well as your preferences. We left no stone unturned to give you an in-depth idea of what are the ins and outs of the above mentioned products. Now it's up to you to decide!
What is the best 70-inch TV under $1000?

Our top pick for the best 70-inch TV under $1000 is none other than VIZIO 70-Inch M-Series 4K QLED HDR Smart TV. This TV costs about $800 and withholds multiple striking features.

In addition, the first thing I liked, TV is perfect for home and commercial use. With an ultra-wide screen, this 4K TV is perfect for playing video games. Connecting it to a streaming device like a Roku or Firestick is easy with HDMI ports.
What brand makes more reliable 70-inch TVs?

Out of several tv brands, the best amongst all is SAMSUNG. Actually, it is one of the most reliable brands which makes quality 70-inch TVs within budget. They deliver an extraordinary picture quality plus true-to-life colors.

You can have an immersive viewing experience with fine HDR and high resolution. SAMSUNG is one of the best 70-inches TVs under a thousand dollars in the tech world.