Going bigger is the right decision when it comes to TV size, do take into account safe viewing distances and available room space.
The 70-inch TV is the best-recommended choice for most of us in ultra high definition 4k resolution between 65 Vs 70-inch TVs.
But market research shows that there is less variety of TVs available in 70-inch size. So if you don't get the required features in a 70-inch TV then a 75-inch or 65-inch UHD 4K TV will be the right choice subject to your budget constraints.
The situations occur like you want to upgrade to a 55-inch TV, 65-inch is small, and 75-inch is too big. Then will you get a 70-inch TV with your must-haves?
All questions will be answered. This article will take you through the complete process of comparing the size of the TV. You will end up buying the best-sized TV for yourself.
If you are in a hurry, the following tables summarise the whole discussion
Benefits of 65 Inch TV

Benefits of 70 inch TV

The 65 inch TV having width of 57 inches and height of 32 inches is a suitable choice for a limited room space

The 70 inch TV is better for a larger room space as it has the width of 61.5 inches and height of 34.5 inches

For viewing distance of 8 - 9 feet or less, a 65 inch TV is the best choice

For viewing distance of 9 - 9.5 feet or greater, you should opt for a 70 inch TV.

Ultra High Definition (UHD) with 4K resolution provides enhanced picture quality for both 65 and 70 inch TV.

UHD 4K resolution TVs are best for either sizes i.e. 65 Vs 70 inch TVS.

In a limited space, you should not be crazy for bigger size TV. Instead a 65 inch TV will be big enough.

For adequate room space, the bigger will be the better choice. You should select a 70 or 75 inch TV.

For smaller size i.e 65 inch TV or less size wall mount placement or TV stand placement both are equally suitable.

For larger sizes i.e 70 inch TV or greater size, placement with a TV stand is more safe. But you can also go with wall mount placement.

A 65 inch Nanocell LG TV with UHD 4K resolution is an awesome choice for nanocell technology lovers.

You should opt for a 75 inch TV instead of a 70 inch TV. As you will get better variety in terms of technology and brand in bigger size of 75 inch

Assess your requirements, check your pocket and follow your heart. A 65 inch TV of a well known brand can be the best choice for you.

No one has ever regretted buying a bigger size. So, you can also go with a bigger size of 70 or 75 inch TV if your pocket allows.
The Science of TV Size Dimensions
Knowing about the TV size dimensions is simple, of course, it is not rocket science. But one must be acquainted with the basics of TV size dimensions.
You probably know that the referred size of 65 inches or 70 inches is not the width. Actually referred size is the diagonal distance between opposite TV edges i.e b/w upper right edge and lower left edge.
The difference in diagonal measurement of the 65 vs 70-inch TV is only 5 inches. Is that a considerable difference?
Yes, it is. Every inch matters. The following table will let you know the diagonal measurement width, height, and area for 55, 60, 65, 70, 75, and 80-inch TVs.
The values in terms of width and height are deliberately kept approximately to half of an inch in decimals. It will make it simpler to understand and compare. Moreover, differences of less than half of an inch do not matter a lot.
Thus the following table clearly shows that there is not a huge but still considerable size difference in width and height for a 65 Vs 70-inch TV.
So, your right choice with respect to TV size will be crucial. Generally, the rule of "the bigger, the better" applies here. But do consider your room space.
TV Type (Size)

Diagonal Distance (inches)

Width (Approx.) (inches)

Height (Approx) (inches)

Area (Square inches) Width*Height
Picture quality also depends upon the TV size. Usually, it is better to be closer to the TV to enjoy good picture quality. But never forget safe viewing distanc standards.
The bottom line is that you should be aware of TV dimensions of a 65 Vs 70 inch TV and your room dimensions to make an informed decision.
Considering Room Space, Viewing Distance, and Viewing Angles (Table)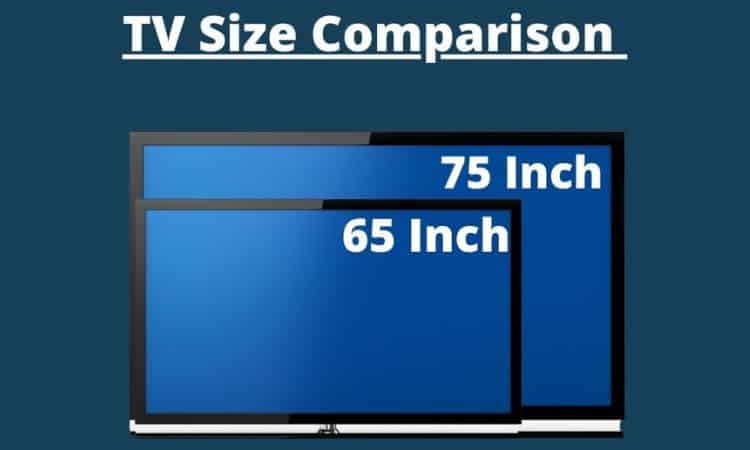 Suppose you are in a new apartment with an older small-sized TV. You have ample space, enough budget. You will certainly think like others i.e "the bigger, the better". But remember " the bigger, the more difficult to handle.
Firstly, You should consider the available room space for a new TV. A bigger TV in a smaller room is quite problematic. While a smaller one with enough space will also reduce your viewing experience.
Room space, Room type, Room lighting, no. of audiences, and the purpose of buying the new TV will govern your personalised choice.
For small bedrooms and drawing rooms, the 65-inch TV will be more than enough. You may go with a 70 or 75-inch TV for larger hall-type rooms.
Yes, there is a technical standard of ideal viewing distance. Always keep it in mind. The following table describes ideal viewing distances for different TV sizes i.e 55 Vs 60 Vs 65 Vs 70 Vs 75 Vs 80 inches.
The viewing angle is also mentioned as it describes our entire field of view for a specific size. The viewing angle of 30 degrees is suitable for all-purpose general usage.
But the craze for theatrical or cinematic experience may persuade us to buy bigger TVs. Yes, you can go with a bigger one as compared to normal standards.
Still, be conscious. In the case of cinematic experience, the viewing should not increase 40 degrees. 2nd column below table explains suitable viewing distances for you.
TV Type (Size)

Ideal Viewing Distance(30 degrees)

Ideal Viewing Distance (At 40 Degrees)
Let you know the formula for all these calculations. The actual formula is to divide your viewing distance (in inches) by 1.6  then you will get the best TV size.
But we played a bit with maths. Changed division into multiplication. We multiplied the TV size by 1.6 to get the viewing distance in inches. Converted inches into feet. Also described a certain range based on experience and expert opinion.
These are not hard and fast rules. But they will regulate our choices on scientific grounds. These standards are for people having normal eyesight of 6/6.
If your eyesight is weak or you wear glasses. Your choice may vary with your personal viewing experience. That's why it is recommended to test before buying.
It is concluded that a 65 inch TV is best for 8-9 feet or less viewing distance. But For greater than 9 feet, your best choice is a larger size i.e. 70 or 75 inch TV.
The Picture Quality or TV Resolution: UHD-4K,8K, or HD 1080p in 65 vs. 70-inch TVs
Before discussing the relation of Television size the resolution, we should know, What does it mean by TV resolution? How does it affect our viewing experience?
Resolution is the picture quality assessed by the human eye. It is the ability of the human eye to distinguish minor details about the picture being seen.
Best resolution TVs will help you observe quality pictures. You can watch images clearly even from a relatively closer distance. In case of poor resolution, the picture is divided into individual pixels. Thus we get a distorted image.
For smaller sizes, one may go with HD-1080p due to budget constraints. For bigger size TVs i.e. 65 and 70 inches, the 4k or 8k resolution is mandatory.
Ultra High Definition (UHD) 4K TVs are widely used nowadays. UHD 4k is the best and most balanced choice for bigger-size TVs where ideal viewing distances are observed.
What about UHD 8K? Yes, it is better even than 4K in terms of resolution while sitting closer. But normally 8K is not required as people never sit too close to the TV screen.
Hence, for normal viewing distances, 4K and 8K TVs seem exactly the same. So, you should not break your bank for a high-priced 8k TV. However, TV commercials and promotions will try hard to trap you.
HD-1080 TVs are old and obsolete technology with a low resolution and poor picture quality especially if you sit nearer to the TV screen. You will observe Pixelation which destroys the viewing experience.
As a final word, we recommend the UHD 4K resolution TV for every size.
Is the craze for bigger size TVs rational?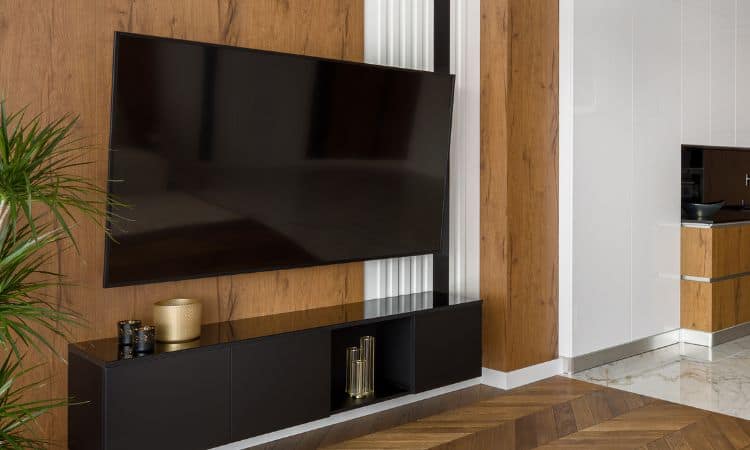 I will second you. No doubt. The bigger size, the better the viewing experience. Most of us use TV as a recreational tool. So, the bigger size will manifold our sensation.
Stop. there is a caution. You can't follow your craze or sensation blindly. As discussed earlier, follow the standard of ideal viewing distance.
Even if you are too enthusiastic about a theatrical experience. We have provided you with closely researched standards of viewing distance. Follow them carefully.
So, we recommend you not cross safe viewing distance limits for healthy, responsible, and balanced enjoyment.
Let's suppose, you have vast space and you are bored with your small 50-inch TV. You want to go with a bigger one now.
So, go with a 65-inch TV. If you want to get an even larger screen TV, then a 70 or 75-inch TV might be big enough for you. Remember, this is recommended only in case of ample space availability.
Suppose, space is limited. You are up for a size upgrade. In this case, you should not opt for too big.
A 55-inch TV will be more than enough in a limited space. Instead, you may search for a better technology model. It will have enhanced features and improved resolution.
Yes, our conclusion is , the bigger sized TV will be a happier choice in most cases for enough space.
Which is Better for Placement of TV: TV Stand or Wall Mount for Bigger Size TVs of 65 or 70 Inches?
Most people raise concerns about TV placement issues, especially for bigger sizes i.e 65, 70, 75 inch TVs or still bigger ones. The question under consideration is whether the wall mount or the TV stand is safe for bigger sizes.
We would recommend you to decide the best TV without taking into account the concern of placement.
As there is no issue with TV placement if it is done in a professional manner. Yes, you can also opt for a wall mount or TV stand for placement. Whatever suits you the best in your TV room space. Go with that choice.
We know that bigger things are difficult to handle. But you will get very safe TV mounts along with all necessary accessories. These TV mounts are usually well designed to hold that specific size TV.
Alternatively, you can go with TV stands which are also available in high quality. If you don't trust the strength of your wall to hold such a  big size or wall is too short. Then a TV stand will alleviate your concerns.
Do remember, the cutting edge TVs of modern technology offer big display screens and cover less space. So, they might feel bigger to you in market stores. But don't worry. Buy the TV, get it mounted by a professional and enjoy the fun.
Both methods i.e. wall mount and TV stand placement are suitable for a 65 or 70-inch TV if they are carried out as per SOPs by professionals.
Also Check: 55 VS 65-inch TV: Consider These Factors Before Buying
Will the brand and budget matter?
Budget matters for everything in this universe. It is the limiting factor to all our sensations. We have already described the best TV sizes for different ideal viewing distances.
Prices of TVs are directly proportional to their Sizes. The bigger size, the more costly it will be. So, a 65-inch TV will be cheaper than a 70 or 75-inch TV of the same brand and technology.
But if you can't afford that Best size for a specific viewing distance, still don't worry. The budget concern is a bitter reality.  This happens to most of us in this materialistic world.
We recommend you treat those standards as an upper limit. If your couch is 9 feet from the TV screen, the best choice will be a 65-inch TV but you can always go with a smaller-sized TV as per your budget.
Budget is also related to the brand. There are various TV brands like Samsung, LG, TCL, Sony, Hisense, etc. which manufacture TVs with different technologies and features and have different prices.
If you are a big fan of Nanocell TV technology, you will have it in the LG brand only. The famous brand Samsung manufactures QLED(Quantum dots light emitting diodes) TVs of different sizes.
No matter which brand or technology you opt for, we will recommend you to go for a bigger size. Although 65 inch TV is good enough but bigger size of 70 or 75-inch TV will be awesome for an immersive experience
The bottom line is that you have to trade off between price and excellent brand for both 65 or 70 inch TV. But a 75 inch TV will provide you with more variety in the market.
The Final Word: Which is the best for specific surroundings among the 65 Vs 70 Vs 75 Inch TV?
TV is your home or office appliance. That's why your personal preferences will matter the most.
So, after reading everything, follow your heart. It is said that no one has ever regretted buying a bigger-sized TV. Enjoyment is all about craziness.
Our recommendation for you to buy an even bigger size than what you think.  But certainly do consider ideal viewing distances and your room space.
Oh, you might get us wrong, We don't mean to say you all should buy 102-inch TVs. But a 65-inch TV or 70-inch or even 75-inch TV is the best choice for most of us in 4k resolution.
There is less variety of TVs available in 70-inch size. So in that case the next bigger size i.e. 75 inches UHD 4K TV  should be your natural choice. If the budget doesn't allow it, a 65-inch UHD 4K TV is not so small and can prove to be the best economical choice.
Although the rule of thumb for TV size is already discussed in detail above. In a nutshell, viewing distance in inches is divided by 1.6 to know about the recommended TV Size.
Hurrah! Now it's time for you to say the final word as well. Write down your required features, assess your budget, decide the size, buy your new UHD 4K resolution TV and enjoy the show or movie.
1: What is the difference between a 65-inch TV and a 70-inch TV in terms of screen size?

The main difference between a 65-inch TV and a 70-inch TV is the screen size. A 65-inch TV has a diagonal screen size of 65 inches, while a 70-inch TV has a diagonal screen size of 70 inches. The 70-inch TV is larger, providing a bigger screen for your viewing experience.

2: Which is the best TV size for my living room, a 65-inch or a 70-inch TV?

The ideal TV size for your living room depends on various factors, including the size of the room, your viewing distance, and personal preference. A 70-inch TV may offer a more immersive experience in a larger living room, while a 65-inch TV could be better suited for smaller spaces. Consider measuring your room and seating distance to determine the ideal TV size.

3: Is a 70-inch TV much bigger than a 65-inch TV, and does it make a significant difference in the viewing experience?

Yes, a 70-inch TV is larger than a 65-inch TV, and it can make a noticeable difference in your viewing experience. A bigger screen provides a more immersive feel and allows you to see details and finer pixel resolution more easily, especially when watching content in higher resolutions like 4K.

4: What factors to consider when deciding between a 65-inch and a 70-inch TV?

When choosing between a 65-inch and a 70-inch TV, consider factors such as the size of your living room, the distance you plan to sit from the TV, your budget, and the content you want to watch. Personal preference also plays a role; some individuals prefer a larger, more immersive screen, while others may prioritize budget or space constraints.

5: Does the technology or brand of the TV make a difference when deciding between a 65-inch and a 70-inch TV?

While the size difference between a 65-inch and a 70-inch TV is significant, the choice between them is not solely dependent on technology or brand. Both sizes are available with various features and technologies, so it's essential to consider your specific requirements, budget, and the image quality you want to receive. Explore options from different manufacturers and read reviews to make an informed decision.